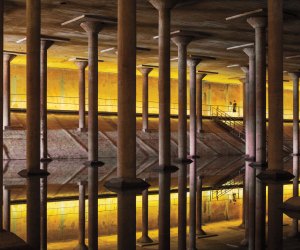 30+ Free Things To Do Indoors in Houston with Kids
Whether you're a stay at home mom just trying to find something to do during the day or a working mom wanting to spice things up on the weekend - but without spending a bunch of cash - this post is for you. Especially when the weather isn't exactly welcoming, inside activities are the way to go.
These businesses and playscapes around Houston are always free and remember to check our calendar because it is always packed with free things to do every day. For more ideas, check out our Indoor Fun Guide for Houston Families.
Now, read on for 31 free places to play and spend time with the kids around Houston.
2. Better yet, check out one of the city's bigger museums for free by checking out our guide to days and times where admissions are waived!
3. For South Houston families with little ones: Visit the Galveston Railroad Museum where kids ages 3 and under play for free! Kids ages 4-12 are $5.
4. Admire classic, strange, and modern bikes at the Houston Bicycle Museum where kids ages 10 and under are free.
5. Really admire the amazingly weird "cars" at the Art Car Museum. There are pieces and displays from local, national, and international artists.
6. Visit the Houston Police Department's downtown headquarters to see the Houston Police Museum. You'll find old and new uniforms, memorabilia, and a memorial wall. Admission is always free.
7. Tour the most mysterious and magical underground Buffalo Bayou Park Cistern. Tours are free on Thursdays and require a reservation. Kids must be 9-years-old and up because the tour takes you downstairs to a dimly lit underground area, but it's amazing. Learn the history of this historical water system and see the various art displays installed throughout the year.
8. See World War II-era aircraft, memorabilia, and more at the Commemorative Air Force Houston Wing Museum and Hangar. It is open to the public the first and third Saturday of the month from 10 a.m.-3 p.m. for FREE.
9. Explore the museum inside of the San Jacinto Monument in La Porte. While some exhibits do cost money, the main museum area boasts many Texas history artifacts and gorgeous art and it is totally free.
Indoor Places to Play
10. Sugar Creek Baptist Church in Sugar Land is home to a massive, colorful, and free play space for kids ages 10 and under.
11. Register your kiddo for a free program at your local Apple Store. Kids Hour is geared toward grade-school kids and includes STEM-focused activities and projects.
RELATED: 34 Free Places to Play in Houston This Fall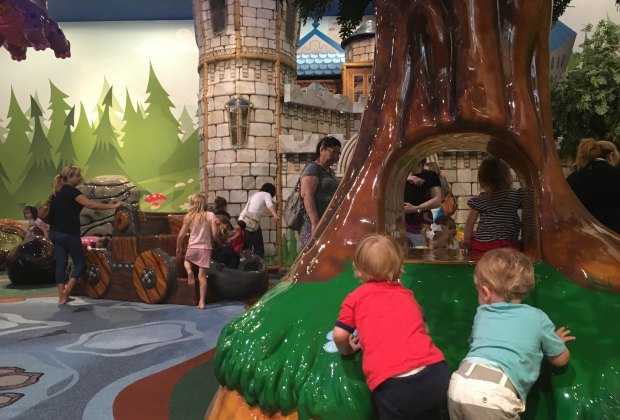 Playing at Frolic's Castle./Photo by Carrie Taylor
12. Let the little ones explore Frolic's Castle inside Memorial City Mall (this is free pending you're able to resist any shopping urges).
13. Watch the skaters at The Galleria and let the kids play in The Little Galleria. If you're a longtime Houstonian like me and have never heard of this, don't feel bad. But don't let any more time go by without visiting! It's a 2,000-square-foot miniature mall made of foam slides and lots of climbing structures. Park in the Yellow garage for easiest access.
14. First Methodist Houston's Main Street Indoor Park is perfect for toddlers and older babies. The space is decorated like a busy urban street and has a train slide and climbing structure as well as an adjoining room with books, puzzles, and a train table.
15. Gallery Furniture isn't just for shopping: There is an indoor playground as well as exotic birds and monkeys around the store. Honestly, sometimes it's just fun to look at furniture and plan your dream home!
16. Christ the King Presbyterian Church has a free indoor and outdoor playscape with a two-story slide and climbable area. It's located just northwest of Memorial Park (home to the Houston Arboretum and Bayou Bend Collection and Gardens), so it's a great area to head to if you're looking for things to do.
17. Head to Crosspoint Church in Pearland where kids can play on their multi-level indoor playground. The play area includes an obstacle course, slides, and a generous parent seating area. While you're in the area, be sure to check out all of the other amazing kid-friendly activities in Pearland!
RELATED: Top Indoor Play Spaces in Houston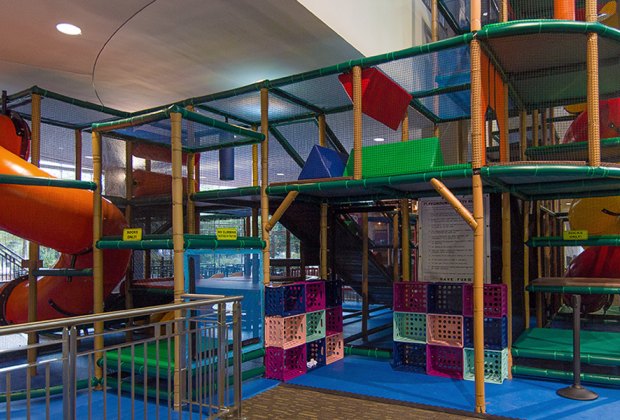 The massive indoor play structure at The Woodlands Church. Photo courtesy The Woodlands Church
18. There is no shortage of free indoor fun when you visit the play area at The Woodlands Church. Toddlers can play in their very own section where big kids won't trample on them, and kids ages 5-12 can explore a multi-level structure with a 22-foot corkscrew slide! In total, this play structure boasts seven slides and is perfect for hours of entertainment.
19. The play area at Willowbrook Mall in front of Sears boasts a forest-themed wonderland for kids under 42 inches to explore. While the play area isn't as large as those at other area malls, it's great for small children to take a break from shopping and get some of the wiggles out.
20. Kids ages 12 months- 10 years can play for free at the Humble First Baptist Church indoor playground. Bring your own snacks to enjoy on the blue tables! Pre-registration is required and 30 spots are available per play session.
21. Kingwood area families can play on the awesome indoor playground at Kingwood First Baptist Church during the week for free. Hours vary, so be sure to check their website or call ahead for exact opening times.
22. A multi-level indoor play area awaits preschool and elementary-aged children at Memorial Church of Christ. There is even a small area with padded obstacles for babies to explore. To enter the play area, ring the doorbell under the covered doorway near the largest parking lot.
23. Second Baptist Church Woodway campus has a play place called Second City for children under 48" tall. It is a really cool play area with plenty to keep your kiddos entertained.
24. Kids ages 3-9 can run and play at animal-themed indoor playground at The Woodlands Methodist Church fondly called Safari Stop. Safari Stop is located at the north end of the main building.
25. Shopping at IKEA? Take your kids so that they can enjoy up to one hour of free play in their Smaland supervised play area where they will color, craft, and watch movies while you shop. And when their time at Smaland is up, kids can play with parent supervision at various play stations throughout the rest of the store.
26. Little ones can run off some steam at the indoor playground at Kingwood United Methodist Church, where kids ages six and under can play for free. Exact hours change seasonally, but the playground is open Monday- Friday each week for open play.
27. Children in second through fifth grade are welcome to enjoy the playland and game room at First Baptist Church. You will find the church off of the Katy Freeway. Just contact them before you head there if the weather is bad because First Baptist Academy utilizes the facility on those days.
Share the Fun of Reading with Your Little One
28. Head to your local library for storytime, to play with the puzzles, or browse the books.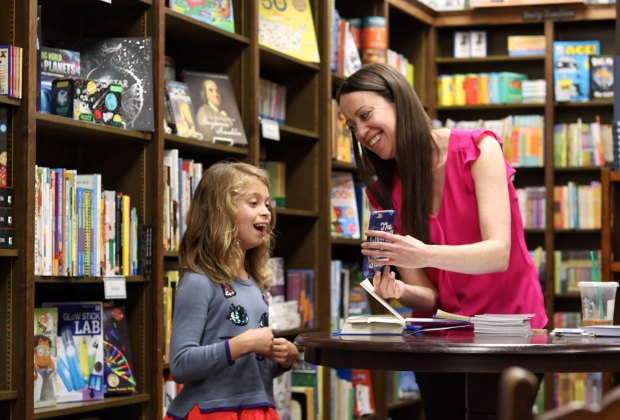 Author Jessica Brody presents at Blue Willow Bookstore. Photo courtesy Blue Willow Bookstore
29. See what Brazos Bookstore has going on; there are regularly kid-friendly readings and releases, and they have great book recommendations for kids of all ages and also sells educational toys and gifts. Blue Willow Bookshop on Memorial also has great kids' programs - see their calendar for details.
Indoor Volunteer Opportunities for Houston Families
30. Spend some quality time serving the community at the Houston Food Bank's Portwall Warehouse. Kids ages 6 and up are able to volunteer and help distribute and sort food.
31. Little Lights Houston works with a dozen local organizations to set up volunteer opportunities for families with young children. Check with them for activities in which you can participate.
This post originally published in December 2017.