Top Attractions in Houston for Kids and Families: Museums, Theme Parks, & More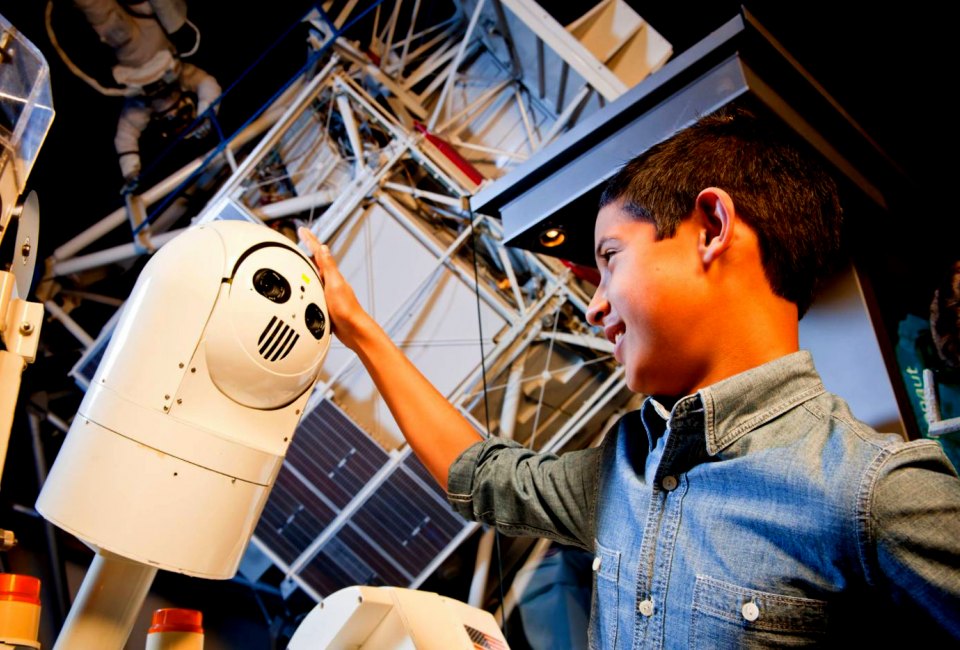 2/11/22
- By
Rachael Cherry
Ranked the fourth largest city in America, Houston is more than just a bustling city, it's an ever-expanding metropolitan area that is the most diverse in the state of Texas. This makes it a hotspot with a variety of kid-friendly tourist attractions in Houston that take you indoors, outdoors, and even underground! Whether you're looking to peruse the rich history of the Museum District, spend time outdoors at one of the many green spaces, or visit unique attractions like the Beer Can House or the Waterwall, there are tons of things to do in Houston with kids.
Read on for some of our favorite tourist attractions in Houston. And for even more Houston fun, be sure to check out our list of 100 Things To Do With Houston Kids Before They Grow Up.
You can also save with the top attractions in Houston with Go City - Houston card. By purchasing this ticket, you receive admission to several Houston attractions at half the regular price: Space Center Houston, Downtown Aquarium, Houston Museum of Natural Science, the Houston Zoo or the Museum of Fine Arts Houston, and the Kemah Boardwalk or the Children's Museum Houston.
Top Kid-Friendly Houston Museums & Centers
The Children's Museum of Houston is one of the best kid-friendly stops in Downtown Houston, especially now that it's been revamped and reimagined. The Museum is packed with a slew of both indoor and outdoor exhibits for kids of all ages and features 18 different spaces that encourage kids to explore the world of STEAM through hands-on activities and exploration. Right now, masks are required for all visitors ages 2+. Admission is on a timed entry schedule and tickets must be reserved in advance. Outside snacks and food are not permitted inside the Museum; however, food and beverages can be purchased at the Fresh Cafe. Strollers are permitted inside the Museum but there is no stroller parking for anyone not using their stroller.

The Houston Museum of Natural Science is one of the best kid-friendly attractions in Houston. Photo courtesy of Mommy Poppins
The Houston Museum of Natural Science (HMNS) isn't just one of the most visited museums in the city, but also one of the most visited museums in the country, making it a must-see Houston attraction. It boasts five floors of permanent halls that display dinosaur bones, curious natural and manmade objects, both Texan and African wildlife, the newly opened Weiss Energy Hall, and more, plus an ever-rotating list of traveling exhibits. Nestled inside the Museum is also the Cockrell Butterfly Center, which is consistently a favorite stop. Tickets can be purchased online in advance or at the Museum entrance. Additionally, Thursday visitors can tour the Museum for FREE. Visitors are welcome to bring their own snacks or lunches to the Museum or purchase food and beverages from one of the on-site dining options. Food and drinks are not, however, allowed to be consumed inside the exhibit halls. Strollers are allowed inside the Museum and there are designated stroller storage places for any exhibits that don't allow strollers inside them.
Billed as one of the largest museums in the United States, Houston's Museum of Fine Arts houses a veritable treasure trove of art and culture. The Museum's collection boasts nearly 70,000 works of art that span more than 6,000 years of history from around the world. In addition to these permanent works of art, the Museum also sees an ever-changing rotation of exhibits from a variety of artists, and there are always different films being shown as well. Visitors can purchase food from one of the cafés on site. Advanced timed tickets are recommended when visiting. Large backpacks, bags, and baby backpacks are not allowed. Strollers, however, are permitted.

Photo courtesy of the 1940 Air Terminal Museum, Facebook
This hidden gem is the perfect stop for aviation enthusiasts. The Houston Municipal Airport Terminal, which houses the Museum, was a hotspot for commuters flying in and out of Houston in its heyday, and while it was eventually upstaged by Hobby Airport, the Houston Aeronautical Heritage Society renovated the terminal into the present-day museum. Older kids and adults will appreciate the vast history encompassed in the Museum's walls, and kids of all ages can appreciate the different artifacts and model planes. On weekdays and every third Saturday of the month, museum employees escort guests to the nearby renovated 1928 Carter Airmail Hangar, which houses the Museum's collection of aircraft. The Museum is closed on Mondays and Tuesdays. Masks are required for any visitors who are not fully vaccinated. After you visit, be sure to make a stop at the small parking lot and viewing area to watch the planes depart and land at Hobby Airport. It's well worth it, especially with kids!

Space Center Houston is one of the top tourist attractions in Houston, especially if you've got kids with you. Photo courtesy of the Space Center Houston
With the nickname Space City Houston, it's no surprise that Space Center Houston is one of the top tourist attractions in the city. The venue sees 1.1 million visitors annually and is the area's top spot for international tourists, and with good reason. Space Center Houston is a treasure trove of information on space, but it's also an interactive, educational, FUN destination. There are both permanent and rotating exhibits, three different theaters, interactive stations, and a variety of live shows. There is also a play area upstairs for any kids (and parents!) who just need to hang out for a second, and a nursing room. Visitors are also able to take a tram tour to nearby NASA Johnson Space Center, home to Mission Control. Visitors must purchase timed admission tickets and masks are required for all indoor activities. Snacks and water bottles are allowed at the outdoor picnic areas and food and beverages can be purchased at Space Center Houston's on-site dining area, The Food Lab. Strollers are allowed inside the center but not on the NASA Tram Tour. There is limited stroller parking.
Since 1996, the Holocaust Museum has been on a mission to educate about the dangers of prejudice, racism, and hatred. This Museum is not one you can visit without being deeply moved, but the emotion that comes from seeing so many artifacts and memories preserved makes visiting a life-changing experience. The Museum is the fourth largest Holocaust museum in the nation and is fully bilingual in both English and Spanish.

The airflow simulator at the Lonestar Flight Museum. Photo courtesy of the Museum.
What began as a private aircraft collection in 1985 has slowly expanded over the years into an unparalleled aircraft museum. The Lonestar Flight Museum in Ellington Field features state of the art exhibits that span two different hangars, interactive elements that allow visitors to experience aircrafts in a whole new way, and the Texas Aviation Hall of Fame. You'll find over 40 significant aircrafts and more than 1500 artifacts inside the Museum, starting from the original gliders and traveling all the way to space. Airplane enthusiasts can also learn how wind tunnels work, explore replica cockpits, create aircraft-themed crafts, try different flight simulators, and check out visiting aircraft. The Museum also offers flight experiences (these range in price depending on the type of experience). There are vending machines are on site for food and beverage purchases.
Top Houston Historic and Cultural Sites
The Waterwall in Houston is one of city's most iconic landmarks, making it a must for tourists. The 64-foot high wall of water sees 11,000 gallons of water cascade down per minute and is a sight to behold. Visitors can stand in the mist of the water and capture special photographs under this popular attraction, then walk through the 2.77 acre park that is home to 186 live oak trees. After, be sure to take a tour of Uptown and make a stop for some shopping at the Galleria.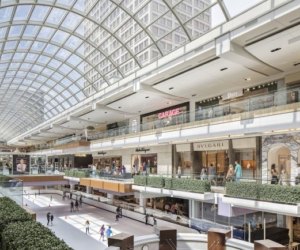 The variety of things to do at the Houston Galleria make it a top tourist destination. Photo courtesy of Community Impact
No trip to Houston is complete without a stop at the Houston Galleria. You can find the Galleria between two of the most exclusive neighborhoods in Houston, River Oaks and Memorial, which are definitely worth driving through before or after your shopping experience. With three levels that house 400 fine stores and restaurants, this isn't just your average shopping mall, it's an entire retail destination. There is also a full-size ice rink that has it's own level, two swimming pools, a state of the art children's play area, full-service national and international banks, multiple tax-free reimbursement locations for international guests, and that's just the start. This is truly something you have to see to believe.

Miller Outdoor Theatre, photo courtesy of visithouston.com
If you're looking for a unique theatre experience, Miller Outdoor Theatre is the place to be. The outdoor venue offers an eclectic mix of performances eight months out of the year, from jazz to ballet, Shakespeare to kid's programs, and everything in between. The performances are always FREE of charge, though (free) tickets are usually required for the covered seating area. Seating on the hill is open and offers the perfect place for pre-performance picnics. All of the performances are family-friendly. You can find the theatre in Hermann Park near the Houston Museum of Natural Science, Houston Zoo, and the McGovern Centennial Gardens.
A trip to Galveston Island (45 min to an hour from Houston) always has to include a visit to The Strand Historic District. Not only is The Strand rife with buildings that are more than a century old, but there are a plethora of fun stops to make as you walk through it. You'll find a mix of antique shops, more souvenirs than you can count, art galleries, ghost tours, restaurants, and the always-popular La King's Confectionary and Ice Cream Parlour, where you can watch taffy pulling and stock up on all the sweet treats at an old-fashioned candy counter.

The Beer Can House in Houston, photo courtesy of visithoustontexas.com
In 1968 John Milkovisch began a project that would eventually turn into a Houston tourist hotspot: he began covering his home with beer cans. Over the course of 18 years he slowly added aluminum siding in the form of flattened beer cans to his house and hung beer can garlands from the roof to the estimated tune of 50,000 cans. This grand scale recycling of cans wasn't just a creative pastime, though, it also ended up lowering the house's energy bills. Now the house has become a place to visit and pay homage to the unique vision Milkovisch had, and has definitely earned a spot as one of Houston's top tourist attractions.
It's the tallest building in the city of Houston, the tallest building in the state of Texas, and the tallest five-sided building in the world, making the JPMorgan Chase Tower a must-see when you visit Downtown Houston. The building is 75 stories tall, so when you stand and look up you can't help but be awed at the sheer height in front of you. There is also an Observation Deck that is open to the public on the 60th floor that is free to visit Monday through Friday from 8am-5pm.
When you're visiting neighborhoods and areas of town in Houston, Montrose has to be on the list. Tagged "the Austin of Houston," this eccentric section of town is known for its art galleries, food, and culture. Make sure to visit The Menil Collection, a free art institution in Houston, the Houston Center for Photography (also free), and Space Montrose, a quirky shop that is filled with handcrafted items from local artists. Be prepared for the parking situation - it can be tough to find a spot! There are many places that offer street parking and valet (some offer free valet), but make sure you know if it's paid parking or not to avoid any unnecessary tickets.
Top Houston Theme Parks & Kid-Friendly Dining

Head south to Galveston for a day of fun. Photo courtesy of galveston.com
When you take a trip to Pleasure Pier in Galveston, prepare for a full day of fun that is packed with all the nostalgia of the old-school carnivals, and all of it is done over the waters of Galveston Bay. You'll find an assortment of rides and roller coasters, midway games like whac-a-mole and ring toss, restaurants, and retail shops on the waterfront pier, as well as a 5D theater ride. Visitors are not allowed to bring their own food onto the pier. Strollers are permitted, but they must be parked outside of attractions and are not allowed in ride lines. There is no designated stroller parking station. Tickets can be purchased online or at the gate.
Photo courtesy of Schlitterbahn
A day spent zipping down waterslides is always a good day. Schlitterbahn Galveston is home to the largest collection of water slides and attractions in the Schlitterbahn family of waterparks, cementing its spot in Houston's top tourist attractions. You'll find rivers, wave pools, all variety of slides and rides, restaurants, play areas for the kids, and every fun water attraction you can think of under the sun. Strollers, picnic baskets, and ice chests are allowed in the park; however, glass containers and alcohol are not permitted.
Similar to Pleasure Pier, Kemah Boardwalk offers a traditional Boardwalk experience that's full of midway and arcade games, roller coasters and amusement rides, a train ride around the Boardwalk, and a rotation of live entertainment on the weekends. There are also dancing water fountains, coin-operated telescopes to spot birds, boats, and even dolphins, and coin-operated fish food dispensers so you can feed the fish. There are also plenty of restaurants to choose from that overlook the waters of Galveston Bay and Clear Lake, including the Kemah Aquarium, which is a destination in itself!

Moody Gardens has an aquarium and more, all near Houston. Photo courtesy of Moody Gardens
The massive pyramids of Moody Gardens house museums, rides, and exhibits that make for an amazing family adventure. The Aquarium Pyramid at Moody Gardens is the main aquatic zoo in the Houston area and is home to fish, seals, penguins, and sharks. It also has interactive sea-life exhibits and activities throughout. The Discovery Pyramid Museum rotates educational exhibits that offer hands-on activities for kids of all ages. The Rainforest Pyramid takes you into the rainforest of Asia, Africa, and the Americas and is home to over 1,700 plants and endangered animals. Moody Gardens also has 3D and 4D theaters, a hotel, dining options, a spa, a golf course, and a seasonal ropes course, zip line, and water park. In addition to the on-site dining options, guests are welcome to enjoy picnic lunches outside, however food and beverages are not allowed inside the exhibits.
When you're driving around Downtown Houston on I-45, one of the things you're likely to notice is the massive ferris wheel. A ferris wheel in the city? It may sound odd, but it's true! The Downtown Aquarium isn't just another restaurant, it's an entire destination in itself when you visit Houston. In addition to the ferris wheel ride, the interactive restaurant also has an Aquarium Adventure Exhibit that is home to sting rays, wildlife from the Texas Bayou, a giant Pacific octopus, and many different types of fish, as well as an outdoor tiger habitat that is home to not one, but four tigers. All that before you've even eaten! When you do finally dine, you do so immersed in a giant aquarium (hence the name!). This is an amazing experience for both kids and adults; prepare to be there for longer than your average dinner because there is so much to see and do!
Top Houston Parks, Zoos, and Nature Centers

Photo courtesy of the houstonzoo.org
Home to over 6,000 animals, the Houston Zoo is a must see for all animal lovers, big and small. In recent years, the Zoo has undergone a massive renovation project (set to complete in 2022), making habitats more authentic for the animals and more immersive for visitors. You can easily spend an entire day at the Zoo visiting the animals and taking part in animal encounters as you walk through different parts of the world and see the environments and inhabitants that make up each section. Be sure to bring a stroller for little kids and tired feet. Picnic lunches are allowed in the Zoo. You can also purchase food and drink items from the various restaurants on the premises. Sunscreen and hats are always a good idea to bring, too! And don't forget extra money for the carousel and extra time to spend at Hermann Park once you leave.

Hermann Park in Houston. Photo courtesy of Trac Vu, Pexels
Hermann Park may be best known for being home to the Houston Zoo, Miller Outoor Theatre, and the McGovern Centennial Gardens, but these cultural hotspots are only part of the park's appeal. You can also rent pedal boats on McGovern Lake, make a visit to the Reflection Pool, stroll through the Japanese Garden, and take a train ride around the park - no trip to Hermann Park is complete without one! Guests can enjoy picnic lunches brought from home or pick up food to-go from Ginger Kale near Lake Plaza. If bringing a stroller, it's best to bring the jogging kind, as parts of the paths are crushed rocks and not quite as easily navigable with regular or umbrella strollers.
For nature lovers, Buffalo Bayou Park is one of the outdoor destinations to visit when in Houston. The 160-acre park is home to a natural play area that is one of the park's top destinations, the Water Works, the Buffalo Bayou Park Cistern, which was one of the City of Houston's first underground drinking-water reservoirs and now functions as a unique public space, a dog park, a skate park, a hike-and-bike trail, and even the Waugh Bridge Bat Colony. Make sure to visit the Waugh Bridge Bat Colony at sunset to see more than 250,000 Mexican free-tailed bats emerge; it's a sight to behold!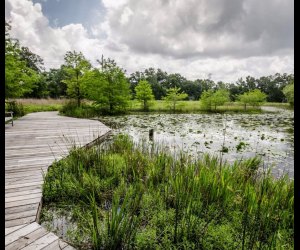 Houston Arboretum photo courtesy of Tripadvisor
Tucked into an unassuming stretch of the Galleria area is the Houston Arboretum & Nature Center, a 185-acre nature sanctuary. The Arboretum offers a quiet escape from the hustle and bustle of the city and has over five miles of walking trails that take you through all different sorts of habitats. You can expect to see all manner of wildlife while exploring; there are a variety of water and land snakes, birds, turtles, small animals, and even coyotes on the trails. Make sure to stop by the newly renovated Nature Playscape with the kids for a playground that's inspired by nature. There is also a Discovery Room and Nature Shop that are both open daily. Masks are required when indoors. If you plan on bringing a stroller, jogging strollers are best for navigating the trails. Picnic lunches and snacks are welcome. There are no on-site dining options.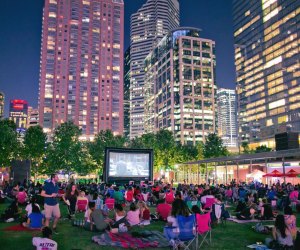 Discovery Green photo courtesy of Projects for Public Spaces
This 12-acre park situated in Downtown Houston is not your average park. This urban park initially started as a high-end neighborhood in the 19th century, was transformed into two parking lots in the 20th century, and eventually tranformed into a space that encourages play throughout the week, not just work. On any given day you can find numerous events occurring, as well as immersive exhibitions from various artists. For the kids, make sure to stop by the John P. McGovern playground, the Mistree, Kinder Lake, the family putting green, and Gateway Fountain during the warmer months (it's a splashpad, so be prepared for wet kids!). Discovery Green is stroller-friendly and there are a lot of nearby dining options (we like The Lake House!). You can also bring your own food and set up a picnic on one of the many open green spaces.
No matter where you're staying in Houston, there's sure to be a great park or playground nearby. There are splash pads for the summer, trails for the fall, and parks with shade for all the sunny Houston days in between.
Disclosure: We may earn a small commission if you click through our link and make a purchase. This revenue helps us maintain this site, so thank you for supporting us.
Click Here to Sign Up!
i