Discover the Houston Museum of Natural Science's Latest Makeover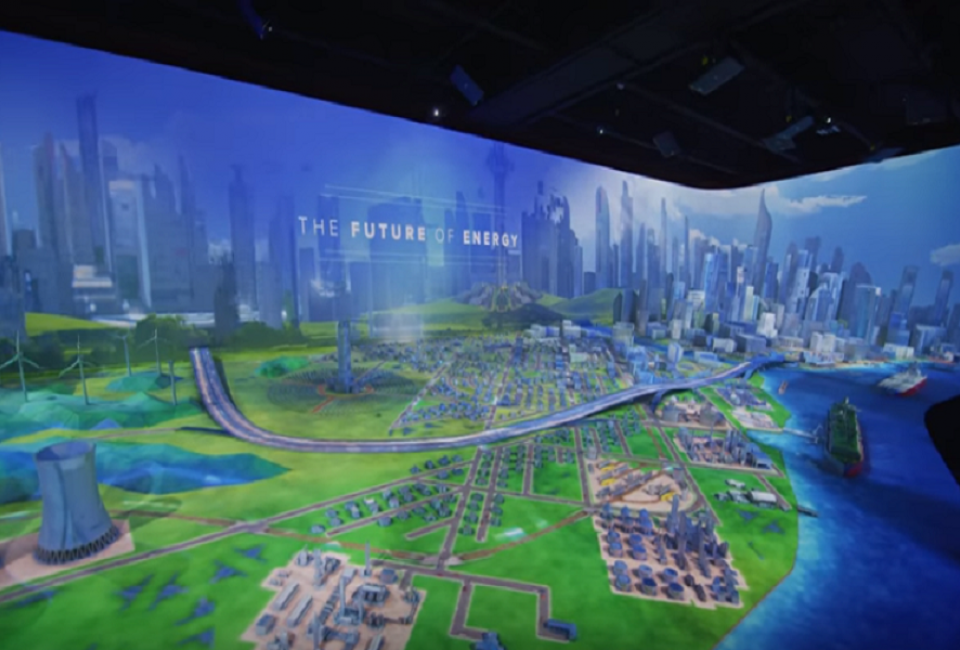 1/5/18
- By
Rachael Cherry
In November 2017 the Wiess Energy Hall reopened its doors after undergoing a massive renovation. The previous version of the exhibit covered 8,500 square feet and was home to several classic attractions, like the popular Geovater and the Energy Jukebox. The new and improved exhibit, however, is more than triple in size, and now spans 30,000 square feet of interactive, hands-on learning and fun. Over the holidays we got a chance to check it out, and it did not disappoint.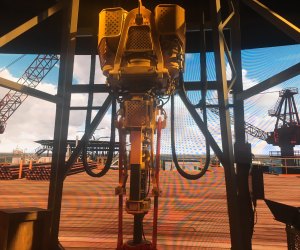 Greeted by real drilling equipment the moment you enter the Wiess Energy Hall.
From the moment you step off the elevators onto the fourth floor, you are immersed in the world of oil, gas, and energy. The doors open to an offshore drilling rig in action, and from there it's a whirlwind adventure into the exploration of energy. My husband has spent most of his career life in oil and gas, and was completely enraptured with the exhibit right from the start, excitedly pointing out the different drilling machinery that his company deals with day in and day out. Being able to tangibly tell our son what he did for a living was something he really enjoyed and having not only pictures but also equipment that our son could touch and control made it much more understandable.
RELATED: 10 Ways to Enjoy the MFAH With Kids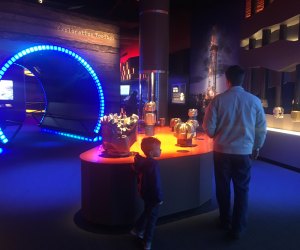 Learning is 10 times more fun when it includes bright lights and you're allowed to touch everything!
We spent the first part of our visit wandering around and testing out the different hands-on displays, turning different oils to see how quickly they flowed, driving different machinery, and controlling robots. My son's favorite was the giant robotic arm and hand with a camera that you can move around and reposition, giving a glimpse into how robotics work. He loved watching the arm spin around as he pulled the lever, and we had to pull him away to give other people a turn... and take a turn ourselves, ha! Then my husband and son went on the Eagle Ford Shale Experience (or "EFX 3000") to check out the shale oil and gas drilling country. The ride uses curved projection techniques and mechanical motion effects to make it life-like, and they both came off the ride with big smiles, so I'd say it was another interactive success.
RELATED: Exploring the Children's Museum of Houston With Kids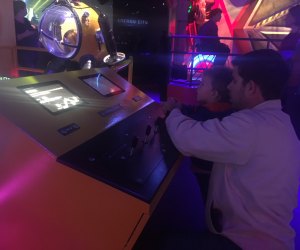 Controlling the robotic arm... and each fighting to have a turn.
While they were busy traveling around oil country in Texas, my daughter and I wandered over to check out "Energy City," a 3-D model of Houston. It's hard to really involve a 1-year-old in a museum experience, but she was entranced with Energy City. The 3-D model is made from projections that transform the miniature city from a mass of white buildings and terrain to one that is alive with different colors of energy chains. We were both immersed in watching the cityscape change over and over again. While we waited, I also took a test to see which energy-related jobs I was qualified for (interestingly, my love for the outdoors landed me on jobs like a roughneck several times), and once they were back we played and gawked at the different equipment and displays for much longer than I thought would hold a toddler boy's attention.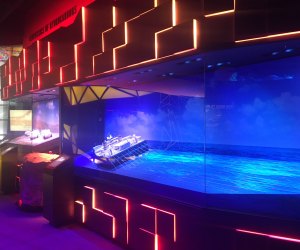 Exploring the different displays.
I can confidently say that the Wiess Energy Hall was the crowning stop of our museum visit this time around for everyone in the family, and I don't even feel like we scratched the surface with all it had to offer. It was the most hands-on experience in the museum's permanent exhibits, taking something that could just offer passive learning and transforming it into a learning experience that is alive.
The Weiss Energy Hall is included with general admission tickets to the Houston Museum of Natural Science and is located on the fourth floor of the Museum. Additionally, HMNS offers Weiss Energy Hall Online, which dives into the "application of scientific concepts and advanced technology in the oil and gas industry" through different online topics.
Places featured in this article:
---
Houston Museum of Natural Science

Sign up for our free
newsletters.
Mommy Poppins is a family activity website that helps people find things to do with kids.
©
2023
MommyPoppins. All Rights Reserved.
mp-prod4-v4.32.99
We use cookies and other data collection technologies to provide the best experience for our customers.
Learn More