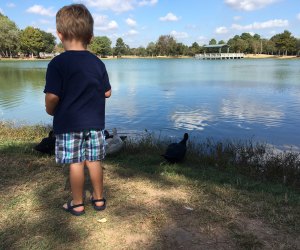 20 Houston Parks with Lots of Shade on a Hot Summer Day
Being outside pretty much tops our to-do list every day, and we're constantly going from one activity to the next, be it to a neighborhood splashpad, a nearby playground, or a park with plenty of trails for biking. Basically, staying inside all day isn't an option; we would all go stir crazy! With summer and hot sun upon us, I am more aware of which places offer some shade so we can get outside and still beat the heat... even if only for a few minutes. Here are some great parks in Houston that offer at least a moderate respite from the brutal summer temps.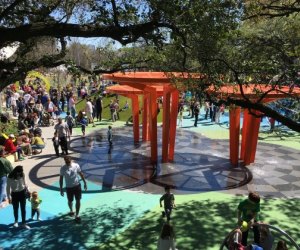 Families enjoying the new and improved Levy Park. Photo by Carrie Taylor.
3801 Eastside, Houston
The recently renovated Levy Park is a gem for all things urban outdoors. An enclosed dog park, performance pavilion, rock climbing wall, interactive water features, children's play space and more ensure that the words "I'm bored" will never leave your child's lips when they come here to play.
OUR LATEST VIDEOS
3600 Locke Lane, Houston
River Oaks Park - also affectionately known as Pumpkin Park - is straight out of a storybook. Cinderella's pumpkin carriage is the crowning feature here, however you'll also find multiple sports' playing courts, a short hike and bike trail, and the park's other unique and defining attraction: a set of wishing trees where you can write a wish on a slip of paper and pin it to the trees - perfect for a dream come true.
7575 North Picnic Lane, Houston
An almost 3-mile crushed granite trail for walking and running, over 30 miles of trails for hiking and biking, a golf course, multiple sports fields, the Vale-Asche Foundation playground and much, much more keep the ever-popular Memorial Park on the "must" list for Houston parks to visit.
7700 Cypresswood Dr, Spring
The trails at Meyer Park loop through the park past multiple playing fields, two different playgrounds, a fishing lake and duck pond and picnic areas, and are perfect for little ones learning to ride their bikes. There are also plenty of benches to stop at along the trails, and the squirrels are so accustomed to friendly faces that they have no problem coming up close to say hi.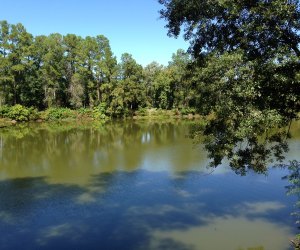 A view from the fishing lake at Meyer Park
6055 Creekside Forest Dr., The Woodlands
The Woodlands is known for all of its beautiful trees, so it's no surprise that Rob Fleming Park is on this list. The park also offers a pavilion with a fireplace, a field that's lush with bluebonnets in the spring, fishing, a butterfly garden and tree grove, and playgrounds for both younger and older children. During the hotter months, be sure to pack a swimsuit and head over to the adjacent Rob Fleming Aquatic Center, where there's a pool, interactive play area, two-story flume slide and a 500' long lazy river.
25840 FM 1485, New Caney
Almost 5,000 acres of wooded parkland make this the perfect place for beating the heat and getting in plenty of active fun. Activities include kayaking, camping, 20 miles of hike and bike trails and 13 miles of trails for horseback riding. Be sure to check out The Lake Houston Wilderness Park Nature Center when you visit, too; the Center is home to displays of forest and wetland habitats, amphibians, reptiles and invertebrates, and a mural depicting the life cycle of butterflies.
15012 Brown Rd, Tomball
There is no shortage of things to do at Spring Creek Park, which covers 114 acres and is home to a softball field, basketball pavilion, tennis courts, multiple barbecue pits and pavilions, a playground, trails through the forests and more. In fact, there's so much to do you just might want to plan on staying for a few days and setting up camp at one of the free RV, tent or primitive camping spots at the park - just make sure you call ahead of time to make reservations!
9738 Hufsmith Rd, Tomball
You'll find five playgrounds, plenty of fishing at the 7-acre lake, over 8 miles of walking trails, an observation deck, multiple sports fields, a dog park and a pavilion that's perfect for picnics and cook-outs at Burroughs Park. It's a young explorer's paradise, so come ready for a day of adventure.
1240 Ulrich Rd., Tomball
The large, wooden, interactive playground at Jerry Matheson Park is the main attraction at this park and gives a nod to days' past when wooden play structures were the norm. The playground is split into two sections: a toddler area that has a sandbox and shaded seating for parents and caregivers to keep a close eye on the little ones, and a nearby area for older kids to play. There are also picnic tables, a covered pavilion, a pee-wee baseball field, tennis courts and a swimming pool.

Swinging at Spring Creek Park
7500 Bay Area Blvd., Pasadena
Located directly next to Armand Bayou Nature Center, which is hailed as one of the largest urban wildlife refuges in the United States, Bay Area Park definitely earns its place as a shaded park that you need to visit. And there's no shortage of things to do here, either; whether you're taking advantage of the fishing areas on piers located out over the marshland, playing on one of three playground areas, or feeding the ducks at the duck pond, you're sure to have a fantastically shaded time.
7112 Newcastle Street, Bellaire
Bellaire's Nature Discovery Center is home to one of our favorite nature parks: Russ Pitman Park. The park spans 4 acres and has a playground with both playground equipment and sand pits, walking trails that wind through the woods, learning stations, picnic areas, a sensory garden and the Critter Classroom, guaranteeing a morning of fun for both kids and adults alike.
21901 FM 762 Rd, Needville
For a full day of adventure, you definitely want to pack up a picnic lunch and make your way to Brazos Bend State Park. An old-school wooden playground, loads of hike and bike trails teeming with wildlife, an observation deck, plenty of picnic spots and camping sites, and alligators upon alligators make this spot perfect for a day of nature play.
7714 FM 359 Rd., Richmond
With multiple playgrounds, a sand pit with sand toys, several sports' fields and courts, a walking trail, horseshoes and a swimming pool, there's plenty to do at Jones Creek Ranch Park. Pack a picnic lunch, grab your play shoes and bikes, and head over to this park for a day of play.

Playing in the sand pit at Russ Pitman Park.
15200 Memorial Dr., Houston
Terry Hershey Park has long been a favorite spot of mine for running - the extensive trails that are nestled into the woods take you out of the city without actually ever leaving it - and now that I have kids it's a favorite for playing, too. There's a small playground at the entrance, and the mostly paved trails are perfect for biking, hiking and observing the different critters that pop out along the way.
5597 Gardenia Lane, Katy
There's a little bit of everything at Mary Jo Peckham Park, which has a playground with areas for both older kids and toddlers, a stocked fishing pond, miniature golf, an indoor fitness and aquatic center, a large picnic area with a barbecue pit, a tropical fish pond and a dirt trail that wraps around the lake. Remember to bring bread for the ducks when you come, and be prepared for them to walk right up when you start tossing crumbs their way.
3535 War Memorial St., Houston
With an observation pond, small zoo, wildlife habitat, and miles of trails, Bear Creek Pioneers Park is a haven for a variety of wildlife, making it the ideal spot for young explorers' ready to dive into nature. There's also plenty of shaded picnic areas, sports' fields, and playgrounds, as well as ponds, horseshoe courts and an aviary.
2301 W. Nasa Blvd., Webster
All three of the playground areas at this spacious park feature man-made shade that is great for hot summer days. The surrounding area boast picnic tables with giant shade trees overhead, as well as covered pavilions. The elevated platforms over marshy areas are covered by a canopy of trees, and the ends of each pier has shaded seating areas that you can fish from.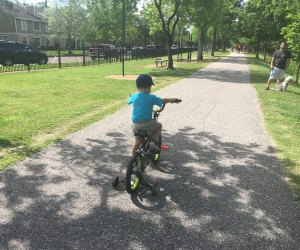 Hitting the trails at Terry Hershey for some bike riding and exploring.
5001 NASA Pkwy., Seabrook
This particular park has two distinct sides, each offering different amenities, but for shade, you'll definitely want to stick to the north side of the park. Huge shade trees cover a large grassy area that is perfect for tossing a football or enjoy a picnic at one of the various picnic tables. Both the larger playground set, as well as the toddler-sized set are near enough to the trees overhang that they receive shade from them, as well as from the man-made canopies over the toddler area and swings.
1100 S. Friendswood Drive, Friendswood
Shade abounds at Stevenson Park in the heart of downtown Friendswood. The entire playground area is one of the more shaded playgrounds on the south side of Houston, with trees hanging over the majority of the equipment. Large green spaces for kids to run off steam or throw a frisbee are also heavily shaded by trees overhead.
6100 Hermann Park Drive, Houston
Although many areas of Hermann park are in direct sunlight (Miller Hill has exactly zero shade), there are plenty of shaded areas surrounding the lake where you can enjoy people watching, throwing a ball, flying a kite, and more. Our family has spent many days picnicking beneath the extremely shady trees in the heart of the park between McGovern lake and Miller Outdoor Theater where there are several small sets of swings for kids to play on.
All photos by the author unless otherwise noted.
This post originally published in 2017.