Flying High at the Hermann Park Kite Festival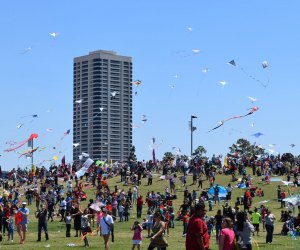 Since 2014, the Hermann Park Kite Festival has been bringing Houstonians of all ages - and their kites - together to enjoy a day of kite flying, live entertainment, and tons of free activities for families and children. Organized by the Hermann Park Conservancy, the festival takes place on Miller Hill and over the Jones Reflection Pool.
I knew I wanted to take my family to the Hermann Park Kite Festival because not only does my toddler love watching and flying kites, but any family oriented event that is filled with fun activities and is free always sounds like a good idea. We attended the 2016 festival on April 3, which was perfect timing in terms of weather - the annual heat wave had yet to set in. Next year's festival is set for March 26, 2017.
The festival runs from 10 a.m.-5 p.m., and our plan was to show up a little early, (wrongly) assuming that we would get there before it got crowded. Despite arriving before everything officially kicked off, there wasn't a parking spot in sight, and we spent 10-15 minutes driving around the surrounding streets before finding an open space. When the organizers say parking is limited, they mean it. Take advantage of the local MetroRail, ride services like Uber, carpool if you're traveling with a group, or consider walking or biking if you live nearby. The festival happens rain or shine, so it's a good idea to check the weather ahead of time and plan accordingly.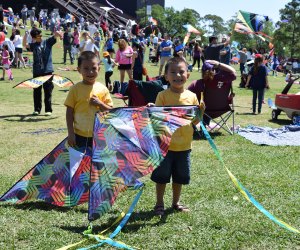 Hermann Park was already packed with children and adults as we were walking up, and the sky was filling up with colorful kites of different shapes and sizes. Every type of kite you can imagine dotted the sky, from traditional diamonds to famous character logos to intricate box kites. My son had a blast running up and down Miller Hill pointing out different kites and trying to get our own kite up in the air.
Our intent was to stay for the morning, check out the kites, and then head home before lunch. However, the festival offered so much to do and see that we ended up making an entire day out of the experience. While kites are the obvious focus, there is also live music and performances to enjoy as well as tents full of vendors selling kites, gear, and other miscellaneous items. There are also a variety of children activities like face painting and balloon animals, games, and a plethora of local food trucks serving everything from Asian fusion cuisine to crawfish to chicken and waffles.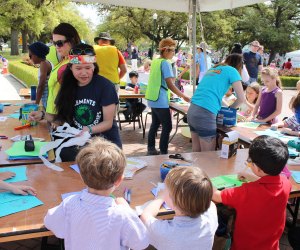 Seeing so many different kites soaring through the sky was incredible, and the whole event made for a very relaxing, unique way to get out of the house and enjoy a family-filled day.
Some quick notes about the festival:
The event is free and open to the public, but it's a good idea to bring some money for food, drinks, and souvenirs.
You can bring a picnic for lunch instead, but leave the glass or Styrofoam at home.
Guests wanting to participate in the kite flying are encouraged to bring a kite, but if you don't have one, there are kites available for purchase at the festival.
Dogs are welcome.
Remember parking is very limited, and festival goers are encouraged to plan for this prior to coming.
Check the event webpage or the Hermann Park Facebook page periodically for any updates
All photos courtesy the Hermann Park Conservancy