Best Ice Cream Shops Near Houston and More Frozen Treats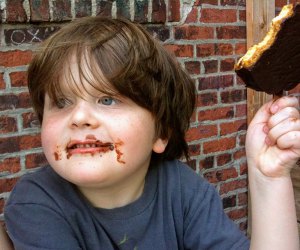 7/18/21
- By
Frances Broussard Denenburg
We know it's hot in Houston, but that just means you can indulge in ice cream year-round. Whether it's an after-school treat, weekend break, or an after-dinner outing while savoring those last rays of sunlight, these spots have the best ice cream and frozen desserts in Houston.
Need more ways to cool off? Try one of Houston's splash pads or free swimming pools when you're done with your sweet treat.
1. Amorino — River Oaks
Authentic Italian gelato from a Parisian import in Houston? It might sound crazy, but Amorino, located in the River Oaks District, is the real deal. Choose an unlimited number of flavors in cup and cone sizes from small to maxi. But beware that the line can move slowly—there are many flavors options and some of the menu items are sculpted into Instagram-worthy designs.
2. Smoosh — Westchase and The Heights
The name says it all—a big scoop of ice cream between two warm, freshly baked cookies. Pick your ice cream flavor, two cookies (mix and match for the ultimate combo), and finally, cover your creation in toppings! Smoosh has two locations in Houston and offers delivery, so there's never an excuse to ignore your cookie ice cream sandwich cravings.
3. Fat Cat Creamery — The Heights and Garden Oaks
With homemade waffle cones, seasonal flavors like pumpkin cheesecake and bunny bait, and plenty of outdoor seating, it's no wonder this small-batch Heights ice cream shop is so popular. Try a Root Beer float with the Cat's Meow Mexican vanilla.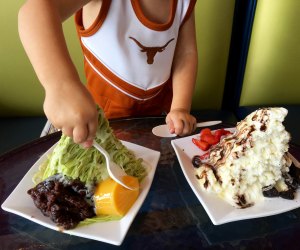 Photo by the author.
It's advertised as "snowflake ice," and with the first bite, you can taste why. The Taiwanese ice confections are intensely cold, light as air, and instantly dissolve in your mouth. The presentation and flavors are like no other—a plate of shaved ice in flavors such as Matcha Green Tea, Lychee, or Vanilla Milk, garnished with toppings such as red bean, flan pudding, or even Oreos. Portions are generous and can easily be shared. This place is a must try.
Calling all mad scientists and Top Chef enthusiasts. Creamistry is equal parts fun and flavor. The super creamy concoctions are made literally before your eyes as liquid nitrogen is poured over the ice cream base. There are toppings and syrup galore.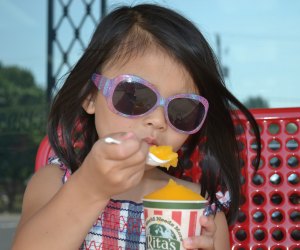 Enjoying Italian Ice from Rita's. Photo courtesy of Cathy Stanley-Erickson via Flickr.
For many, frozen custard is nostalgic and evokes memories of small-town fairs or seaside boardwalks. Lucky for you, Rita's frozen custard is a tad more accessible (it can even arrive on your doorstep via certain food delivery apps) and tastes just the way you remember. Opt for a classic cone or sundae, or mix things up and try the custard layered with Italian Ice.
7. Amy's — Montrose
This Austin transplant is famous for its creamy concoctions that have been tickling the taste buds of Austinites since the mid-1980s. You can also get delicious flavor combinations like Almond Amaretto and Blackberry Coconut Lime along with famous staples like Mexican Vanilla and Tiramisu at the Houston Amy's Ice Cream location. Among the more unique Amy's flavors are Avocado and Sweet Potato (both made with the real thing), as well as several seasonal flavors that are available during certain times of the year.
At Sweet Bribery, dessert connoisseurs will find artisan ice creams in multiple flavors served by the scoop. But if you're craving a little more, they also offer spectacular plated desserts, including banana splits and a Chocolate Thunder Sundae. Their selection of ice cream sandwiches and ice pops are also worth the visit to this Heights establishment.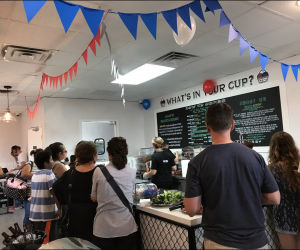 Chill out with a visit to Sweet Cup. Photo courtesy Sweet Cup
9. Sweet Cup — Montrose and Garden Oaks
If your family enjoys cooling off with gelato or sorbet, Sweet Cup is the shop for you. The business boasts over 200 flavors of gelato and sorbet which are always in constant rotation at their two Houston area shops in Montrose and Oak Forest. And if you want to enjoy Sweet Cup's icy flavors at home, you can find their sorbets and gelato in the freezer section at multiple Whole Foods and Central Market locations throughout Houston.
Cool off with handcrafted ice cream delights at Cloud 10 Creamery's three Houston locations. Sophisticated flavors like Earl Grey Lemon and Red Currant Mascarpone are available alongside classics like Butter Pecan and simple yet delicious combos like banana cinnamon. Nutella Cloud Bars and Push Pops are among kid-friendly crowd favorites.
At this ice cream shop, you won't find classic flavors like butter pecan and mint chocolate chip—each combination of ingredients is unique and can only be found at M+S. But don't worry, with combinations like "cereal milk base and froot loops" and "peanut butter and Oreos," this ice cream shop remains adventurous, yet kid-friendly.
Started by Hank himself in 1985, this ice cream parlor is still family-owned and operated in the Medical Center area of Houston. Ice cream is made in-house, where 18 flavors are served in a rotation of about 100. The shop is famous for their banana pudding ice cream, and it's a favorite flavor for their littlest customers as well. The only drawback to Hank's is that there is limited seating both inside and out of the shop.
This post originally published in 2016.