The Best Indoor Waterparks in Texas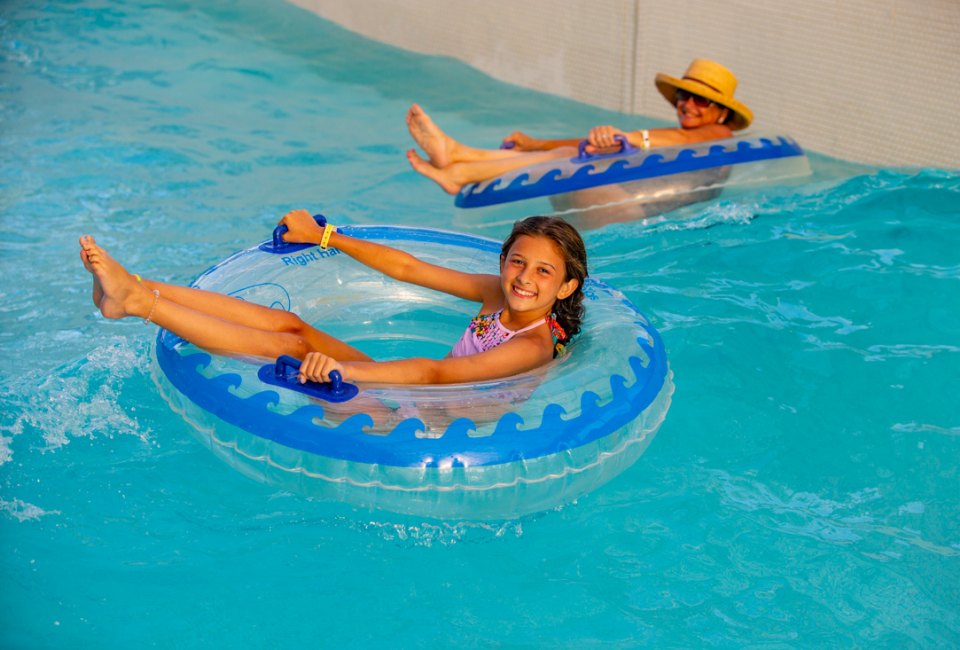 1/7/22
- By
Rachael Cherry
Waterparks and Houston heat go hand-in-hand during the hot summer months, but what about when off-season rolls around or the weather is predictably unpredictable? You throw on your swimsuit anyway and head to an indoor waterpark! These indoor waterparks in Texas have all the fun you know and love, from tube slides to lazy rivers, wave pools, and interactive water play structures, so you can indulge in water play year-round. Whether you're taking a quick day trip or planning a weekend getaway, these awesome indoor waterparks allow for adventure without the elements.
Best Indoor Waterparks in Texas
At Schlitterbahn Galveston, expect all the same fun as Schlitterbahn in New Braunfels with a delightful twist: there are both outdoor AND indoor attractions. This 26-acre waterpark has the best of both worlds, boasting over 33 indoor and outdoor attractions, the world's tallest water coaster, 5 different kids' activity areas, heated pools, and more. Wasserfest, the indoor section of the waterpark, has 12 attractions that include slides, a pool area, 2 kids' areas, and a lazy river.

The Kalahari Indoor Waterpark is just a few hours from Houston. Photo courtesy of the Kalahari Resort
If you're looking for a distinctly unique all-around experience, Kalahari Resort is where you want to book. Nestled into an authentically African-themed resort is Kalahari Indoor Waterpark, a 223,000 square foot waterpark experience that has multiple slides, a wave pool, a lazy river, indoor surfing, a kids' play area, and a swim-up bar for the 21+ crowd. As an added bonus, you don't have to be staying at the resort to get in on the fun. Day passes are available, as well as the Epic Monthly Subscription Pass that allows you access to both Kalahari Indoor Waterpark and Tom Foolerys Adventure Park.
Related: Winter Day Trips Near Houston: Family Fun In Every Direction
​
The Splash Shack is an indoor waterpark suited for young children. Photo courtesy of the Splash Shack, Facebook
Splash Shack is dubbed a "micro indoor waterpark" and is suitable for kids ages 1-10. The 10,000 square foot waterpark is perfect for little adventurists wanting to get their feet wet without testing the waters too much. There is a 30-foot tall water play structure that has interactive play spots and slides, but no water depth so parents can rest easy that kids who lack the required swimming skills of larger waterparks can get the experience without the risk. All children ages 15 and under must be accompanied by an adult.
This isn't your typical indoor waterpark, this is an indoor wilderness adventure. You can expect all the typical waterpark attractions like a lazy river, a wave pool, body slides, and heart-pounding tube slides, as well as unique guests like moose, bears, and other woodsy creatures*. There are also kids' slides and a children's playscape for adventurists who aren't quite ready to tackle the big attractions. Memberships are available in addition to public general admission tickets. Woodsy creatures are not real.
Epic Waters Indoor Waterpark is packed with family fun. There are tube slides that snake both inside and outside, body slides, an outdoor wave pool, and a lazy river. For the competitive bunch, try your hand at the e-racers that have you racing side-by-side down slides on mats or test your skills boogie boarding or surfing on the everlasting wave. Little ones can also safely splash and play at the interactive aquatic fort known as Rascal's Round Up, which features slides, sprinklers, and a 300 gallon tipping bucket. Once you've had your fill of the water you can head over to the arcade.
Related: 20 Best Things To Do in Dallas, Texas with Kids
Great Wolf Lodge isn't just a hotel, it's an entire experience that is home to both an adventure park and an indoor waterpark. This massive waterpark has both indoor and outdoor attractions with the majority of the attractions on the indoor side. Guests can enjoy tube slides, a wave pool, a water playground, a kiddie pool, a lazy river, and the towering Fort Mackenzie, a four-story interactive waterfort treehouse that has slides, toys, and more. Half Day Passes and Full Day Passes are available.

State-of-the-Art waterpark design at the The Cove, photo courtesy of VLK Architects, via archinect.com
The Cove at the Lakefront offers fun for all ages, with a zero-depth splash ground for water enthusiasts who aren't quite swimming yet, indoor surfing, a lazy river, two adrenaline-pumping slides, an interactive play structure, rock climbing, and a rope swing, and even a cliff jump into the Deep Pool. Kids can also head to Floats, a section full of water floats that are perfect for hanging out on or jumping off of into the water. Both day passes and memberships are available for purchase.
Click Here to Sign Up!
i