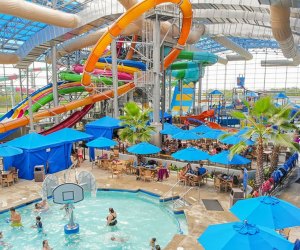 Ultimate Summer Fun at Epic Waters Indoor Waterpark
When I think of the long, lazy days of summer from my childhood, one of my favorite memories is visiting the local waterpark. Hours of water slides and tubing around the lazy river is always a summer day well spent. So when a free weekend popped up on the schedule, my family jumped at the chance to hop in the car with the camper in tow and head to Grand Prairie for a weekend road trip and a day playing at Epic Waters Indoor Waterpark.
I know what you're thinking: an indoor waterpark? While it may sound a little crazy at first, this outside-the-box take on the traditional waterpark is pretty genius. You get all the fun of an outdoor waterpark without many of the typical weather considerations: rain, extreme heat, and cold weather are no longer deterrents to a full day of water play, and there is even a retractable roof that the waterpark opens up on especially nice days. So what can you expect visiting an indoor waterpark?

Photo courtesy of the waterpark
When you first get to Epic Waters Indoor Waterpark, you get a wristband that allows you to come and go as you please throughout the day. Little kids who fall under 42 inches get an additional band to easily distinguish which rides they are tall enough for and which ones they aren't. The ability to come and go throughout the day was key for us because we brought our pup on the trip, so we were able to go to the waterpark in the morning, leave at lunchtime to take care of our dog, then head back in the afternoon for a few more hours of fun.
And we definitely had fun. There's a big lazy river that snakes around most of the rides that we looped around several times, an arsenal of slides—some completely indoors like the e-racers (which my whole family loved and we raced down many, many times!), some that went outdoors for a stretch and then ended inside, a pool where you can swim on one end or play some water basketball on the other, an outdoor wave pool, a kids' aquatic fort area that was like a hybrid between a splash pad and a very shallow pool, and FlowRider, an indoor surf simulator where you can try your hand at surfing or boogie boarding.
Related: Houston-Area Water Parks: Cool Off at These Hot Spots
As far as favorite attractions go, my daughter was completely content cruising around the lazy river over and over again, and my son and husband both loved trying their balance over at FlowRider. They both said getting the hang of the surf simulator was tricky, but there were several people who made it look easy and could do tricks with their boards. We all sat and watched them as they practiced for Epic Waters' upcoming FlowaPalooza event, which is a three day surfing competition complete with live music, carnival games, activities, food and drinks, door prizes, and more. Suffice it to say, the event looks pretty epic, and it's fun to see what some people can do on a surfboard.
If you find yourself in need of a break from the water, Epic Waters also has plenty of dining options at The Hungry Wave Cave, and tasty beverages for adults at Longboards Bar and Lounge, which are both onsite. There is also a full arcade room that is home to a variety of games that range from classic favorites to new-age platforms. After a day of swimming, the arcade games were the perfect transition before we headed out.
All in all, our experience at Epic Waters was a fun one, and we loved getting out of Houston for a bit and trying something new. If you're looking for unique, family-friendly fun, this is one Texas adventure spot that needs to be added to your list! And don't forget, Grand Prairie is in the Dallas-Fort Worth area, so if you're making Epic Waters part of an extended vacation, check out our other favorite things to do in Dallas with kids while you're in town.
Unless noted, photos by the author
Places featured in this article:
---
Epic Waters Indoor Waterpark