20 Best Things To Do in Dallas, Texas with Kids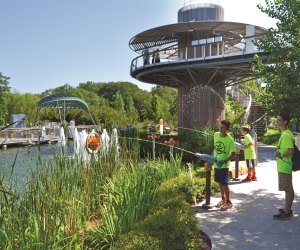 Visiting one of Texas' largest cities is just as daunting as visiting the state itself—Dallas is so huge! We've narrowed down our favorite things to do and places to go in Dallas with our kids. Our biggest takeaway each time we visit the area is how there is always something new to discover. The museums and gardens are top-notch, and because it's Texas you'll find delicious barbecue and Tex-Mex at virtually every corner. There's no shortage of reasons to love this city; we've picked out the places that are extra special for kids, and that have found ways to accommodate the limitations of 2021.
For more Texas-sized fun, check out our plethora of things to do in Houston, some winter road tips in search of Texas snow, or our Weekend Getaway Guide.
While we are trying to promote safer activities that occur outdoors or with social distancing guidelines in place, please keep your family and others safe by always wearing a mask and maintaining appropriate distance.
If you are traveling to an activity outside of your state or local area, check if COVID-19 cases are on the rise in the area, as well as any travel restrictions, advisories, or quarantine orders.
The Dallas World Aquarium is fun for adults and kids alike, with dozens of exhibits featuring exotic birds, mammals and fish. The facility is beautiful and well-kept, and the food is even reasonably priced. Houstonians may liken the experience to a combination of the Moody Gardens pyramids. It's not to be missed!
COVID-19 Update: The Aquarium has a timed-entry ticket system, and guests and encouraged to buy tickets online before visiting to ensure a spot. You can arrive 30 minutes before your ticket time. Feedings and trainer presentations are suspended, and groups are asked to limit to eight guests if possible.
One step inside the stunning Dallas Arboretum is all you need to see why the arboretum touts itself as an "urban oasis." Its children's area, the Rory Meyers Children's Adventure Garden is truly whimsical. And while the eight-acre section is beautiful, it's also perfectly safe for children and geared toward interactive play and adventure. Kids can walk under waterfalls, soak in great views on the Texas Skywalk, and track animal prints in First Adventure, an area geared toward toddlers and preschoolers.
COVID-19 Update: The Arboretum is implementing a timed-entry ticket system, and all guests must have a ticket. All guests over age 5 must wear a mask.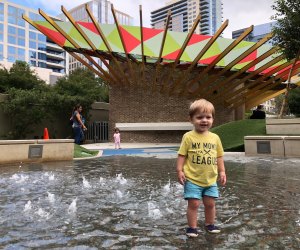 Cooling off at the splash pad at Klyde Warren Park. Photo by Carrie Taylor
Our family has spent many hours at Klyde Warren Park, whether it's in the fenced-in play areas for kids or playing tag in the huge green space or grabbing delicious food from local food trucks parked along the curb. This unique urban park is literally on top of a freeway, so you may do a double-take when looking at Google Map's directions. It opened in 2012 and is a fun spot to relax and play.
COVID-19 Update: The children's park and playground are closed, but the large green space and walking path is open. If unable to social distance, guests must wear a mask.
Visit the home of more than 2,000 animals (more than 400 species) and one of the country's best African exhibits, which is a 36-acre, beautifully designed arena housing the six habitats of Africa. Other highlights include the Lacerte Family Children's Zoo complete with a splash pad, nature play space, and more, as well as Cheetah Encounter, home to a famous pair of animal friends, cheetah Winspear and his Labrador retriever buddy, Amani.
COVID-19 Update: Tickets and parking must be reserved online ahead of time. Most attractions are open, with the monorail being the biggest exception, and guests over age 10 must wear a mask.
A must-see for any train enthusiast, the vintage railroad offers a peek back in time and a ride on a 1920s coach. Its route travels between Grapevine and the Fort Worth Stockyards. There are also special events, like occasional appearances by Thomas and friends.
COVID-19 Update: As of publication, the railroad had not released its 2021 schedule and policies. Check its website or Facebook page for the latest.
Technically, Six Flags is in Arlington, which is about 15 miles west of the city. It's home to some seriously killer thrill rides, including wood-and-steel hybrid coaster New Texas Giant, La Vibora, which sends visitors down in a bobsled, and The Joker. But don't worry, there are plenty of family rides and kid-friendly attractions as well.
COVID-19 Update: All guests over age 2 must wear masks, and can reserve and purchase tickets online or via a mobile app to reduce congestion at the front gates.
This indoor entertainment center complete with rides, exhibits, and Duplo Village. Yes, it's exactly how it sounds - filled with Duplos and thus a guaranteed hour or more of fun for your young ones.
COVID-19 Update: Guests over age 10 must wear a mask. All LEGOs in shared play areas are disinfected daily and before each playtime. Tickets can be purchased online, and capacity is limited.
Epic Waters is located in Grand Prairie, just southwest of Dallas, is the region's newest theme park with an 80,000-square-foot facility open year-round. There are 11 waterslides, an outdoor wave pool, indoor pools and lazy river, and Rascal's Round Up inside, which is perfect for preschoolers and smaller swimmers. just southwest of Dallas.
COVID-19 Update: All guests over age 10 must wear masks unless they are swimming, eating, showering, or changing. The facility's capacity is decreased, so make sure to buy tickets online in advance.
Related: Top Things To Do in Galveston with Kids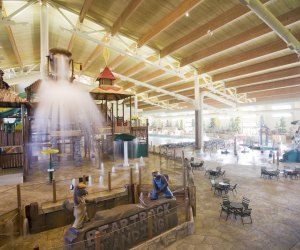 Great Wolf Lodge's indoor waterpark has attractions for kids of all ages. Photo courtesy Great Wolf Lodge
Another Grapevine gem, this family hotspot is a few minutes northwest of Dallas, underwent a massive renovation in 2018. The resort has themed rooms your kids will love and is jam-packed with activities (it's not just a water park!) for your kids. You could say this place is a kid's Las Vegas! In the outdoor water park arena, there is Bahama Beach, a modestly-sized facility with lots of fun rides, and Hawaiian Falls, which has a great (and huge) wave pool and lazy river.
COVID-19 Update: Face masks are required for all guests over age 5, and some resort features are temporarily closed, like the hot tubs and fitness center.
We were pleasantly surprised by the Dallas Museum of Art, not because we doubted its impressive collection or presentation, but we weren't sure how our kids would do. We found solace in the Center for Creative Connections, which in turn houses Arturo's Nest - a play area for 0-4-year-olds - and the Young Learners Gallery for ages 5-8. Creative Connections allows you to create your own works of art and let your imagination run wild. The rest of the museum is equally as impressive and worth a visit as well.
COVID-19 Update: Limited hours mean the museum is closed Monday-Wednesday, and tickets must be reserved online. Guests ages 10 and up must wear masks. For those who wish to enjoy the museum's offerings from home, check out its virtual events and collections for all ages!
The Perot is a must-see for any true fan of science. A variety of exhibits cover a wide range of topics including space exploration, geology, paleontology, and sports. One of the most popular exhibits for kids is the Moody Family Children's Museum, geared toward kids ages 5 and under.
COVID-19 Update: Face masks are required for guests over age 3, and timed-entry tickets must be purchased online beforehand. There are also several exhibits that have not reopened, including the theater and Planisphere. To see the full list, check out Perot's reopening page.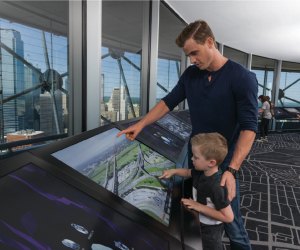 Taking in the views from the GeO-Deck on Reunion Tower. Photo by Tracy Locke/Courtesy VisitDallas
Soak up the city's skyline from 470 feet in the air at the top of Reunion Tower. The GeO-Deck features interactive experience Reunion Tower Constellation where visitors can add their name and where they are from to a star. There's also a cafe where you can enjoy a casual lunch in the sky!
COVID-19 Update: Masks are required for all ages 4 and up, and timed ticket entry is in place; tickets should be purchased online before the visit. Read Reunion's full safety measures and procedure changes on their website.
This museum chronicles and memorializes the assassination of President John F. Kennedy. It's a sobering but well-done museum dedicated to JFK. Exhibits explore his life as well as the assassination and the culture and history of the 1960s. Don't miss the nearby John F. Kennedy Memorial Plaza; a stunning monument erected in 1970.
COVID-19 Update: The museum's updated safety policies include masks required for all over age 10, reduced capacity, and all interactive elements have been disabled temporarily.
Just north of Dallas in Plano is the Arbor Hills Nature Preserve. You can easily spend all day here (if you bring a picnic). The 200-acre park has miles of hiking and biking trails, a playground, and lots of opportunities for spotting wildlife, from coyotes to woodpeckers. Note that the city of Plano began construction on bridges and walkways in September 2020 with a completion date of late Winter 2021.
While you're in Plano, you have to go see the Crayola Experience. Part museum part indoor playground, this massive facility is bursting with color and fun. I may have enjoyed it more than my 4-year-old. I think it was harder for me to walk away from the gift store than it was for him.
COVID-19 Update: At Crayola, increased safety measures include face masks are required for guests ages 3 and up, there are temperature checks at check-in as well as timed ticket entry.
For families who don't take themselves too seriously, Medieval Times is for you. Enjoy a four-course (and utensil-free!) meal while watching jousting and horsemanship in a restaurant that is shaped like a castle. Check the website for discounts and promotions, as you can often get children's tickets for free for weekday visits.
COVID-19 Update: All guests over age 6 must wear a face mask and must complete a health screening upon entering. Performers will not be giving autographs following the shows for the time being as well. See Medieval Times' full reopening details for more.
In case you didn't know, Dallas is home to "America's team," the Cowboys, and thus home to the Texas-sized AT&T Stadium where the team plays and practices. If your visit happens outside of football season, you can still take a tour of the team's practice facility, The Star, or even an art tour inside AT&T Stadium.
COVID-19 Update: Click here to read the latest safety guidelines from The Star and this page to read the latest from AT&T Stadium. Some games are open to the public, but guests must wear a face mask, and The Star continues to offer tours at limited times.
Tired little feet will appreciate a break on the old-world McKinney Avenue Trolley that runs through the downtown area and arts district. Rides are free, so it's a great way to get around, and if kids enjoy the antique interior of the country's oldest operating street car, there's no reason to stop riding.
COVID-19 Update: Masks are required and ridership is limited to help maintain social distancing.

Big Tex is a State Fair staple. Photo courtesy VisitDallas.
If you're visiting Dallas during October (the state fair runs the last Friday of September for 24 days) then you must go to the State Fair of Texas. Eat your share of fried goodness (my husband's term for anything deep-fried) from savory bites to desserts under the watchful, and smiling, eyes of Big Tex, the fair's infamous and huge statue. The fair has taken place annually since 1886 and shows no sign of slowing down. Not only will you get your fill in delicious food, but also in Texas history and culture.
A white Christmas is a rare treat for south Texans. Seeing snow in the winter typically means a road trip, including a trip here to Dallas where, if the weather isn't cooperating, the Gaylord Texan Hotel offers an over-the-top festive Christmas experience with faux snow, ice skating, and new events and activities every week during the season.
For more family travel ideas, check out our guide to kid-friendly things to do in cities across the country.