RV Camping and Campgrounds for Families: A Beginners' Guide to Planning an RV Trip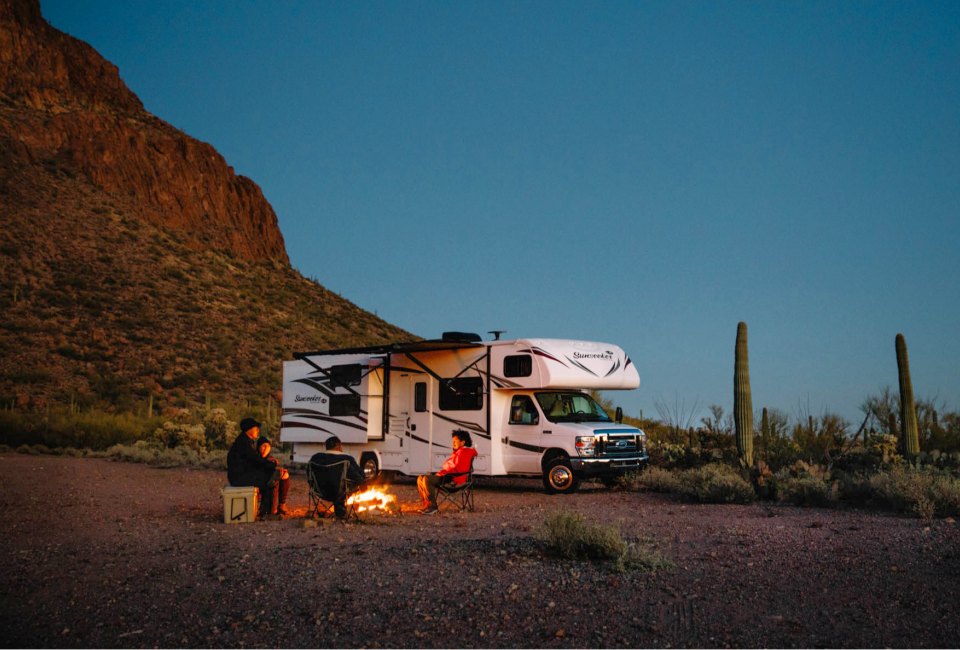 7/23/20
- By
Rachael Cherry
There has been a dramatic increase in interest in RV camping this summer—and with good reason. RV camping lets a family get away to enjoy the outdoors, and maybe even some national parks, but with many of the luxuries of home. We have been a camping family for years, and we've run up the ranks summarily, starting with tent camping, then pop-up campers, then RVs and towable trailers. We've done it all at this point and can confidently say that RV camping is an amazing (and socially distanced!) way to vacation, as long as you know the basics.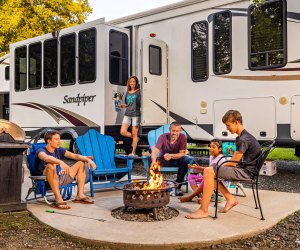 Photo courtesy of KOA
What are the different types of RVs?
First up, let's explore the different types of RV campers out there. From canvas pop-ups to hard-walled travel trailers, campers vary a lot, though they fall into two distinct categories: towable trailers and motorhomes, each with many options in between.
Towable Trailers
Towable trailers, which connect to a car's trailer hitch, offer the freedom of being unhooked and dropped off at a campsite, allowing you to then drive around without them. The flexibility of not having to unhook and pack up for every trip to the store makes them my personal favorite. Trailers come in sizes to fit every family's needs:
Pop-up campers: A step up from tent camping, pop-up campers offer a way to dip your toes into the RV/travel trailer world without all the bells and whistles of more involved trailers and recreational vehicles. Pop-ups have a hard base and canvas sides that "pop up" as you set up at a camp site. They are the most affordable and lightweight option, but they take more time to set up, and often lack bathrooms or air conditioning/heating.
Travel Trailers: Next in the lineup are travel trailers, which connect via a bumper hitch to your vehicle. Travel trailers are hard-walled trailers that come in a variety of lengths, from tiny one-room trailers to multiple sleeping quarters for larger families. Many have sleeping room, a kitchen, and a dining area, with larger ones offering slideouts on the side to open up extra space once parked at an RV site.
Toy Haulers: These trailers are similar to travel trailers in terms of living space, but they also have storage for big camping toys (think golf carts, motorcycles, four wheelers, etc).
Fifth Wheels: Fifth wheels are the largest towable trailers on the market and connect to heavy-duty trucks that have a fifth wheel towing hitch inside the bed of the truck. These trailers are very spacious inside, and many boast multiple slideouts on both sides. If you're looking for a home on wheels, and you have a truck with towing capacity, fifth wheels are the way to go; though parking and maneuvering them can be a challenge.
Recreational Vehicles
Recreational vehicles, or motorhomes, are your one-stop shop if you don't want to bring an extra vehicle. Motorhomes combine car and living space in one, so you never have to mess with hooking up or towing. The downside to this is that if you do need to leave your campsite, everything is coming with you. You also have more maintenance to think about in terms of oil changes, engine repairs, and other typical automobile upkeep.
Class B Motorhomes: These RVs are compact vans that are perfect for small families on the go. They offer a fuel efficient option that drives easily and is as close to a regular van as you can get. Inside you'll find a streamlined kitchen, sleeping area, and a restroom, giving all the comforts of camping in a travel trailer or RV in a minimalist environment.
Class C Motorhomes: When you think of the classic motorhome, the Class C is probably what comes to mind with its tell-tale overhang over the cab. These motorhomes have kitchens, bathrooms, and usually a couple different sleeping space options, and some come with slideouts to open up the areas as well.
Class A Motorhomes: The largest of the motorhome options, Class A motorhomes are recreational vehicle giants that are the epitome of luxury in camping. These behemoths are often chosen by people who like to camp for extended periods of time; they have many of the same amenities you have at home (think king size beds, washer and dryers, full-size refrigerators, and more).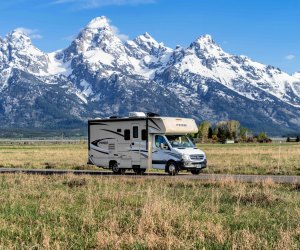 Photo courtesy of RVShare
How to Rent an RV near You
Before you dive head first into purchasing an RV, you should probably rent one. We have owned three different towable trailers and a motorhome over the last 8 years, and I can tell you that landing on the right one for your family is no small feat; there are just so many different aspects to think about. So where can you rent an RV?
RVShare: RVShare is a great place to start; it's like AirBnB for recreational vehicles. Because you're renting from individuals, you may find more variety in both rental options and pricing. RVShare also has a rewards program to save on subsequent rentals.
Outdoorsy: Another peer-to-peer marketplace option is Outdoorsy, which connects thousands of potential campers with RV owners.
Cruise America: Known as the largest RV rental chain in the nation, Cruise America has 132 locations across the US and Canada and specializes in connecting families with traditional RV rentals.
KOA RV Service Directory: KOA, or Kampgrounds of America, has chain campgrounds across America which are a haven for campers looking for a uniform camping experience. KOA also offers a comprehensive RV Service Directory that lists a wide selection of RV Dealers, RV Rentals, and RV Repairs in each state, so you can easily locate available RV services near you.
​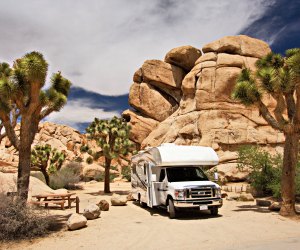 Photo courtesy of RVShare
​RV Parks and Campgrounds
​Private RV Campgrounds
Private campgrounds are often a little pricier than public campgrounds, but the higher price tag typically means staying in a very well-maintained RV campground that boasts extra amenities and attractions. Examples are chains like Yogi Bear's Jellystone Parks or KOA, which often have activities for kids that range from water attractions to mini golf, arts and crafts programs, fishing ponds, and more. These RV campgrounds pretty much guarantee a good time for kids of all ages.
State Parks
The US is home to 8,565 state park areas and 221,367 campsites, which are some of the most popular camping and outdoor recreation sites. Benefits to RV camping at state parks include stimulating a state's economy and protecting natural resources, as well as offering families a chance to get outdoors and explore in a protected area. These are also some of our favorite RV campgrounds! Each state has its own camping reservations system; choose a park and look for the link on its website.
National Parks
While not as numerous as state parks, America's national parks still make an impressive showing. National parks offer larger areas to explore, plenty of RV campsites, and protected areas—all great reasons for a trip in an RV! Again, start your reservation search on the park's website.
How To Find Free RV Camping and Parking
I know what you're thinking... "Camp for free?!" You read that right! While one of the obvious perks of RVing is being able to visit amazing campgrounds in different parts of the country, every now and then you need a place to park the RV overnight for free. Whether it's to break up a long trip or because you just can't find a campground, boondocking—or free camping without the hookups—is something every RVer encounters at some point. But can you actually camp for free? The short answer is a resounding YES. The caveat is that you'll likely be camping dry, meaning with no electric or water hookups available.
One of the most common places that RVers find themselves boondocking is at popular big box retailers. Some spots known for welcoming RVers to stay overnight:
Walmart
Bass Pro Shop
Cabela's
Cracker Barrel
Pilot/Flying J Truck Stops
Lowes/Home Depot
If you are planning to RV overnight at one of these businesses, you should check with the individual store before setting up, as it is at the discretion of each location whether it allows overnight RV parking or not. You also need to follow common courtesies, such as parking in a discreet part of the parking lot, not running a generator, not leaving any trash, only taking up one parking space, and purchasing anything you may need at said store.
Many visitors' centers and specified areas of public lands also allow free overnight RV parking. A word of caution, though: you can't typically free camp close to nearby campgrounds, trailheads, or picnic areas, and you shouldn't just pull over on the side of any given road. Double check that it's OK to camp for the night before doing so. Allstays and Boondocking are both great resources for locating where you can safely and legally boondock, so you don't get in trouble for camping illegally.
The hallmark of RVing is getting to explore places of beauty, both big and small, so whether you're holing up in a tiny campground, boondocking on the way to some far-off destination, or exploring one of the big name national parks, the end result is the same: spending time exploring different places in our country with the family together. ​
Click Here to Sign Up!