Best Amusement Parks, Theme Parks, & Water Parks within Driving Distance of Houston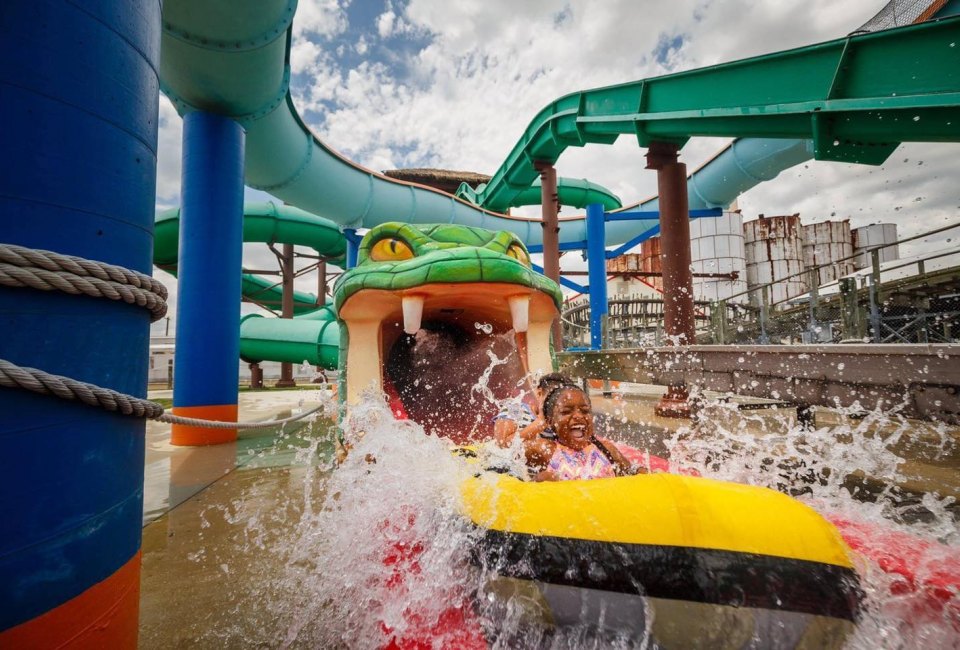 5/9/21
- By
Vicky Yip
Summer fun in Houston is not complete without a visit to an amusement park or water park. Between the epic roller coasters and high-flying swings at amusement parks, and the slippery slides and raft rides at water parks, Houston area theme parks have enough thrills and spills to keep kids cool all summer long.
If you'd rather stay indoors at the peak of our hot summer months, you could check out Guide to Indoor Fun for Houston Kids. Or maybe you'd prefer to splurge on a local resort with a great pool. But for good old-fashioned summer thrills, there is nothing like the Texas amusement parks below.
Young children love the just-for-them Sesame Street Bay of Play area at SeaWorld, with its preschool-friendly rides and musical performances on the main stage by Sesame Street characters. The water play and playground are temporarily closed as of publishing date, but check the website for updates. In the rest of the park, older kids and adult thrill-seekers can steel themselves to ride one of several exciting roller coasters, including the tallest, fastest, and longest wooden coaster in Texas; the Texas Stingray. Everyone can take a break from the heart pounding attractions and sit down to catch an educational animal showcase featuring some amazing aquatic mammals such as dolphins and whales. For something really unique, check out the hands-on animal experiences. For an additional fee, you can go behind the scenes and feed, touch, and even enter an animal's habitat. If you need a place to cool off, head to the penguin exhibit for a frigid visit and take your time walking through the viewing platform. The gift shop at the end of the exhibit is another nice cooling-off spot, but be prepared to succumb to your child's pleadings for a stuffed penguin or a cute picture book.
This Fiesta-themed park has plenty of water slides and amusement park rides for everyone in the family. Enjoy the massive wave pool, float down the lazy river, try a multi-passenger rafting adventure, and prepare yourself for some of the speediest towering water slides around. Six Flags is known for lots of gravity defying rollercoaster rides, but be forewarned that the maximum thrill rides have very long lines during the height of the season. Book a Flash Pass to get quicker access, but be prepared to queue up! If you have younger kids or just want to forego the thrill rides, head over to the family-friendly attractions. Some of the kiddie-rides are scattered around the park but near the middle of the park you'll find a grouping of more kid-friendly options like a junior coaster, carousel, and other tame rides. Guests cannot bring food into the park, so if you have food allergies, time your visit well and plan ahead since the available food options are limited here.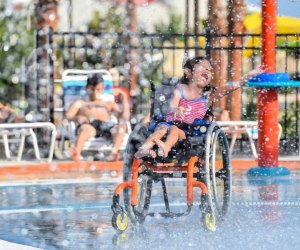 Morgan's Wonderland is a treat for so many kids. Photo by Robin Jerstad/Jerstad Photographics
Designed specifically for the special needs community, this unique park is the first of its kind. It was created to be completely accessible for children and adults of differing abilities. Special needs guests and their families can enjoy amusement park rides and even a splash park complete with dumping buckets, all built with wheelchair accommodations. Other inclusive attractions include the Sensory Village, a pirate-themed playground, Ferris wheel, carousel, and even real catch and release fishing. There are plenty of bathrooms and changing rooms which help make the experience less stressful. Guests say that they love the compassionate and inclusive environment which allows them to revel in a day of fun with their families. Visitors with special needs receive free admission.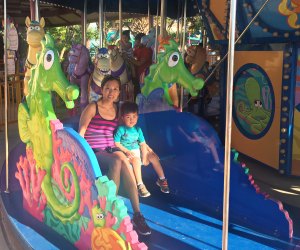 Grover's Round-Up is great for toddlers at Sea World San Antonio. Photo by Vicky Li Yip
Right outside of San Antonio lies this popular water park and resort that features rivers, rides, slides, and chutes. The on-site resort makes it easy to take advantage of all the action, including miles of rivers that are powered by natural spring water from the Comal River. Be prepared for long walks though. The park is vast, encompassing two distinct sections separated by a few city blocks. If you need to, make use of the free tram service that takes guests back and forth. The West side of the park may be more fun for older kids with newer and faster water rides, while the East side of the park is more relaxed and manageable, especially if you have preschoolers; this is where you'll find Hans Handout, which has four water slides appropriate for all ages. Be aware that although most of the rides throughout the park don't have height restrictions, some are still too intense for littles. If you're traveling with a mix of ages, you'll be happy to know that there are water playgrounds appropriate for younger kids throughout the park.
Family-owned and operated, this classic amusement park located less than 3 hours away from the Houston area features traditional rides that include a rollercoaster and parachute drop. It's not a big park, but perfect for families who want something manageable and still lots of fun for kids of all ages. The retro-vibe attractions include go karts, rock climbing wall, indoor playground, video game arcade, and several water slides as well—so bring a change of clothing! The unlimited rides all day and reasonable snack bar makes it a great value for family fun.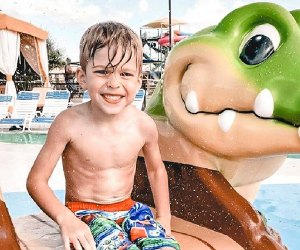 Photo courtesy of Typhoon Texas Waterpark
This Schlitterbahn park near the sandy beaches of nearby Galveston is not nearly as big as the one in New Braunfels. There aren't as many maximum thrill slides here as there are at the other location, but what is here is more than enough to entertain a family for an entire day. A highlight of the park is the lazy river, that is anything but lazy. Riders can float in tubes on a current that meanders all around the park, encountering tidal waves, relaxing streams, and even whitewater rapids! There are several kiddie areas as well as family-friendly, zero-entry artificial beaches that are good for smaller kids. Get there when the doors open for the best pick of tables and lounge chairs to set up for the day. Guests are allowed to bring in their own food, and there is free parking available, too. Be aware that rides can be closed for maintenance or due to insufficient staffing. To avoid disappointment, check online for the schedule of attraction closures for the day of your visit.
If you're looking for an amusement park fix close to home, then the Pleasure Pier at the Galveston Seawall might just do the trick. Although there are only a few thrill rides, including the Iron Shark Rollercoaster and Cyclone, the other dozen or so rides still excite kids and kids-at-heart who are looking to swing tall, spin fast, and sway high up over the ocean. This modest seaside amusement park also boasts some midway games and an arcade. The park's best value is to purchase a Ride Pass for unlimited rides. Otherwise, each ride is $4. Unfortunately, even if you don't plan on riding anything, you'll have to pay a $10 entrance fee. There's a 5D Theater across the street where you can choose to experience a theater ride to assault all your senses with realistic movements, scents, sounds, and special effects. If you'd like to hop over for that adventure, check the website for the 5D Theater & Pleasure Pier Combo special pricing. The Bubba Gump Shrimp company is located on site as well, so if hungry bellies start to growl, you can just pop into the restaurant for some good eats and a spectacular view of the Gulf.
It may be only 20 miles away from downtown Houston, but this gem on the shores of Galveston Bay and Clear Lake feels like a world away. The Boardwalk offers amusement rides, midway games, waterfront restaurants, retail shopping, live music, events, and occasional festivals. Those with grandparents in tow or non-riders appreciate that there is no entrance fee for enjoying the boardwalk. Anyone can tag along for an ice cream cone or a cup of coffee from Starbucks while strolling around the amusement park, or watching boats go in and out of the inlet. If you want to ride the dozen or so rides, however, you'll have to purchase an all-day Ride Pass or individual ride tickets (which start at $5 per ride). Most of the rides are more appropriate for older kids, but you can still enjoy the Boardwalk with the little ones. Between the shopping area with the Build-a-Bear Workshop store, restaurants, midway games, arcade, playground, and a dancing water fountain (bring a swimsuit!), there is plenty to keep multiple generations happy.

The Tornado is a 132 foot long tunnel of fun. Photo courtesy of Hurricane Harbor Splashtown
Houstonians have been enjoying what used to be the old Wet 'n' Wild Splashtown in the nearby Spring suburbs for decades. This favorite local water park became Six Flag's Hurricane Harbor in 2019. The revamped park, though smaller than most other Six Flags properties, has gone through numerous upgrades. For those who like heart-stopping drops, you'll be happy to learn that the park has welcomed a new ride called the Wahoo Wave. This family raft ride features a 30-foot drop and exhilarating hairpin turns. The park also debuted double-deck cabanas as part of the new Caribbean-themed area. Younger kids can play in Coconut Bay, where they can find interactive splash park fun and a milder version of water slide thrills.
It may not be the largest water park in the area, but Typhoon Texas is still big on fun, especially for younger kids. The Gully Washer, catering to kids ages 3 to 10, features an 800-gallon water bucket and four-story play structure. Slides, elevated walkways, rope bridges, and spray areas keep kids busy and cool all day. For even younger kids ages 2 to 4, the Buckaroo Bayou offers mini slides and splash pads for tiny thrills. With slides, a Lazy River, a wave pool, and more, families with kids of all ages can enjoy a jam-packed day. Private cabana rentals along the children's play areas may be a splurge, but they let you keep a close eye on the action from a comfortable perch. Cabanas also come with F&B wait staff, bottled water, and discounted food platters.