Hotel Pools Around Houston that Offer Day Passes for Families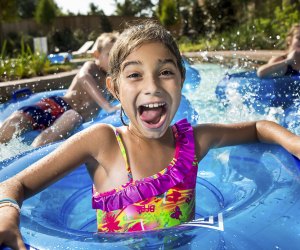 7/15/22
- By
Vicky Yip
Families getting ready to beat the Houston heat have some great options when it comes to Houston hotels with pool passes boasting cool, refreshing, and indulgent swimming pools. Though it's always fun to plan overnight stays and weekend trips to a nearby hotel for a getaway, you don't necessarily have to spend the night to enjoy a resort pool in Houston. Check out the Houston-area hotels below that offer day passes for their fabulous and luxurious pools, letting you bring the whole family for a chill day poolside.
Hotel Pools around Houston that Offer Pool Day Passes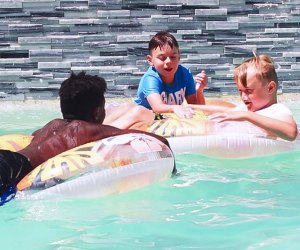 Lazy River photo courtesy of the Grand Tuscany Hotel
713-462-9977
Pool open 9am-7pm daily
The Grand Tuscany Hotel has so much more than just a pool. Float down the 350-foot lazy river at this resort-style pool complete with a water-wall fountain. Poolside food and drink service is available whether you choose the Regular Day Pass, Poolside Cabana, Dome Cabana on Island, or Lazy River-Side Table option. Day Passes are $35 for adults and kids age 13+, $25 for kids 2-12 years old, and free for infants. Contact the hotel for updated on-site parking fees.

Photo courtesy of the Four Seasons Hotel, Houston
713-650-1300
Pool open 11am-6pm
The Four Season's heated resort-style rooftop pool and hot tub area comes decked out with lots of lounge chairs so everyone has a chance to unwind, order food, and enjoy a meal on the deck. Day pass holders can either book the regular pass or opt for a cabana suite rental, which includes a private poolside suite complete with a full bathroom, a king or two double beds, and plush outdoor seating. Day passes cost $75 per person and are free for infants. The passes include access to food and drinks service and $6 valet parking. Cabana suite rentals include day passes for up to 4 people and run $350.
713-313-4000
Pool open 7am-9pm daily
The outdoor rooftop pool is not the only attraction at this hotel located in the heart of the Medical Center in Houston. Out on the deck, guests can also enjoy the breathtaking views of the Rice University campus adjacent to the Med Center. Day passes are $25 for adults and kids age 13+, $10 for kids 3-12 years old, and free for infants. Day passes include access to food and beverage service and the fitness center. Parking is also discounted to just $5 for day pass holders.
281-558-8338
Pool open 6am-10pm daily
The heated outdoor pool offers a great place to hang out in the Energy Corridor. For an added treat, your day pass gives you access to the resort's poolside Summer Music Series every Saturday evening from Labor Day through Memorial Day. Day passes are $25 for adults and kids age 13+, $20 for kids 3-12 years old, and free for infants. Day passes include access to food and beverage service, the fitness center, and complimentary parking.

Photo courtesy of The Woodlands Resort
281-367-1100
Pool open 9am-10pm daily
Families love the splash pads, pool, lazy river, and slides that make up Forest Oasis pool complex at The Woodlands Resort, about 30 miles north of downtown Houston. Though the slides operate on slightly more limited hours, the lagoon-style pool, kiddie pools, and whirlpools offer enough for a full day of water play. The day pass includes access to warmed towels, food and beverage service, as well as treats like s'mores! Day passes are $55 for Adults over 16, $45 for kids 3-15 years old, and free for infants.
Related: 8 Texas Swimming Lakes for Unforgettable Family Getaways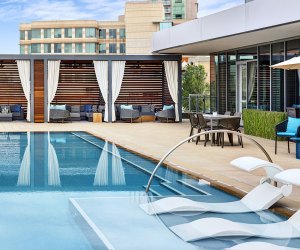 Families can enjoy a day of luxury at this rooftop pool. Photo courtesy of The Westin at the Woodlands
281-419-4300
Pool open 11am-7pm daily
Just on the outskirts of Houston overlooking The Woodlands Waterway, this rooftop pool boasts private shaded cabanas with comfortable seating for up to 6 people. The cabana rental comes with towel service and 6 bottles of complimentary water, as well as Wi-Fi access. There's also poolside food and beverage service on the weekends. Cabana rentals are $200 for up to 6 guests and include discounted valet parking for $15.
979-421-4000
Pool open 9am-9pm
Day trips outside the city are great for a change of scenery. The Stella Hotel is one destination that will let you enjoy the surroundings of central Texas while giving you a chance to enjoy not one but two outdoor swimming pools. Take a dip in the pool, relax in the hot tub, or enjoy some classic games on the 10,000-square-foot backyard space that makes up the lawn area. Day passes also include access to towel service, food and drink service, and the fitness center. Day passes are $25 for adults 16+, $15 for kids 3-15 years old, and free for infants. Cabana rental is $250 for up to 8 people. Valet parking is complimentary.
Other Great Pools at Houston Hotels
These Houston hotels only let their overnight guests swim, but the pools are so great they're worth booking a room for a staycation pool day. Enjoy all the facilities while you have a room booked, stay cool and comfortable poolside, and leave all the towels in a room someone else will clean!
713-680-2626
Pool open 5am-10pm Monday-Friday, 6am-9pm Saturday and Sunday
The Houstonian is a luxurious family-friendly oasis on 27-acres of wooded area in the heart of Houston. The pools are all temperature controlled and surrounded by native Texas landscaping. The Resort Pool features something for everyone in the family: a three-foot rock slide, Jacuzzi, "Little Lagoon" children's pool, geysers, and a sun shelf where you can lounge while immersed in the water. The Sports pool is a competition lap pool with anti-wave lane lines that swimmers looking for a workout love. For those who might want a more secluded option, choose the quieter adults-only Garden Pool surrounded by lush landscaping.
Related: Best Swimming Classes and Swim Lessons for Houston Kids

Relaxing on the sun shelf at the Marriott Marquis. Photo by Vicky Yip
713-654-1777
Pool open 6am-10pm
The word's only rooftop Texas-shaped lazy river is located on the 6th floor of the Marriott Marquis right in the heart of downtown Houston. Spend the day playing at Discovery Green park right outside the doorstep of the hotel, then come back and relax in the infinity pool overlooking the city. Order food and beverages and soak up the sun on a lounge chair, or grab an inflatable tube and float around the lazy river. Other amenities include a 7,000-square-foot Pure Spa and Fitness Center.
346-227-5000
Pool open 9am-8pm
Guests of the posh Post Oak Hotel at Uptown Houston can rent private poolside cabanas and day beds and spend the day lounging in this sparkling tropical atrium-style sanctuary. Cabanas include a fridge, flat screen TV, and comfortable lounge furniture. Their ultra-comfortable stylish day beds are a noticeable upgrade from standard lounge chairs. You can also soak up the sun on one of the in-water recliners on the sun shelf. Other amenities at the hotel include a spa, salon, and dining options.