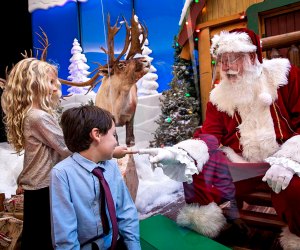 30 Free Christmas & Holiday Events in Houston
The holidays are expensive enough without having to worry about forking out cash for Christmas activities to enjoy with family and friends. We've rounded up FREE things to do this holiday season in Houston for the whole family. From parades and tree lightings, to Santa sightings and more, there truly is something for everyone on our list. Be sure to check out our calendar for things to do every day with the kids.
Due to concerns about COVID-19, we recommend following all of the health and safety precautions in place, as mandated by the CDC. This includes social distancing, wearing a mask, frequently washing hands and/or using hand santizer, and staying home if you're feeling under the weather. We want this to be a safe, happy holiday season as we navigate this difficult time.