Birthday Venues Near Houston That Won't Break the Bank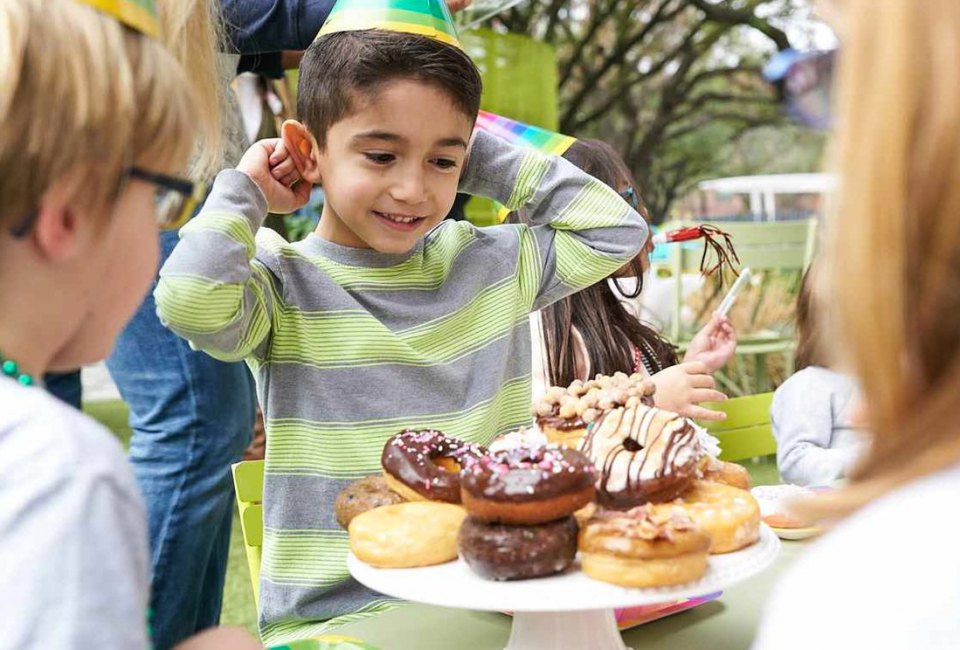 2/13/22
- By
Ashley Jones
Planning a fantastically fun birthday party that your child and their friends will remember for years to come can seem like a daunting task, especially when you start counting out invitations and pricing birthday party venues near Houston. Making the most of a birthday party budget means getting the best deal possible on space, food, decor, and entertainment. Luckily, there are several great options for birthday party venues near Houston that won't break the bank.
Whether you prefer a more traditional party with streamers, balloons, and a bounce house, or want to go for a unique experience like a museum tour, we've got you covered. Read on for our suggestions on where to go and what to do when you want to make the most of a birthday party budget in Houston, and consult our Birthday Party Guide for more ideas.
Outdoor Birthday Parties in Houston
1. Local parks with great playgrounds
One of the most obvious birthday party venues for kids' parties (weather permitting) is local parks with great playgrounds. Many parks will let you rent covered pavilions with tables for a nominal fee, while some may even be free. The advantage of these parks is that your local guests won't have far to travel. Check out Donovan Park in the Heights or Centennial Park in Pearland.
2. Destination parks
There are so many great destination parks all over the Houston area that are excellent choices for large groups. Discovery Green has over 12 acres of space, so you can be sure you will find a spot for the kids to run around. Attractions include splashing around in the Gateway Fountain or having fun in the John P. McGovern Playground. Another great choice in the north Houston area is Spring Creek Park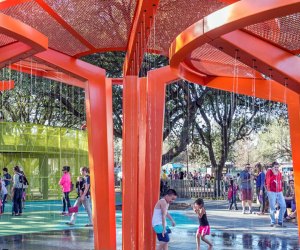 The Levy Park splash pad, photo courtesy of OJB Landscape Architecture
3. Parks with splash pads
Cool down your birthday party guests in the hotter months with a party at a splash pad! If you pick a place like Levy Park or Clear Lake Park, you can take advantage of these free and fun attractions. If your child likes to fish, choosing a park with a fishing pond like Challenger Seven Memorial Park in Webster or a pier like Pine Gully Park in Seabrook is another great idea.
4. Beaches
Hosting a party at a beach gives you ample space and a lot of flexibility for minimal (or often zero) dollars, allowing you to spend more money on food, decorations, or entertainment. An excellent choice for warmer weather is to head down to Galveston and host a birthday party on one of their family-friendly beaches. While in Galveston, taking a dolphin tour around the bay is a great, inexpensive idea for party-goers. We love BayWatch Dolphin Tour.
RELATED: 5 Animal Party Entertainers Houston Kids Will Go Wild For
Studios, Churches, and YMCAs for Hosting Birthday Parties Near Houston

Some studios and gyms have affordable birthday packages. Photo courtesy of Biron Youth Sports
5. Dance and fitness studios
Many area dance and fitness studios will rent out their studio space for birthday parties. Biron Youth Sports is a great option for a kids party in Houston with affordable hosted packages based on your child's age range and fitness interests.
6. Rock climbing
For more adventurous youth, some rock climbing gyms like Momentum Indoor Climbing offer lower pricing for parties held during off-peak times. Fees will range depending on what is included with the rental, but kids will have experts on hand to keep them entertained.

Try local churches with indoor playgrounds for an affordable birthday venue near Houston. Photo courtesy of Sugar Creek Baptist Church
7. Church activity centers
Many of our favorite locations for birthday parties near Houston are the free indoor playgrounds located at churches throughout the city. Check out local churches for room rentals as well. Some even have activity centers available for rent at an inexpensive rate Sugar Creek Baptist Church rents out their popular playscape for birthday parties. At the same time, Houston's First Baptist Church in Katy offers packages for their party room, game area, and bowling alley.
8. YMCA locations
Houston-area YMCA locations are another fantastic birthday party resource. Prices and packages vary based on location, but some have indoor pools, basketball courts, and volleyball courts to choose from.
Kids Birthday Parties in Houston with Local Law Enforcement
If time and space allow, many local police and fire stations will set up tours for birthday party groups. All you have to do is call and ask. Kids can meet officers, learn about safety, and see real tools and equipment.
9. The Mounted Patrol
The Houston Police Department Mounted Patrol Facility is open to visitors and offers guided tours and demonstrations of their horses for groups for FREE. Kids can feed the horses apples and carrots, learn about how they are used in patrol, and see where they live. Reservations are a must and donations are welcome. Update February 2022: Currently closed due to Covid-19.
10. The Houston Police Museum
The Houston Police Museum is another excellent option for kids parties in Houston, offering group tours of their collection of police memorabilia. The museum is free, but groups of 10 or more require reservations. A group tour plus a picnic at nearby Discovery Green is a wonderful way to have a memorable birthday on a budget.

Photo courtesy of The Houston Fire Museum
11. The Houston Fire Museum
The Houston Fire Museum books private birthday parties for up to 16 children each Saturday. The party rental fee includes exclusive access to the museum and playroom, and staff assisted room set up, the opportunity to explore a real fire engine cab, try on bunker gear, and slide down a kid-sized fire pole. Update February 2022: Currently closed for historic renovations.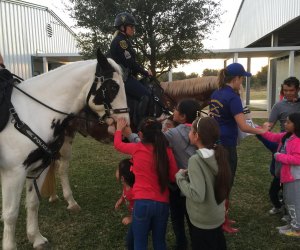 Kids can meet and greet horses at the HPD Mounted Patrol Facility/ Photo courtesy Smash, The Houston Mounted Patrol Horse via Facebook
Birthday Parties at Restaurants
Restaurants can be a great choice for budding foodies, and there are options in this category that won't break the bank.
This tasty option for kids parties in Houston offers birthday packages that include a facility tour, pizza making (and eating!), and a personal chef's coat for the guest of honor, all for $10 per child.
With many locations throughout Houston, Chick-Fil-A offers reserved seating for birthday parties and all you have to pay for is each child's meal. Affordable kids meals come with a toy or book that can act as a party favor! Be sure to call your local CFA to discuss times and decor well in advance, as peak party times tend to fill up fast.
Why not have your party at this affordable and popular chain, where staff will help you celebrate with Happy Meals, cake, decor, and time in their PlayPlace? Call your local restaurant to discuss booking details.
RELATED: Where to Host an Indoor Birthday Party in Houston
Birthday Parties Near Houston at Entertainment Centers
Rental fees at many of the more traditional birthday party locations can be pricey, but several area play spaces do offer totally fun, yet affordable parties.
15. Great entertainment center birthday party options for younger kids
Younger kids may enjoy a venue like Houston Party Playland, where party-goers can play on indoor playgrounds and enjoy cake and pizza in private party rooms, and customizable packages are available to help you stay within your budget. Go to Pump It Up in Bellaire and let kids romp around on giant inflatables in a private, indoor setting. Monkey Joe's is another inflatables venue where kids can go bananas on their birthday with parties that include jump time, arcade games, and more.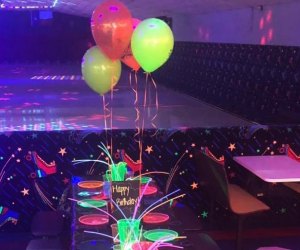 Roller rinks and bowling alleys sometimes have affordable birthday packages. Photo courtesy of the Dairy Ashford Roller Rink
16. Great entertainment center birthday party options for older kids
Give your kiddo a retro roller skating party at Dairy Ashford Roller Rink, and choose from several packages that include skating and food, but won't bust your budget. IT'Z has attractions such as an arcade, bowling and pizza, with customizable packages that include multiple activities. Bowlmor offers party packages at various price points where you can pay per child attending to get the most for your money. Movie parties are a popular option that can be done on a budget by choosing to see a flick at a dollar theater. NASA Premiere Dollar 8 in Webster shows movies just out of regular theaters for only $2 per person. You can even catch some films for only 50 cents on Saturdays before noon.
Crafty Party Ideas
17. Creative parties at a store
Choose from a plethora of craft options to create the perfect creative party at your local Michael's store. Themed parties start with a minimum of eight guests and include everything kids need to design an age-appropriate craft to take home. Depending on the location, some Lowe's and Home Depot stores offer similar party options, but you will need to check with the manager at your local store for specifics.
18. Creative parties at a specialized venue
The Houston Center for Contemporary Craft is a unique option for a birthday party for any kids interested in the art of design. Although there are no on-site visits at the moment - February 2022 - you can order a workshop kit and hold a virtual party with an instructor on a video call. Each workshop kit includes materials and the activity time ranges between 1 and 2 hours. Examples of activities include making a clay snake coil pot, a felt monster sewing kit, or a polymer-clay mini food kit. Order more than 10 kits and get a 20% discount!
More Tips for Partying on a Budget
Send digital invites for free via websites like Evite instead of buying paper ones. It's also environmentally friendly. Win-win!
If your party space doesn't already provide them, borrow tables and chairs from friends and family instead of renting them.
Play party games that don't require purchasing any supplies such as freeze dance, tag, and Simon says.
Consider the talents of friends / family and have them put on a show or organize an activity for the party-goers.
If you're not planning to party at a restaurant, you can save money by only providing drinks and a cake or cupcakes at your party. Just plan a mid-morning or mid-afternoon shindig so that your guests will attend the party between mealtimes.
Instead of giving each guest a goodie bag filled with multiple treats, stick to a simple candy bar or balloon per child. Or, have kids make a craft during the party that they can take home with them at the end.
Ask venues if they offer discounts for booking parties during off-peak hours. Some places may have lower pricing in the mornings or on weekdays.
Top photo: Learning a dance during a princess-themed party at Dance Expressions/ Photo courtesy Dance Expressions via Facebook
Click Here to Sign Up!
i