For the Fire Truck Fanatics: Houston Fire Museum and Fire Station Tours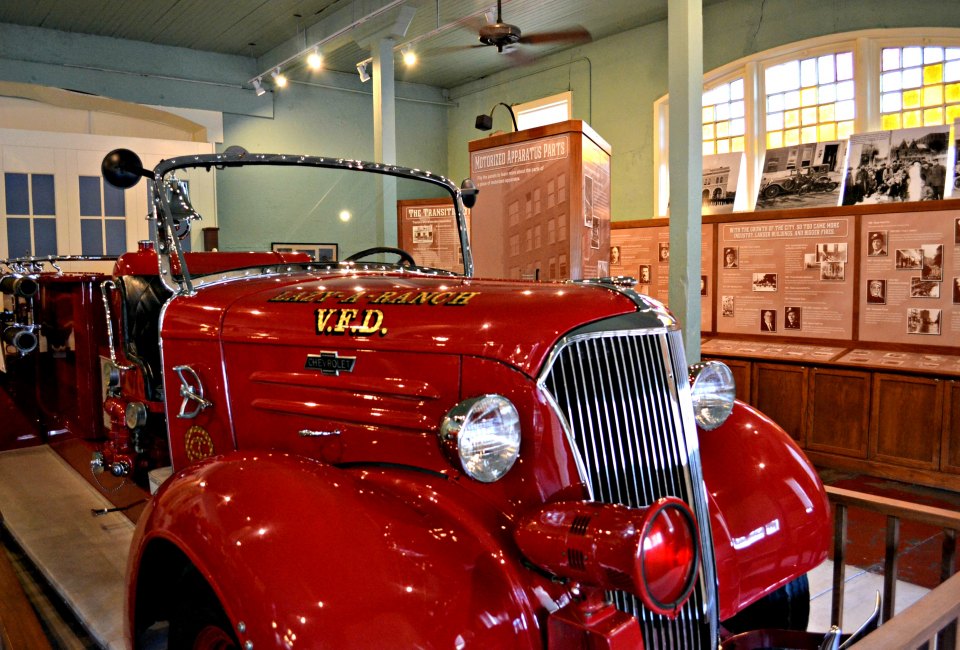 9/18/17
- By
Rachael Cherry
Fire trucks are a big deal in our house - my toddler loves them - so it's natural that one of my family's favorite Houston museums to visit is the Houston Fire Museum. Formerly Houston Fire Station No. 7, the facility was built in 1898 by the Houston Fire Department and remained active until 1969. In 1980, it was renovated into its current state as a museum and is now listed on the National Register of Historic Places. Driving up, you can see how well the outside of the building has been preserved, and the station exudes an unparalleled authenticity.
The Houston Fire Museum is fairly small, making it a great spot for younger children (and parents not looking to spend hours weaving in between rooms trying to keep track of your kids.) We started our visit downstairs with the first two exhibits, which both contain antique fire engines. There is a genuine horse-drawn steamer from 1895 and a hand power pumper along with original firefighter outfits from the same time period. On the other side of the bottom floor guests will find a 1937 Chevrolet pumper, a book of different firemen patches, and a wall of photos and information detailing the history of the station. There's also a hallway in the back that previously served as a watch office, and it contains original equipment that the firemen used to receive dispatch calls.

The museum has historical equipment and machinery on display.
We were instructed almost immediately upon entering the museum that photos were encouraged, but there was a strict no-touch policy in place in the exhibit rooms. That was a tough one for my toddler who wanted nothing more than to run his fingers up and down the shiny trucks, so keep this in mind when planning a visit if you think this rule may be too difficult for any younger children.
The main room upstairs has displays of antique fire equipment and the original pole the firefighters used to slide down as they rushed to answer a call. A second, smaller room houses the locker room where the museum has converted old lockers into display cabinets that feature items that span almost 100 years of history, and each one represents its own decade from 1890 to 1980. They are filled with various items that firefighters kept in their lockers, documents from that time period, and pieces of uniforms.
Related: Days and Times for FREE Admission to Houston's Museums
Touring the upstairs was almost as nerve-wracking as being downstairs with the fire engines because telling a toddler not to touch something is equivalent to inviting him to touch everything. For that reason, the exhibits definitely cater to an older crowd.
From there, we headed back downstairs to the crown jewel of the museum for us: the kids' playroom.
Walking in was like entering a child-sized fire station. The playroom holds the front end of a fire engine, complete with working lights, that looks as if it's emerging from the wall. There are uniforms for the kids to wear, a ladder that leads to a platform with a pole to slide down, a hose-reel station, and a two-story mock firehouse.

Kids can climb and explore the miniature fire station, fully equipped with gear.
The children's firemen suits are some of the most authentic I've ever seen. Each suit has a set of canvas coveralls, a jacket, hat, and a gas mask. We put the suit on three different times while we were there because every time we took it off my son changed his mind and decided he wasn't done being a fireman. He also spent a good deal of time climbing the ladder to the pole and sliding down it. He was having so much fun that we spent a solid hour in the playroom, and I had to drag him out when it was time to leave. The playroom is definitely what made the trip such a hit for us.
Related: 10 Ways to Enjoy the Museum of Fine Arts-Houston With Kids
If a trip downtown to the Houston Fire Museum isn't something you're able to do, your kids can still enjoy a similar experience by visiting a local Houston Fire Department station. You can also check with your local departments, but to schedule a tour with the HFD, you'll need to decide on a date four weeks in advance, and then submit your request here. Tour groups have a cap of 30 people, and the tours last one hour. It's a good idea to prepare your group ahead of time that the firefighters may need to leave mid-tour to respond to a call in the event of an emergency. We're already planning a local fire station visit for next month and can't wait to see the fire trucks up close and meet the firemen who risk their lives to keep us safe.
More details:
Admission to the Houston Fire Museum is $3 for children ages 2-12, $4 for seniors, and $5 for adults. (Note admission is FREE for children every second Saturday of the month.)
Museum hours are 10 a.m.-4p.m., Tuesday through Saturday.
The Houston Fire Museum books private Jr. Firefighter birthday parties every Saturday except the second Saturday of the month. On these Saturdays, the children's area is open to the public and unavailable for parties.
All Photos by Rachael Cherry
This post originally published in September 2016.
Places featured in this article: