10 Ways to Enjoy the MFAH with Kids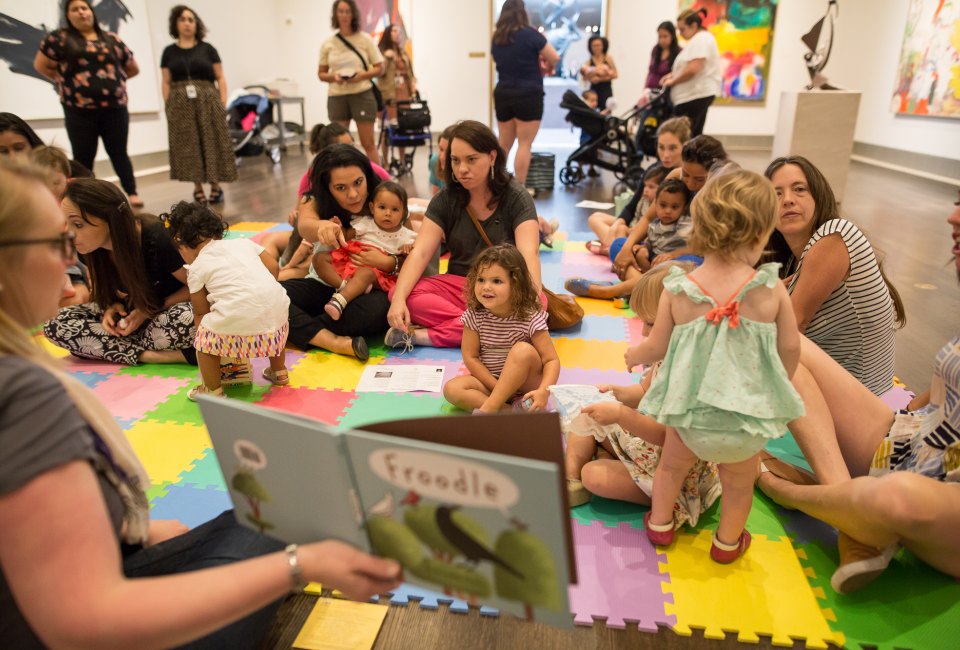 8/11/17
- By
Kate M
When I moved to Houston from New York City, my former co-workers got me a membership to the Museum of Fine Arts, Houston as a going away gift. I guess they wanted to make sure I would still get some culture all the way down here in Texas. It was a wonderful gift and gave me the opportunity to get to explore one of the best resources for art and culture in Houston! Now that I'm a mom, I have realized that the MFAH has so much to offer for children and families.
In addition to just exposing children to amazing works of art, the museum offers playdates, storytime circles, art workshops and open studios, free Thursdays, and more for kids of all ages. Children ages 12 and younger receive free admission every day, and children ages 18 and younger are admitted free on Saturdays and Sundays with any Texas public library card. Strollers and carriers are welcome in the museum. Make sure to talk to children about walking in the galleries and keeping little hands away from paintings and sculptures. You can download and print out the list of museum manners here. Here are 10 things to do with kids at Houston's top art museum.
1. Attend the monthly playdate or storytime. The MFAH playdate is for children up to 35 months old and an adult caregiver. Each month focuses on a different work of art and provides a multi-sensory experience in the galleries. Families sing songs, listen to storybooks, and participate in fun games and activities, all while being introduced to ideas and themes found in art, such as color, size, and texture. This event occurs once a month on Tuesdays at 10:45 a.m. The Family Storytime Circle is aimed toward children ages 3-5, and connects art with fun, entertaining stories! Each month, museum educators read a new story in the galleries and lead families on a brief exploration of the work of art related to the story. At the end, all families can borrow sketching materials or looking activities they can use together as they explore the museum on their own.
2. Go on a Sunday for the Family Zone activities. Families with children ages 3 and up are invited to drop in and enjoy a variety of games, activities, books, and mini-tours of the galleries. Each month's program focuses on a different work of art, exhibition, or artist each month. Enjoy two storybook circles, at 1:30 p.m. and 3 p.m. each Sunday, which connect the works of art with fun and exciting stories. For kids over 5, there is an open studio where families can enjoy time in the art studio creating their own masterpieces together! Inspired by a different work of art each Sunday, participants in this studio workshop use high-quality materials and tools, giving families the opportunity to better understand the techniques artists use to make art. Each workshop offers two sessions: one at 1 p.m. and a second at 2:30 p.m.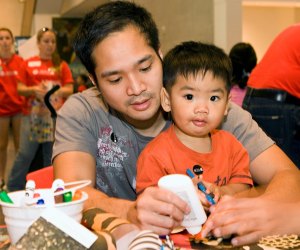 MFAH Family Zone. Photo courtesy of the Museum of Fine Arts
3. Stay for lunch. Visit the MFA Cafe for some Italian-inspired fare with a Texas twist. The cafe is located on the lower level of the Beck Building and also offers a European-style coffee bar, beer and wine, brunch until 2 pm on the weekends, daily specials, and a kids menu. Or grab lunch at one of the food trucks outside in the parking lot adjacent to Cullen Sculpture Garden. You can also bring your own food and drinks and eat them in the Sculpture Garden. Bonus tip: If you get lunch at the cafe or food trucks during the week, you can get free general admission if you bring your receipt to the admissions desk from noon to 2 p.m. and can stay as long as you wish or until closing. You do not have to pay for admission to go to the cafe.
4. Spend time in the beautiful Cullen Sculpture Garden, which is itself a remarkable work of art. Enjoy lunch or snacks outside, give kids a chance to stretch out their legs, and take a moment to admire the acre of trees, sloping walls, lawns, and pavers, which form a brilliant frame for lovely outdoor sculptures. With 25 works from the MFAH collection, and still more on loan, the sculpture garden's highlights include works by Louise Bourgeois, Ellsworth Kelly, Henri Matisse, Joan Miró, and Pablo Picasso. Isamu Noguchi, the legendary sculptor known for his fusing of Modernism with world culture, was commissioned to design the site in 1976.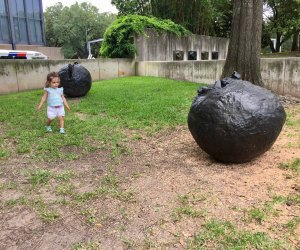 Enjoying the Cullen sculpture garden. Photo by Kate M.
5. Make sure to walk through the Wilson Tunnel connecting the buildings for a fun experience. Artist James Turrell's installation artwork The Light Inside serves as a beautiful and exciting walkway between the Beck and Law buildings. Kids are sure to love to bright colors and enchanting effect created by the lights. To reach the Wilson Tunnel, go to the lower level of either building.
6. Print out one or all of these looking activities from the MFAH website ahead of time and challenge yourself and your kids to complete the tasks which include questions to ask about the art, ways of looking at it, a sketching activity, and more. This is a great way to teach kids how to think about and appreciate art and the experience of going to an art museum.
7. Stop by the Kinder Foundation Education Center where museum educators can show you how to make the most of your MFAH visit. Plus, the KFEC offers free Wi-Fi and access to additional resources. Adults, families, students, and teachers are invited to browse the KFEC library and chat with staff members about what to see in the galleries during a visit to the MFAH. Note it is closed Mondays, Tuesdays, and major holidays.
8. Take a tour. The MFAH offers a variety of gallery tours and talks. See the calendar for details. Although most of these events are not directed at children, they are welcome to attend, so if you're a new mom who needs to get out of the house but your little one is not quite ready to participate in museum activities, this could be a great way to stimulate your own tired brain. Just throw the baby in the stroller or wear them as you stroll along on the tour, or if your kids are a little older and interested in learning more about a specific exhibit, this could be a wonderful way to encourage their excitement. Download the #InstaTourMFAH guide or pick it up at the admissions desk and discover the MFAH through some of the most photographed works of art! You don't need Instagram or even a smartphone to take the guided #InstaTourMFAH, simply use the prompts and questions to experience the museum in a new way.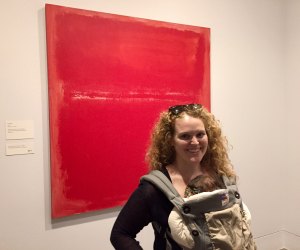 At the Rothko Special Exhibit 2016 with the baby in the carrier. Photo by Carter Denny.
9. Visit the museum gift shop located on the ground floor of the Beck Building. They offer a great selection of kids art books, arts and crafts kits, and well-designed toys. Perhaps pick up a book, an art print, or some jewelry and accessories for yourself while you're in there. Lots of wonderful options for unique gifts as well. You do not have to pay for admission to visit the gift shop.
10. See a movie. Many people don't realize that the MFAH houses its own arthouse and independent film cinema with screenings at the Brown Auditorium inside the Caroline Wiess Law Building. Tickets can be purchased at the museum or online. General admission is $9 or $10 for film festival showings, members, students with ID's, and seniors get a $2 discount, children under age 5 are free. Many films are not what's playing now to find out more about the movies currently being shown and the screening times;
Top photo of MFAH Playdate by Trish Badger. Photo courtesy of the Museum of Fine Arts.