Blast Off Into Nature at Challenger Seven Memorial Park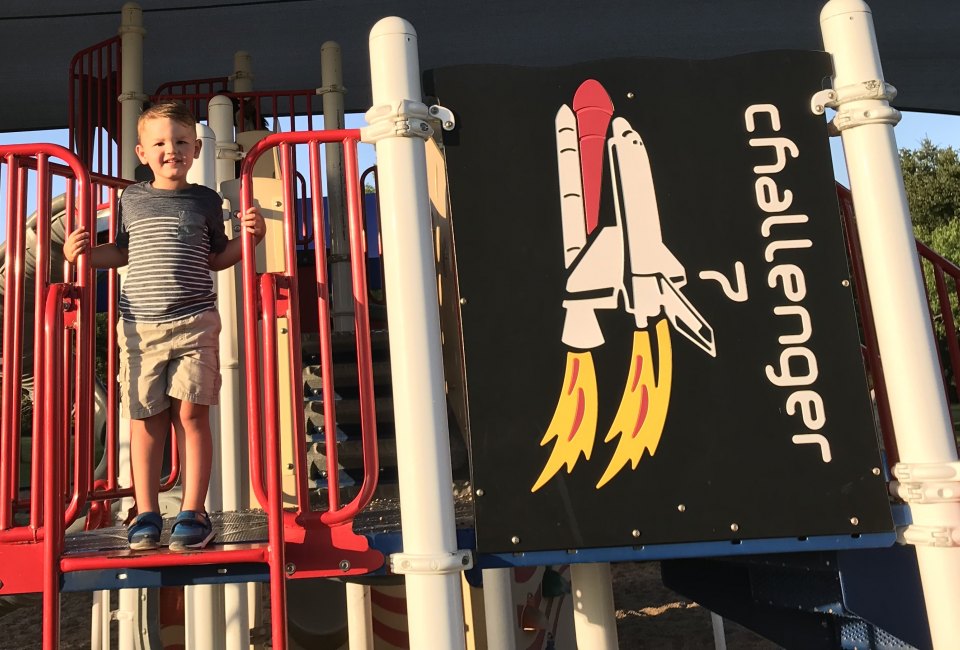 6/18/18
- By
Ashley Jones
Looking for a serene spot to connect with nature that's large enough to take your entire extended family? Look no further than Challenger Seven Memorial Park in Webster. Known for it's miles of winding trails, lush green spaces, stellar playground equipment, and plenty of picnic tables and pavilions, this park is a hot spot for family fun.
Challenger Seven Memorial Park is named in honor of the seven astronauts who lost their lives in the 1986 Challenger space shuttle explosion. A memorial plaque located at the front of the park stands in remembrance of the crew. Many families in the bay area use Challenger Seven Memorial Park as a place to gather to celebrate birthdays, graduations, weddings, and more. Three large covered pavilions can be rented out, each with ample space to sit, eat, and play. Two of the pavilions even feature their own attached playgrounds.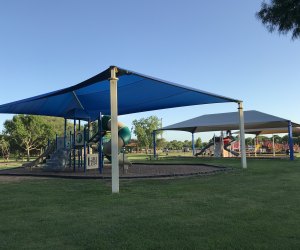 Kids love playing on the shaded playgrounds
The park features three main playground structures in the main playground area, each with its own shade cover. This provides a much needed respite from the Texas heat! Two of the main playgrounds are designed for kids ages five and older, and the third is perfectly sized for toddlers. Kids can choose from two swing sets, one with traditional swing seats and one made specifically for younger kids. In addition to the three large playscapes, kids can also climb on a large rock climbing structure, which is also shaded.
Surrounding the playground area are tons of picnic tables with large shady trees overhead. These tables are perfect for small family gatherings because the kids can go play on the playground while adults can relax in the shade and still be close by. There's plenty of open space to spread out, run around, have a water balloon fight, three-legged races, and more. For larger gatherings, it is recommended to reserve one of the large covered pavilions. Pavilion rentals fill up fast, especially during holidays and weekends, so be sure to reserve your spot several months in advance.

Walk on an elevated pathway through tons of trees and over marshlands
One of the most unique features of Challenger Seven Memorial Park is the elevated trail that winds through tree-lined paths along Clear Creek. Our kids love running back and forth across the slatted boards and peering through the sides of the wooden walkway into the marshlands surrounding it. At the end of the elevated trail are three outlook spots with benches to take in stunning views of Clear Creek. These are great pathways for jogging strollers, wheelchairs, and small kids, allowing you can get up-close-and-personal with nature no matter who is with your group.
If a more rugged trail sounds like your ideal park trek, this park has you covered. Instead of hopping on the elevated boardwalk trail, park goers can opt to traverse ground paths directly through the trees to weave through the park's bird sanctuary. The entrance to both trail areas is paved, but some trails do end up unpaved the deeper into the park you go. Make sure to take plenty of mosquito spray and keep your eyes peeled for wildlife.
Pro Tip: There are port-a-potty stalls located at the entrance to the trails, but if you're heading out with small kids, stopping by the permanent bathrooms near the pavilions before hitting the trails is a must.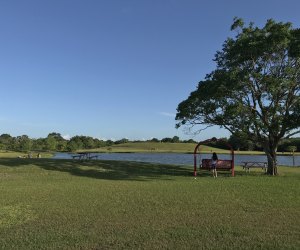 The large fishing pond is a picturesque spot to spend an afternoon
After exploring the playground and trails, take a rest by the tranquil fishing pond located in the front part of the park. And if resting isn't exactly on your kid's agenda, directly behind the pond is a giant hill that kids just love to roll down. It not only provides entertainment but serves as the backdrop for one of the park's most unique features, a natural land sculpture called "Mother Nature" that can be seen from above as a woman lying in the grass.
Because this area of the park is so open and spacious, groups can often be seen gathering near the hill or at the pond's edge. It is not uncommon to see kids camps, field trips, church groups, or large families using this space together.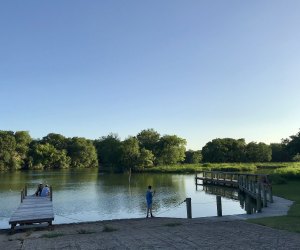 Fish off of the pier on Clear Creek
The fishing pond isn't the only great spot to make a great catch at this park. A pier located directly on Clear Creek gives anglers the chance to walk out over the water and fish. This serene spot also features a canoe and kayak launch and parking for those partaking in water sports. Even more picnic tables can be found near the water's edge if you want to gather a group near the water.
Overall, Challenger Seven Memorial Park is a great place for families of all shapes and sizes to enjoy nature, relax, take in some gorgeous views, and play the day away. For more information about the park, including pavilion reservations, be sure to check out their website.
Top photo: Climbing on the space-themed playgrounds. All photos by the author.
Places featured in this article:
---
Challenger Seven Memorial Park
Click Here to Sign Up!
i