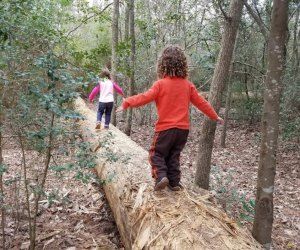 8 Amazing Kid-Friendly Hiking Spots in Houston
Because of the city's enormous urban sprawl, the word "hiking" may not come to mind when thinking about things to do with the kids in Houston. But let me tell you, the city has many amazing pockets of forests, streams, and wetlands that can be accessed by some pretty great hiking (and biking) trails. And we're not talking paved trails in the middle of a tree-less park; the below hiking spots make you almost forget you live in one of the country's biggest cities.
All of these parks and trails are easily accessible for young children, and many are stroller and wagon friendly. Be prepared to add hiking to your list of favorite family activities after checking out these parks and trails.
Mayde Creek North Hike and Bike Trail - West Houston
19008 Saums, Houston 77084
This paved 1.4-mile trail runs along Mayde Creek and begins at Cullen Park, which is a great destination on its own. The park has a splash pad, plenty of shade and benches, and a cool wooden playground with balance beams and plenty of structures for climbing. The Mayde Creek trail is paved and perfect for anything with wheels or simply walking.
RELATED: 16 Houston Parks with Lots of Shade
Terry Hershey Park - West Houston
15200 Memorial Drive, Houston 77079
There are three trails branching from Terry Hershey Park off Buffalo Bayou. The massive park has a playground, and while many of the trails on its property are popular for biking, many are still fit for a nice hike. There are multiple trails, ranging from paved to unpaved, that you can choose from. View a map of the property to plan your day and choose the perfect route.
Little Cypress Creek Preserve - Cypress
14900 Telge Road, Cypress 77429
This 57-acre preserve is a great place to see some indigenous wildlife, from birds to butterflies to reptiles. Expect a more rustic atmosphere than other county parks; the trails are not paved, but you can use jogging strollers and there are benches near the wetlands you will encounter along the trails. There is a 1-mile interactive trail with information signage that involves a QR reader as well as a .7-mile non-interactive trail. There are bathrooms on-site, but no playground.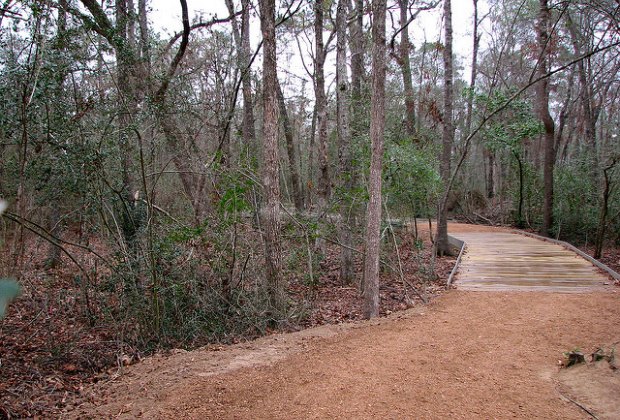 One of the trails at the Houston Arboretum and Nature Center/Photo via Flickr
Houston Arboretum and Nature Center - Memorial
4501 Woodway Drive, Houston 77024
We love visiting the Houston Arboretum and Nature Center for its amazing amenities like the educational nature center and events, and its trails are no exception - there are nine trails that take visitors around the beautiful property.
RELATED: Splash Pads Around Houston
Gourley Nature Trail - Spring
6727 Cypresswood Drive (Collins Park)
7700 Cypresswood Drive (Meyer Park)
The Gourley Nature Trail is a new Houston-area trail in that it was constructed as a part of the Cypress Creek Greenway. It is a .5-mile long, is 10-feet wide, and connects Collins and Meyer parks. There are benches as well as informational signs along the trail.
Jesse H. Jones Park and Nature Center - Humble
20634 Kenswick Drive, Humble 77338
Spend the day at Jesse H. Jones Park and Nature Center, which runs next to Spring Creek in Northeast Houston, and your family won't run out of things to do. Aside from the actual Nature Center learning building, there are numerous trails (all of which are wheelchair accessible) that range from 1.2 to .29 miles long. Check out the map to plan which trails you would like to hit during your visit.
Lake Houston Wilderness Park - New Caney
25840 FM 1485, New Caney 77357
Spend the weekend camping or just a day trip at Lake Houston Wilderness Park, and hike to your heart's content! There are 20 miles of hike-and-bike trails, from smaller options for the little ones like Hoot Owl Trail (.3 miles) and the Lake Isabel Loop Trail (.4 miles) or tackle the longer Loggers Loop (3.6 miles) and AmeriTrail (3.8 miles). Near the park entrance, there is a Nature Center and restrooms.
RELATED: Must-See Parks Around Houston
Challenger Seven Memorial Park - Webster
2301 West NASA Boulevard, Webster 77598
The nature trail loop in the Southwest Houston park takes you into the woods and up close and personal with wildlife. It passes the park's lake, wetlands, prairie restoration area, bird sanctuary, and observation towers that overlook the wetlands. There is also a playground and restroom facility on-site.