Houston's Best Parks & Trails for Family Bike Rides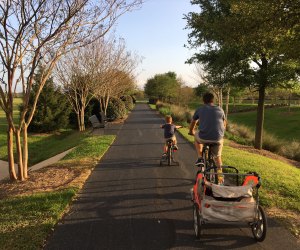 9/25/19
- By
Rachael Cherry
Encouraging healthy hobbies is at the top of my priority list when it comes to my kids, and I've tried to make being active a part of their lives since day one. Both kids have accompanied me on many runs in the jogging stroller since they were babies, and they know that if it's a nice day we're doing something outside. Now that my oldest is riding his bike, we frequently head out to different trails together where I'll chase after him with my daughter strapped into the jogging stroller as he flies down trails (his biking has been excellent for improving my running speed) or we'll bike together as a family if my husband is able to come along for the ride.
As a result, we've uncovered quite a few spots that are excellent for biking with a toddler around Houston, so the next time you want to get out and do something active as a family, load up the bikes, grab your helmets and head to one of these trails.
Note that park openings and closures are changing frequently in the 2020 season; click through to the park website for the most current information.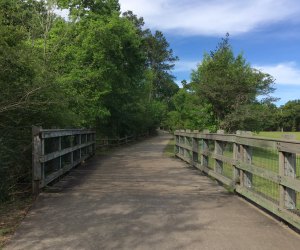 6501 Memorial Drive, 77007
713-863-8403
A favorite park destination among Houstonians, Memorial Park is an active family's dream. 6 miles of biking trails - both mountain and recreational - make it an ideal stop for families wanting to get in some pedaling action. There are also public restrooms, water fountains and a nearby playground. Additionally, the popular Picnic Loop offers nearly 3 miles of flat, gravel pathway for those learning to ride.
150 Sabine St, 77007
713-752-0314
Sandwiched between Memorial Parkway and Allen Drive you'll find 2 miles of trails where you can enjoy some family biking. These urban trails offer a little slice of nature amidst the hustle and bustle of busy city life, while still allowing bikers to take in the grandeur of Downtown Houston. Worried about busy streets? The Hobby Center Pedestrian Bridge allows you to cross from one side of Sabine Promenade to the other safely.
500 Allen Parkway, 77019
713-752-0314
Bike along the waterway at Buffalo Bayou Park for an urban green space experience that is unparalleled. The park has several historical areas and parks within it, as well as the Sandy Reed Memorial Trail - a 10-foot wide concrete trail that runs along both sides of the bayou. There are numerous parking options available in both the neighboring parks and on Allen Parkway, Memorial Drive, and other nearby city streets.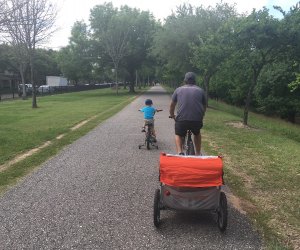 15200 Memorial Drive, 77079
281-496-2177
Set in the heart of the Energy Corridor, Terry Hershey Park is roughly 6 miles long and runs parallel to the Buffalo Bayou. The tree-lined pathways give hikers and bikers a respite from the city, despite the close proximity to the Beltway and many office buildings. Features include a wide, paved trail, dirt trails that cut through the woods, plenty of benches, restrooms, and water fountains, a pavilion for picnics, and a playground at the entrance of the park for the kids. There are several hills as you get deeper into the trail (known as "The Anthills") that may be difficult for young riders, but there are also plenty of flat, paved miles to ride on as well.
16756 Westheimer Parkway, 77082
281-496-2177
Boasting 11.4 miles of paved trails, George Bush Park is a popular destination for bikers of all skill levels and ages. The trails run alongside swamps, forest, and bayous, giving bikers a scenic route to follow during their ride. The path is an out and back, not a loop, so plan accordingly as you ride, otherwise you might find yourself with some very cranky kids if you venture too far in one direction!

Rick Rice Park
Rice Park Trail, 77450
If you're searching for a short loop, look no further than the mile-long trail at Rick Rice Park. This park boasts a paved pathway that circles around a central lake and fountain, educational signage for different flora and fauna, a Veteran's Memorial and a pedestrian bridge that connects the park to a 20-mile long trail system. The loop is ideal for those kiddos who may just be learning how to ride their bike and little legs that may not yet be comfortable with longer rides. Once you are ready to venture out for a more substantial ride, simply cross the bridge and continue on the pathway.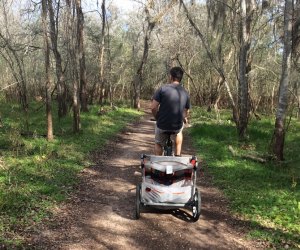 21901 FM 762, 77461
979-553-5102
Enjoy a full day of nature when you head out to Brazos Bend State Park, which contains 25 miles of hike and bike trails. These trails offer a mix of both paved and unpaved pathways and loop around lakes and through forests teeming with wildlife (a word of caution: there are alligators, so stay aware and alert while biking!). There are also plenty of areas for picnics, as well as playgrounds for the kids and campsites for those interested in an overnight trip.
15300 University Blvd, 77479
281-275-2885
You have two options when biking at Sugar Land Memorial Park: you can bike the 2.5 miles of 8-foot-wide flat, granite pathways within the park or, if you're feeling more adventurous, tackle the Justin P. Brindley mountain bike trail for a more technical ride. Other attractions include public restrooms, a playground, a lake for fishing and canoeing, picnic areas and open spaces, and a Veteran's Memorial.
19008 Saums, 77084
832-395-7000
This 3.34-mile paved trail offers families a scenic bike ride that passes by a historic cemetery, wildflowers, wetlands and oak trees. There's a splash pad for cooling off after any hot summer bike rides, covered picnic areas with barbecue pits and playgrounds, and open fields that are perfect for running around with kids and dogs alike.
Originally published April 25, 2017
All photos by Rachael Cherry