Kid-Friendly Bowling Alleys in Houston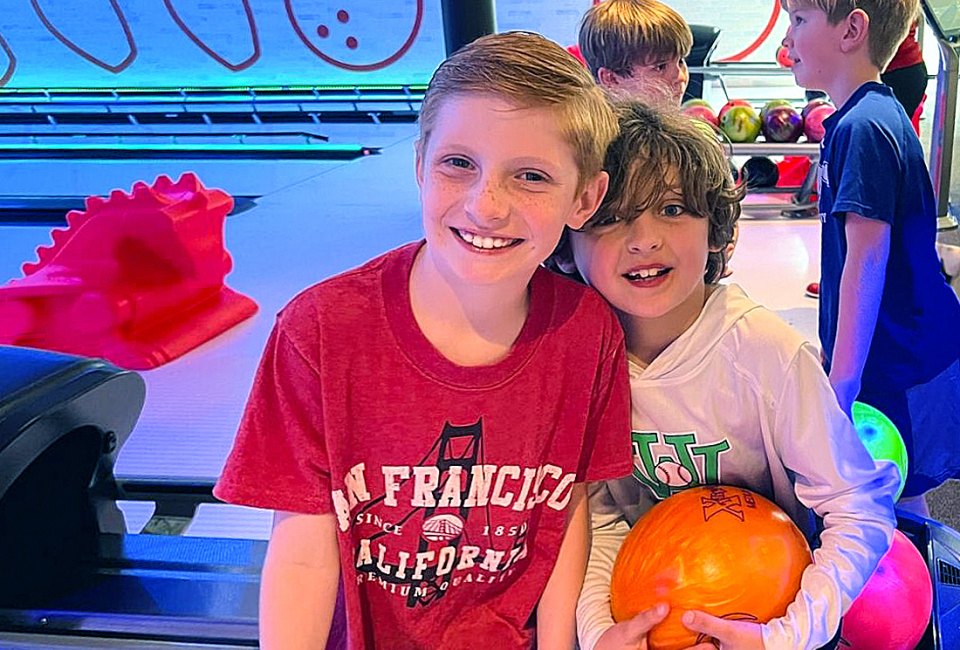 7/9/23
- By
Frances Broussard Denenburg
Bowling is a classic game that the whole family can enjoy. In Houston, Texas, you'll find a variety of bowling alleys that cater to families, providing a safe and enjoyable environment for all ages. Ramps and lane-side bumpers help younger bowlers who struggle with lifting heavy bowls or keeping their bowls on track. Many of the bowling spots also have arcades or other entertainment. Whether you're a seasoned bowler or a beginner, these family-friendly bowling alleys in Houston are sure to provide a fantastic experience for everyone. Just don't forget socks!
Bowling Alleys in Houston
Bowling at Palace Social photo by Vicky Yip for Mommy Poppins
This fun spot only opened in 2021, so you will see the benefit of all the latest technology here such as automatic bumpers when it is the kid's turn! The good news is that when you have had enough of bowling, there are other activities to keep the family entertained!
Del-Mar Lanes is a family-friendly bowling alley in Houston that provides a relaxed and inviting atmosphere. From its kid-friendly bumper lanes to its comfortable seating areas, Del-Mar Lanes is an excellent choice for families seeking a fun bowling outing. If you have older kids, weekend evenings provide a high-tech "unreal bowling" light and sound experience.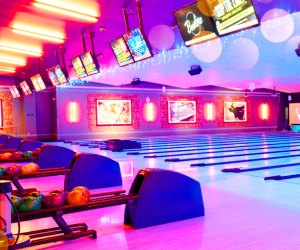 Bowlero has bowling and an arcade. Photo courtesy of Bowlero/Bowlmor
Located in the heart of Houston, Bowlero offers a modern and vibrant atmosphere. With its state-of-the-art facilities, interactive arcade games, and delicious food options, Bowlero is a perfect destination for a family bowling outing. Ramps, bumpers, and smaller balls are all available.
Bowl and Barrel offers a unique bowling experience with a modern twist. With its stylish ambiance, gourmet food options, and craft beer selection, Bowl and Barrel provides a sophisticated and family-friendly atmosphere for a memorable bowling outing. In addition to ramps for the little ones, the venue has automated bumpers so not everyone on the team has to use them. Score!
iT'Z is renowned for it's family-friendly atmosphere and food, including chicken and pizza. This spot in Willowbrook offers a bowling alley and other family-friendly activities. Enjoy a game of bowling and then explore the indoor arcade, bumper cars, or mini-golf for a complete family entertainment experience.



Bowling shoes photo by Vicky Yip for Mommy Poppins
Copperfield Bowl is known for its friendly staff and family-oriented atmosphere. Featuring cosmic bowling, a snack bar, and a game room, this bowling alley is perfect for families looking for a relaxed and enjoyable bowling experience. If you join the kid's club you can get some free benefits including bowling sessions through the summer and coaching for your kids on Saturday morning.
AMF Diamond Lanes is a classic bowling alley that offers family-friendly lanes, bumper bowling for kids, and an on-site pro shop. It's a great place for families to unwind, enjoy some friendly competition, and create lasting memories.



Many bowling alleys in Houston offer other activities too. Photo courtesy of the Houston Funplex
Funplex is a family entertainment center that offers a wide range of activities, including bowling. Alongside bowling, you'll find an array of attractions such as go-karts, arcade games, laser tag, mini-golf, and more.
Emerald Bowl is a hidden gem in Houston, known for its family-friendly environment and attentive staff. Dedicated to bowling, with well-maintained lanes and a cozy atmosphere, it's an ideal place to enjoy quality family time while knocking down some pins.
Click Here to Sign Up!
i