Palace Social Unveils the Latest in Bowling, Arcade Games, and VR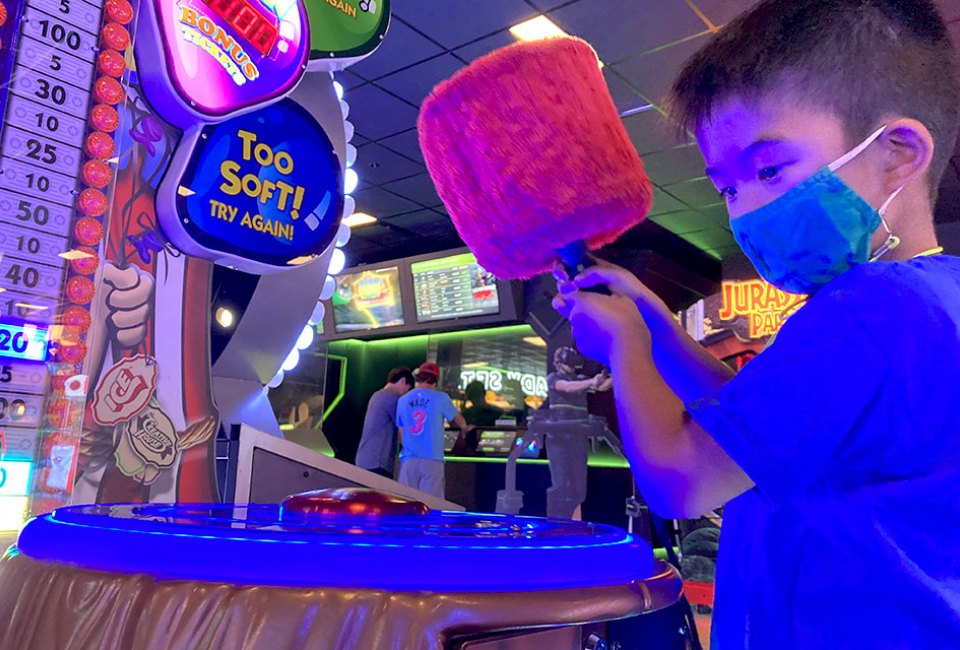 8/13/21
- By
Vicky Yip
The long-awaited indoor family-fun spot opened its doors this summer to cheers and applause! Palace Social sits on the site of a former bowling hangout in Bellaire, TX, not too far from Houston's medical center. After the classic bowling alley was torn down, rumors that a new development would take its place swept the neighborhood. Bowling fans have been looking forward to the grand opening for years, and it was worth the wait.
The recently unveiled venue not only brings bowling back to the area, but adds a ton of fun new attractions like a video game arcade, virtual technology experiences, sports simulators, restaurant, two bars, a dessert bar, and more. It's also a great inside activity for when your kids outgrow Houston's indoor play spaces.

What Do I Do When I First Enter Palace Social?
When you first enter the venue through the glass double doors, you'll be greeted by staff behind the front desk who can help direct you. If you are there solely for bowling, let them know and they will send you to the Alley Desk, the bowling check-in counter right past the entrance. If you're there to dine, they'll have someone lead you to a table in the restaurant.
For the arcade and/or to enjoy any of the virtual reality options, tell them you want to purchase a game card. These cards allow you to swipe and activate the games in the arcade, and pay for the VR attractions as well.
Families who arrive around mealtime might want to both dine and play. In that case, purchase game cards before they take you to a table for dining. This way, if the kids scarf down their food, send them along to the arcade while you enjoy your meal.

What's the Bowling Like at Palace Social?
There are eight shiny new lanes of bowling at Palace Social. They do not take reservations for lanes, so if you plan to bowl, the best thing to do when you first arrive is to let the front desk know and head over to the Alley Counter to ask if there's a lane open. If not, put your name down on the list right away. We waited about 30 minutes for our lane on a Friday afternoon in the summer. Once a lane opens up, they'll call you on your phone. Make sure your phone ringer volume is loud enough so you don't miss the call while you're playing in the arcade or doing other activities while waiting.
From Monday-Thursday, bowling is $36 per hour per lane, and from Friday-Sunday, bowling is $48 per hour per lane. You can rent bowling shoes for $5 each. The great thing about a new bowling alley is that all the shoes are so new! Remember to bring your own socks or you'll have to pay $3 for a pair.
After we set up the order of players on our screen, we asked for bumpers to be placed on our lane for the kids. The staff working the bowling alley was able to help us program that feature in. This way, each time one of the kids was up to bowl, the bumpers would automatically pop up for their turn.
There's a dedicated server wandering the bowling section so while you're knocking down those pins, you can order food and drinks from the restaurant off the menus available at each seating area. My kids really enjoyed bowling in the modernized lanes. The score-keeping mascot that shows up on the screen was cute too.
If there are non-bowlers in your party, there's space enough for them to sit and chat with everyone else.

What Kinds of Arcade Games Will I Find at Palace Social?
The arcade games are a great way to pass the time while waiting for bowling, but playing in the arcade was my children's favorite part of the outing and worth a trip to Palace Social even if you don't bowl. Ever since the Chuck E. Cheese near us shut down, the kids have been hankering for a place to play video games, press their luck with "spin to win" attractions, and try their hand at claw machines. Palace Social's arcade is a super-charged, upgraded version of that old childhood haunt.
There's a little bit of everything in there, from Pac-Man and racing games to foosball and arcade basketball. There aren't really any games appropriate for preschoolers though. My youngest is going to be a first-grader and I felt like he only just hit the cut-off for being able to participate.
At the end of our time, my kids pooled their virtual tickets together. The boys didn't care much about the prizes so they let their sister redeem all the combined tickets for a plush toy at the redemption desk.
How do Palace Social Game Cards Work?
You can add any amount of money on a game card. The monetary value gets converted to credits on the cards. Video games and arcade games like Skee-Ball, basketball, and claw machines will cost a certain amount of credits that translate to between $.50 to $2.00 per game. Virtual reality activities will cost more.
I suggest getting each child their own game card if they are old enough to keep track of it themselves. Kids can then split up and do their own thing while in the arcade without having to share a card. I started with $10 on their cards and it lasted them about 45 minutes playing the videogames and arcade games. They did spend some of that time carefully choosing what they wanted to do and watching each other play.
The card will display how many credits are left, as well as show how many tickets you've earned. Many of the arcade games will award you virtual tickets that you can exchange for prizes. Prizes range from candy to stuffed animals and other toys. To reload a card, use the handy card kiosk located in the arcade.

What Are the Virtual Reality Attractions Like at Palace Social?
Located inside the arcade area is the XD Dark Ride Theater that offers 3D graphics and interactive game play. For $10 per person, you can take one of 16 seats, and enjoy a multi-sensory, interactive movie attraction that uses cutting-edge technology and special effects. Riders wield their laser blasters to battle on-screen enemies and compete for the highest score. Though it's billed for ages 3+ and 40 inches and taller, it does feature intense motion and 3D graphics, so assess your child's ability to handle that kind of action before committing.
Nearby you'll also find the Omni Arena, a 360-degree immersive virtual reality experience. It accommodates up to 4 guests at a time, and takes you through a number of VR experiences. There's no age limit here but there is a height minimum of 4 feet 2 inches to participate.
How Do the Full Swing Sports Simulators Work?
Outside of the arcade you'll find two simulator bays. These allow you to hit golf balls, kick a soccer ball, and throw a football against a video screen made to react like the real thing. You can also test out your rugby, softball, baseball, and basketball skills too. The cost is $25 for every 30 minutes of play time.
What's the E-Sports Lounge?
We passed by a room tucked away down a hallway filled with computer screens and very serious-looking gaming chairs. There wasn't anyone inside when we took a peek but it looks like this E-Sports Lounge might be fun for a group of teens or adults who want to game together in person. If you're interested in using the lounge, talk to a staff member.
What Do They Serve at the Restaurant and Bars?
The restaurant on-site serves "Southern inspired" American fare including burgers and sandwiches, meatloaf, chicken fried steak, Wagyu steak, shrimp, salmon, pasta, and more. Some of the sides include buttermilk mashed potatoes, dirty rice, and green field peas and ham. There's a kids menu with options like pizza, hotdogs, chicken strips, grilled cheese, and other child-friendly choices.
For dessert, order from the menu, or walk up to the separate dessert bar set up with treats. There's ice cream, cookie of the day, brownies, and other sweets. The house favorite is rumored to be a skillet chocolate chip cookie a la mode.
Palace Social boast two bars on their premises. You can order all kinds of cocktails and a variety of other adult beverages.

What Are All Those iPads Doing There?
Near the dessert bar is a bank of iPads on a counter. Though not exactly billed as an attraction in and of itself, my kids would beg to differ. To see more than half a dozen of them lined up against a wall is enough reason for them to love this place. Set up by the dessert bar and dining tables, the iPads are mounted on stands and bolted to the counter so kids can play games on them while the adults are nearby eating. The seats are stool-style and higher up, so smaller kids are not going to be able to get up on their own. I would also not leave them unattended there for the same reason.
What Covid-Safety Precautions is Palace Social Taking?
All staff inside the venue are wearing masks, there are hand sanitizing stations distributed around the premises, and staff regularly sanitizes high touch areas.
More Info: Hours, Parking, Bathrooms, and Other Tips
Palace Social is open Sundays to Thursdays from 3 p.m. to 10 p.m. and Fridays to Saturdays from 3 p.m. to 12 midnight. Parking is easy and free at the surface lot right in front of the venue. The restrooms are located between the arcade and the Alley Counter, and both the men's and ladies' room are equipped with changing tables.
There are comfortable seating areas for the adults to sit and lounge while the kids are playing, or for kids to rest and take a break from all the fun. The atmosphere is lively and there's music piped throughout the venue, so this may not be the best place to take a napper in a stroller.
Can I Host A Party Here?
I've always thought it was hard to find a venue for a birthday party that is appealing to both kids and adults, but I think this one might just fit the bill. If you want to celebrate a special event, they have private rooms equipped with karaoke which start at $75 per hour. There are many different party packages you can choose from that can include all sorts of add-ons. For private events at the restaurant, there is a separate area where a private party can be seated. Ask the Sales Director for party package details.
Photos by the author
Places featured in this article: