4 Places to Take Your Kids Bowling in Houston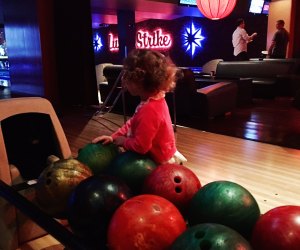 With the emergence of trendier, lounge-like venues, the "bowling alley" is now dubbed "bowling lanes," and the pitchers of cheap beer have been replaced with microbrews. Some things, however, will forever stay the same, like those two-toned lace-up shoes and the squeal from a child when she knocks down even just one pin. Houston has it all for this classic indoor game, so keep our list handyfor when you're looking for a bowling "boutique," or a Big Lebowski, old-school experience. Just don't forget socks.
Roll your bowling ball down memory lane at this 20-year old establishment. Nostalgia, pizza, and fried foods are on the menu at the snack bar, and the prices for bowling and shoes are not to beat. If you have a small group, take advantage of the weekend special where from noon to 5 p.m. up to five bowlers can play for two hours for $45 (shoes and bumpers included). More discounts for groups and birthday parties are offered on the website. Note: ramps are not available.
Bowlmor is just that - bowling and (much) more. With a full arcade and billiards tables, the whole family will be entertained for hours, or until your credit card maxes out (a quick poll of friends confirmed that the food and drinks are a bit pricey). Big screen TVs hang overhead the lanes so you can keep up with your favorite team. For the littlest bowlers, ramps, bumpers, and smaller balls are available. Saturday afternoon and weekdays before 8 p.m. are the best times for families, according to the venue. However, league nights take place during the week, and when I called to inquire about lane availability on a weekday, all lanes were reserved between 6 and 10 p.m. that same day. Check out their website for specials like $2 Tuesday and discounts for parties.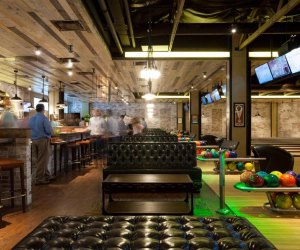 Photo courtesy of Bowl & Barrel
Bowl and Barrel is another spot offering a modern bowling experience. Located in CityCentre, the industrial design and full menu/bar are sure to please parents. Rumor has it that the giant pretzel is a must order. All ages are welcome, but their smallest shoe size is a toddler 8. After 7 p.m., anyone under 17 must be accompanied by an adult. In addition to ramps for the little ones, the venue has automated bumpers so not everyone on the team has to use them. Score!
Before my family's first trip to Lucky Strike, located on the 3rd floor of the downtown GreenStreet development, I had heard it is a swanky hipster hangout. So when we arrived, the mood lighting and red walls did not ease my concerns about bringing my 3-year-old (on her birthday) and 3-month old for a night of family bowling. But on this random Wednesday at 6:30 p.m., it was rather desolate and with the loud music, no one seemed bothered by the birthday girl's high-pitched shrieks as she pushed the ball down the ramp. The staff was very accommodating, the facility was clean, and the seating at each lane was super comfy. Lane-side food is offered and we were pleasantly surprised with the quality of our flatbread pizza and mini corn dogs. Private lanes are available, so if you are a small group and aren't into cozying up to the strangers sharing the lane table with you, this might be the way to go (I doubt if the couple, obviously on their second date, appreciated having our entire family on their date with them...awkward). One drawback: parking. There is a garage on the other side of the street and some street parking. Valet is also available, and if you forget cash like we did, there is an ATM outside of Lucky Strike.
Top Image by Frances Broussard Denenburg at Lucky Strike