Winter Day Trips Near Houston: Family Fun In Every Direction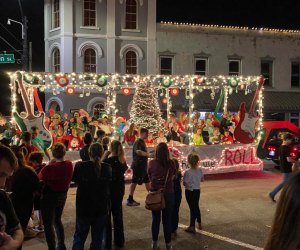 Although we may miss having snow at Christmas in Houston, one of the benefits is that the weather is great for a winter day trip to outdoor and indoor attractions. You shouldn't have to worry whether the roads will be clear of snow or need to pack thermal sweaters! We've drawn up a list of family-fun-filled winter day trips that can help you get out of the house and make festive memories. Plus, these destinations are all less than two hours from Houston by car, so you shouldn't have too many cries of "are we there yet?" Read on for details of trips North, South, East, and West of Houston. Whichever direction you want to head in, we have a fun destination!
Check out our car games to have fun even while you drive. For ideas closer to home, don't forget our Winter Activities Guide.
All timings are approximate and by car from the center of Houston.
Winter Day Trips North of Houston

Schedule a visit to meet Meeko. Photo courtesy of the Saint Francis Wolf Sanctuary
1 hour from downtown Houston, near Navasota.
Wolves' thick furry coats make us think of snowy mountains! You can hear the stories of rescued wolves and wolfdogs at the new facility for Saint Francis Wolf Sanctuary. Visits must be scheduled online and include a guided tour visiting each furry friend. If you like your trip, you might want to investigate the howl night & camping with the wolves, which are scheduled every two weeks in 2022.

Visit the Storybook Maze at The Woodlands, photo courtesy of visitthewoodlands.com
Walk, bike, and scooter along the outdoor art trails of The Woodlands
30 mins from downtown Houston
If you visit The Woodlands, you are never far from an art bench, sculpture, or mosaic. Walk along the Woodlands Waterway and you will encounter many artistic delights that keep kids putting one foot in front of the other. Paths are stroller-friendly, and you can check out the Koi garden and marvel at the colorful fish. If you have a bike rack, consider riding one of the seven art trails which are 5-8 miles long. With plenty of family-friendly restaurants, a large mall, and the winter ice rink, there is so much in The Woodlands to keep your family entertained. Stay after dark to see the beautiful lit-up holiday trees!
Winter Day Trips South of Houston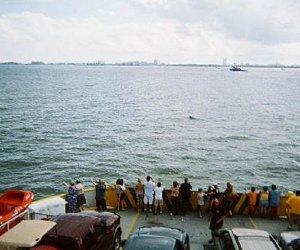 Take a winter day trip to spot dolphins in the Gulf. Photo courtesy of Trip Advisor
Look for dolphins on a ferry ride in Galveston
1 hour 10 minutes from downtown Houston
You don't need to be cruising to Mexico to enjoy a boat ride on the Houston Ship Channel. Jump aboard the FREE Galveston-Bolivar ferry, which operates 24 hours a day. Park up in Galveston and walk on to enjoy the upper observation area—if winter weather sets in there is an indoor seating area with huge windows. Fun sights include dolphins, shrimp boats, and the Bolivar Lighthouse. You can combine this fun 40-minute round trip with all the attractions of Galveston.
45 minutes from downtown Houston
Take a trip on the tram around 80 acres of wildlife zoo. Listen to the knowledgeable guides tell you about animals from all around the world, including camels and zebras. During the tram ride, you get to feed the animals and see them up close. Don't forget to purchase food ($4). You can also wander through Addie Lou's Barnyard and see wallabies, pygmy goats, lemurs, and much more. The zoo has a snack/souvenir store and picnic area.
Winter Day Trips West of Houston
Enjoy food and fun in the historic town of Brenham
1 hour 20 minutes from downtown Houston.
We never need an excuse to head to the historic town of Brenham, founded in 1844 and home to the Blue Bell Creamery. However, as the ice cream factory is currently only open Monday through Friday, school break is a fantastic time to visit. You can find out the history of Texas's famous ice cream and sample the many flavors in the large on-site café. This festive season, try out the egg nog flavor. If you visit Brenham on the weekend instead, check out Brazos Valley Brewery, hosting a Sunday Funday 12pm-7pm., with a food truck, a playground for the kids, and live music from 3pm.

An owl spotted at Stephen F. Austin State Park, photo by Frank J. Farese
1 hour from downtown Houston.
The winter weather in Texas allows you to explore the trails in the many beautiful parks and woods around Houston. Head out west to the Stephen F. Austin State Park, with 5 miles of hiking and biking trails along the riverbank and through the trees. State parks often have geocaches, so consider visiting geocaching.com and hunt for treasure with your little explorers. You can also camp in one of the cabins, or bring an RV or tent to turn your day trip into an overnight stay! A mile from the state park, you can walk in the footsteps of early pioneers at the San Felipe de Austin State Historic Site, where a new museum has stories of early settlers in the region.
Winter Days Trips East of Houston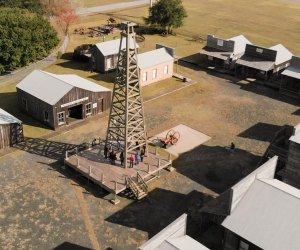 Photo courtesy of the Spindletop Gladys City/Boomtown Museum
See an oil gusher in Beaumont
1 hour 20 minutes from downtown Houston
Beaumont is home to a range of family attractions to fill your day. At the Spindletop Gladys City/Boomtown museum learn about the Spindletop oil boom and see a working replica gusher! The museum town also includes a post office, saloon, general store, livery, and print shop. You can combine this with a visit to the Colorado Canyon Family Fun Center which includes two 18 hole miniature golf courses, gemstone and fossil mining, a laser maze, arcade, and snack bar. On your way in or out of Beaumont on the I10, make sure you call into Gator Country Adventure Park, with over 450 alligators and opportunities to feed them. Beaumont also has a fire museum, where kids can dress up and ride a fire engine simulator, and botanical gardens.
1 hour 40 minutes from downtown Houston.
Head out to the wilderness this winter holiday break! Start your trip to Big Thicket National Preserve at the Visitor Center to get all the information, maps, watch a film, and complete a scavenger hunt in the exhibits. Park rangers there will help you get the most out of your trip to the Preserve. With over 113,000 acres of public land, 40 miles of hiking trails, and a variety of waterways, this unusual preserve ranges over several sites.