Up Close with Alligators Near Houston: Gator Experiences for Every Budget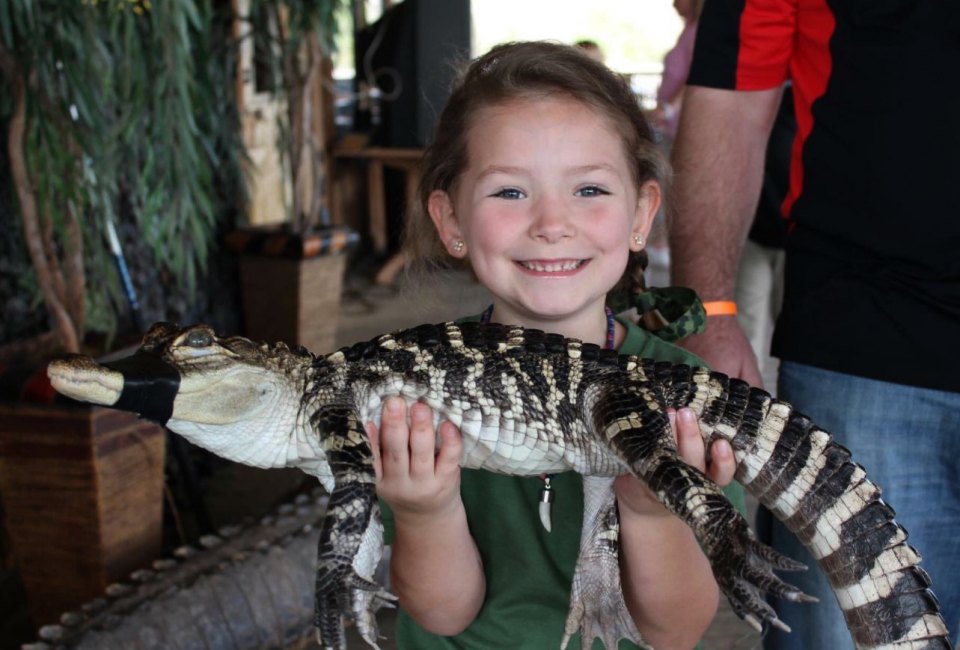 9/10/21
- By
Sarah Banks
Did you know that there are an estimated 500,000 or more alligators in Texas? And did you know that alligators love fruit and can climb trees? Your kids can learn these facts and more about alligators at several fun gator experiences and organized alligator attractions in Houston and beyond. Getting up close with an alligator is definitely a jaw-dropping activity that will WOW your kids, so we've included gator activities for every budget—from the local Brazos Bend State Park to Gator Country Adventure Park to a Louisiana gator roadtrip.
ond b
The famous Brazos Bend alligator sign, photo courtesy of Sarah Banks.
Best Budget Option For Alligators Near Houston: Brazos Bend State Park
Less than an hour from Houston is the spectacular Brazos Bend State Park, home to around 250 alligators ready for your kids to stare at. We have never failed to spot multiple alligators during our many visits here, and at just $7/person and free for ages 12 and under, this state park near Houston is a fabulous low-cost way to see alligators in their natural habitat.
The first time we visited Brazos Bend, I was anxious about walking amongst alligators with my kids without any barriers, but I didn't feel threatened once there. Alligators typically avoid people, and you can follow the alligator safety tips on the state park's website, including keeping thirty feet away and never feeding them. To date, no one has been injured by alligators at Brazos Bend.

Feeding time at the Gator Country alligator preserve. Photo courtesy of Sarah Banks.
Here are our top tips for your visit:
Watch other visitors: If they're stopped, they're probably staring at an alligator.
Talk to other visitors when you pass them and ask them where they have spotted an alligator. People are excited to share their finds.
Take the usual precautions for visiting a state park: wear sturdy shoes, and bring sunscreen and mosquito repellent.
Don't forget your refreshments—there are no restaurants in the park.
If you bring your pet, you must keep it on a leash no longer than six feet and stay out of the lakes.
Wondering where to go in the park? We would recommend a loop of 40 Acre Lake, the first lake you can access after the park entrance. The area by the car park has restrooms, a fishing pier, and picnic benches. The trail is about a mile long, wide, and well-maintained. Hiking and biking are both good options for getting around, and unless there has been a lot of rain, strollers will navigate the route. Halfway around, there is an observation tower that kids can have fun exploring, and you can enjoy the views over the park.
The attractions at Brazos Bend don't end with the alligators. The scenery is beautiful, with some huge lakes and large trees. There are all sorts of birds perched around you. You can fish (no license needed in a state park). There is a nature center with exhibits and staff on hand to answer questions. My son got to stroke a baby alligator there!

Photo courtesy of texasgatorfest.com
If you prefer a guaranteed alligator sighting in a more controlled environment, of course you can take a trip to Houston Zoo (see our top tips for visiting the zoo). But if you want the full-on gator experience at a similar price for admission, head to the Gator Country Adventure attraction near Beaumont. Like Brazos Bend, it is only an hour from Houston, and the alligator park and sanctuary houses over 450 alligators. Most of the alligators were rescued after becoming 'nuisance' alligators in the wild due to people feeding them. That makes them more likely to approach people in their search for food and leads to them having to be removed.

"Big Al" is eighty-eight years old, and more than thirteen feet in length. Photo courtesy of Gator Rescue.
Gator Country has some very special alligators. Big Tex and Big Al are both enormous alligators over 80 years old. Big Tex is the largest alligator ever caught alive at over 13 ft! You can find out all about them, and more, at the educational talks held every couple of hours. The talks are kid-friendly, starting with seeing up-close small alligators, a crocodile, and a caiman. Then you move away from the nature center and the staff take you round a few ponds and tell you the stories of the different alligators. The team encourage everyone to participate and ask questions.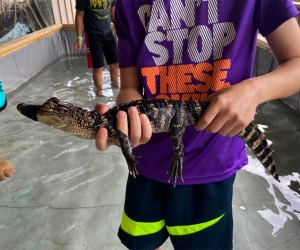 Visitors to Gator Country get a chance to hold a baby alligator. Photo courtesy of Sarah Banks.
It isn't only alligators you can see at Gator Country! The attraction also has an impressive range of snakes, other reptiles, and even a tarantula. Younger kids will especially love feeding the animals at the petting zoo, including donkeys, goats, chickens, and ducks.
Here are our top tips for your visit:
When you buy your tickets, also purchase a few treats for the animals:

Our kids loved 'fishing' with hot dogs to feed the alligators at a couple of enclosures. The poles are right by the ponds where you can feed them.
You can also buy feed for the petting zoo.
There are some enormous tortoises to feed with lettuce.

Buy the adventure pass if your children like to touch the animals. Then they can stand in the wading tank to pick up baby alligators, and hold a snake/reptile in the nature center.
Bring a change of clothes if your kids will want to go in the wading tank. As they bend down to pick up and release the small alligators, it's not easy to stay dry.
Cost of a Family Roadtrip: Alligator Weekend Getaway Near Houston

Combine a swamp tour with a weekend away in NOLA.
Louisiana has the largest population of alligators in the US, and with New Orleans just a 5-6 hour drive from Houston, you can combine a swamp tour in Louisiana with a family trip to New Orleans. There are many alligator tour providers in the area, and you can choose from boats, airboats, and kayaks to get up close and personal with our reptile friends. It's about a half-hour drive to the swamps, and many of them will pick you up from your hotel. Watch out for age restrictions: more open tours such as kayaks and airboats generally want your child to be 5 or 6, whereas closed boat tours don't have the same rules.
Here are some of the local tour providers to check out:

Visit the National World War II Museum in NOLA. Photo by Sarah Banks.
NOLA is bursting with other great attractions for your kids. From the Children's Museum, which is particularly full of fun for younger kids, to the impactful National World War II Museum, ideal for older kids to understand our history, you will find something that fits your family. And don't forget to try the beignets (donut-like treat) at Café Du Monde. There's always something happening wherever you are in the city—my son was delighted to have a parrot sit on his shoulder and participate in a street show. Find out more in our New Orleans with Kids article.
Want to know more about alligators? The American alligator usually grows 6-16 ft and can live to over 40 years old in the wild. They eat small mammals but can go a year or so without eating. If you only see its head peeking from the water, you can estimate its length as every inch between its eyes and nose is equal to one foot in size. The incubation temperature of eggs determines whether the alligator is a boy or a girl: hotter temperatures result mostly in males, with cooler temperatures producing more females. Download this American Alligator Fact Sheet for further information before you go out on your trip.
Wherever you decide to interact with alligators near Houston, you're sure to have a blast and make wonderful memories with your kids.
Click Here to Sign Up!