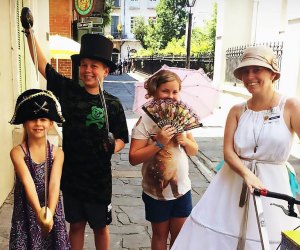 New Orleans with Kids: Top Things to Do and See as a Family
New Orleans is a big city not because of its size but in personality and culture. From the music to the food, both deeply steeped in historical and emotional significance to New Orleans and its residents, it's unlike any other city in the south. Still standing after one of the country's most destructive hurricanes, everywhere you go in New Orleans, you'll find a compelling story, or, at the very least, some delicious gumbo.
This American city should be on everyone's travel bucket list as the Big Easy makes a great, multigenerational family vacation spot at any time of the year. There are so many fun things to do and see and eat with the kids, from delicious beignets and a French Quarter stroll to an incredible children's museum, an aquarium, and a zoo. We've also included some unexpected family hits like a swamp tour and a butterfly garden.
Read on for the top activities and attractions to check out when traveling to New Orleans with kids. We suspect you'll come for the food and entertainment but leave feeling inspired by its rich history.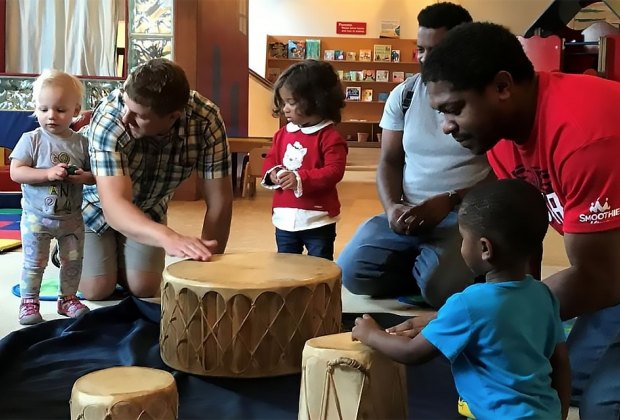 Check out Toddler Time and many other programs at the Louisiana Children's Museum. Photo courtesy of the museum
1. Louisiana Children's Museum
This 30,000-square-foot facility is packed with interactive exhibits for every kid, including a climbing wall; a theater where you can catch a short play, puppet show, or storytime; and a kid-sized "city" where imaginations can run wild. Make sure to check its calendar before your trip to see what events are happening at the time of your visit.
2. French Quartour Kids
Take a tour around the French Quarter that will engage kids of all ages. The French Quartour Kids company offers tours for families broken into age groups, including a teens tour, as well as some starting at 4 years old, such as spooky tours or its Creole Kids tour with crafts.

Don't leave the city without a trip to Cafe du Monde for a famous beignet. Photo by Paul Broussard
3. Cafe Du Monde
Enjoy the south's most famous coffee and beignets at Cafe Du Monde. Beignets are fritters or fried dough, covered in powdered sugar. Delicious. The line will be long in the mornings but trust me when I say it's not this staff's first rodeo and they have a system down, so even if it looks like a long line, go ahead and give it a try. You won't regret it!
RELATED: Best of Charleston, SC, for Kids and Families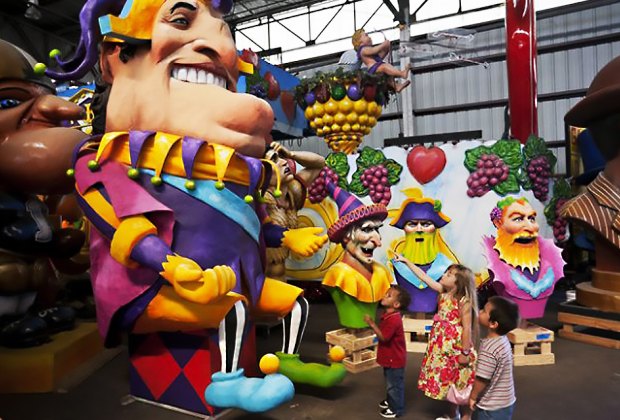 Seeing floats up close and personal at Mardi Gras World. Photo courtesy of NewOrleans.com
4. Mardi Gras History
Regardless of whether you visit to participate in the spectacle that is Mardi Gras, you'll likely feel its presence throughout New Orleans. The Presbyté re Museum, located in a beautiful marble structure designed in 1791, explores the annual ritual's present trends and medieval origins. As a bonus, there is also an exhibit on the effect of Hurricane Katrina on both the city and celebrations. Children ages 6 and under are FREE here. At Mardi Gras World, see parade floats under construction and try on some costumes.
Visiting during Mardi Gras: Is Mardi Gras kid-friendly? Yes and no. It's important to pick the right area from which to watch the festivities. Avoid the French Quarter and St. Charles Avenue where crowds are huge. The outskirts (and even small towns near New Orleans, because practically every city in Louisiana celebrates Mardi Gras!) are much safer for families.
5. Preservation Hall and Jazz Band
This is the mecca for celebrating New Orleans jazz, both current musicians and its history. The hall features concerts from local musicians almost every night and day of the year. It's the perfect way to hear great music with the kids without having to find a jazz bar during the day—and all ages are welcome.
6. National World War II Museum
This is an absolute must-see for any family. It is one of the most impactful museums my husband and I have ever visited. We spent four hours here during our last visit and could have spent more. Younger kids will enjoy seeing the variety of planes and visual exhibits, and older kids will appreciate the interactive exhibits and the content. The 6-acre facility has more than 250,000 artifacts from the war as well as stories and insight from thousands of soldiers and civilians.

New Orleans' aquarium features a walk-through tunnel highlighting the Great Maya Reef and a 400,000-gallon exhibit on the Gulf of Mexico.
7. The Audubon Aquarium of the Americas
All great cities worth visiting with kids have an aquarium! Located in the French Quarter, New Orleans' aquarium features a walk-through tunnel highlighting the Great Maya Reef and a 400,000-gallon exhibit on the Gulf of Mexico. It's among our favorite aquariums across the country.
8. Audubon Zoo
Owned by the same parent company that operates the aquarium and the next door nature center, the zoo is home to dozens of species and, of course, an exhibit on the Louisiana Swamp. The Jaguar Jungle is also popular, and kids always enjoy the train ride and splash pad. It's a fun visit for the kids who will get a kick out of the "swamp creatures."
9. Audubon Louisiana Nature Center
Neighboring the zoo, the city's Nature Center is just one of countless examples of the city's rebirth after Hurricane Katrina. After being completely destroyed in 2005, it reopened in 2017 with new and beautiful trails, educational buildings and a planetarium. If you have to choose between this attraction, or the zoo or aquarium, I'd recommend the Nature Center as a must-see.
10. Audubon Butterfly Garden and Insectarium
New Orleans' butterfly garden is a must for any insect enthusiast. It's the largest exhibit of its kind in the country! Find more than 50 exhibits of things that crawl and fly, and the exhibits themselves are well-designed and eye-catching. Pro-tip: Buy tickets online beforehand for a discounted price.
RELATED: 100 Things to Do in Houston with Kids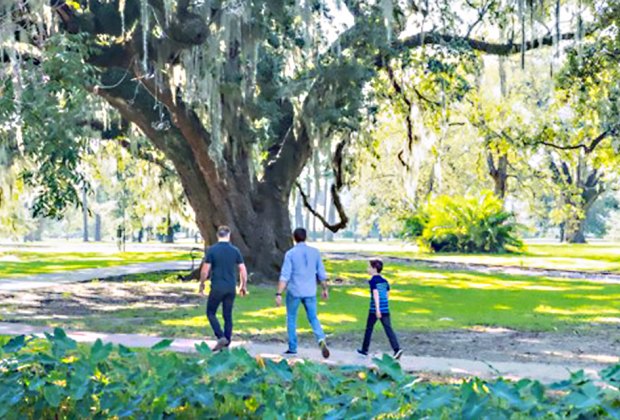 Stroll through the lush New Orleans City Park.
11. New Orleans City Park
From the daily train rides to the beautiful scenery, there are so many things to like about this charming city park. If the weather is right, you could spend all day here! It also houses a small amusement park with more than 15 rides for kids, including a historic carousel. Most of the park is well-shaded, making it a great spot to visit even during the hot summer months.
12. New Orleans Museum of Art and Sculpture Garden
You will find this museum and garden inside City Park, a great air-conditioned reprieve from the elements. The museum is New Orleans' oldest art institution, featuring more than 40,000 pieces. Check the status of the garden before visiting because renovation plans are underway that could cause closures.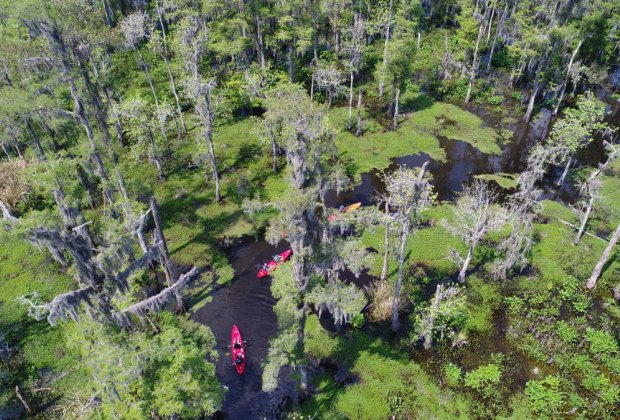 Kayak through the swamp on a sunny day to see Louisiana wildlife and get an unforgettable view of the south. Photo courtesy NewOrleans.com
13. Swamp Tour
Get up close and personal to Louisiana's expansive and hauntingly unforgettable swamps. About 20-30 minutes outside of the city there are plenty of options for tours. One great option is touring the Jean Lafitte National Historic Park and Reserve, which spans several miles on and near the Mississippi River and is teeming with wildlife.
14. Cemetery Tour - St. Louis Cemetery No. 1
St. Louis Cemetery No. 1 is the city's most famous cemetery known for its massive gothic mausoleums and tombstones. There are three St. Louis cemeteries available to tour, but all visitors to city cemeteries must be in a licensed tour group. There are many from which to choose, including daytime and nighttime options depending on your family's level of daring.

The steamboat Natchez has a fascinating history that visitors can learn about while taking a river cruise. Photo by Paul Broussard
15. Steamboat Natchez
Take a ride on the only steamboat on this side of the Mississippi. Steamboat Natchez offers dinner cruises, general sightseeing tours, and special season offerings depending on the time of year. Expect a great view of the city and its surroundings. Kids will the love the chance to hop aboard! Children ages 6 and under are FREE.
16. Mini Art Center (And Algiers Point)
In Algiers Point you'll find the Mini Art Center, which is an adorable space where families can create projects together. Open studio is the first and third Saturday from noon to 5pm, and it's FREE (although donations are welcome). It's also close to the Algiers Point Ferry, offering a quick ride down the river and more terrific views of the city.
17. Louis Armstrong Park
We just happened to walk by Louis Armstrong Park on our last visit to New Orleans. At the time, it was playing host to a gumbo festival, where vendors from around the city presented their best concoctions. Whether there is a festival, concert, or another impromptu gathering or not, it's a beautiful park to visit in the Tremé neighborhood. Kids can run throughout the green space, play, and explore.

Grown-ups relax outside at the Parleaux Beer Lab while kids goof off.
18. Eat!
There's no shortage of delicious food in NOLA, and there are plenty of casual restaurants that are welcoming to those traveling with kids. Too many to name in fact. For a few highlights, we recommend the Parleaux Beer Lab for a quirky brewery experience. The outdoor seating area is great for families. Try Salvo's Seafood for crawfish and a kids menu that actually branches outside of chicken fingers (crab!), and head to the Gumbo Shop for a delicious bowl and relaxed atmosphere.
General Tips for Families Visiting New Orleans
While the city isn't big, if you are traveling with young kids, it can be difficult to navigate without renting a car. Uber and Lyft drivers are plentiful and there are plenty of those iconic streetcars, but parking is fairly easy and your own car gives you more flexibility.
Bring some bug spray. Depending on the season, the south becomes a hot spot for mosquitos.
Ensure you leave enough time in that vacation "schedule" to wander and explore. Every time we visit New Orleans, my family happily stumbles upon an impromptu live concert, pop-up market, or festival. This city is alive and there is always something going on.
Another version of this article was first published in 2008, but it has since been revised and updated.
Unless noted, photos courtesy of the New Orleans Convention and Visitor's Bureau