11 Best US Aquariums for Your Next Family Vacation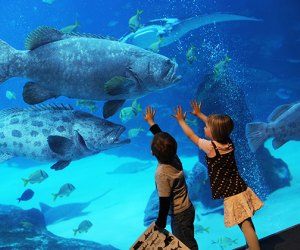 4/15/16
- By
Allison Tibaldi
A visit to a top-notch aquarium is a great way for kids to explore the secrets of the sea. Families in the Northeast are blessed with an array of regional aquariums, including the Long Island Aquarium in Riverhead, the New England Aquarium in Boston, and the Adventure Aquarium with its Shark Bridge in Camden. Southwest families are fortunate to have the Aquarium of the Pacific in their back yard.
If you're looking for really fabulous odes to underwater environments and sea life that are simultaneously entertaining and educational, we've found them, from a 28-foot-tall kelp forest to a jellyfish invasion. The following 11 aquariums up the aquatic ante and are so worth the trip.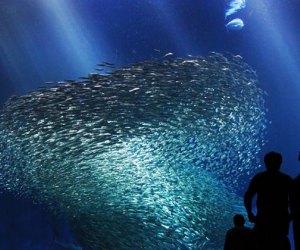 Feeding time at the Open Sea tank, the largest exhibit at the Monterey aquarium, is a must-see event.
This Central California aquarium excels at giving a sense-around experience of what it's actually like to be in the water with the animals. Sardines swim around your head in a circular tank while the Open Seas tank illustrates the huge variety of creatures that live in the Eastern Pacific. With over 200 exhibits spread over 34 large galleries, this place is a window to the wonders of the ocean. The 28-foot-tall kelp forest is where you'll watch divers hand-feed sharks, and special underwater gear lets the divers answer audience questions while they are submerged. Their newest exhibit, Viva Baja, explores the coastal habitat of Baja California. You'll view the rare Pacific seahorse and the desert tortoise and get a sense of the spectacular desert-to-sea Mexican environment. The Monterey Bay Aquarium is committed to tackling the most critical issues affecting ocean health. Its Seafood Watch program is one of the most respected sources of science-based information used by consumers to purchase seafood from ocean-friendly sources. A visit here offers lots of practical information that kids may utilize when they return home.
Keep the seaside theme going and head north to Carmel for more family fun.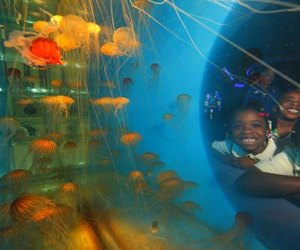 The Jellies Invasion at the National Aquarium shows off nine species of the colorful sea creature.
With over 20,000 animals, the National Aquarium set on the harbor in downtown Baltimore is, well, really big. Its mission to promote aquatic conservation is accomplished in a totally non-preachy way. Don't miss Jellies Invasion: Oceans Out of Balance. You'll view nine species of jellies engaged in movement looks like a professional ballet. It is mesmerizing to gaze at these colorful, translucent shapes moving in a staccato-like pace reminiscent of Fantasia. You'll leave the National Aquarium with a deeper understanding of how climate change is altering the delicate balance of the sea. Note that because of the moving walkways, strollers are not permitted, but they do loan baby-toddler backpacks and front packs.
The multitude of interactive opportunities differentiates the Shedd from the pack: 32,000 animals representing 1,500 species live in the 480,500-square-foot space. Visitors have the chance to engage in numerous tactile experiences, none more fun than the stingrays. It is open seasonally from May-October, and you will get wet as you touch these friendly creatures. At Home on The Great Lakes focus is on improving the health of the Great Lakes. Dolphin shows are top-notch, but a passionate animal conservation message permeates everything, so put your conscience to rest. The Polar Play Zone is great for toddlers who may ride a submarine and dress-up like penguins. With so much for budding animal lovers to do and see, plan on devoting a good chunk of time. It is located near many of Chicago's don't-miss family attractions, including Navy Pier, Millennium Park and the Field Museum of Natural History.
RELATED: 12 Best Water Parks Near New York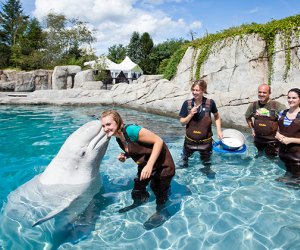 Visit with Mystic's Beluga whales, one of the largest outdoor Beluga exhibits in the country, with a special "encounters" tour. Photo by Ryan Donnell/courtesy Mystic Aquarium.
Arguably the Northeast Coast's greatest aquarium, this Connecticut aquarium's residents include Beluga whales, six species of jellyfish and adorable African penguins. For the ultimate hands-on experience, don't miss Scales & Tales. You'll feel the spiny scales of a bearded dragon and touch the slick skin of an American alligator. The sea lion feeding is a big hit with younger kids. The Arctic Coast is a one-acre outdoor beluga whale display containing 750,000 gallons of water. Mystic is a pioneer in up-close animal encounter programs. These penguin and whale experiences are meant to foster a deeper appreciation of sea animals, a worthy splurge. The quaint town of Mystic is a big draw. Mystic Seaport, a living maritime museum boasting an extensive collection of historic ships and a recreated 19th century coastal village, is a must-see.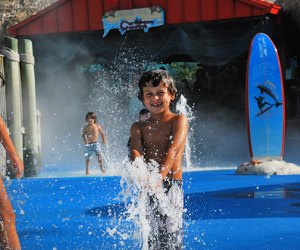 Younger kids can cool off and play at the outdoor Explore a Shore playground at the Florida Aquarium.
This aquarium's floor-to-ceiling displays and in-water adventures let visitors get submerged in the experience. It offers an up-close view of a coral reef, a delicate ecosystem usually viewed only by experienced divers. The exhibit simulates a 60-foot dive, starting in shallow waters and descending to deeper waters, allowing you to explore microhabitats at a variety of depths. The Wetlands Trail takes you on a journey through a swamp where alligators wade and bird soar. This place is well designed, so it's easy to push a stroller everywhere. Younger kids should enjoy the outdoor Explore a Shore playground with water-jet sprays, water slides and a climbable pirate ship. The aquarium also offers a wide assortment of popular summer camp programs.
After you've visited the aquarium, head to nearby Clearwater Beach and swim in the calm gulf water.
Run by the Audubon Society, Hurricane Katrina devastated this aquarium and many of the 10,000 fish did not survive. Happily, it has rebuilt to include even more animal species and high-tech exhibits. The Amazon Rainforest has free-flying birds zooming overhead and piranhas and stingrays living in a waterfall. Geaux Fish! is an interactive exhibit that sheds light on the Gulf Coast's fishing industry. Kids will immerse themselves in Louisiana's ecosystem as they cast a virtual reel, hop on a fishing boat and visit a seafood market. Young children should enjoy the Caribbean Reef with a walk-through tunnel and the 400,000-gallon tank loaded with sharks and tarpon. Animal Grossology is fun for school-aged kids who love the ick factor. One of the best things about this aquarium is that it's located right on Canal Street near the French Quarter. If you haven't considered New Orleans for a family vacation, it might be time to start.
RELATED: 23 Family Favorite Resorts for All-Inclusive Fun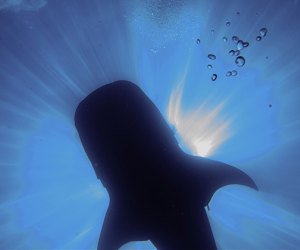 View the underside of a massive whale shark at the Georgia Aquarium's Ocean Voyager tank.
This aquarium is the largest in the Western hemisphere. The tens of thousands of resident animal species live in 10 million gallons of marine and salt water. The blue metal-and-glass exterior evokes an ark breaking through a wave, so the aquatic sense-around starts before you even enter. Once you get inside, it's very well designed, so pushing a stroller is no problem. Some of its most prized specimens include whale sharks, beluga whales and manta rays. The are five distinct galleries: if you want to get a sense of regional aquatic animals head straight to Southern Company River Scout. It features an innovative overhead river that allows you to view North American fish from the bottom up.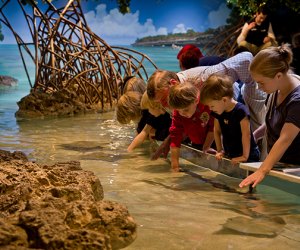 Interact with sharks and rays at the impressive New England Aquarium touch tank.
This Boston aquarium completed a top-to-bottom renovation in 2013, adding a reflective ceiling dome and stroller access to the fourth level. The Giant Ocean Tank is 40-feet in diameter, holding 200,00 gallons of water pumped in from Boston Harbor. Sixty-seven windows and 52 viewing bays make it easy for even the tiniest visitors to get a great view. There are many terrific indoor exhibits at this Boston aquarium, but one of the best programs is held outdoors, in conjunction with Boston Harbor Cruises. From March-October, head out on the water for an excursion that crosses the rich feeding grounds of whales, dolphins, sea birds and other marine life. The aquarium is a leader in rescuing endangered turtles, many who get stranded on Cape Cod's beaches. A new interactive exhibit gives you hands-on experience with the rehabilitation of these venerable sea creatures.
Keep the fun going and check out the best 100 Things To Do in Boston with Kids.
With 500 species of marine life, this urban aquarium has several features that make it attractive for families with very young children. Shark Voyage, a train ride through a shark tank, should be a big hit with tiny Thomas the Tank Engine fans. The Education Room presents young visitors with up-close, tactile encounters with bearded dragons, snakes and a rainbow assortment of fish. The trained educational staff is available to answer questions. Eating at the on-site restaurant is a big part of the experience. You'll be seated in a 150,000- gallon aquarium, with views of sea creatures swimming by your table. There's a reasonably priced kid's menu. There are carnival-style games and whimsical amusement rides, like the Diving Bell Ferris wheel and an Aquatic Carousel, but these incur an extra cost.
We found 20-plus other great kid spots in Houston.
This aquarium presents ocean animal life as well as freshwater animals and fish, often overlooked even at top-notch aquariums. The Appalachian Cove Forest recreates the mountain source of the Tennessee River. Visitors will see baby alligators, touch ancient sturgeon and listen to the sounds of a chorus of tree frogs. This exhibit alone contains an artificial waterfall cascading into a 30,000-gallon mountain sink, so expect dynamic proportions. If you just can't get enough, book the Sleep in the Deep overnight experience. The entire family will tour both the ocean and river exhibits before bedding down in the middle of it all.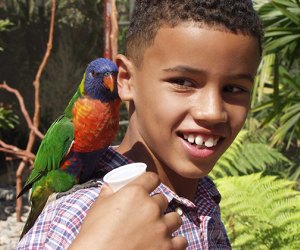 If you get sick of looking at fish, head to Lorikeet Forest at the Aquarium of the Pacific.
Long Beach is a port city on the southern fringe of Los Angeles County. Its laid-back vibe is pure California and the sea creatures of this state's mighty Pacific Ocean are celebrated. With over 50 exhibits, there's lots of variety. Watch sharks and sea dragons frolic in large tanks before heading to the awesome non-aquatic experience, Lorikeet Forest. This walk-in aviary allows you to feed nectar to Australian parrots and become a human bird perch. Of special note for older children is the Behind-the-Scenes Tour. You'll get a realistic look at all the hard work and organizational skills it takes to successfully care for the thousands of sea creatures that call this place home. The front lawn's new Earth Friendly Garden features drought-resistant plants in an effort to highlight the state's ongoing water shortage.
Hop on the ocean liner Queen Mary to complete the water fun, or try one of these other best things to do with kids in Long Beach.
Top image: Kids try to get closer to the fish at the Georgia Aquarium. All photos courtesy of the respective venues.