The Long Island Aquarium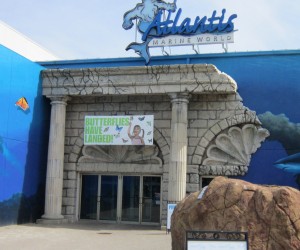 5/1/12
- By
Debra F
If you're looking for a fun family day out East, take a ride out to the Long Island Aquarium. Even if you went years ago when they first opened, definitely make it a plan to go back now as they have expanded. As members, we've been there all seasons and enjoy it each time, however I highly recommend visiting on a spring or summer day if you want to take advantage of all the outdoor areas and activities the facility offers.
Before entering the aquarium, you can visit with the seals in the outdoor tank in the front. Once inside and paid, a stingray touch tank is in the lobby area, which most kids run off to quickly. Kids also love the touch tank where they can hold starfish, horseshoe crabs, hermit crabs and a few other crustaceans.
Be sure to pick up a daily schedule that gives you show times and feeding times so you can plan accordingly. The most popular is the sea lion show with Java and Bunker. It never gets old to see a sea lion dance to "Can't Touch This"! If it's a very hot day, you'll want to make sure you have water and even hats, because although the show only takes about 12 minutes, you have to find seats early and the stadium is in full sun.
Crossing the beautiful bridge and waterfall in the main lobby, you enter into the main tank area. But stop on the bridge and check out all the fish below with signs telling you which is which.
The main room is full of beautiful tanks to browse, which lead to the shark tunnel. We've spent many hours over the years watching those sharks circle (and shuddering each time) while searching for the giant turtle who also lives in the tank. He comes up about once an hour for air so keep checking. Kids love to see the turtle!
The next room holds a few more large tanks, plus our favorite, the octopus. The kids also have a great time watching the flounder change from dark to light when it switches to different color sand (work in a lesson about camouflage there). Upstairs you can view the shark tank from above, check out a few more fish and go to a "ride" in the submarine simulator (extra fee).
Outside you will find the "Unearthing Atlantis " exhibit, an archeological area where kids can dig and get dirty. This seems to be a popular spot with the very small set. There's also gem mining in the back room ( a separate fee applies)
Out back, the view of the Peconic River is gorgeous .There's a path to meander on where the kids can dip their toes in the interactive salt water marsh and cool off on a hot day. You'll see otters, penguins, monkeys and more. And with all those animals, my kids' favorite thing is, of all things, the rock wall ( included with admission).
There's also Discover Tower, the 110-foot-high ride that offers amazing views of the river and the whole aquarium, Nemo's family fun center (a small arcade kids never tire of) and a Pirate Snorkel adventure where you can snorkel with the fish. Be sure to call ahead and make reservations if you plan to do this.
On top of that, an ice cream shop and a cafeteria provide you with some family eating choices with indoor or outdoor seating.
The aquarium is also home to the nonprofit Riverhead Foundation for Marine Research and Preservation where you may watch a wounded animal being cared for before its release. They also offer tours, lectures, cruises and walks. We make a small donation everytime we go.
The Aquarium also offers many "Aquatic Adventures" including classes for kids, sleepovers, the Atlantis Explorer tour boat , Scientist for a day program,and Shark Dive. We've often seen the brave folks who don wetsuits and go in a cage with the sharks, but cage or not, my family prefers to view the sharks with our feet firmly on the floor.
You can have an event or birthday party here and they offer summer camps too. The experience to learn about sea life, and especially local sea life, is tremendous for kids and such a fun experience for all. Who doesn't like that aquarium smell and feel?
The all new Butterfly exhibit at the exhibition center can be purchased with your ticket at a combination price. Though we haven't been there yet, we've heard folks coming out saying they really enjoyed seeing the butterflies so it's on our list of things-to-do next visit!
Plan on spending about three to four hours at the aquarium if you want to see it all and have lunch too. Of course, allow the kids another 15 minutes at the gift shop on the way out!
Once you leave the aquarium, you can take a stroll along the Peconic Riverfront where you'll find sea life carvings in the many wooden poles and a few picnic tables to sit at and relax. Right within walking distance, there's also another ice cream shop and a few restaurants, and it's only a short drive to other Riverhead attractions like the outlets and Splish Splash water park.
Long Island Aquarium
431 E. Main St.
Riverhead, NY 11901
631-208-9200