The Aquarium of the Pacific: What Makes LA's Biggest Aquarium So Spectacular
8/24/21
- By
Roberta B
Of the many things that make Los Angeles kids lucky, one of the best isn't even in Los Angeles—it's an aquarium in Long Beach. We love the California Science Center, the Los Angeles Zoo, and so many other classic LA family destinations, but for a joyous, educational, satisfying SoCal day out it's hard to beat the Aquarium of the Pacific.
The Los Angeles area's top aquarium is not a one-and-done experience, though. The Aquarium of the Pacific is a destination to visit again and again, with a variety of marine life ranging from tiny, barely visible jellyfish to big playful sea mammals. In fact, for the price of an annual membership, you just might find that your kids form a lifelong bond with a frisky sea lion—but more of that in a moment.
The LA area is fortunate to have multiple aquariums and marine centers, including Santa Monica Pier's Heal the Bay Aquarium, San Pedro's Cabrillo Marine Aquarium, the Manhattan Beach Roundhouse Aquarium, Dana Point's Ocean Institute, and the Marine Mammal Care Center for injured sea lions and seals. Every one of these is worth a visit and does key work supporting life in the Pacific. But they'd all tell you that the Aquarium of the Pacific is a must-see destination, and one of the best aquariums in the country.

The big tank in the aquarium foyer is mesmerizing...
Fish Tanks at the Aquarium of the Pacific
Perhaps the only part of a visit to the Aquarium in Long Beach that is not surprising is the wide array of fish on display—and even so the sheer scale of the tanks can take one's breath away. The first tank that greets visitors is absolutely enormous and populated with menacing sharks, giant (endangered) sea bass, and large schools of all types of fish. At certain times during the week, you can catch aquarists diving in the tank to feed or do health checks on the animals—and at certain times of year Santa Diver appears in the tank handing out underwater treats.
This display alone is mesmerizing and can hold kids' attention for a surprising length of time. But don't get stuck for too long, because there are dozens more tanks to see. Each successive room sheds light on a different underwater environment and different fascinating critters. Every environment and type of marine life found in the Pacific is represented, from chilly to tropical, minute to surprisingly large. Indoors, visitors walk through tunnels of tropical fish, peer in windows to see peculiar little life forms, and gaze at the underbellies of things you wouldn't want to swim under. Outdoors, kids can trail their fingers in water full of interesting sea life.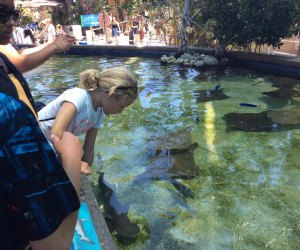 Shark and ray touch tanks are outdoors.
Animal Encounters at the Aquarium
Speaking of trailing fingers, there are several opportunities for animal encounters, and not all what you might expect. Kids who have wondered what a ray or shark feels like can find out by petting these underwater creatures as they swim by in the outdoor touch tanks. Ever wanted to pet a jellyfish? Whatever your answer is to that question, you can give it a try in the sea jelly touch tank. And for something completely different—how about a lorikeet encounter? These colorful, adorable, parakeet-like birds have their own enclosure and seem to enjoy visitors. A certain amount of lorikeet food is available for purchase each day, to lure the feathered cutie-pies to a kid's shoulder—though even without bribes they seem inclined to land on guests and pose for photos.

Playing with Chase the Sea Lion
Special Mention to the Sea Lions
In addition to these planned animal encounters, you never know what other exciting animal activity might make a visit to the aquarium memorable. Not just a home to fish, mollusks, and anemones, the Aquarium of the Pacific also houses several sea mammals: seals, sea lions, and otters. Beyond being incredibly, ridiculously, irresistibly cute, these critters might just surprise you with how they connect with their land mammal visitors. In fact, we were witness to something quite extraordinary the day of our visit: Chase the Sea Lion playing with his best friend, a young girl who visits him weekly.
The girl in question told us that she's had a membership to the aquarium most of her life and comes a few times each month to play with her favorite sea lion. It was clear from what we saw that Chase completely returns her affection; he follows her from window to window, swirling, flipping, blowing bubbles, and playing with her through the glass. She had a light-up ball with her, which the sea lion swam after like a puppy. She occasionally pulled other kids into the game, and when the ball rolled back and forth between them, Chase lived up to his name and chased back and forth like a game of underwater monkey-in-the-middle. The whole experience was utterly delightful and was the single best argument I've ever seen for buying an aquarium membership—not to mention bringing a ball to the sea lion display.

What's cuter than puffins?
Exhibits You Might Not Expect at the Aquarium
Everything from lobsters to sharks to glow-in-the-dark sea jellies are part of the wildlife we expect to see at an aquarium, but the Aquarium of the Pacific also has a few unexpected animal displays. I've already mentioned the little Lorikeets, who make a pleasant, if unaquatic, surprise, but they also have some distant feathered cousins in two other adorable exhibits: penguins and puffins. The penguin enclosure is outside, and we were lucky to see naturalists feeding the penguins, sitting on the beach in the exhibit while the tuxedo-clad birds waddled to them and splashed away again. Indoors, the puffins swim happily behind glass, where we were able to watch them swimming on top and diving below the surface.
And speaking of cute, the sea otters are pretty darn adorable as well. Their enclosure is upstairs and outdoors, where moms and babies alternately frolic and nap. And, like in most of the exhibits, you can track their antics underwater as well.
The aquarium also offers behind-the-scenes opportunities for encounters with some of these animals. If meeting a penguin face to face is on your bucket list, cross that item off at the Aquarium of the Pacific.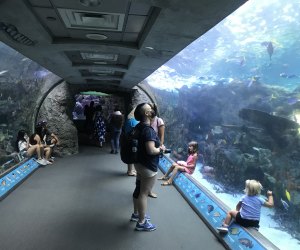 The tank tunnel is an amazing underwater journey.
Special Programs at the Aquarium
Kids who love the aquarium will be delighted to know that they can attend summer camp or take a variety of classes there, with topics that target kids from toddler to teen. There are even classes in Spanish, and during the pandemic there have been plenty of at-home and virtual educational programs. Other family favorites include holiday and cultural festivals (the Halloween Scarium of the Pacific event is a popular one), homeschooling days, and special after-hours family autism evenings. The aquarium also runs some of the best whale watching excursions in the Southland, with naturalists on board every cruise conducting research and sharing insights.
The Aquarium's Conservation Projects
More than just a cute face, some exhibits make an impact on kids about protecting the environment, highlight the many things the aquarium does to make a difference in the world. Some of these effort support endangered species; endangered animals in the breeding program include giant sea bass, abalone, sharks, and Magellanic penguins. The aquarium also participates in rehab programs for injured animals, from turtles to frogs to otters.
The facility's efforts to help replenish the world's coral reefs are also impressive. We learned that researchers are growing coral in the aquarium on tiles, which are then lodged back into living coral reefs in the Pacific, to help fill them in.

The lorikeets are cute and colorful surprise. Photo courtesy of the Aquarium of the Pacific
Food, Parking, and More To Know Before You Go
Parking at the Aquarium of the Pacific is easy; there is a spacious lot adjacent to the aquarium that charges $8 per day with validation. Street parking in the immediate area isn't so easy to find, so the all-day deal is the simplest approach with kids.
As far as food options at the aquarium, the outdoor exhibit space has food counters and outdoor tables, offering simple snacks and fast food. If you're looking for more of a meal (or a healthier bite), try getting a table at Cafe Scuba, where you can enjoy lunch with a view of the sea lions.

So many sea jellies!
All photos by Roberta Brown unless otherwise noted
Places featured in this article:
Sign up for the Mommy Poppins Newsletter today!