KidStock
Pretend City Children's Museum

Online Robotics Camp
Young Gates - Kids Online Personalized Classes

Artificial Intelligence with Scratch Online Camp
Young Gates - Kids Online Personalized Classes
Sign up for our free newsletters.
Santa Monica Pier's Heal the Bay Aquarium, Under the Boardwalk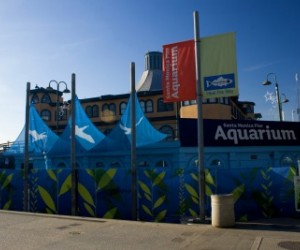 8/20/11
- By
Roberta B
I should probably confess to a slight bias: we LOVE the aquarium. We love its perfect size (big enough to fascinate kids, small enough for parents to relax); its fabulous staff (with knowledge and enthusiasm in huge, equal parts); its escape-artist octopus (who probably didn't mean to flood the place); its frisky sharks (who never fail to spray out-of-town relatives); and its mesmerizing sea horses. When my son was in preschool we always entered the fray to get into those Reggio-esque Microbiologist classes—arguably the single best drop-off class for 3 to 5-year-olds in town. My preschooler came home able to articulate the differences between sea mammals and big fish, the many uses of seaweed, and how to tell a sea lion from a seal. (Can you??)
When we arrived at the age of no return for those classes, we got our aquarium fix with a birthday party, which my son was not alone in calling the best. birthday. EVER. When else does every party guest get to kiss a sea cucumber?
We were first in line when the Aquarium added summer camp to its repertoire. My little camper spent his mornings learning more about the ocean in a few hours than I've managed in forty-something years, while I opened my laptop in that quiet, breezy room at the Annenberg Beach House that I'd been promising myself since it opened. Later, reclaiming a child who was beached-out and educated all in one go, I got to be a hero treating him to an ice cream at the carousel – the litter from which he was careful to throw away, having learned not to let it end up in the sea. That's what I call a successful summer day.
Back home at the end of the day, he even managed to explain to me the difference between a seal and a sea lion.
Heal the Bay Aquarium under Santa Monica Pier is open weekends and some weekdays, with touch tanks, shark encounters, crafts, stories, and more. Summer camps, school break camps, and birthday parties are all hugely popular.