Kids Eat Free: 21 LA Restaurants with Free Meal Deals for Families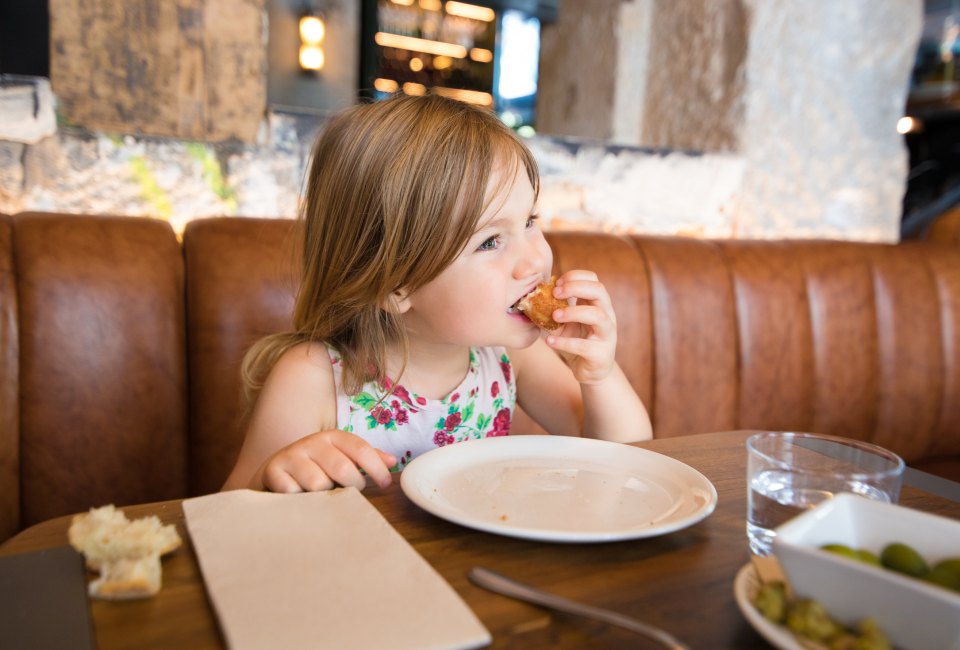 9/29/19
- By
Roberta B
Kids eat free: three little words that make a restaurant dinner feel possible. Even if we suspect that a box of mac and cheese and a couple of chicken fingers have lured us into buying a $10 margarita, how can we regret that margarita if it comes with a free kids' meal?
We've put together a list of restaurants throughout the Los Angeles area that offer free meals for kids at least one night a week (and up to four!). The restaurants vary from local joints to national chains, from the Valleys to the beaches, from Italian to Hawaiian, and from seafood to steakhouses—enough to satisfy picky and non-picky eaters.
Also check out our lists of birthday freebies with more free meals for kids (and adults!), and, of course, some kid-friendly happy hours on the Westside, in Silver Lake and Los Feliz, and in Orange County.
The restaurants below offer free kids' meals as noted with the purchase of an adult meal (unless otherwise noted). Also, while all deals are current as of publication, they are subject to change at any time, so confirming with the restaurant before you go is highly recommended.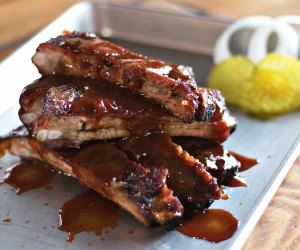 Ribs at Dickey's Barbecue Pit
1. Dickey's Barbecue Pit – various locations
Sunday
Every Sunday at every Dickey's Barbecue Pit location, one kids' meal is free for those 12 and under all day, with a $10 or more purchase per adult. The offer is dine-in only. Over 60 locations in California, including Westlake Village, Woodland Hills, Pasadena, Whittier, Downey, Long Beach, and Redondo Beach.
2. Rush Street – Culver City
Sunday
The Chicago vibe is strong at Rush Street, where kids ages 12 and under eat free from 5pm to 10pm on Mondays and Sundays.
3. Los Toros Mexican Restaurant – Chatsworth
Monday-Thursday
School nights are family nights, with all kids 10 and younger eating free Mondays through Thursdays.
4. La Serenata – West Los Angeles
Monday
This Mexican restaurant offers free kids' meal deals all day on Mondays, with the purchase of one adult entree and two drinks (Mondays happen to be $5 margarita days as well). Guests are asked to request the deal from the server at the beginning of the meal.
5. Romano Cucina – Laguna Hills
Monday
Children eat free every Monday at this popular OC Italian restaurant. The offer is dine-in only, and kids' menu only; open at 5 pm for dinner only.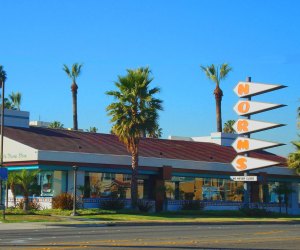 Norms is a California classic.
6. Norm's – various locations
Monday
How about some strawberry hotcakes for dinner? At Norm's, kids 10 and under can get one free Jr. entrée from the kids' menu, from 2pm to 10pm Mondays.
7. Mariposa Grill and Cantina – Covina
Monday, Wednesday, Saturday
This Mexican restaurant does the "kids eat free" night two better, offering free kids' meals on Mondays, Wednesdays, AND Saturdays.
8. Luna Grill - Santa Monica, Culver City, Sherman Oaks, Torrance, La Cañada, + 10 OC locations
Tuesday
If a healthy Mediterranean meal hits the spot for your family, stop into a Luna Grill any Tuesday from 4pm until closing for a free kid's meal with each purchased adult meal (for kids ages 10 and under). That's a lot of organic hummus at more than 20 Southland locations.
9. Original Roadhouse Grill – Long Beach and Whittier
Tuesday
Kids can get a free meal AND drop their peanut shells on the floor every Tuesday at Original Roadhouse Grill's Kids Eat Free night. The sights and smells of steak and barbecue (and the signature rolls) complete the experience. There are two locations in the LA area, in Long Beach and Whittier.
10. Ruby's Diner – various locations
Tuesday
Shooby dooby down to Ruby's on Tuesdays for Family Night. From 4pm until closing, kids ages 12 and under eat for free. Participating locations include City of Commerce, Whittier, Woodland Hills, and Long Beach.
11. Denny's – various locations
Tuesday
Kids eat free at participating locations on various days. Must purchase at least $6 for free kids meal. One free entree per child and dine-in only.
12. The Loft - Torrance
Tuesday
Spend Tuesday nights in Hawaii (or at least eating like it) at the North Torrance location of this unpretentious family restaurant serving up classic Hawaiian fare. Kids ages 10 and under eat free every Tuesday.
13. Marie Callenders – various locations
Tuesday & Saturday
On Tuesdays and Saturdays at many Marie Callenders locations, kids age 12 and under eat free all day. Locations include Monterey Park, Arcadia, Sherman Oaks, Northridge, Torrance, and Rancho Palos Verdes.
14. Cafe 50s – West Los Angeles
Wednesday
This fun place offers Pee-Wee Wednesdays: kids get a free meal from the "under 10" menu. Adults can also get in on the free meal action if they're brave: on Wacky Wednesdays (the last Wednesday of each month), everyone wearing pajamas gets a free meal with the purchase of a beverage. The eatery does request some decorum, though; pajamas must be traditional, "like the ones your grandma bought you."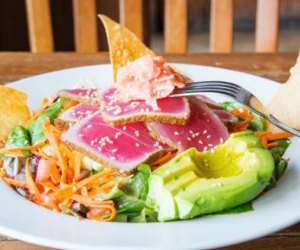 El Segundo Fish Company makes all salad dressings from scratch, like the Soy Ginger Vinaigrette for its Seared Ahi Tuna Salad.
15. El Segundo Fish Co. – El Segundo
Wednesday
Wednesday evenings, families can indulge their seafood cravings as kids eat free at El Segundo Fish Co.
16. Watermans – Hermosa Beach
Wednesday
This local "watering hole" (get it?) near the pier offers free kids' meals every Wednesday, from opening until 5pm. The restaurant's wraps are half-off on Wednesdays, too, so parents can combine the offers for a cheap lunch date with kids.
17. Maria's Italian Kitchen – various locations
Wednesday
These restaurants offer kids free meals on Wednesdays, limited to dine-in and two children per family per check. There are nine locations in the LA area, including Brentwood, West Los Angeles, Agoura Hills, and Pasadena.
18. The Small Café – Long Beach
Wednesday
In the Naples neighborhood, this local favorite offers free kids' dinner meals every Wednesday, from 5pm until closing. With comfort foods like meatloaf and mashed potatoes, burgers and salads, it's homestyle cooking without the homestyle cleanup.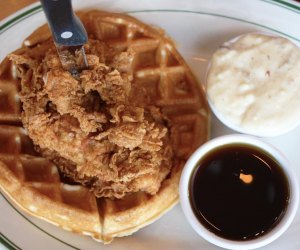 Chicken and waffles at Mama's on 39
19. Gladstone's Long Beach – Long Beach
Thursday
This place with a view within walking distance of the Aquarium of the Pacific makes kids feel special every Thursday, with a complimentary meal that includes a beverage (juice, milk, or soda), main course, vanilla ice cream, and a balloon!
20. Mama's on 39 – Huntington Beach
Thursday
This kid-friendly local favorite that's about half a mile from the beach (the 39 in its name refers to its location on Beach Boulevard, which is State Route 39) is a big believer in big portions of comfort food. And bacon: it believes in bacon. Mama's offers free meals from its Lil Rascals Menu for kids age 12 and under. Each location has a different day for Kids Eat Free. Mondays - Newport Beach Location, Tuesdays - Los Alamitos Location, Thursdays - Huntington Beach Location.
21. Steak 'n Shake – various locations
Saturday & Sunday
At participating locations, kids age 12 and under eat free all weekend (Saturdays and Sundays). Families get one free kids' plate, excluding drinks and shakes, for every $9 spent, dine-in only. Locations include Burbank, Compton, and South Gate.
Other local and national chains with franchise owners also may have kids eat free promotions that vary by location and promotional period, including Coco's, Johnny Rockets, Acapulco, and others.
Top photo via Bigstock. All others courtesy of the restaurant
Originally published August 17, 2011
Sign up for the Mommy Poppins Newsletter today!