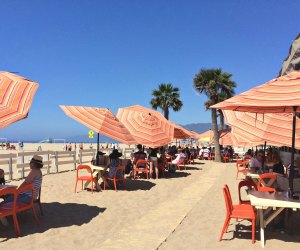 LA Restaurants Where Kids Can Play While Parents Eat
Whoever said that dining out with kids is an impossible task probably didn't know that there are a few spots that make the whole experience a piece of cake. We're not talking about pizza parlors or hot dog stands (we love those, too), but wonderful restaurants and hip cafes where parents can get delectable food while kids can go a bit wild, whether enjoying a play area, a babbling brook, or old school games. It's a win for everyone (especially for the parents) at these very family-friendly eateries.
Note: Several of these locations are currently closed. However, we have a list of more than 40 fabulous outdoor restaurants in LA where kids can be outside and at least take a tableside stroll, as well as family-friendly beer gardens with outdoor patios. Keep checking back here as well, because we will update this page to reflect reopenings (and new openings!) at restaurants where kids can play.
Hailed as one of the most romantic restaurants in LA, Inn of the Seventh Ray is indulgent for adults but also a woodland Shangri-La for kids. Nestled in Topanga Canyon, this farm-to-table dining landmark offers gourmet concoctions such as truffle risotto and poached salmon as well as healthy brunch items, pastas, and soups made to order for kids. It also features some natural built-in entertainment that your offspring will enjoy: a streambed they can explore. Request a table close to the creek, so you can enjoy your meal and still see your kids hunting for frogs.
128 Old Topanga Canyon Road
Topanga, CA 90290
310.455.1311
Giggles 'n' Hugs Glendale is currently closed due to the pandemic. The Topanga location has closed permanently.
From breakfast items, appetizers, salads, and entrees to panini, pizza, and burgers, deciding what to order at Giggles 'n' Hugs is a serious matter. The mile-long menu offers so many organic, locally-grown, vegan, and gluten-free options you could spend the whole day deciding. The kids' menu is endless, too, offering classics such as fish sticks, grilled cheese, and healthy little bites like yogurt parfait and fruit plates. But "Mom's tricky treat pastas and pizzas" take the prize: Veggie purees are blended into the pasta sauce or pizza red sauce so kids will eat their veggies without knowing it. After lunch, you can toast to that sneaky move (yes, they serve wine) and head back to the play area for group activities such as karaoke, face painting, dance parties, and zip line (part of what makes this place so fantastic for birthday parties). Admission is $13 per child.

3222 Glendale Galleria Way
Glendale, CA 91210
818.956.4847
RELATED: 11 Food Trucks Los Angeles Kids and Parents Love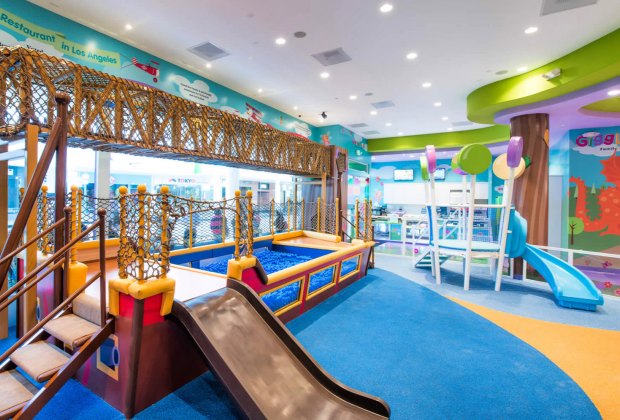 A playground this big lets Mom and Dad linger over wine with dinner. Photo courtesy of Giggles 'n' Hugs
Santa Monica's Back on the Beach is the place where you can live the ultimate dream: kicking back with a glass of wine or beer while your kids have a blast running back and forth along the sand to the adjacent playground. The café is next to the Annenberg Beach House's community splash pad and pool, and Back on the Beach is the perfect dining spot to recharge between water play and laps. Local and seasonal fare is always offered during breakfast and lunch—dinner is available only from May to October—and includes delicious omelets, salads, burgers, sandwiches, and fish entrées. The kids' menu features classics such as penne pasta, chicken tenders, and kosher and veggie hot dogs. Time it right, and the sunset is included free of charge.
445 Pacific Coast Highway
Santa Monica, CA 90402
310.393.8282
There's no cooler playground than LACMA's Urban Light installation, where kids can play hide-and-seek ad infinitum. There's also no better outdoor café than Ray's Stark Bar for being strategically located a few feet away, offering delicious artisanal pizzas, kale salad, tuna tartare, and pan-roasted salmon. The California-inspired brunch and happy hour menus are just as tasty, and the seasonal cocktails are a nice complement to the curated wine and beer selection. Kids can choose among chicken tenders, mac and cheese, noodles, hamburgers, and cheese or pepperoni pizza. They can also get free admission to LACMA by enrolling in the NexGen membership program online.
5905 Wilshire Blvd.
Los Angeles, CA 90036
323.857.6180
RELATED: LA's New Cat Cafe, Where Kids Can Play and Cuddle with Kitties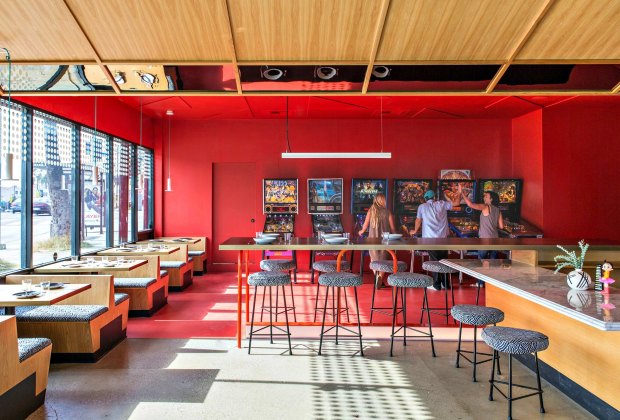 Remember playing pinball while Mom and Dad ate? Photo courtesy of Button Mash
Button Mash is temporarily closed, scheduled to reopen soon, but it is unclear if or when the arcade games will return.
If arcades were your passion growing up, Button Mash will make your heart sing. The Echo Park arcade/restaurant offers a large collection of classic arcade games and pinball machines that will reawaken your inner child (Pac Man and Mario Bros, anyone?). Introduce this throwback pastime to your offspring (admission is always free) — just make sure to bring them in the afternoon hours, since age restrictions are enforced in the evening when the on-site restaurant becomes more of a bar. But even if you're going in the afternoon, you can still order a glass of wine or beer to go with Button Mash's delicious Vietnamese fusion plates. Try the crispy tofu balls, ginger chicken wings, and dan dan noodles. The Kids' Burger, mac and cheese, rainbow carrots, and orange bang cauliflower are among the kids' favorites.
1391 Sunset Blvd.
Los Angeles, CA 90026
213.250.9903
With the recent revitalization of the Los Angeles River and the improvement of the walkable path along the way, Frogtown has become a recreational destination for jogging, biking, and skating. If headed there, start off the workout (or finish it up) at Spoke Bicycle Café, a must-go pit stop. This funky, outdoor café hits the spot with organic sweet and savory breakfast items, bowls, sandwiches, salads, juices, and local coffee and beer. The patio is big enough for endless running around and there's a kids' area with games and books. The on-site bicycle rental and repair shop is also a great attraction if your children are two-wheelers aficionados.
3050 N. Coolidge Ave.
Los Angeles, CA 90039
323.684.1130
It can't get much better than this: beer tasting with the kids in tow. Saying that Golden Road Brewing is family-friendly is an understatement — it's a haven for parents who appreciate local brews and a fun place for kids to run around. There's plenty of indoor and outdoor seating and games to keep everyone happy. With small plates to share, including fried avocado tacos and Brussels sprouts and entrées like the Portobello burger, the brewery's food options are more gourmet than pub-style. The kids' menu consists of three items (burger, grilled cheese, and penne pasta), which can all be made vegan upon request.
5410 W. San Fernando Road
Los Angeles, CA 90039
213.373.4677

Clifton's is full or corners and caves to explore.
In the heart of downtown LA there's a special place that inspired Walt Disney to create the happiest place on earth. Clifton's Cafeteria is truly fairy tale material: a forest featuring stone terraces, caverns with taxidermied critters of all sizes, and a four-story tree. In late 2018 the cafeteria section was temporarily closed to be remodeled as The Marketplace. Opening date for the new dining experience is still TBA; until that time Clifton's is only open a few evenings a week, and only as a bar. We hope to have more news soon for families eager to return for the historic DTLA dining experience!
648 S. Broadway
Los Angeles, CA 90014
213.627.1673