16 Los Angeles Restaurants Where Kids Can Play While Parents Eat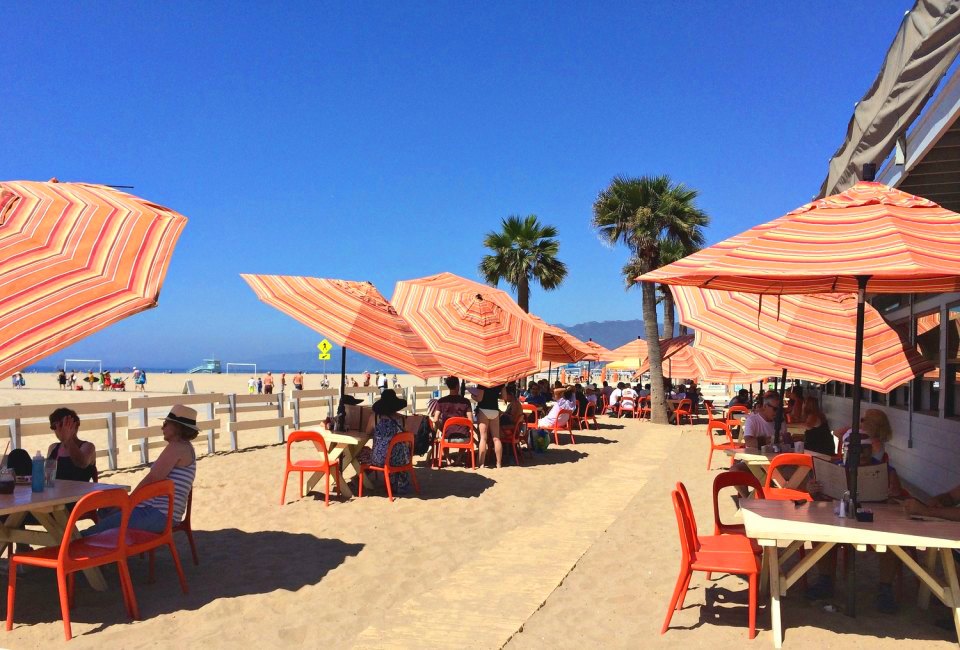 1/20/23
- By
Arianna Menon
Los Angeles restaurants where kids can play while parents eat do exist. You might think dining out with kids is nearly impossible, but a few spots in Los Angeles make the whole experience a piece of cake. We're not talking about pizza parlors or bagel shops (though we love those, too), but mouth-watering restaurants and hip cafes where parents can get delectable food while kids can go a bit wild. Whether enjoying a play area, a babbling brook, or old-school games, it's a win for everyone (especially for the parents) at these very family-friendly eateries.
Looking for more kid-friendly dining experiences in Los Angeles? These are the best coffee shops to bring kids to and gorgeous restaurants with outdoor dining not to miss. There's even more in our restaurant guide for Los Angeles and Orange County families.
Subscribe to our newsletters to get stories like this delivered directly to your inbox.
Restaurants Where Kids Can Play on the Westside
Santa Monica's Back on the Beach is where you can live the ultimate dream: kicking back with a glass of wine or beer while your kids have a blast running back and forth along the sand to the adjacent playground. The café is next to the Annenberg Beach House's community splash pad and pool. Back on the Beach is the perfect dining spot to recharge between water play and laps. Enjoy Local and seasonal fare during breakfast and lunch—the hours change seasonally—and includes delicious omelets, salads, burgers, sandwiches, and fish entrées. The kids' menu features classics such as penne pasta, chicken tenders, and kosher and veggie hot dogs. If you time it right, the sunset is included free of charge.
Hailed as one of the most romantic restaurants in LA, Inn of the Seventh Ray is indulgent for adults and a woodland Shangri-La for kids. Nestled in Topanga Canyon, this farm-to-table dining landmark offers gourmet concoctions. It also features natural, built-in entertainment that your offspring will enjoy, like a streambed they can explore. Request a table close to the creek, so you can enjoy your meal and still see your kids hunting for frogs.
RELATED: 14 Family-Friendly Beer Gardens in Los Angeles

Order from John's Garden and watch kids play at the playground while you eat. Photo courtesy Malibu Country Mart
Located on Malibu's Cross Creek Road, the back patio of John's Garden is just feet from the shopping center's play structure. The food is made from fresh ingredients and includes options like grilled salmon on greens, the turkey and avocado Surfer Princess sandwich, and more. If the fare is too sophisticated for the kids, there's always Malibu Mutt's Grill, which serves up burgers, hot dogs, fries, and milkshakes. You can grab something from the take-out window they'll enjoy and feed them fries when they get tired of swinging and playing.
Blue Ribbon Sushi is on this list not because the restaurant is incredibly kid-friendly (it's fairly pricey sushi) but because the back patio is right next to the grassy outdoor space at Palisades Village. While you wait for the food to arrive, the kids can run around and enjoy the weather of this coastal enclave. If sushi isn't your thing, The Draycott is similarly positioned adjacent to the park and has meals with a British twist.
RELATED: 17 Best Coffee Shops to Bring Your Kids When You Need Caffeine

Pinball and tacos? The kids will never leave! Photo courtesy of Button Mash
Restaurants Where Kids Can Play from Mid-City to Downtown
If arcade games were your passion growing up, then Button Mash will make your heart sing. The Echo Park arcade/restaurant offers a grand collection of classic arcade games and pinball machines that will reawaken your inner child (Pac-Man and Mario Bros, anyone?). Introduce this throwback pastime to your offspring (admission is always free). Bring the kids in the afternoon since age restrictions are enforced in the evening when the on-site restaurant becomes more of a bar. Now with skee-ball and serving 1986 Tacos, too!
It may sound counter-intuitive that an establishment with the word "bar" in its name would be kid-friendly, but that happens to be the case with Downtown LA's Everson Royce Bar. The key to what makes this location a great place to grab a drink with the kids in tow is its large, beautifully decorated outdoor patio. Here, there's plenty of space for kids to run around and play, plus it has a bocce ball court, which kids love. There's no designated kid's menu, but with items like fries, nachos, and barbecue chicken, there's enough to keep the little ones satisfied and busy.
LACMA's Urban Light installation is prime real estate where kids can play hide-and-seek ad infinitum. There's also no better outdoor café than Ray's + Stark Bar for being strategically located a few feet away, offering delicious artisanal pizzas, kale salad, tuna tartare, and pan-roasted salmon. The California-inspired brunch and happy hour menus are just as tasty, and the seasonal cocktails complement the curated wine and beer selection. Kids can choose among chicken tenders, mac and cheese, noodles, hamburgers, and cheese or pepperoni pizza. They can also get free admission to LACMA by enrolling in the NexGen membership program online.
RELATED: 40+ Fabulous LA Restaurants with Outdoor Seating for Kids

Gardens galore to explore. Garden photo courtesy of Manuela
8. Manuela — Arts District
One of the big draws of Manuela in the Arts District is its expansive garden that kids can explore (with a parent chaperone) while waiting for food. During the pandemic, the restaurant transformed its garden into an outdoor dining space. This outdoor metamorphosis bodes well for parents, as you'll now be sitting right by your children, dining al fresco as they explore the garden herbs and observe the chickens. As part of the Hauser & Wirth complex, the restaurant also features original art and specially commissioned pieces that kids can admire. Call before visiting, as the gardens are sometimes closed.
It can't get much better than this: beer tasting with the kids in tow. Saying that Golden Road Brewing is family-friendly is an understatement—it's a haven for parents who appreciate local brews and a fun place for kids to run around. There's plenty of indoor and outdoor seating and games to keep everyone happy. With small plates to share that include fried avocado tacos, birria fries, and entrées like the chimi burger, the brewery's food options are more gourmet than pub-style.
With the recent revitalization of the Los Angeles River and the improvement of the walkable path along the way, Frogtown has become a recreational destination for jogging, biking, and skating. If headed there, start the workout (or finish it up) at Spoke Bicycle Café, a must-go pit stop. This funky, outdoor café hits the spot with organic sweet and savory breakfast items, bowls, sandwiches, salads, juices, and local coffee and beer. The patio is big enough for endless running around, and there's a kids' area with games and books. The on-site bicycle rental and repair shop is also a great attraction if your children are two-wheelers aficionados.
Kitchen Mouse is a trendy cafe in Highland Park serving lunch and breakfast options. Normally, a hip restaurant like this wouldn't be the best fit for families, but Kitchen Mouse is surprisingly as kid-friendly as it is chic. Along with gluten-free and vegan versions of local favorites like chilaquiles, breakfast tacos, Bahn Mi, and more, the restaurant has a small kids' area to keep the kids busy while you are noshing.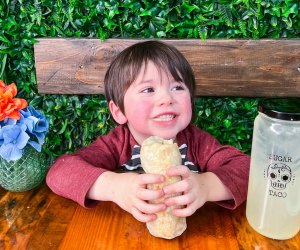 Kids will delight in the food and the play area. Photo courtesy of Sugar Taco
Valley Restaurants Where Kids Can Play
This one came to us on a reader's tip, and boy, are we glad it did! Vegan, vegetarian, and gluten-free food taste like it's missing nothing. Plus, alcoholic drinks for parents, adorable bright decor, a patio where pups are welcome, and a play area for kids. The tacos are divine, and the loaded fries will quickly become a family favorite, and that's before mentioning the churro donuts. Also, you can feel great about eating here: charitable donations provide plant-based meals to children in need around the world, and 100% of the proceeds from the dog menu go to a different animal welfare charity each month.

You might actually get to finish a meal while the kids are occupied with slides. Photo courtesy of My Little Paris
My Little Paris recently opened in San Gabriel, and it's a must-visit for so many reasons. From the authentic French-inspired menu to an immaculately clean play area and an indoor, air-conditioned setting, this is one of our favorite new places to grab a relaxing bite to eat. The menu features an extensive list of kid's options like mac and cheese, pizza, and sandwiches. For grown-ups, hearty salads and entrees like the California toast or quiche lorraine are reason enough to bring the kids. Unlike most of the other restaurants on this list, the entire point of My Little Paris is for kids to play while you eat, so the play area is enormous and offers hours of entertainment.
Kids Planet is located in Canoga Park's The Village at Westfield Topanga and is an indoor playground paired with an organic family restaurant, cafe, and bakery. The playground includes zip line rides, a giant ship ball pit, and climbing tours. There are even supervised activities ranging from bubble parties, dance parties, hide and seek, face painting, art sessions, and more.
More LA-Area Restaurants Where Kids Can Play
Like Golden Road Brewery but on a smaller scale, Rasselbock, a family-friendly beer garden in Long Beach, is a local institution. This restaurant and gathering place specializes in delicious German food with a modern twist, including wursts and giant pretzels. Not surprisingly, there's an impressive selection of German-style beers. The decent-sized patio has games and a sandbox for kids so you can relax and enjoy a snack with a cold brew.
Angelenos have a vast array of independently and locally-owned eateries, but sometimes a big chain like Dave and Buster's is the best and easiest option for dinner and a drink with the family. Several locations can be found in Southern California, ranging from areas like Hollywood, Arcadia, Westchester, Torrance, Irvine, and more. This arcade-meets-restaurant is like an adult-friendly Chuck E. Cheese with much better food. While you watch the game and enjoy a craft beer and juicy hamburger, your kids can stay entertained for hours with video games and other arcade attractions.
Originally published March 30, 2018
Additional reporting by Matt Matasci
Sign up for the Mommy Poppins Newsletter today!
i