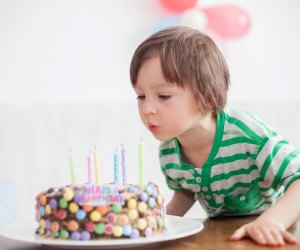 These Bakeries Make the Best Birthday Cakes in Los Angeles
"Good things come in small packages" - or so my mother told me. And though she's always right, I'd argue that good things from bakeries come in large packages: as in, I'd take a whole cake over a cupcake any day, wouldn't you? If your little guy or gal has a birthday on the horizon, have a look at our long list of delectable bakery possibilities below, including vegan and gluten-free options. And just a heads up: though we've all been told that "good things come to those who wait," don't feel you must wait for a birthday to take home a confection! Oh go ahead, let them eat cake!
Angel Maid Bakery
4538 S. Centinela Blvd.
Los Angeles, CA 90066
310.915.2078
I'm a little partial to this bakery, given its proximity to our home. But locational biases aside, Angel Maid (yes, it's spelled right) creates memorable and affordable cakes. (And though this piece is about cakes, I can't resist but recommend the Cream Puffs. Truly some of the best around.)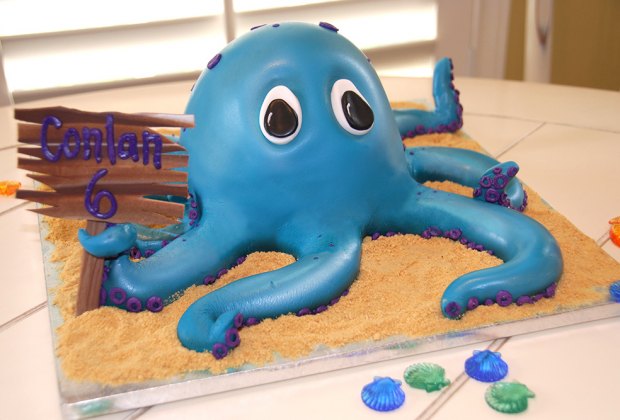 Octopus cake by Beverly's Bakery
Beverly's Best Bakery
3020 North Brea Blvd.
Fullerton, CA 92835
714.529.3989
A family run business that started with one generation in Genoa, Italy, and has been carried on by the next in Fullerton (doesn't that story alone make you curious?), Beverly's Best Bakery delivers fresh ingredient cakes made from scratch. Beverly's Best Party Cakes (Not to be confused with its variety of pastries and other desserts) will have every young party goer licking his plate clean.
Cake Studio
Near Downtown LA
Appointment-only
213.483.CAKE (2253)
"Elegance in Cake Artistry" claims the homepage. Oh, yes, I'd agree. Have a gander at the kids' creations, and when you're ready, schedule a cake tasting. This shop helps customers by appointment only but promises budget-friendly pricing, not to mention homemade fondant, without all the preservatives and chemicals. Sign me up!
Top Tier Treats
11511 W. Pico Blvd.
Los Angeles, CA 90064
310.478.1971
Formerly Jamaica's Cakes, the name has changed but the location and owners haven't. Also, the ban on shortening and preservatives continues, too. Top Tier Treats makes top-of-the-line, state-of-the-art cakes to order using only the freshest ingredients available, and adorned with signature fresh flowers. The bakery requests a minimum one week notice for custom cakes (though last-minute orders and walk-ins can usually be accommodated).

La Mascota Bakery
2715 Whittier Blvd.
Los Angeles, CA 90023
323.263.5513
Hands down, La Mascota's tamales are the best around, or so says the roar of the crowd ("Better than my grandma's" beams one happy customer). But, oh, right, we're talking about cakes here. Thankfully, La Mascota makes cakes as well, in all shapes and sizes and colors.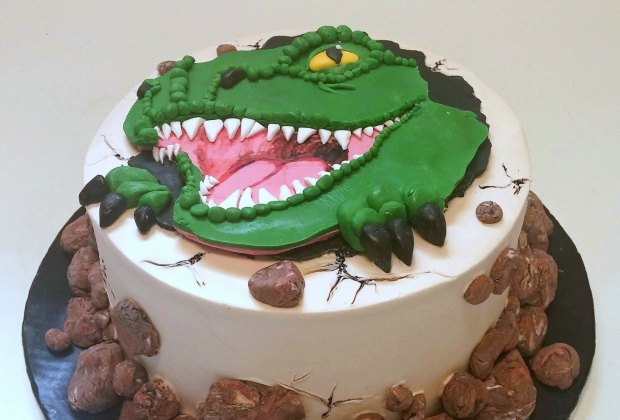 Dinosaur cake by Lark Cake Shop
Lark Cake Shop
3337 W. Sunset Blvd.
Los Angeles, CA 90026
323.667.2968
Lark Cake Shop uses only locally sourced ingredients, if possible, and relies on butter and cream from a California dairy cooperative, cracking and stirring and whipping said ingredients into the finest cakes and bakery delicacies, all with an intentional Bohemian flair that fits right into its Silverlake neighborhood. Ok, that's a mouthful. And so are the treats. How about a Lemon Cream Cake, or a mousse cake? Look no further.

Lido Bakery
3001 North Sepulveda Blvd.
Manhattan Beach, CA 90266
310.545.8955
Just look at its webpage and, well, enough said. Photos galore of lovely, playful, mouth-watering cake after mouth-watering cake. Do note that custom cakes require three weeks' notice.

Superfine Bakery
Appointment-only tasting and ordering
818.416.6182
Inspired by architecture and nature (isn't that what we want to inspire our kids, too?), not to mention fashion, Superfine Bakery creates one-of-a-kind cake masterpieces "that taste as good as they look." All that (!) plus it uses the finest locally sourced ingredients available. Swoon. This little cake boutique will have your eyes, nose and taste buds popping. Cruise around the photo galleries and you'll know what I mean.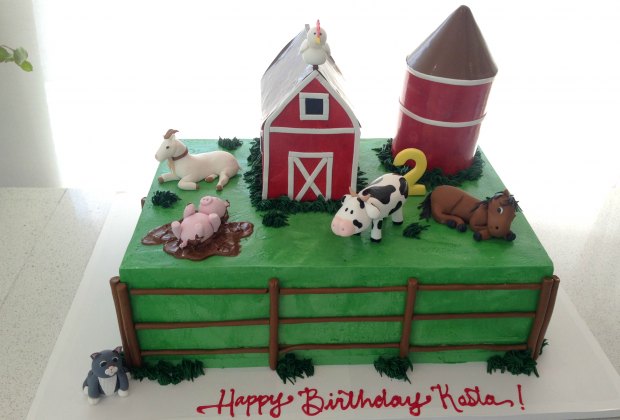 Farm cake by Sweet Lady Jane
Sweet Lady Jane
8360 Melrose Ave.
Los Angeles, CA 90069
323.653.7145

1631 Montana Ave.
Santa Monica, CA 90403
310.254.9499
16403 Ventura Blvd. Suite C
Encino, CA 91436
(818)783-8188
The #1 Patisserie in the World? So says National Geographic. Take a gander at its Custom Cakes and name a kid who wouldn't delight in finding one of those creations on his birthday table!

Sweet and Saucy Shop
(2 Locations)
3722 Atlantic Ave.
Long Beach, CA 90807
562.598.8340

7922 East Coast Highway
Newport Coast, CA 92657
949.715.0920
What's more exciting than a box full of cake lollipops from Sweet and Saucy? Well, I'm not sure what's more exciting, but equally exciting is a box filled with a Sweet and Saucy cake. Gorgeous, delicious, sweet-smelling, dense. That's what a birthday cake should be, and they've got here.

Vanilla Bakeshop
512 Wilshire Blvd.
Santa Monica, CA 90401
310.458.6644
Ok, you try writing about bakeries and cakes, researching and pondering and tasting, and tell me how the drooling goes. Can I just have one of each already? I get that urge when I contemplate Vanilla Bakeshop. Banana Chocolate Chip, please, and a Spicy Carrot, along with a Passion Fruit Cream. Oh, and I'll be back for more tomorrow.

Gluten Free and/or Vegan

Breakaway Bakery
5264 W. Pico Blvd.
Los Angeles, CA 90019
310.968.9380
If you are gluten sensitive or intolerant but crave scrumptious baked goods like everyone else, then this is the bakery for you. No sacrifices here on taste, texture, or options. All cakes, cookies, and brownies (everything on the menu that is) are made from only the finest gluten and allergy-free ingredients. Vegan options are available, too. And even if you do eat gluten, you'll still marvel and delight at Breakaway's confections. They're so good, you won't even miss the white flour.

Whisk Gluten-Free Bakery
Delivery Only
323.422.2807
Two sisters imagined and created this sure-to-please little (delivery only) bakery. No tasteless gluten-free options here! Peanut Butter Cup or Triple Coconut, or Red Velvet...or Vanilla Love Cake? The list goes on, with Vegan options as well. It delivers rolls and breads, too.
Top photo via Bigstock