These Bakeries Make the Best Birthday Cakes for Kids in Los Angeles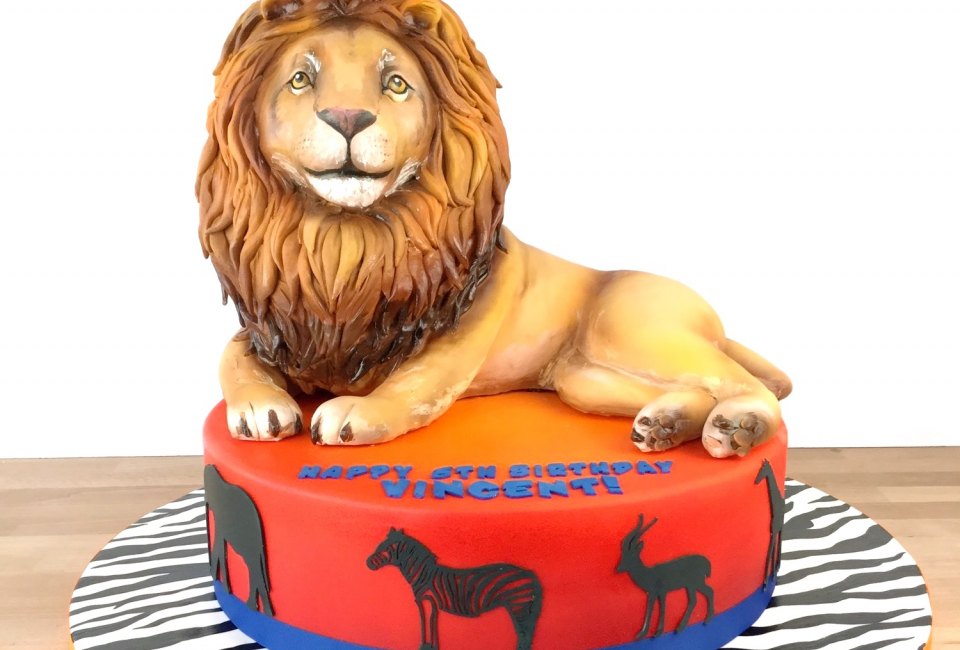 2/14/21
- By
Meghan Rose
At every birthday party, the cake is one of the stars of the show—and that's never been more true than it is right now. So we've come up with a list of the very best birthday cakes in LA for kids that will make any birthday party special. No matter what you're looking for, this list has the perfect cake. There are LA institutions, there are show-stopping cakes, and cakes that taste better than the ones Grandma makes (honest!). There are even gluten-free cakes and vegan cakes for kids that are so good, no one will ever miss what's missing.
These birthday cakes for kids are so incredible they will make up for having a virtual party (again) this year, and floor every kid (and parent) at next year's big bash. Now you just need to make the ultimate choice: what flavor?
How do I know that these cakes are the best? I have a massive sweet tooth, am ridiculously picky, and am the mom of twins, (so I have been to hundreds of birthday parties in LA). I have eaten a lot of cake. And these bakeries really stand out in terms of both taste and design.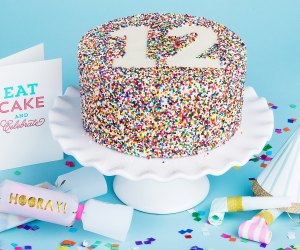 For festive and delicious, this cake takes the cake! Photo courtesy of SusieCakes
Birthday Cakes from LA Institutions
These are the cakes that everyone is familiar with—they show up at several birthday parties a year. It's because they're so darn good and people have been ordering them for generations.
Locations in Glendale, Burbank, West Covina, Downey, and Buena Park
The Tres Leches cake at Portos is regarded as the best cake in LA by many a native Angeleno. However, the most popular flavors for kids seem to be either the Milk N' Berries or Parisian Chocolate. This Cuban American bakery is an iconic LA birthday cake supplier—and if you need catering for the rest of the party, the Cuban Sandwiches and Potato Balls are heavenly.
Locations in West Hollywood, Encino, and Santa Monica (Coming soon to Beverly Hills and Manhattan Beach)
Sweet Lady Jane makes 7 different cake flavors, but we're only talking about one. Because everyone only talks about one. The Triple Berry Cake. If you don't know the cake I'm talking about, your child must be celebrating their first birthday soon, because this cake shows up at every other party. It's that good.
Locations in Mid-City and Tarzana
Since 1920, Hansen's has been making birthday cakes for kids across Los Angeles. Not only will Hansen's create pretty much anything your child can dream up, they make some of the best (and least expensive) cupcakes in town, just in case you want to offer a choice of flavors to party guests.
Over a dozen locations around Los Angeles.
Though the first SusieCakes only opened in LA in 2006, it was so popular that there are now over 25 stores in California and Texas, and it already qualifies as an LA institution. These cakes taste like they were made with love by your grandma—if Grandma is a world class baker. The most popular flavor is Susie's Famous Southern Red Velvet, closely followed by the Vanilla Celebration Cake (it's basically the best Funfetti cake you've ever eaten, and kids adore it).
RELATED: Kids Birthday Party Ideas in LA Where You Can Celebrate Right Now

This little robot is almost too cute to eat. Almost. Photo courtesy of Charm City Cakes
WOW! Show Stopping Birthday Cakes from LA Bakeries
If your child simply must have a cake shaped like a teapot, Hogwarts, or even an eerily realistic favorite pet, well, we know just where to go.
Mid-City
If your kid ever gasped as a creation they saw on Ace of Cakes, it may not have occurred to them that one of those cakes could show up at their very own birthday party. But since Duff Goldman opened his West Coast shop here 10 years ago, anything cake is possible. Order a pre-designed cake, browse the birthday cake gallery for inspiration, or order a cake in literally any shape or size imaginable.
West Adams
Sweet Es has a gallery of hundreds of the most beautiful and interesting pre-designed cakes, making ordering (and knowing exactly what you'll get and exactly how much you'll pay) a snap. I can lose myself in this gallery for ages, dreaming about birthday cakes. Oh, these cakes also taste as good as they look, come in a variety of amazing flavors (including several vegan ones), and can ship anywhere in the country.
By appointment only
Inspired by architecture and nature (isn't that what we want to inspire our kids, too?), not to mention fashion, Superfine Bakery creates one-of-a-kind cake masterpieces "that taste as good as they look." All that (!) plus it uses the finest locally sourced ingredients available.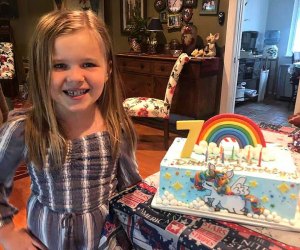 Who doesn't want a rainbow and unicorn cake? Photo courtesy Cinderella Cakes
Locations in Anaheim, Costa Mesa, and Laguna Niguel
The motto of this bakery is "Where sugar and flour become art" and that's exactly what happens. As seen on Food Network, these cakes come in 10 flavors with over 20 fillings and 4 frostings so you can mix and match the perfect palate experience—and then the fun really starts. Browse the shop's spectacular gallery of cakes and order one of those, or come up with something uniquely perfect for your birthday kiddo.
Glendale
These cakes are so pretty you won't want to cut them. Roobina's specializes in gorgeously designed tier cakes that will knock your socks off. The artisans at this bakery pride themselves on perfection, and that's what you get. Loads of sweet, personal attention goes into each cake, and each ordering experience. Just check out the cakes that have come out of this bakery!
West Hollywood
If you want to get a cake where Oprah, Rihanna, Miley Cyrus, and pretty much every other star in Hollywood gets their cakes, this is the place. The bakery bills itself as Hollywood's Edible Art Experience, and the only thing more impressive than the client list is the cakes. The store is not currently open for in-person consultations or tastings, but call or contact the bakery online to order one of these spectacular (and delicious) cakes.
Long Beach and Newport Coast
Gorgeous, delicious, sweet-smelling, dense. That's what a birthday cake should be, and they've got here. If you can dream it, they can make it. And a set of matching cake pops.
RELATED: Best Virtual Party Performers and Kids Birthday Parties to Celebrate Online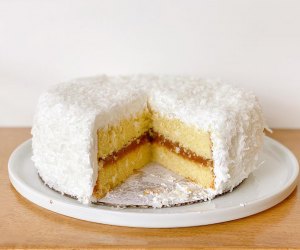 Cake Monkey's Mogul cake has caramel, marshmallow and toasted coconut, and is a feast for eyes and taste buds.
Where To Get Best Tasting Birthday Cakes in Los Angeles
These cakes are for kids who don't need a cake that looks like it came from Cake Boss, but want one that they will remember eating for the rest of their lives.
Pasadena and Santa Monica
Sure, they're adorably decorated, but the flavor selection is where this bakery shines. Chocolate Southern Banana Pudding, Spicy Carrot, Cookies & Cream, and Chocolate Peanut Butter Seven Layer are all delectable options, and there are two vegan flavors, as well.
Mid-City
Christina Tossi's famous New York bakery has a flagship store on Melrose, and it is every bit as good as legend suggests. Cakes are available in 3 sizes: 4 inch, 6 inch and 10 inch, to cater to every size party. There are two basic flavors (Birthday Cake and Chocolate Birthday Cake) and one seasonal flavor, and if that sounds limited, it's because you haven't tasted them. These cakes are truly spectacular (and they ship anywhere in the country, so you can send one to a loved one).
Manhattan Beach
Scrumptious cakes in delicious flavors, made to order. This just might be the best bakery in the South Bay, with a real neighborhood flair that makes you feel like you live in a small town and this was baked just for your family with love. Because it was. (They also sell cakes by the slice, just in case you can't convince your kiddo to pick a flavor you're dying to try, like the addictive Almond Rocca.)
This T-Rex is just daring you to cut in and discover what delicious flavor lurks within. Photo courtesy Lark Cake Shop
Silverlake and Pasadena
Lark developed a dedicated following in Silverlake by baking with locally sourced ingredients, when possible, and relies on butter and cream from a California dairy cooperative. And it shows. These cakes are rich and delicious, and come in any shape or size imaginable. The Vegan Chocolate Orange just might be the best flavor. And while you're here, snag one of the famous Ice Box Cupcakes (they come in cake form, too).
Studio City and Downtown LA
Any size, any flavor, gluten-free and vegan options, and they're insanely adorable. But what really sets Big Sugar apart is the taste. They're amazing-- memorably sweet and dense without being cloying or too much. Custom flavors (like the very popular rainbow cake) and designs must be ordered in advance, but we also love the fact that this shop always has several of the most popular selections ready to go, just in case you need a last minute cake (including a gluten-free and vegan option, not to mention the adorable mini unicorn cake).
Mid-City and North Hollywood
Retro is the name of the game at this bakery. Famous for homemade versions of Ding Dongs, Ho Hos and Snowballs, they also make cakes in truly outstanding flavors and all sizes. And we do mean ALL sizes. Because while a cake to share is fun, for smaller family parties, getting many mini cakes (not cupcakes, actual layer cakes for one) is the best. Can't decide between a Raspberry Red Velvet Cake and a Mint Chocolate Chip one? Get both! Plenty of vegan and gluten-free options, too.
West LA
Formerly Jamaica's Cakes, the name has changed but the location and owners haven't. The ban on shortening and preservatives continues, too. Top Tier Treats makes top-of-the-line, state-of-the-art cakes to order using only the freshest ingredients available, and adorned with signature fresh flowers—or designed to your exacting one's specifications. There are a whole host of vegan options, too.
RELATED: Great LA Parks for Outdoor Birthday Parties Kids Love

No one will believe that this cake is gluten-free, dairy-free, and has no refined sugar! Photo courtesy of Sweet Laurel
The Best Gluten-Free Cakes in Town
Other bakeries have some very delicious gluten-free options if your celebrant has a sensitivity. But for severe allergies and celiac sufferers, only a completely gluten-free baking facility will do. Order from one of these delicious providers for total peace of mind.
Santa Monica and Larchmont
This bakery originated in NY, and opened its first LA bakery under the name Babycakes. Everything single thing made here is wheat, gluten, dairy, egg, and soy-free, and the Larchmont location is certified Kosher. The only sweeteners used in the baked goods are agave nectar and evaporated cane syrup. While the cakes are delicious, and perfect for a birthday boy or girl with allergies, my favorite thing here is the brownie bites. I have ordered them for every party or gathering I have ever hosted, because this is LA, and someone will show up without having mentioned an allergy. And those guests are always so happy to have an option they can eat. (Plus, I'm honestly addicted.)
Pacific Palisades
The first time we ate here, my son needed a snack after a hike, so he got a muffin. It was so good, we all took bites and had to go back for another. And a piece of cake, just to try. Which was so good, I went back and bought the cookbook. Paleo and gluten-free cooking shouldn't taste this good. But everything here is organic, grain-free, dairy-free, and refined sugar-free. Two of the cakes are also nut-free. I don't know what wizardry is employed here, but these are seriously the best anything-free cakes I've ever eaten.
One last photo! These dinos are just daring you to take a bite. Photo courtesy Charm City Cakes
Originally published January 26, 2016
Sign up for the Mommy Poppins Newsletter today!