Egg-citing Easter Egg Hunts for Kids in Orlando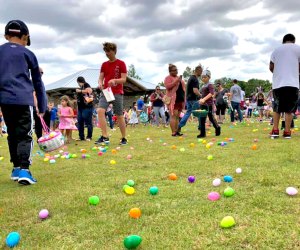 3/25/22
- By
Charlotte B
The Easter Bunny has been busy hiding Easter eggs all around Orlando, so grab your basket and get ready to search high and low for Easter eggs at one of these Easter egg hunts happening in Central Florida! Easter egg hunts are entertaining outings to make family memories and get kids excited for the Easter holiday, which falls on April 17 this year. The pasttime is a pastel dream of sweet treats, sunshine (hopefully), and wholesome fun.
Several of these Easter egg events also include appearances by the Easter Bunny himself, so grab your camera for adorable photo-ops!
For more Easter fun, check out these Cute Orlando Spots for Easter Brunch and Easter Bunny Pictures, as well as these fun Easter crafts and kid-pleasing Easter recipes.