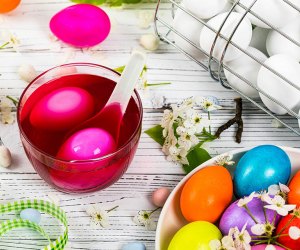 Easter Crafts for Kids and How to Dye Easter Eggs
Local egg hunts and bunny brunches may be canceled this year, but there are still tons of ways to make Easter fun for toddlers, preschoolers, and kids during the coronavirus outbreak. Since many of us will be celebrating the holiday in our homes, we've gathered all our favorite Easter crafts, recipes, and egg dyeing methods to bring some color and joy into your house.
Still "dyeing" for a neighborhood egg hunt? Get inspired by virtual Easter egg hunts (and a few other fun ideas) popping up in towns across the US. Keep the fun art projects going all spring long with 100 awesome kids' crafts.
RELATED: Pandemic Resource Guide for Parents and Families
Some plastic eggs and a permanent marker are all you need to create a fun, seasonal reading game.
Easter Crafts for Kids
Easter Egg Game
Reuse all that colorful plastic in this fun learning game with plastic Easter eggs. With just a permanent marker, you can make simple phonics games, rhyming games, or teach sight words.
Egg Carton Flowers
Turn that empty egg carton into a dozen beautiful blooms of egg carton flowers.
Toilet Paper Roll Bunny
A few pipe cleaners, a pair of googly eye stickers, and a set of bunny ears transform a toilet paper roll into a bunny.
Painted Rocks
Painted rocks make perfect, non-fragile Easter decor. Go outside and collect rocks that are egg shaped (half the fun of this project is finding these). Then use acrylic paint to transform them into the perfect Easter decor.
Bunny Slime Jars
A few simple craft items come together to create adorable bunny slime jars. Check out one of our favorite slime recipes, and make a few for your neighborhood friends.
Rolling eggs in shaving cream and food dye produces gorgeous results.
Dyeing Easter Eggs and Easter Egg Decoration Ideas
Shaving Cream Easter Eggs
Cover a rimmed cookie sheet in shaving cream (the white, foamy kind; not gel). Place several drops of food coloring around the shaving cream and swirl it with a toothpick or cotton swab. Gently roll the eggs through the shaving cream until they are completely coated and allow to sit for 10-15 minutes. Finally, rinse off the shaving cream with water to reveal your egg.
Rice-Shake Eggs
Fill a plastic bag about halfway with dry rice and add a few drops of food coloring. Place a hard-boiled egg inside the bag and watch your egg become covered in a speckled pattern while you shake away. You can use a variety of bags in different colors to create a layered effect.
Tie-Dye Easter Eggs
These Tie Dye Easter Eggs are simple enough for a toddler to do.
Naturally Dyed Eggs
Experiment with different natural dyes, like fruits, vegetables, and spices, to turn your eggs beautiful shades of blue, pink, and orange.
No-Mess Marker Eggs
Do you love dyeing eggs, but hate the mess and stained fingers? Our No-Mess Sharpie Easter Eggs only require permanent markers, boiled eggs, and your imagination. If permanent markers are a little too risky, try these methods that use washable markers. A coffee filter, plastic bag, and a little water will result in beautiful swirls of color.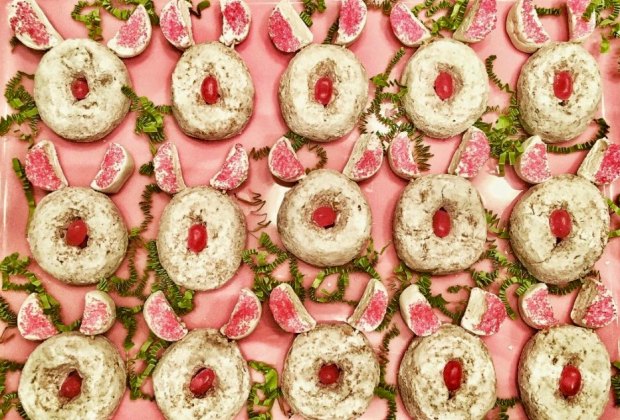 Bunny donuts take the cake in our food tester's house.
Easter Recipes for Kids​
Bunny Donuts
Create this adorable food art with a powdered mini donut. The ears can be created using a slice of a marshmallow and a sprinkle of pink sugar. Attach the ears to the donut using a dab of frosting as glue. Place a pink jelly bean into the donut hole to create a nose.
Easter S'mores
Who says s'mores are just for the campfire? Peep s'mores, made in the toaster oven or conventional oven, are an easy, indoor way to indulge in a sweet treat!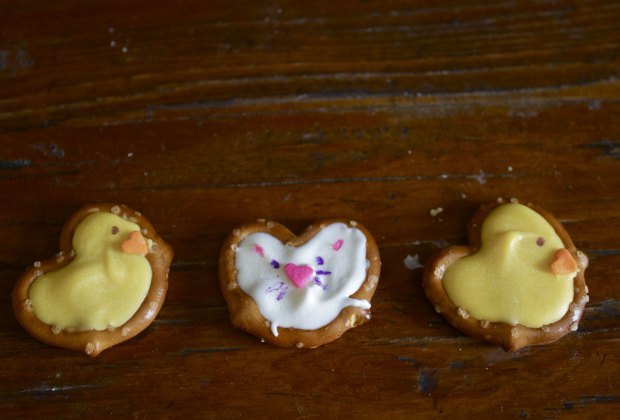 Kids will love making and munching these cute little Easter snacks.
Easter Bunny and Chick Pretzel Treats
Combine colored chocolate melts and pretzel twists to make cute and crunchy Easter snacks.
Peeps Houses
Graham crackers, frosting, and Easter candy come together to create a playful Peep House.
Peeps and fruit make for a sweet (and mostly healthy) treat.
Easter Fruit Wands
Balance out all that candy with this healthy treat. Thread different kinds of fruit onto a bamboo skewer to create these beautiful fruit wands. Top off with a Peep to get in the holiday spirit.
All photos by the author unless otherwise noted.