Easter Scavenger Hunts and Other At-Home Easter Egg Hunt Ideas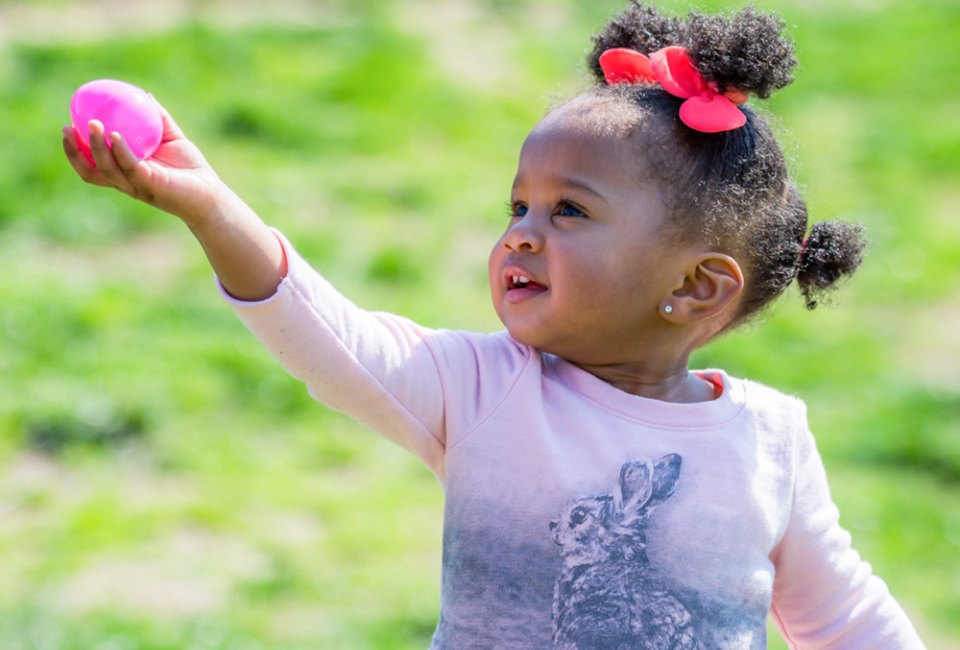 3/30/23
- By
Jody Mercier
If you're looking for a fun and creative twist on the traditional Easter egg hunt, Easter scavenger hunts are a great option. Rather than simply having kids search for hidden eggs, Easter scavenger hunts allow them to solve clues, read maps, perform funny actions, and do other fun things on their quest to collect those coveted plastic eggs. Plus, an Easter scavenger hunt just might add enough oomph to keep teens engaged as well.
We've also included some creative ideas for traditional Easter egg hunts, as well as some non-candy egg stuffers to delight kids of all ages.
For more Easter fun, check out our Easter Activities Guide for families, which includes everything from Easter crafts and egg-dyeing ideas to awesome Easter movies to get the whole family hoppin'. While you're at it, go ahead and indulge in some of that Easter candy—you deserve it!

May no egg be left behind! Photo by Dolan Halbrook, via Flickr CC BY-NC-ND 2.0
Easter Scavenger Hunts
Whether you've got a small apartment, a sprawling suburban backyard, or a neighborhood full of egg hunters, one of these Easter scavenger hunts will work for you.
1. Name Scavenger Egg Hunt
Spell your children's names out by writing one letter on each egg. Challenge each kid to find all of the eggs that spell their name.
2. Cell Phone Scavenger Egg Hunt
If your big kids think they're too cool for an Easter egg hunt, involve their tech. Hide an egg and take an up-close picture with your cell phone, revealing only a bit of background. Text it to them as a clue and then send them searching. As they find each egg, text a close-up of the next egg.
3. Blindfold Scavenger Egg Hunt
Slap blindfolds on your kids and let them hunt by clue, as you tell them whether they're ice cold, cold, cool, warm, hot, or burning hot. Don't be surprised if they ask you to put on the blindfold next!
4. LEGO Scavenger Egg Hunt
Comb through the LEGO bin and use loose pieces and mini-figures as Easter egg stuffers. Once the kids find all the eggs, challenge them to build something fun out of all the pieces.
5. Spa Day Scavenger Egg Hunt
Tweens and teens love hair ties, earrings, lip balm, nail polish, and other beauty items. Stuff their eggs with their favorite beauty supplies. Once they've found all the eggs and have everything they need, reward them with a spa day.
6. Treasure Map Egg Hunt
Craft a treasure map of your backyard and have the kids use it to navigate their way toward hidden Easter eggs. Or, get the whole neighborhood involved by making a map of the entire block and having kids follow clues to find their eggs.
7. Puzzle Scavenger Egg Hunt
Forget candy: Pop a puzzle piece in each egg. First, your child has to find all the eggs. Then, they have a fun puzzle to put together.
RELATED: 20 Kid-Pleasing Easter Desserts, Easter Recipes, and Easter Brunch Ideas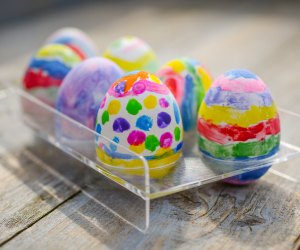 Have kids hunt for eggs in different patterns. Photo by Skitterphoto/Pexels
8. Pattern Scavenger Egg Hunt
Decorate your eggs with a Sharpie, putting simple patterns like polka-dots, stripes, and zig-zags, etc. Provide kids with a checklist and challenge them to find one egg of each design.
9. Nature Easter Scavenger Hunt
Start with empty eggs. Have the kids go on a scavenger hunt for different flowers, leaves, rocks, and other items from nature to fill their eggs. They can then turn their eggs in for a prize or treat.
10. Color Egg Hunt
If you've got kids of multiple ages, assign each one a color and hide the eggs accordingly. Eggs for little ones go at their eye level in easy spots, while older kids' eggs can be more tricky to find.
11. Traditional Scavenger Egg Hunt
Start by printing out a clue to help your kiddos find the first hidden egg. Then, each egg will contain a clue to where the next egg is. When the kids get to the last egg, they'll find their Easter baskets or fun prizes. If you need some inspiration, check out this list of 40 printable Easter egg hunt clues.
12. Movement Egg Hunt
Help kids get their wiggles out by putting fun action clues in each egg. The clues can instruct them to do fun things like hopping like a bunny, waddling like a duck, and chirping like a chicken. Tell the kids they have to do each action before they can find their next egg. You can even give them a checklist to ensure they perform every action at least once.
13. Leave a Trail
Whether you use yarn, jelly beans, or go over the top and draw bunny prints on the sidewalk with chalk, direct kids to the loot by leaving clues for them to follow.
RELATED: Indoor and Outdoor Scavenger Hunt Ideas for Kids - Plus Cute Printables!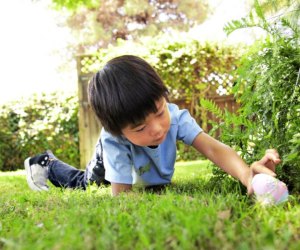 There's nothing like the thrill of finding a hidden Easter egg. Photo by Personal Creations
More Fun At-Home Easter Egg Hunt Ideas
14. Kids Hide The Eggs!
Turn the tables: Once kids have found the eggs (and probably taken all the candy and prizes), let them do the hiding while the adults are the seekers. Battle it out for Easter egg-hunt supremacy.
15. Golden Egg
Hide a golden egg and let the child who finds it exchange it for a bigger prize. Or, avoid sibling rivalry by instructing them each to look for one special golden egg.
16. Flashlight Easter Egg Hunt
A nighttime egg hunt is perfect for older kids and teens. Just give them a flashlight and let them hunt for eggs in the dark. It's probably easier if you hide the eggs before the sun goes down, though!
17. Chocolate Egg Hunt
Short on space and places to hide eggs? Eschew the plastic ones and instead hide small, foil-wrapped chocolate eggs.
18. Be Creative
Hide your eggs in clever spots like coat pockets, shoes, mugs, vases, and toilet-paper rolls, making for a wild indoor Easter egg hunt even if you've only got a small space. Pop one on the deviled-egg platter and see if anyone spots it before mealtime.
19. Easter Egg Relay Race
Big family? Set up the egg hunt as a relay. Team up big siblings with little ones, and have them take turns finding an egg and running back to the starting line to tag their partner. Their partner then has to hunt for another egg before returning to the starting line to tag their next teammate. Whichever team finds a certain number of eggs first, wins!
20. Glow-in-the-Dark Egg Hunt
Pop mini glow sticks in each of the Easter eggs for a glow-in-the-dark nighttime egg hunt.
21. Balloon Egg Hunt
If you have a helium tank , use it to fill balloons and tie them to each egg. This idea is particularly great for toddlers, who might not "get" the idea of an egg hunt just yet, but will go ga-ga for balloons.
22. Egg Popper
Another big-kid approved option: Cut the hunt out and go straight for the loot, but make kids work for it by crafting these creative egg poppers and stringing them up a tree.
23. Trampoline Egg Hunt
Got an enclosed trampoline? Spread your eggs on its surface, then cover them with a ton of balloons. Let kids crawl through the balloons in search of the eggs. It's like a DIY ball pit, only less germy—and with candy.
24. Wading-Pool Egg Hunt
No trampoline? A plastic wading pool can produce the same effect for little kids.
Creative Easter Egg Fillers
25. Cold, Hard Cash
Follow my grandma's lead: Fill the eggs with cash! Coins and dollar bills were great when we were little. By the time we were in college, this evolved into a few eggs with $20 bills inside and some wild battles for the money!
26. Sneak in some Math
Want to sneak in a little math lesson and spread out the sugar rush? Use fake money and let the kids "purchase" their Easter treats.
RELATED: Easy Easter Crafts for Kids and How to Dye Easter Eggs

Tickets for fun experiences are the perfect candy- and clutter-free Easter egg fillers. Photo courtesy of The No Pressure Life
27. Activity Tickets
Print out some activity tickets for kids to cash in later for things like an extra slice of dessert, a trip to a fun place like a zoo or arcade, a late bedtime, etc.
28. Toddler-Friendly Treats
For toddlers, fill eggs with safe and tasty treats like yogurt melts, Cheerios, and Goldfish.
29. Hot Wheels or Matchbox Cars
Fill jumbo eggs with Hot Wheels or Matchbox cars to entertain kids all Easter long.
30. Silly Putty
Go old-school and use Silly Putty. Bonus points for teaching your kids how to copy newsprint with it!
31. Play-Doh
Mini-tubs of Play-Doh are a crowd-pleaser with little kids. Make your own with our DIY recipe.
32. Jibbitz
If you've got a Crocs-crazed middle-schooler, fill some eggs with Jibbitz charms to decorate their footwear.
33. Mini Squishy Toys
Every kid loves a good squishy toy, and these cute animal ones fit perfectly inside smaller plastic Easter eggs.
34. Stickers
Kids love to put stickers on everything—notebooks, water bottles, laptops. Fill the Easter eggs with some fun stickers in whatever theme your child loves.
35. Marbles
Older kids would love to find colorful marbles inside their Easter eggs—especially magnetic ones!
Additional reporting by Ally Noel
Top photo by Trish N. via Flickr CC BY-NC-ND 2.0