20 Kid-Pleasing Easter Desserts, Easter Recipes, and Easter Brunch Ideas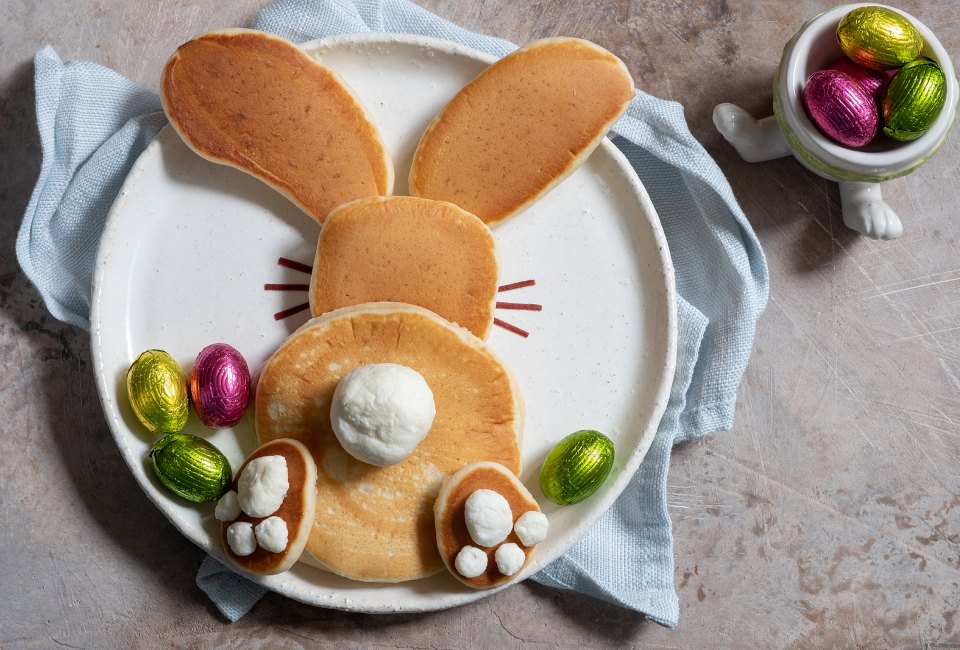 3/23/21
- By
Jean Kuo Lee
With spring in the air and Easter quickly approaching, it's an exciting time of seasonal change and holiday celebrations. We've rounded up fun Easter dessert recipes to make with (or for) kids, some charming Easter brunch ideas, and Easter recipes that will make your family's celebration special this year. Whether you're breaking lent and observing traditions, or simply having a joyful spring celebration, there's a winning Easter recipe here for everyone.
For more ideas on planning a memorable holiday for the family check out our easy Easter crafts for kids, creative ways to dye Easter eggs, and tons of Easter egg hunts you can have at home.

No-Bake Easter Egg Fruit Tarts are perfect desserts for kids who already had too much candy. Photo courtesy of SuperHealthyKids.com
Easter Desserts to Make with Kids
Totally healthy, super easy, and hands-on for a cute Easter snack. There's not a pinch of sugar in here; just fruit, Greek yogurt, and a crust made of almond butter, oats, and other wholesome ingredients. So if you need a break from all the confections, try this delicious and natural recipe.
No baking or cooking required– this recipe uses store-bought cookies. Just mix up some basic colored icing and get out your favorite sprinkles for a festive and crafty time with the kids.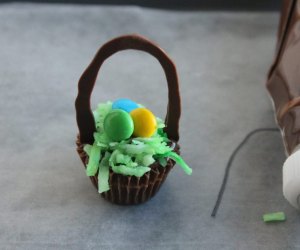 Make candy even cuter with these Reese's Cup Easter Basket Treats. Photo courtesy of Arts & Crackers
With a little imagination and crafting, change Reese's Peanut Butter Cups into mini Easter baskets. Use mini M&Ms as eggs and some shredded, green-tinted coconut for grass. Crafting meets food in this fun activity you can do with the kids.
For a meaningful activity to do with the family the night before Easter, try these cookies. They tell the story of Easter beyond bunnies and eggs, and the kids will learn and remember the significance of Easter.
Bunny and Chick Pretzel Treats start out as the same pretzel shape. Photo by Ally Noel
You don't have to be a master chef to combine colored chocolate melts and pretzel twists to make these cute and crunchy Easter snacks.
Dip a pastel rainbow of Easter Egg Chocolate Covered Strawberries. Photo by the author
If you're looking for an alternative to dying Easter eggs, try this delicious recipe: only three ingredients required. Use the same pastel colors you use to dye eggs and you're on your way to a delicious and healthy(ish) Easter dessert.
Who says s'mores are just for the campfire? Peep s'mores, made in the toaster oven or conventional oven, are an easy, indoor way to indulge in a favorite treat made holiday festive!
Turn a donut, a marshmallow, and a jellybean into a cute little bunny butt. Photo b Ally Noel
Bunny Donuts
Create this adorable food art with a powdered mini donut. The ears can be created using a slice of a marshmallow and a sprinkle of pink sugar. Attach the ears to the donut using a dab of frosting as glue. Place a pink jelly bean into the donut hole to create a nose.
Graham crackers, frosting, and Easter candy come together to create a playful Peep House.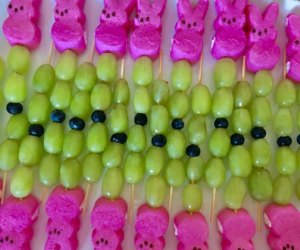 Kids can get in on the action making these Easter Peep Fruit Wands. Photo by Ally Noel
Easter Peep Fruit Wands
Balance out all that candy with this (semi) healthy treat. Thread different kinds of fruit onto a bamboo skewer to create these beautiful fruit wands. Top off with a Peep to get in the holiday spirit.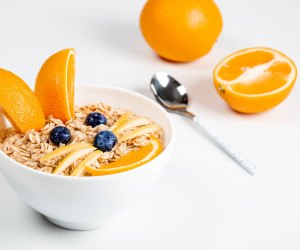 Turn blah oatmeal into a new breakfast favorite by making it cute with fruit. Photo by wuestenigel/CC BY 2.0
Easter Brunch Ideas for Kids
How easy is it to transform boring oatmeal into a fabulous Easter breakfast? Take a banana, blueberries, strawberries, oranges, or some raisins, and voilà! Make everyone giggle. Use your family's favorite fruits to create a funny bunny face.
If your kids love pancakes, make them in the shape of a bunny. Whip up a batch of your favorite pancakes (or use this recipe) and drop the batter into the pan to make circles for the head and body, and ovals for the feet and ears. Then decorate it with fruit, marshmallows, and chocolate chips.
Cut out a bunny face from a slice of bread, add an egg, and then bake until set. Place some chives for whiskers to complete the look for this awesome breakfast idea.
For something super easy, kid-pleasing, and sugar-free, try these Easter Nest Bagels. Photo by the author
Try this edible nest for brunch. The nest is made from crunchy, shredded carrots. The eggs are just peeled and sliced cucumbers. And everything is heaped on a kid-favorite food: the bagel. Try it on a bed of cream cheese for brunch, or hummus if you're making lunch. Cute, healthy, and effortless.
Ready for some protein in your Easter breakfast? These easy hash brown nests are full of hearty eggs and bacon in an adorable package to start the day off right, before digging into the Easter candy.
Perfect if your kids are gluten-free, these crustless quiches can be delicious for breakfast, lunch, or dinner. Just another way to get some eggs into your Easter! (And feel free to swap in your family's favorite meats, veggies, and cheeses.)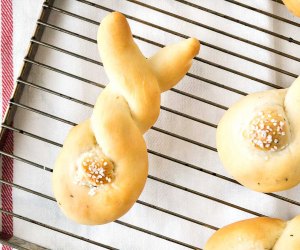 These cute Easter Bunny Breadsticks hop onto any plate as an adorable side. Easter Photo courtesy of Plated Cravings
Easter Recipes for a Family Dinner
These could be the perfect accompaniment to any Easter dinner. Or have them with brunch! This simple idea is elegant and easy, and loads of fun for kids to help shape the bunnies. You can use homemade yeast dough or pick up some store-bought dough.
Here is a traditional Italian recipe for Easter Pie that is over a hundred years old. It might bring back fond memories, or introduce you to a mouthwatering way to break lent. Full of eggs, cheeses, Italian cold cuts, it's a hearty crowd-pleaser. (And if you're crowd-less this year, you'll enjoy leftovers for breakfast the week after Easter.)

It doesn't get more traditional for Easter dinner than Pineapple and Mustard Glazed Spiral Ham. Photo courtesy of Peanut Blossom
Sweet and savory, juicy and tangy, this pineapple and mustard-glazed spiral ham will be the star of your holiday table. Blow them out of the water with this spiral ham recipe. Serve with biscuits (perhaps the bunny ones, above) and roasted asparagus.
Use the leftover ham from the recipe above in this scrumptious meal for biscuit-topped pot pie. Topped with either homemade biscuits or a can of pre-made dough, this easy pie is excellent for lunch or dinner.