30+ Creative Easter Egg Hunt Ideas for Celebrating the Holiday at Home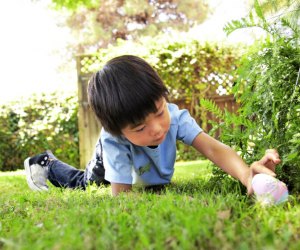 Waking up on Easter morning, putting on their fanciest pastels, and heading to an Easter egg hunt is an integral part of the magic of Easter for many kids. But this year, many community Easter egg hunts that kids look forward to all year have been scaled way down (or made virtual) to ensure social distancing.
Well, this last year has taught us a lot about the power of our own creativity! Whether you've got a small apartment, a sprawling suburban backyard, or want to get your family and neighbors involved from afar, creating your own Easter Egg Hunt is a great way to bring holiday cheer to your crew. We've rounded up 33 creative Easter egg hunt ideas, plus fun egg stuffers that will help you to make this Easter one that your kids remember forever.
For more Easter ideas, check out our guide to Virtual Easter Fun and our Easter crafts and Easter egg dyeing ideas. While you're at it, go ahead and indulge in some of that candy; you deserve it.

Photo by Skitterphoto/Pexels
Easter Egg Hunts to Enjoy Anywhere
1. If you've got kids of multiple ages, assign each one a color, and hide eggs accordingly. Eggs for little ones go at their eye level in easy spots, and older kid eggs can be more tricky to find.
2. Decorate your eggs with Sharpie, putting simple patterns (polka-dots, stripes, zig-zags, etc.), and provide kids with a checklist, so they find one of each design.
3. Turn the tables: Once kids have found the eggs (and probably taken all the candy!), let them do the hiding, while adults are the seekers. Battle your spouse for Easter egg hunt supremacy.
4. Spell your children's name out by writing one letter on each egg. Challenge them find their name.
5. Hide a golden egg and let the child who finds it exchange it for a bigger prize; or avoid sibling rivalry by instructing them each to look for one special, golden egg.
6. If your big kids think they're too cool for an Easter egg hunt, involve their tech. Hide an egg and take an up-close picture with your cell phone, revealing only a bit of background. Text it to them as a clue and then send them searching.
7. Leave a trail: Whether you use yarn, jelly beans, or go over the top and chalk bunny prints on the sidewalk, direct kids to the loot by leaving clues for them to follow.
Ideas for Indoor Easter Egg Hunts
8. Flip the switch and stage your hunt after dark; pop a glow stick in each of your eggs for a fun glow-in-the-dark effect to make them easier to find.
9. Short on space and places to hide eggs? Eschew the plastic ones and instead hide small, foil-wrapped chocolate eggs.
10. Slap blindfolds on your kids and let them hunt by clue, as you let them know whether they're warm, hot, hotter, or cool, cold, icy cold. Don't be surprised if they ask you to put on the blindfold next!
11. Don't limit yourself: Stretch the fun on longer by hiding eggs throughout the house instead of in just one room. Speaking of which...
12. Hide your eggs in clever spots like inside coat pockets, shoes, mugs or pans inside cupboards, vases, and toilet rolls, making it a wild hunt inside even if you've only got a small space. Pop one on the deviled egg platter and see if anyone spots it before mealtime.

Photo by Vlad Busuioc/CC BY 2.0
Easter Egg Hunts in the Great Outdoors
13. Help kids get their wiggles out: Put fun action clues in each egg instructing them to do things like hop like a bunny, waddle like a duck, or chirp like a chicken.
14. Want to hunt outdoors after dark? Give kids a flashlight and let them hunt the night away. It's probably easier for you to hide the eggs before the sun goes down, though!
15. Craft a treasure map of your backyard and have kids use it to navigate their way toward hidden egg treasures.
16. Big family? Set up the egg hunt as a relay. Team big siblings with little ones, and have them take turns finding an egg and running back to the starting line to tag their partner, and send them to hunt for the next treasure.
17. Have a helium tank leftover from your last shindig? Use it to fill balloons and tie them to each egg. This idea is particularly good for toddlers, who might not "get" an egg hunt just yet, but go ga-ga for balloons.
18. Teddy Bear Walks are so last month; many communities are helping out by filling their yards and windows with hidden eggs for families to find.
19. City-bound? No problem, get the community to participate in the virtual hunt craze by chalking decorations on their stoops!
20. Another big-kid approved option: Cut the hunt out and go straight for the loot, but make kids work for it a bit by crafting these creative egg poppers and stringing them up a tree.
21. Got an enclosed trampoline? Spread your eggs on its surface, then cover them with a ton of balloons, let kids crawl through searching for goodies. It's like a DIY ball pit, only cleaner and with candy.
22. No trampoline? A plastic wading pool can produce the same effect for little kids.
Creative Easter Egg Hunt Prizes
23. Forget candy: Pop a puzzle piece in each egg. The fun lasts longer this way: First, your child has to hunt the eggs, then they have a fun puzzle to put together.
24. Fill each egg with a scavenger hunt clue leading to a big prize at the end.
25. Follow my grandma's lead: Fill 'em with cash! By the time we were in college, this evolved into a few eggs with $20 bills inside and some wild battles for the money!
26. Want to sneak in a little math lesson and spread out the sugar rush? Use fake money and let the kids "purchase" their Easter treats.
27. Print out some activity tickets for kids to cash in later for things like an extra slice of dessert, a fun experience with Mom or Dad, a late bedtime, etc.
28. Toddler-friendly fillers include yogurt melts, Cheerios, and Goldfish.
29. Tweens girls will love hair ties, earrings, or lip balm.
30. Fill jumbo eggs with Matchbox cars to entertain toddlers on Easter and inspire some other toddler-friendly activities down the line.
31. Go old-school and use Silly Putty; bonus points for teaching your kids how to copy newsprint with it!
32. Comb through the Lego bin and find some mini-figures as egg stuffers. Everything old is new again.
33. Mini-tubs of Play-Doh are a crowd-pleaser. Make your own with our DIY recipe.