25 Things To Do on Mother's Day 2023 in New York City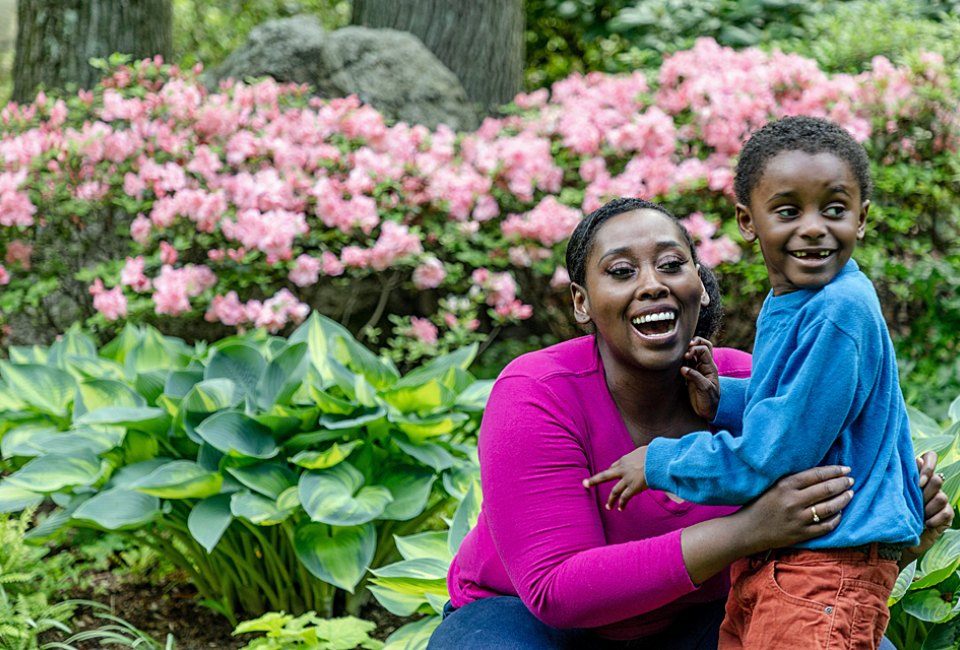 5/1/23
- By
Jody Mercier
Subscribe to our newsletters to get stories like this delivered directly to your inbox.
1. See a Puppetsburg Show
Catch the Puppetsburg characters in action at Brooklearn where little ones are entertained and mom can have a sip of champagne.
2. Go for a Bike Ride
Governors Island is a great biking destination for kids, as the isle is 100% car-free. You can bring your own bike or rent one on-site.
3. Geek Out at the Gilder Center
Visit the American Museum of Natural History to take in its brand new addition, the Richard Gilder Center for Science, Education, and Innovation, with its butterfly vivarium, immersive Invisible Worlds exhibition, insectarium, and more.
4. Visit the Zoo
The Bronx Zoo is awesome; the Central Park and Prospect Park zoos are sweet. But how about breaking with tradition and visiting the Queens Zoo or the Staten Island Zoo? (Of course, if those are your go-to zoos, try the Bronx, Central Park, or Prospect Park zoos.)
5. Visit the New York Botanical Garden
The New York Botanical Garden is in full bloom, and we always love a visit to this Bronx gem. Enjoy its weekend-long Mother's Day Garden Party complete with games and eats from the Bronx Night Market on Daffodil Hill.
RELATED: Mother's Day Brunch Recipes Kids Can Make to Spoil Mom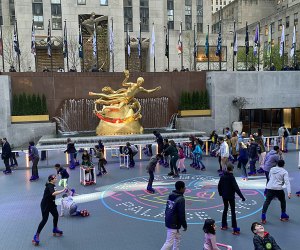 Enjoy a retro Mother's Day with a roller skating outing at Rockefeller Center. Photo by Jody Mercier
6. Go Roller Skating
Lace-up your quads and hit the rink at Flipper's Roller Boogie Palace, or one of these roller skating rinks around New York City.
7. Enjoy a Day Trip
Pack everyone into the car or onto the train for one of these 28 awesome spring day trips.
8. Visit Battery Park
We love this waterfront park, and its nature-inspired playground is worth a visit in itself. Add in a charming turn on the SeaGlass Carousel to round out this outing.
9. Book a Mommy-and-Me Mani
These kid-friendly nail salons in NYC can spoil you and your little one.
10. Explore Wave Hill
Leave the city behind to celebrate Mother Nature at Wave Hill. Enjoy a family art project that results in a bouquet of homemade flowers for mom.
RELATED: DIY Mother's Day Cards that Kids Can Make

Waterdrinker Farms on Long Island is in full bloom for its popular, annual tulip festival. Photo courtesy of the farm
11. Pick Your Own Flowers for Mom
Consider visiting one of these flower farms near NYC where you can pick your own one-of-a-kind bunch for the No. 1 mom in your life.
12. Visit Belmont Park
Spend a day at the races at Belmont Park, where you can admire the thoroughbreds, bet on the action, and pack a picnic to enjoy in The Backyard.
13. Play Pickleball
Book some court time for a family game of pickleball at CityPickle, and save time for a lovely walk through Central Park when you're finished.
14. Tackle an Adventure Course
Check out the rope courses and zip lines at one of these adventure parks near NYC.
RELATED: 53 Things To Do on an NYC Staycation with Kids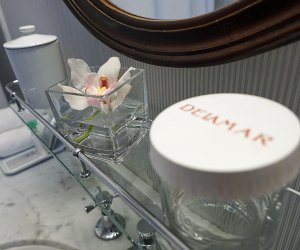 The lovely Delamar Southport offers a quick, Metro-North accessible escape and relaxing spa treatments! Photo by Jody Mercier
15. Enjoy a Spa Getaway
It's not too late to book a getaway to one of these family-friendly spa resorts near NYC.
16. Visit a Water Park
Head to one of these nearby indoor water parks, where you can lounge next to the pool or hit the steam room, all on a day pass.
17. Hit the Aquarium
The New York Aquarium makes for a fun, beach-side outing on Mother's Day. Plus, there are plenty more things to do in Coney Island. A visit feels like a daycation.
18. Do Some Thrifting
Give mom some cash and quality time to spend a day combing the racks on the cheap with teens at these vintage and thrift stores in NYC.
RELATED: 26 Restaurants Serving Mother's Day Brunch in NYC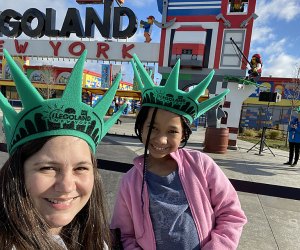 Snap a commemorative Mother's Day selfie during a visit to Legoland New York. Photo by Jody Mercier
19. Legoland New York
Book your tickets in advance and visit Legoland New York.
20. Go Rail Biking
Rail biking is a family-friendly outing all ages can enjoy and we know just where to try rail biking near NYC.
21. Get Outside
Enjoy NYC's incredible green spaces. Might we suggest a visit to one of these underrated parks or one of our favorite destination playgrounds?
22. Explore Industry City
There are tons of family-friendly destinations in Industry City, including Japan Village.
RELATED: Gorgeous Glamping near NYC for Your Next Family Getaway

Forget brunch and indulge in a fancy afternoon tea with mom instead. Photo by Janet Bloom
23. Indulge in Afternoon Tea
Experience the rather fancy atmosphere of high tea at one of these NYC destinations.
24. Fly High at RiseNY
Check out the RiseNY in Times Square, where you get the sensation of flying over the city, without ever leaving the building.
25. Give Mom the Day Off
Remember the list of things moms really want? Many of them involve a day off from the usual mom jobs—so consider planning an outing with the kids, and giving mom some downtime...once you've tidied the apartment, of course. Then, all she has to do is nothing. Don't forget to pick up takeout and paper plates on your way home!
This post, originally published in 2013, is updated annually.