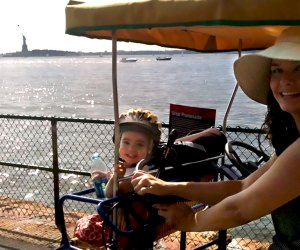 25 Things to Do for Mother's Day 2019 in New York City
Mother's Day is Sunday, May 12, 2019, and mothers everywhere (is it fair to say especially in NYC?) deserve to have a great weekend—and an edible, or at least Instagram-worthy, breakfast in bed.
Depending on the success of that breakfast in bed, you might also want/need to grab brunch before launching fully into the day—and we found some great options in Manhattan and the rest of the city (not to mention delicious special events, below). Then, tummies pleasantly sated, you'll be ready to focus on the 25 excellent options we found to enhance your Mother's Day celebration.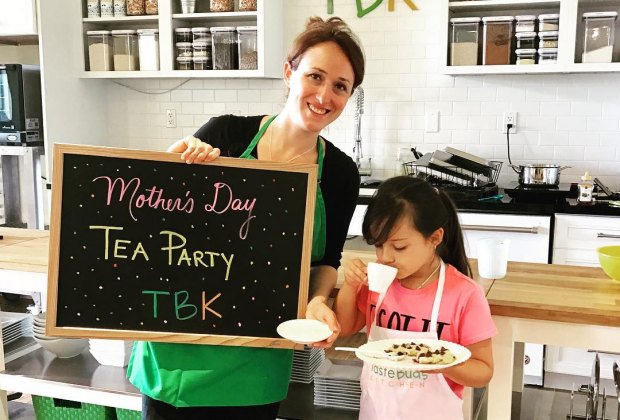 It's tea and scones with mom at Taste Buds Kitchen for Mother's Day. Photo courtesy of Taste Buds Kitchen
1. Cook together. Get a head start on next year's breakfast in bed by springing for a Mother's Day-themed cooking class where moms—or dads—and kids cook together. Taste Buds Kids teaches enterprising young chefs how to make yummy scones and sun tea. The perfect recipe for Mother's Day success!
2. Bike together. Rent bikes and scoot outside to explore a nearby park. Governors Island is a great biking destination for kids, as the isle is 100% car-free. You can bring your own bike or rent one on-site. Who knows, maybe someone in the family will adopt a rose bush in your honor!
RELATED: Best Places to See NYC's Spring Blooms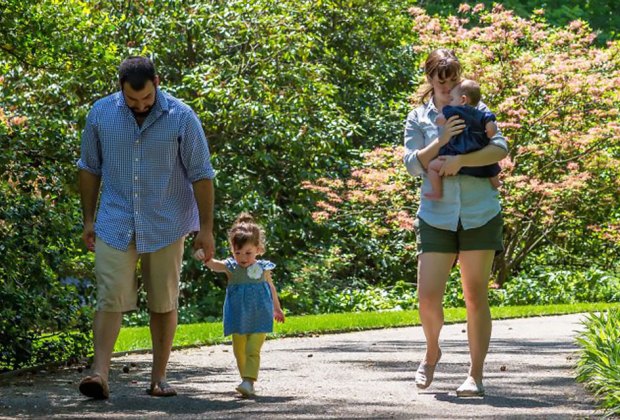 Enjoy a special day at the New York Botanical Garden with family performances and more. Photo courtesy of the garden
3. Enjoy spring blooms. Moms get the royal treatment at the New York Botanical Garden's annual Mother's Day weekend-long Garden Party. On the Daffodil Hill Stage, live music and kid-friendly science performances include bluegrass tunes from Moonshine Falls and performances by Mad Science. Make reservations in advance for Mother's Day Brunch at the at the Garden.
4. Go skating. Revive your roller disco moves by going skating at one of these roller rinks around New York City.
5. See winged natural wonders. Commune with the butterflies at the Natural History Museum before they flutter off for the summer.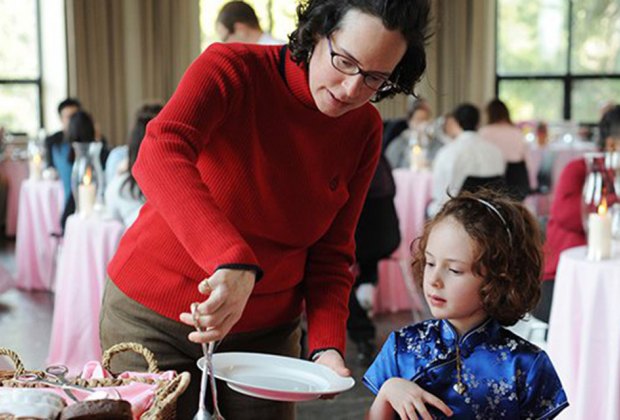 Enjoy Wave Hill's brunch and Mother's Day party, a memorable family experience. Photo courtesy of Wave Hill
6. Picnic or brunch at Wave Hill. Leave the city behind to celebrate Mother Nature at Wave Hill's annual Mother's Day party. The pricey (fancy!) brunch often sells out, but you can order a tasty box lunch in advance and picnic on the grounds, or bring your own!
7. Eat local. Scarf down a delicious farm-to-garden brunch at Queens Botanical Garden. Then race around the grounds, or allow the kids to do that on your behalf.
8. Fly solo. If you're facing Mother's Day as a solo parent, you're not alone. Mommy Poppins has some thoughtful advice to help get you through the day. And you might also want to give the kids a chance to prepare a gift in advance, like picture frames or paper flowers.
9. Get (slightly) out of town. Pack everyone into the car or onto the train for one of these 25 awesome spring day trips.
10. Take to the water. Score a day pass to hit up one of these private NYC pools for a family swim.
RELATED: Best Spring Theater for Kids and Families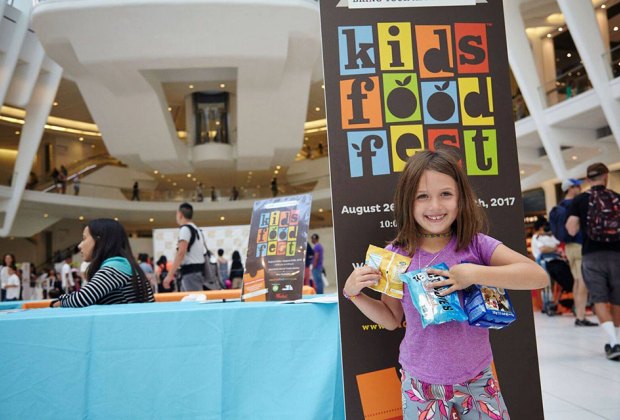 Spend Mother's Day enjoying food at the Kids Food Festival. Photo courtesy of the festival
11. Snack while you learn. The Kids Food Fest at the World Trade Center is on all weekend, May 11–12, and makes a fab Mother's Day outing. Enjoy the Balanced Plate Scavenger Hunt for kids with goody bag prizes, or sign up in advance for one or two of the hands-on workshops.
12. Take in some family theater or a show. Around the World in 80 Days, Old Turtle and the Broken Truth, and Puss in Boots, among others, all play Sunday. Or let your little ones jam with Mozart for Munchkins concert.
13. Go out and play. Visit a brand new playground—at least, new to your family. We love Rockefeller Park, and these Central Park playgrounds make for the perfect, post-picnic stop!
14. Putt-putt for the win. Take your kids to play some miniature golf, and don't let them win for once. It's your day!
15. See NYC's natural habitats in a new way. Bond by foraging with Wildman Steve Brill in a vastly under-appreciated natural habitat offering all the best wild foods of the seashore.
16. Shake hands with NYC history. Have a little chat with James Madison (or a reasonable costumed facsimile) at the New-York Historical Society's Living History event. Impress the kids by asking James about his wife Dolley!
17. Visit a new-to-you zoo. The Bronx Zoo is awesome (especially now that they have a Dino Safari), the Central Park and Prospect Park Zoos are sweet. But how about breaking with tradition and visiting the zoo in Queens or Staten Island? (Of course, if those are your go-to zoos, try the Bronx, Central Park or Prospect Park!)
18. Raise a pinky. Experience the rawther fancy atmosphere of high tea at one of these NYC destinations.
19. Make some art. Take a sculpture tour at Rockefeller Center and then make your own sculptures inspired by the experience. Advance registration required.
20. Hunt for magic. Combine wizardry and art at a scavenger hunt for Harry Potter fans at the Metropolitan Museum of Art.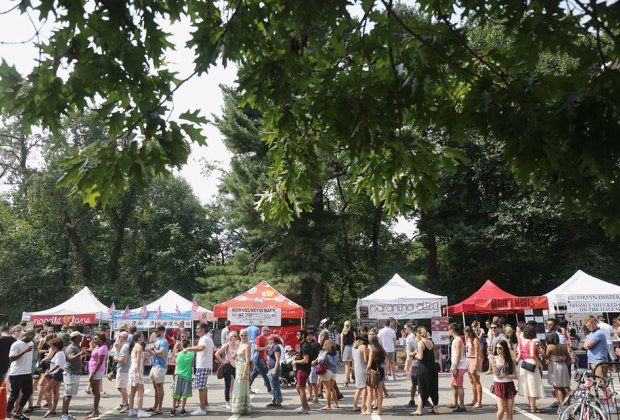 Sample some of the most creative food NYC has to offer at Smorgasburg. Photo courtesy of Smorgasburg
21. Picnic like you mean it. Pick up something scrumptious at the weekly food extravaganza Smorgasburg and then picnic at Prospect Park.
22. Challenge yourself. Check out the Ropes Course at Alley Pond in Queens.
23. Bowl and bop. Hit the lanes at kid-friendly Brooklyn Bowl and take in the music of The Beatles.
24. Enjoy some culture. If the weather holds, enjoy Japan Day in Central Park.
25. Make a splash. Head to one of these nearby indoor water parks, where you can lounge (indoors) next to the pool or hit the steam room, all on a day pass.
Need more ideas? Check out our Spring Fun Guide, or the just-updated May GoList.