Visiting the Staten Island Zoo with Kids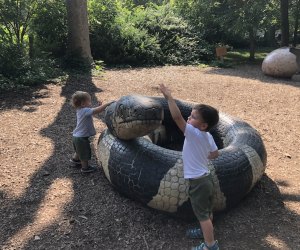 8/31/18
- By
Louise Finnell
There are so many great zoos in NYC, and each zoo has something different to offer. Prospect Park Zoo is perfect for the toddler set, the Bronx Zoo is designed for the more adventurous child, Central Park Zoo is steeped in historic charm...but what about Staten Island? This compact zoo is the perfect layout for small children, but offers a huge variety of programs and species for kids of all ages. Head across the Verrazano (or take the ferry!) for a day of fun with the animals.

The aquarium exhibit invites kids into an underwater world.
We arrived for our visit promptly at 10am on a weekday in the summer. Since we were there early, we experienced the magic of an empty zoo for a few blissful moments (if you have small-but-swift children, I recommend coming during an off-peak time!). The whole complex is stroller friendly—score! Another great feature of the Staten Island Zoo? Kids 2 and under are FREE.
RELATED: Top 50 Things to Do with Kids on Staten Island

The animals are so close you could almost touch them—almost!
It was hot day, so we started with the indoor exhibits. We entered through the aquarium, but my 3 year-old took off running straight toward the Africa wing, where he found himself face-to-face with a meerkat. We spent some time with a few very interactive monkeys that sat right up against the glass, glancing over their shoulders at us. Pacing lemurs and some pretty wild frogs were a few of the highlights. Some critters were even set up at stroller height, so still-crawling kids can get in on the animal action!
The bats were an awesome experience and are not to be missed. The enclosure is surrounded by cave-like rocks, and is dimly lit with a flickering lantern. The bats dart back and forth in the shadows, which creates a dramatic and immersive experience. You can even hear the sound of water dripping in the background, making the cave experience feel authentic. My 3 year-old was slightly nervous walking in at first, but was immediately captivated by the bats.
RELATED: Visiting Snug Harbor and Botanic Gardens with Kids

Indoor exhibits let kids get up close with animals in their habitats.
The Tropical Forest wing is another can't-miss attraction. The Staten Island Zoo does a great job of making the indoor exhibits feel alive and inviting. The rainforest area was adorned with an enormous tree that made the whole room feel like a part of a forest. Monkeys licked beads of condensation off the glass, which impressed my children. Awesome birds and massive frogs were also a big hit.
Outside, we checked out the horses, and wandered through the barn area. My 1 year-old was sleeping, so we skipped the Kids Korral (and the additional $3 fee). We bought some feed, but didn't hang onto it long enough to make it to the sheep and other farm animals. My over-enthusiastic kids tossed it to the chickens, who were not particularly interested. We rounded a corner and found ourselves followed (behind a fence of course) by an enormous and curious ostrich.

A play space with oversized nature sculptures invites climbing and exploring.
The Temperate Forest Sculptures were another fantastic feature for smaller kids, with hollow tree trunks to climb through, eggs to hatch out of, and gigantic frogs to sit on. We spent nearly as much time here as we did in the rest of the zoo. The only thing that got us moving again was our desire to get out of the summer heat.
Arctic foxes live adjacent to the playground area, and they were exceptionally playful and cute, since we caught them during a feeding. We spent a few minutes looking for leopards, but they must have been hiding in the trees. The kangaroos were relaxing in the sunshine, so we weren't able to see much hopping.

Hop aboard a ride through the animal kingdom on the carousel.
The Zoo Carousel is a sight to behold, but take note: Carousel hours are shorter than the general zoo hours, so come between 11 and 3 if you'd like to take it for a spin.
Word to the wise: print out a map from their website before you go. Though there is a map posted inside the entrance, we missed a lot once we were inside because we weren't paying close enough attention to the signage (I have a terrible sense of direction and they don't offer printed maps to guests). The upside to our aimless wandering was that we were able to spend extra time hanging out with the frogs, bats and lemurs—we stopped by to see them twice. You can also choose a Visitors Guide, an educational resource for families—the guides are even broken down by age!
The whole Staten Island Zoo can be done in an afternoon. Bring food, or purchase something at the cafe on the grounds. There is plenty of seating, and the lush landscaping gives the whole place a calm, tranquil vibe.
Things to know before you go:
Parking at the zoo is FREE. The zoo's designated parking lot is located around the corner from the main entrance, but we were able to find street parking right along Broadway, near the entrance.
The Staten Island Zoo is open year-round 7 days a week from 10am to 4:45pm, and is closed on Thanksgiving, Christmas, and New Year's Day.
Admission is FREE for children under 2, $6 for kids ages 3-14, and $10 for ages 15 and up. The Staten Island Zoo also offers FREE admission for all ages every Wednesday after 2pm.
Bring your strollers: The entire complex is stroller-friendly.