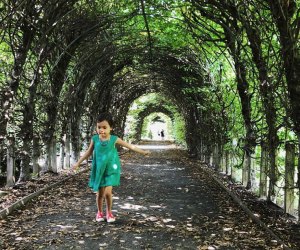 Staten Island with Kids: Top 51 Things to Do for Families
When you ask most New Yorkers what they know about Staten Island, they name-check the Staten Island Ferry and then just stare blankly. But as a mom raising her two sons in NYC's "forgotten borough," I know firsthand how enriching and fun Staten Island can be for families, both residents and visitors.

St. George, where you disembark from the ferry, is probably the neighborhood that feels most like the rest of NYC, with its awesome views of the downtown Manhattan skyline. Many borough attractions are located here, including the minor-league Staten Island Yankees stadium, the stunning St. George Theatre, the sobering Staten Island September 11 Memorial, the Staten Island Museum, plus lots of restaurants and quaint Victorian townhouses.

But go further inland and it's not just all malls and suburban sprawl. With almost 12,300 acres of protected parkland, Staten Island is rightly known as the greenest borough and boasts some of the most beautiful parks in the city, such as the Staten Island Greenbelt, home to the Carousel for All Children as well as living history museum Historic Richmond Town. Staten Island also has plenty of fun indoor play spaces, a great old-school roller rink, and even a trampoline park. There are lots of culture spots, too, like the Snug Harbor Cultural Center & Botanical Garden and museums located in lovely historic homes like the Alice Austen House. And while a car is helpful in terms of getting around, we actually do have public transportation. Check out the top 51 things to do in Staten Island with kids.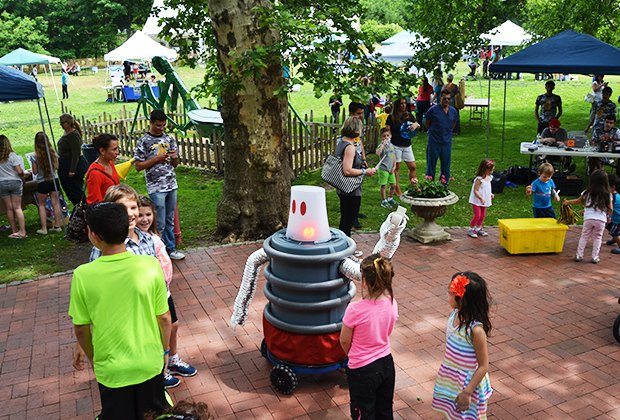 Get geeky at the science festival at Staten Island Children's Museum. Photo courtesy of the museum
2. Explore the interactive Staten Island Children's Museum, also located in Snug Harbor.
3. Learn about local science, art and history at the intimate Staten Island Museum, which also hosts nature walks through the isle's wooded areas.
4. Explore NYC's only living history museum, Historic Richmond Town, which hosts lots of special events like the annual Richmond County Fair.
5. Explore hidden passageways and tunnels at the 226-acre historic military installation Fort Wadsworth, where you can even camp out overnight.
6. Take a spin on the Conservation Carousel at the Staten Island Zoo, which features two dozen mostly endangered creatures to ride, including a Komodo dragon, a koala, a rhinoceros, a polar bear, and a Tamandua, all handcrafted out of wood.
RELATED: The Best Zoos and Aquariums in NYC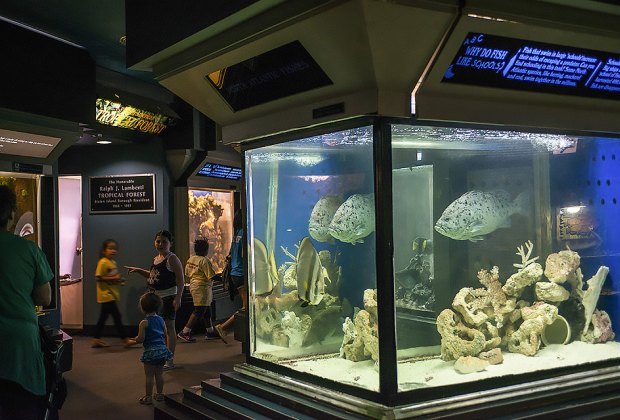 The Staten Island Zoo is the perfect size for little ones to explore. Photo by Julien Schaer
7. Speaking of the Staten Island Zoo, it is home to monkeys, reptiles, birds and famous weather predicting groundhog Staten Island Chuck—visit on Wednesday afternoons after 2pm for FREE admission.
8. Sit and reflect at the Staten Island September 11 Memorial, which offers poignant views of downtown Manhattan's forever-changed skyline.
9. Learn about the Underground Railroad and the oldest community established by free slaves in North America at the little-known Sandy Ground Historical Museum.
10. See where John Adams, Benjamin Franklin and other Founding Fathers tried to broker a peace deal and other fascinating facts about the Revolutionary War at the historic Conference House Museum.
11. Stroll through the lobby of the French Renaissance-style Staten Island Borough Hall to check out the striking WPA wall murals by Frederick Charles Stahr that depict important borough events.
RELATED: NYC Day Trips and Weekend Getaways Guide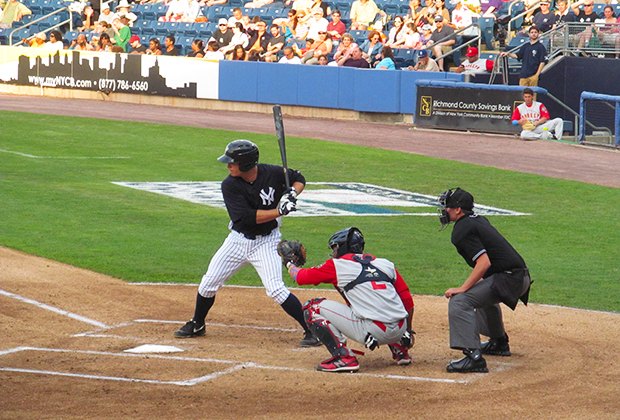 Cheer on the Staten Island Yankees. Photo courtesy of the team
12. Cheer on the Staten Island Yankees—there are even fireworks after select home games.
13. Step back in time at the historic Alice Austen House Museum, a Victorian cottage overlooking New York Bay showcasing the work of the self-taught photographer.
14. Marvel at the workmanship of Our Lady of Mount Carmel Grotto, a concrete and stone religious shrine adorned with shells, bicycle reflectors and other trinkets.
15. Get schooled in Italian-American culture at the Garibaldi-Meucci Museum, which hosts "haunted" tours around Halloween-time since the mansion is rumored to have ghosts.
Parks, Playgrounds, Beaches, and Outdoor Fun on Staten Island
16. Take a spin on the Victorian Carousel for All Children in the Greenbelt's Willowbrook Park, which accommodates children with physical disabilities.
17. Romp in the nautical Seaside Nature Wildlife Park featuring a wrecked ship to explore, a shark to climb and Staten Island Ferry-themed play units—no wonder locals call it "Pirate Park."
18. Spend the day in the 209-acre, amenity-filled Silver Lake Park, which includes a playground, ball fields and a golf course.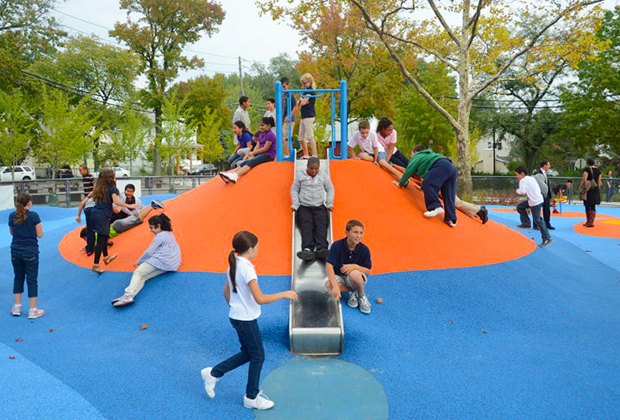 Romp at the renovated Schmul Park. Photo courtesy of NYC Parks
19. Check out the beautifully renovated Schmul Park, which will serve as an entrance to the in-development 2,200-acre Freshkills Park.
20. Speaking of Freshkills Park, once it's completed (projected to be 2036) it will be almost three times as big as Central Park! Some sections are now open and you can check out the progress by going on a FREE tour of the site.
21. Stroll, cycle or jog along the picturesque South Beach Boardwalk.
22. Rent a rowboat in the 193-acre Clove Lakes Park and then romp in one of the playgrounds.
23. Play seasonal tennis in the public courts at Walker Park, the former grounds of the Staten Island Cricket and Tennis Club.
24. Take a horseback riding lesson or hop on a pony at Get Over It and Ride.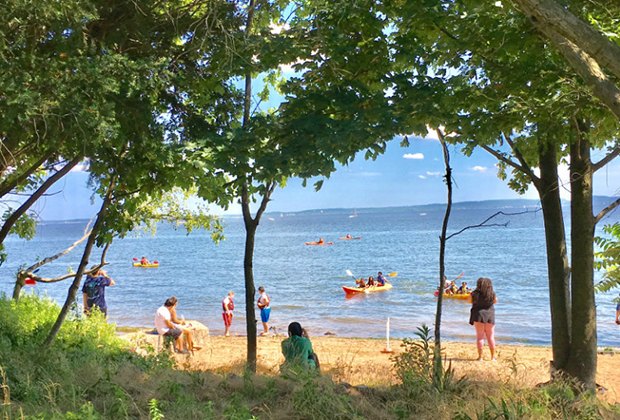 Grab a kayak in the summer months to paddle for FREE at Conference House Park. Photo courtesy of Kayak Staten Island
25. Hit the water for a FREE kayaking with Kayak Staten Island at Conference House Park, full of sand and shade.
26. Go gliding in the winter at the WWII Veterans War Memorial Ice Skating Rink or year-round at the indoor Staten Island Skating Pavilion.
27. Staten Island's beaches are loads of fun, especially Midland Beach—kids love the Sea Turtle Fountain, which they can actually play in, and it's home to Back To the Beach, the annual summer festival featuring live music, rides, and games, and fireworks.
28. Put on your sneakers and go hiking in High Rock Park—there are six trails to choose from of varying skill levels.
Step back in time at Historic Richmond Town. Photo courtesy of Historic Richmond Town
29. Hop on a hayride and pick out the perfect pumpkin at Historic Richmond Town's Decker Farm.
30. Go locavore at the Saint George Greenmarket—there's a kids' area where they can color while you shop.
31. Grab your rod and go catch-and-release fishing at Willowbrook Lake in the Greenbelt—remember, children under age 16 don't need a license.
32. Make like Katniss and learn how to shoot a bow and arrow with periodic FREE archery lessons at Willowbrook Park's range.
33. Stand in the intimidating shadow of Clove Lakes Park's gigantic tulip tree, which stands 119 feet in height and is 300 years old, making it the oldest living thing on the isle.
Indoor Play Spaces and Classes on Staten Island
34. Get out some wiggles at Fly High trampoline park where kids can hit the free-bounce area, basketball dunk zones, foam pits, dodgeball, and more.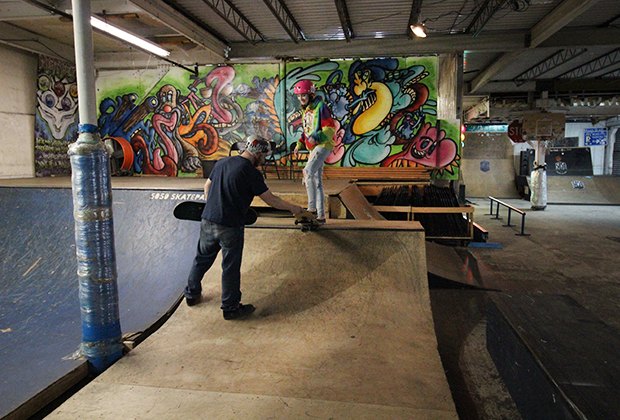 Learn to skate at the indoor 5050. Photo courtesy of the skatepark
35. Pop a wheelie at 5050 Skatepark, NYC's only indoor skatepark where you can skateboard, scooter or BMX bike.
36. Build STEAM skills with a workshop at the Staten Island MakerSpace.
37. If you have builders and Lego-lovers in your family, check out Bricks 4 Kidz, a creative and inviting space.
38. Rainy day? Get your paintball and laser tag on at Indoor Extreme Sports.
39. Try tai chi and meditation sessions at the Jacques Marchais Museum of Tibetan Art.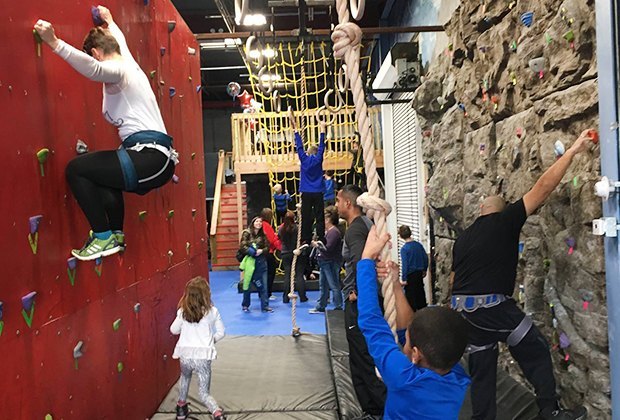 Climb the walls at Rock 'Em, Extreme. Photo courtesy of the gym
40. Come for the rock climbing, stay for the positive, no-bullying messages at Rock 'Em Extreme.
41. Head to UA Staten Island Stadium 16 & RPX for $1 summer flicks.
42. Visit one of Staten Island's family-friendly bowling alleys for a guaranteed fun time.

Hit the play zone at RollerJam USA. Photo courtesy of RollerJam USA
43. Strap on your skates and head to RollerJam USA, one of the few roller rinks left in NYC. Go on Friday nights for FREE pizza, or check out the mega bounce houses, which can be rented for private events.
44. Play mini golf, try the batting cages or hit the go-kart race track at Staten Island FunPark, which got a complete overhaul in 2017.
45. Head to one of Staten Island's many other inside romping spots with drop-in hours like indoor playground Chelsea Playground and indoor gyms Kids 'N Shape and Kidz Rock.
46. Let the kids make their own dinner at Jimmy Max, a local chain that hosts weekly make your own pizza nights for children that are FREE with the purchase of an adult meal.
Art, Music, Theater, and Festivals on Staten Island for Kids
47. Grab a book and a light bite at Every Thing Goes Book Cafe & Neighborhood Stage, which also offers FREE wi-fi and live performances.
48. Catch a family show by local touring company Sundog Theatre, which performs throughout the borough.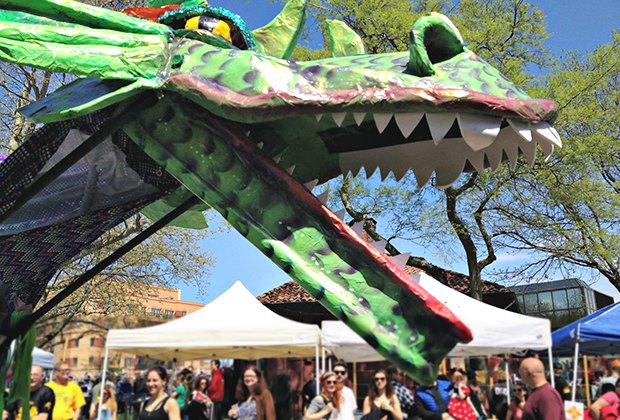 The dragons of the St. George Day Festival. Photo courtesy of the festival
49. Celebrate Earth Day at the annual springtime St. George Day Festival featuring live performances, eco crafts, puppet shows and a 35-foot puppet dragon parade.
50. See a spirited revival put on by students in the Wagner College Theatre program—there's at least one family-friendly musical every season.
And of course, the Staten Island activity that's a rite of passage for all NYC kids...
51. Snap pics of Lady Liberty while riding the FREE Staten Island Ferry, still the best and least expensive way to get to the isle.
Read all of our posts about exploring Staten Island with kids.
A version of this post was published in 2017; it has been updated for 2019. Katie Nave Freeman contributed additional reporting.