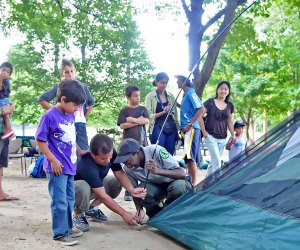 Enjoy Free Family Camping in NYC Parks with Urban Park Rangers
Contrary to what you might think, you don't need to invest in expensive equipment or even leave New York City to pitch a tent and camp. The Urban Park Rangers offer FREE overnight family camping in city parks at select times and locations throughout the spring, summer, and fall. Bonus: They bring almost everything you need for a night spent under the stars, including the tent!

The annual program kicks off a little before Memorial Day and runs through September, and although it's FREE, advance registration is required for all campouts. Read on to find out how to snag a spot at one of these cool camping trips—including some signup periods that open this week!
If you've never gone camping before, it might seem a little intimidating. That's why these Urban Park Rangers family camping trips are so great. The staff provides most of the equipment; all you need to pack is clothes, flashlights, and sleeping bags.
RELATED: Best Long Island Camping Spots for Families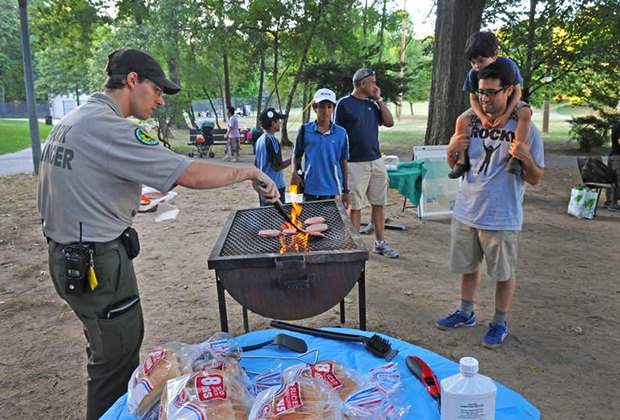 Classic camp-style eats are on the menu for some of the NYC campouts.

The adventure starts in the early evening. At some campouts there's a barbecue, with s'mores as the obligatory dessert. Nighttime activities include hiking, stargazing, and visiting the nocturnal creatures who live in the parks. These campouts start in late spring and continue on select Friday and Saturday nights throughout June and into the summer and fall.
The only hard part about these camping trips is securing a spot. There are around 30 spaces per outing, and registration only stays open for 24 hours. Lucky families are selected via lottery.
Here are a few of the upcoming family camping adventures:
Family Camping in Fort Totten Park (Queens) on Saturday, September 7
Register on August 28
Family Camping in Prospect Park (Brooklyn) on Friday, September 20
Register on September 11
Family Camping in Inwood Hill Park (Manhattan) on Friday, September 20
Register on September 11
Family Camping in Van Cortlandt Park (The Bronx) on Saturday, September 21
Register on September 11
Family Camping in Alley Pond Park (Queens) on Saturday, September 28
Register on September 18
Family Camping in Blue Heron Park (Staten Island) on Saturday, September 28
Register on September 18
Check back for additional times as they are released. Smart tip: Make a note to register on the correct date. It's best to register for as many of the trips as possible until you snag a spot, but don't register for the same trip more than once! If you do, you'll be disqualified.
Still not sure you can commit to an overnight campout with kids? The Urban Park Rangers also lead a variety of one-day outdoor education events all summer, including canoeing, birding, wildlife walks, and even a workshop in how to build the perfect campfire.
A version of this article was first published in April 2010, but it is updated annually.
Photos courtesy of NYC Parks.