The Very Hungry Caterpillar Show
DR2 Theatre

NYC Easter Brunch Cruise 2023
Event Cruises NYC

Easter Fun Cruise with Egg Hunt 2023
Event Cruises NYC
Sign up for our free newsletters.
Enjoy Free Family Camping in NYC Parks with Urban Park Rangers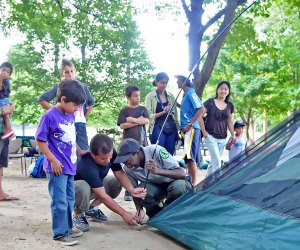 6/9/22
- By
Stephanie Ogozalek
Contrary to what you might think, you don't need to invest in expensive equipment or even leave New York City to pitch a tent and go camping. The Urban Park Rangers offer FREE overnight family camping in city parks at select times and locations throughout the spring, summer, and fall. Bonus: They bring almost everything you need for a night spent under the stars, including the tent.
The program has opened registration for its annual sleepovers, and we've got all the details on how to snag a spot at one of these cool camping trips. If you're more of a savvy DIYer, consider planning a family getaway to one of these campsites near NYC with extra family-friendly perks.
Subscribe to our newsletters to get stories like this delivered directly to your inbox.
If you've never gone camping before, it might seem a little intimidating. That's why these Urban Park Rangers family camping trips are so great. The staff provides most of the equipment; all you need to pack is clothes, flashlights, sleeping bags, and bedding.
The adventure starts in the early evening. At some campouts, there's a barbecue, with s'mores as the obligatory dessert. Nighttime activities include hiking, stargazing, and visiting the nocturnal creatures who live in the parks. Usually, these campouts start in late spring and continue on select nights into the summer and fall.
RELATED: Best Long Island Camping Spots for Families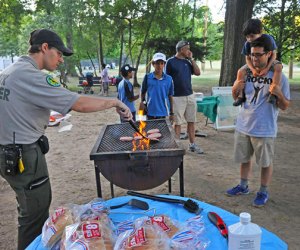 Classic camp-style eats are on the menu for some of the NYC campouts.
The only hard part about these camping trips is securing a spot. Lucky families are selected via lottery, and registration is only open for a few days.
Here are a few of the upcoming family camping adventures:
Family Camping at the Blue Heron Nature Center (Staten Island) on Friday, June 24.
Registration opens Wednesday, June 15 and ends Saturday, June 8.
Family Camping at the Alley Pond Park Adventure Center (Queens) on Friday, June 24.
Registration opens Wednesday, June 15 and ends Saturday, June 18.
Family Camping at the Van Cortlandt Park Nature Center (Bronx) on Saturday, June 25.
Registration opens on Wednesday, June 15 and ends Saturday, June 18.
Check back for additional times as they are released. Smart tip: Make a note to register on the correct date. It's best to register for as many of the trips as possible until you snag a spot, but don't register for the same trip more than once! If you do, you'll be disqualified.
Still not sure you can commit to an overnight campout with kids? The Urban Park Rangers also lead various one-day outdoor education events all summer, including canoeing, birding, wildlife walks, and even a workshop on building the perfect campfire.
A version of this article was first published in April 2010, but it is updated annually.
Photos courtesy of NYC Parks.