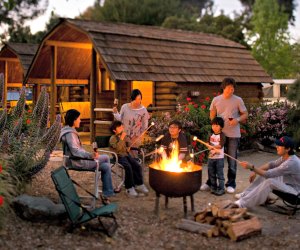 Family-Friendly Campsites (with Extras for Kids!) Near NYC
I'm not going to lie. My favorite part of camping is the s'mores, but my daughter loves the entire experience, no matter how muddy or muggy or cold it gets.
If your kids are more like me— itching to get out of the city, but are perhaps not fully prepared to truly rough it— we've got some great campsites for you. We've told you about great New York area campgrounds in the past, including where to pitch your tent within New York City. But now we've put together a list of campgrounds that come with some sort of extra entertainment options for kids— whether it's a Family Movie Night, a petting zoo, or just tubing down a river. You can even learn to milk a cow!
Since we're squarely in the camp (get it?) of old-fashioned family fun, we rounded up the best campsites with added amenities within three hours of New York City. Most of these sites close during the winter, so be sure to verify information before heading out. And don't forget the marshmallows!
New York City North/Newburgh KOA — Plattekill, NY
This campground is about an hour and a half by car from New York City, although you can also take the train across the river to Beacon. This would be a great trip for art lovers, because you're close to DIA: Beacon and Storm King, the spectacularly beautiful outdoor sculpture park. However, even local apple-picking (in the fall) may not lure your kids from this campground, which boasts amenities galore.
Lodging types offered: Tent, cabin, RV
Fun family activities: Catch-and-release fishing, mini-golf, two swimming pools (open Memorial Day weekend through Labor Day weekend), basketball, movies, bike rentals, fire truck rides, and a "Jumping Pillow"
Campground amenities: Snack bar, coffee shop, wine store, and a dog park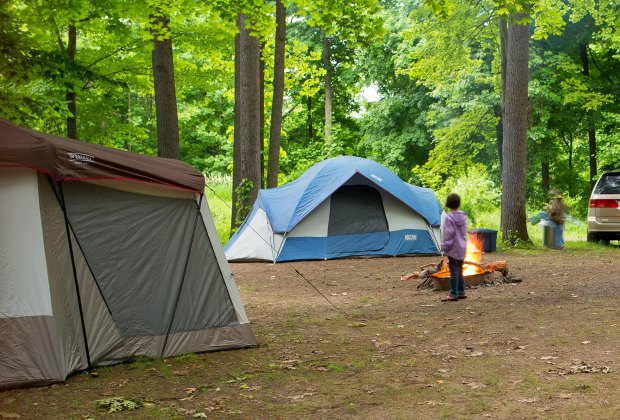 At Mills-Norrie you can pitch your tent in the woods near the Hudson River.
Mills-Norrie State Park — Staatsburg, NY
This more-than-1,000-acre tract of wilderness is actually two adjacent parks: Margaret Lewis Norrie and Ogden & Ruth Livingston Mills State Parks. I'm not sure why they are technically separate, but I've visited this idyllic spot often; it's one of my favorite places to hike and bike. As an added bonus, there's an amazing Gilded Age mansion, Mills Mansion (admission extra), along with amazing views of the beautiful Hudson River. This campsite is also a great base for trips to several national historic sites: the FDR Museum, the Eleanor Roosevelt Museum, and the Vanderbilt Mansion.
Lodging types offered: Tent, trailer
Fun family activities: Fishing, hiking, bike trails. For additional fees: tours of the Mills Mansions, kayaking excursions, and the public golf course
Campground amenities: Pavilion, marina access, grills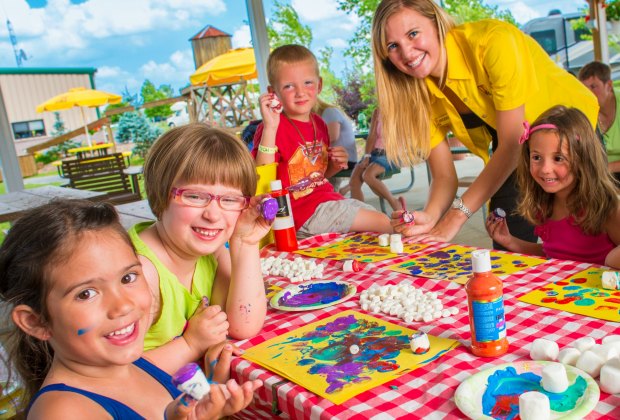 Kids can get crafty at Saugerties/Woodstock KOA's crafts program.
Saugerties/Woodstock KOA — Saugerties, NY
This campground, a two-hour trip by car, is nestled into the foothills of the Catskills, which is renowned as one of the most scenic areas around New York City. There's a historic lighthouse nearby, along with the Catskill Animal Sanctuary, which conducts regular tours. If that's not your kids' speed, you can placate them later by hanging out here and doing scheduled craft projects or playing mini golf.
Lodging types offered: Tent, Cabin, RV
Fun family activities: Crafts program, miniature golf, a catch-and-release fishing pond, a pool that's open during the summer months, a game room, a horseshoe pit, and bike rentals
Campground amenities: Wifi, cable TV, dog park, and full-service store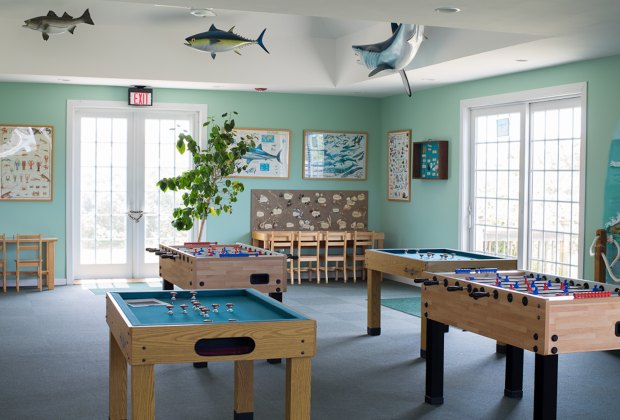 Have fun in the game room at Hither Hills!
Hither Hills — Montauk, NY
Want to "do" the Hamptons affordably? This ocean-front campsite, three hours from New York by car or train, is your answer. If all the beauty of Montauk isn't enough to entertain your kids, Hither Hills offers an organized children's recreational program during the summer months. Plus, there's always the two-mile-long sandy beach!
Lodging types offered: Tent, RV
Fun family activities: Movies, folk and line dancing, children's summer theater, magic shows, and various environmental interpretation programs
Campground amenities: Beach open from Memorial Day to Labor Day; a 40-acre lake; bridle paths; hiking trails; a 10-acre handicapped-accessible picnic area with fireplaces; a playground; courts for horseshoes, basketball, volleyball, and tetherball
Pleasant Acres Farm Campground — Sussex, NJ
If you have an animal lover (like my daughter) for a child, this campsite will be a dream vacation. Pleasant Acres Farm Campground is, as the name suggests, situated on a working farm, and allows city kids to get up-close-and-personal with farm animals. The cabins and cottages are also a good option for those who aren't quite tent-ready, and there's lots of fun to be had in the Olympic swimming pool.
Lodging types offered: RV, cabins, cottages
Fun family activities: Horse-drawn hayrides, petting zoo, cow milking, sheep shearing, fishing, pig chases, painting parties, ceramics
Campground amenities: An award-winning Olympic swimming pool, miniature golf course, sports fields and a lake
Delaware River Family Campground — Columbia, NJ
The Delaware River is beautiful, and this campground takes full advantage of its location on the river. Kids (and adults!) will jump at the chance to go tubing, and there's no lack of other water-based activities, like boat rentals, river excursions, and swimming in the pool.
Lodging types offered: RV, cabins, cottages
Fun family activities: Planned activities, like arts and crafts and special events; family movie night; heated swimming pool and kiddie pool; river fishing; game room; boat and tubing rentals and river excursions; mini golf; and basketball and volleyball courts
Campground amenities: Playground, camp store, pavilion, cable TV
Sam Pryor Shawangunk Gateway Campground — Gardiner, NY
Although I haven't camped here, I've spent a lot of time in Gardiner and at the nearby Mohonk Preserve, and to say it's stunningly beautiful is an understatement.. This campsite is probably the most rustic on this list, and is aimed squarely at rock climbers and nature-lovers who want to explore the preserve and nearby Minnewaska State Park, which offers swimming in crystal-clear mountain lakes, hiking, mountain bike trails, and golf. If you want to splurge, you can also buy a day pass to the famous Mohonk Mountain House, with its immaculate grounds and amazing recreational facilities.
Lodging types offered: Tents (4 people max per tent, 2 tents per site)
Fun family activities: Rock climbing
Campground amenities: Pavilion and cooking area, bathhouse and restroom facilities, and circulation trails.
Top photo and crafts photo by Jeff Dow courtesy of KOA. All others courtesy of New York State