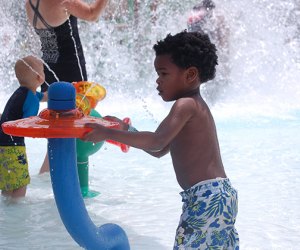 Camelbeach Mountain Waterpark Opens Toddler Area, Mummy's Oasis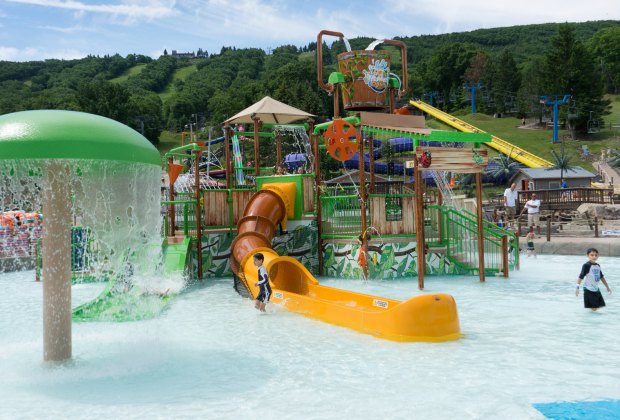 The brand-new Mummy's Oasis is sized just right for younger kids. Photo courtesy of the park.
Located about two hours from midtown Manhattan in Tannersville, Pennsylvania, Camelback Resort is a favorite of Mommy Poppins bloggers in NYC, Philadelphia, and New Jersey. It features almost 40 attractions, including a host of water slides perfect for first-timers or experienced thrill-seekers, plus tubing, a wave pool, and more. Its latest addition is an eye-catcher, and parents might want to head straight to Mummy's Oasis with the little ones, letting the bigger kids explore the park's other offerings.
RELATED: Theme Park and Water Park Guide for NYC Families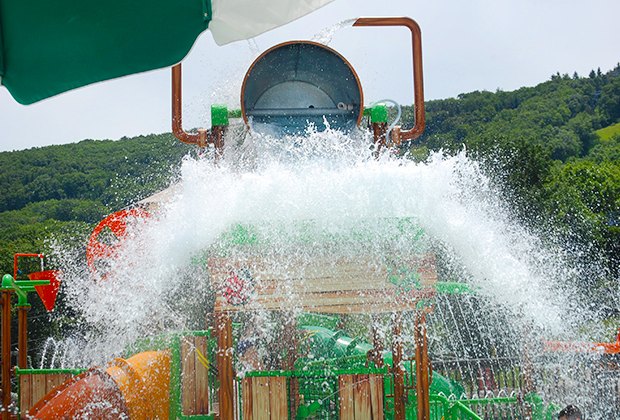 The more daring kids will love being drenched by the big water bucket!
As you might glean from the name, Mummy's Oasis is Nile River-themed. It was created with young adventurers in mind and requires that your child be no taller than 48 inches. A three-story "playhouse," it features smaller-size slides, tipping buckets, and more than 25 fun-filled water activities, including sprinklers, water wheels and spray cannons. It's easy to keep a watchful eye on your child while he or she plays independently, and there are plenty of lounge chairs in case adults want to relax while doing so. If you're looking to cool off yourself, Mummy's Oasis' tipping bucket drops 1,000 gallons of water every 45 seconds; you are guaranteed to get wet.
RELATED: 50 Ways to Cool Off this Summer with NYC Kids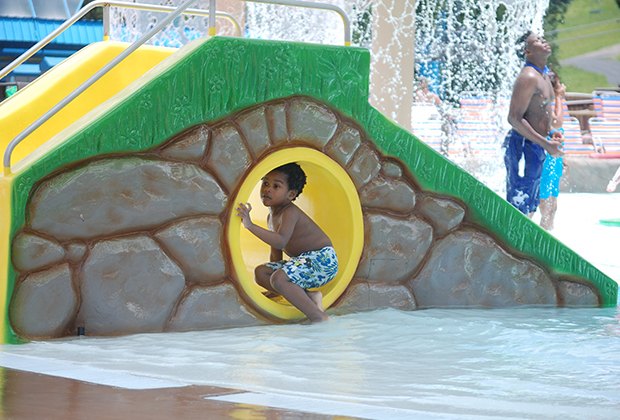 We were invited to the grand opening, and although we visited the water park last summer we were thrilled to check out this new attraction. It was comforting to know there was something in place for my 4-year-old. My 12-year-old and his buddy checked out Mummy's Oasis, quickly learning it wasn't for them. Off they went to the more age-appropriate thrill rides. Meanwhile, my little one was skeptical about playing in Mummy's Oasis because of a fear of water, but with water only 6 inches deep it didn't take much convincing. With a little encouragement, he joined the other children and spent hours playing at the sprinklers and on the mini-slides. Some more adventurous kids headed "offshore," but my son enjoyed himself just as much closer to "safety."
The Blue Nile Adventure River offers 1,000 feet of lazy-river winding, accented by waterfalls, geysers and bubbling water. Kahuna Cove is a sprinkler park near Pharoah's Phortress, the central attraction, featuring eight water slides, spray guns, and a tipping bucket. A mat-slide area completes the adventure. Free life jackets are also available for the little ones.
There was something for everyone at Mummy's Oasis, which I really enjoyed. Even though my son didn't care to stand under the tipping bucket, he sure did find joy in watching others get drenched.
Find ticket deals during the week and early evening hours, but kids under the age of 2 are always FREE. It's also adjacent to one of our favorite indoor water parks, Aquatopia. You do not need to stay at the nearby Camelback Lodge to enjoy the outdoor water park, but it makes for less driving in a 24-hour period that's for sure, plus there are savings in terms of tickets.
All photos by the author unless otherwise noted.