Rock 'Em Not Sock 'Em Offers a New Take on Rock Climbing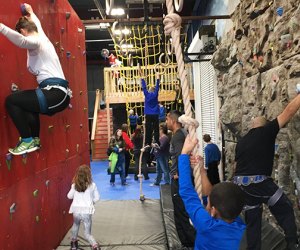 Rock 'Em Not Sock 'Em caught my eye not only because it's the first rock climbing gym I had seen on Staten Island, but because of its unique anti-bullying message.
As a mother of two active boys, I am always looking for something to keep them off electronics and active. During the summer, I can find plenty of fun, affordable things to do. However, during winter or on days when the weather is poor, it's good to have a few different places the whole family can enjoy.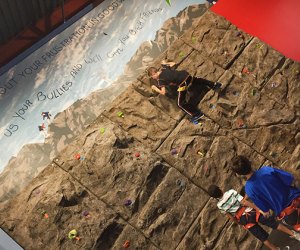 Kids are challenged with the wall and slogans that promote self-confidence and kindness.
Rock 'Em Not Sock 'Em, located in the Travis section of Staten Island, was started by climbing enthusiast Lawrence Katz in summer 2016. It has since become popular among hard-core climbers and beginners alike. In opening Rock 'Em Not Sock 'Em, Katz hoped to create a space where the issue of teen bullying could be addressed. Rock climbing made the most sense.
At Rock 'Em Not Sock 'Em, each route is a "problem" and climbers are encouraged to solve such problems by using concentration, confidence, and endurance skills. Theoretically, climbers, especially those who have experienced bullying, will use these same skills to tackle problems they face outside of the climbing gym. And they will have tons of fun in the process.
Routes are color-coded, making following them similar to a game of Connect the Dots. There is more than 1,500 feet of wall space for bouldering, auto belays with 700 feet of wall space, climbing rings, peg boards, and more, including my older son's favorite, 150 feet of inverted climbing. Yes, that means you climb upside down.
Timed contests are thrilling. Staffers also make school visits, where they talk about anti-bullying efforts and conduct essay contests, with winners getting a free visit to the facility.
RELATED: Kids' Sports Centers & Fun Zones Around NYC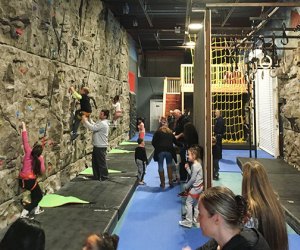 There are multiple wall heights and climbing options to test out.
The tallest wall is 20 feet high, and people of all ages try it. In our visit, smaller children seemed to enjoy the the tall wall, using auto belays because, according to Katz, they like the feeling of falling off. Climbing routes range from easy to hard, and Rock 'Em Not Sock 'Em welcomes everyone, including athletic and school groups, families, Girl Scout troops, and others. Children and adults alike celebrate birthday parties here.
Although climbers are more or less on their own, the staff is friendly and will offer help if it is needed. My 5-year-old was surprisingly independent, but needed some guidance while climbing. Open seven days a week, Rock 'Em Not Sock 'Em is an ideal place to visit all year round. Daily climbing begins at $10 for children and $14 for adults.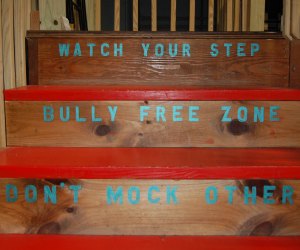 The anti-bullying message is shared throughout the programming and with physical reminders. Photo by the author.
Things to know before you go
Walk-ins are fine.
You can wear your own shoes or rent if you prefer.
A brief rundown of safety rules is offered before climbing. You are then on your own.
Lockers located in the gym are free.
Saturdays and Sundays tend to be super busy; be prepared for crowds.
Monthly and yearly climbing packages are available.
There is a free parking lot.
Unless otherwise noted, photos courtesy of the space.