New Poconos Indoor Water Park Aquatopia Opens at Camelback Mountain Resort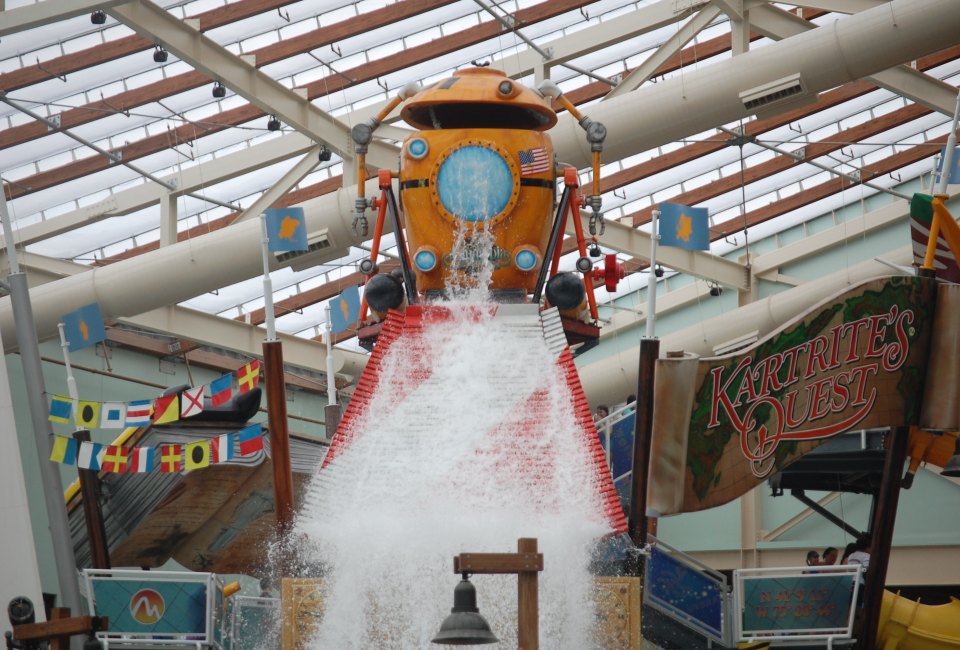 5/9/15
- By
Nataki Hewling
It's rare that major, family trip-worthy attractions open in the area, but as of last Friday, we have a brand-new one in the Poconos: Aquatopia Indoor Waterpark. Camelback Mountain Resort is already one of the leading getaway destinations near NYC and Philadelphia for skiing and winter sports. In summer, it transforms into Camelback Beach and Camelback Mountain Adventures, which offer loads of outdoor fun including a water park, zip-lining, an alpine coaster and a treetop adventure course. Now, with the opening of Aquatopia, the largest indoor water park in the northeast, Camelback Resort offers even more year-round fun.
I was invited for a sneak peek of everything Aquatopia has to offer, and can share my been-there, done-that report as well as plenty of photos of what's in store if you decide to visit. Plus, find out about some limited time grand opening deals you don't want to miss.
Aquatopia is a giant, 125,000-square-foot indoor water park featuring seven pools, 13 water slides—including tube slides, body slides, mat slides, bowl slides, aqua launch capsule slides and kiddie slides—plus many features you've never seen at its competitors. A Texlon Transparent Roof covers this amazing attraction. The temperature is kept at 84 degrees Fahrenheit year-round, which felt perfect for us, especially when the sun shone through the roof. I can only imagine how awesome it looks at night when the stars are out.
The innovative and interactive water-play attraction includes five different zones and slides for every age group. Had I brought my 3-year-old, I think he would have enjoyed the Penguin Play Bay area, as it was a perfect place for babies and toddlers to explore and have fun. My older son and I enjoyed the many wading pools—the Great Ka-na-gawa Wavepool was my personal favorite because it felt like the beach. The Lost River, aka the lazy river, is always popular, but this one takes you through a dark tunnel for an extra-mysterious touch. For surfers, the Bombora FlowRider is definitely something to look forward to. It's a ride that actually simulates surfing and boogie boarding. Aquatopia offers fun for everyone.
In addition to the water park, the Arcadia Indoor Adventure Center offers two levels of exciting activities and games, along with a spacious food court. The arcade area not only has your usual offerings like Basketball and Deal or No Deal (one of my favorites), but also a giant Connect Four game, which I thought was super-cool. Other activities include a make-your-own-pottery shop, a cute kiddie spa, an overhead ropes course, a rock climbing wall, a black-light laser tag course and mini-golf. In the food court area, you'll also find a cute little discovery zone for tots so they can play while you eat.
Aquatopia is part of Camelback Lodge, a brand-new hotel with 16 lodging styles to accommodate all kinds of guests from couples to extended family reunions. Loft fireplace suites, balcony suites, family suites with bunk beds, and one- and two-bedroom suites, some with full kitchens, are all available.
Things to Know Before You Go:
Aquatopia is one giant open space, which is great for families with children of varying ages who want to do different things. You can supervise younger kids while still keeping an eye on older ones.
There are more than 120 certified lifeguards on-site, so parents can rest easy.
Changing rooms are conveniently located in the water park area. They are pretty spacious, and the lockers for storing clothing and valuables are also big.
Aquatopia offers private cabanas that can be rented, as well as an adults-only swim-up bar, where you can get something tropical and refreshing.
One thing I think could be improved: It's not clear which slide is which, since they're all lumped together, twisting and turning. I picked one not realizing what I was in for, and boy was it a heart-pounder, with a 1,000-gallon dumping bucket at the top that caught me off guard. I'd like to see signs added that indicate exactly which slide you're getting on.
Rates for guests 48 inches and over are $39.99, and $29.99 for guests under 48 inches.
Camelback Lodge & Aquatopia Indoor Waterpark are offering a few grand opening specials. Book an overnight stay for any date in 2015 by May 15 to receive a $200 amenity booklet with deep discounts to the spa, restaurants, gift shop and more. You can also take advantage of sneak peak day passes through Sunday, June 14. Beginning Monday, June 15, Aquatopia will only be accessible as part of a hotel reservation, and day passes will only be available for Camelback Resort guests when they show proof of purchase from the outdoor Camelbeach Waterpark, Camelback Mountain Adventures or winter lift pass.
Aquatopia Indoor Waterpark is located at the Camelback Resort, 193 Resort Drive in Tannersville, PA. Book your stay and find more information on the website.

Read about other indoor water parks in the tri-state area.
Places featured in this article:
Click Here to Sign Up!