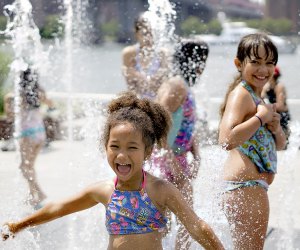 50 Fun Things to Do to Cool Off in NYC This Summer with Kids
As summer weather begins to sizzle, there's no denying the heat and humidity can get under the skin of even the most tropical-weather-loving New Yorker. To beat the heat, my kids (and my inner child) insist any outing includes water, industrial strength air-conditioning, or sweet frozen treats.
While we enjoy hitting our local public pool and running around the sprinklers (oh yes, I get in there, too), lately we've been longing for more diverse destinations. That inspired us to round up our favorite ways to cool off in New York City.
Our list includes a variety of destinations; some are brand-new, while others are old standbys. The list includes outdoor spots like extra-special water playgrounds, awesome pools, and splashy boat rides, and indoor havens such as kid-friendly museums. Many of our suggestions are FREE and we even included exceptional frozen-treat spots, so you can indulge in ice cream and more. So strike while the weather's hot: Here are our top 50 ways to cool off with kids in NYC this summer.
2. Enjoy the breeze as you stroll across the Brooklyn Bridge and then reward yourself a cone from Ample Hills Creamery, which has taken over the old Brooklyn Ice Cream Factory spot in Brooklyn Bridge Park.
3. Use cool blue foam "playground in a box" pieces to manipulate water at the South Street Seaport's one-of-a-kind Imagination Playground. FREE
4. Frolic in the sprinklers at Williamsburg's waterfront Domino Park, where you can catch a cool riverfront breeze ... or an icy margarita from Tacocina if things get desperate.
5. Head north and hit the fun water features along Long Island City's waterfront. FREE
6. Create your own breeze as you climb the stairs at The Vessel, bask in the spray of the fountains at Bella Abzug Park, or just enjoy industrial AC at the Shops at Hudson Yards exploring NYC's newest neighborhood.
7. Go for a strike at one of NYC's many bowling alleys for a blast of AC; you can even sign up for FREE kids' games at Astoria Bowl, Jib Lanes, and Shell Lanes.
8. Jump, cartwheel, and tumble at one of these indoor bounce houses; no sunblock required.
RELATED: 100 Free Things To Do with Kids in NYC This Summer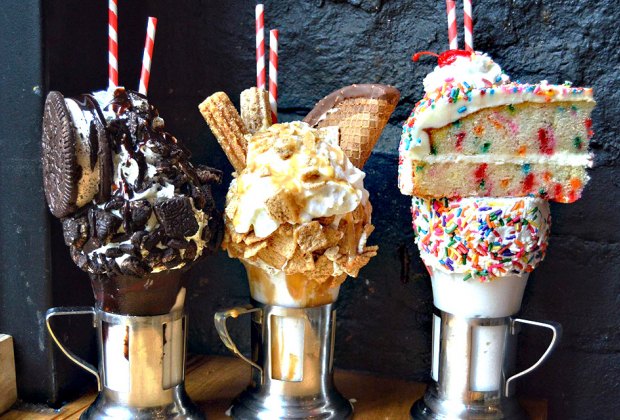 9. Dig into a ginormous Black Tap milkshake. The popular burger bar adds a third location this summer in the Kixby Hotel near Macy's Herald Square.
10. Sneak in some (educational) fun at the outdoor Science Playground, complete with water play area, at the New York Hall of Science. While you're there, pop inside to see one of these magnificent exhibits.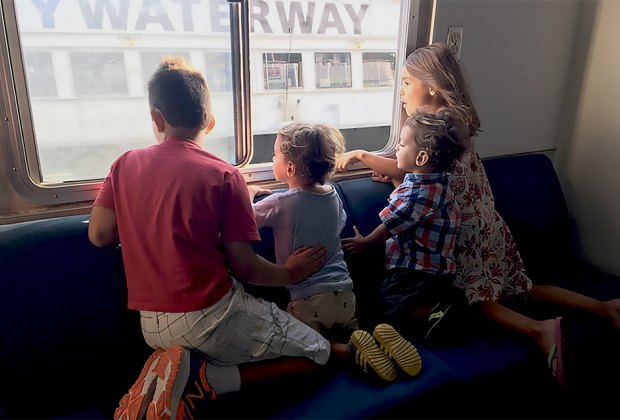 Catch a cool breeze on the ferry to Governors Island. Photo by Sara Marentette
11. Take a free (or nearly free) cooling ferry ride to Governors Island to zoom down a 57-foot slide, fly through the air on the zip line, or test out the mini-golf course.
12. Row your own boat on Governors Island, too, or try out a boat in each borough to catch a cool breeze off the water. FREE
13. Hit the water at South Beach on Staten Island. FREE
14. Craft your own unique cool treat at DIY ice cream parlor CoolMess, or test out your first Thai rolled ice cream at these hip spots.
15. Dunk, dip, and pour at the interactive water table in Chelsea play space City Treehouse. Looking for something closer to your 'hood? We've rounded up all our favorite indoor water play spots for preschoolers.

The Waterlab at Brooklyn Bridge Park's Pier 6 is made to feel like a natural setting, with a small river and rocks for climbing. Photo by Julienne Schaer for the park
16. Get drenched at the state-of-the-art Waterlab at Pier 6 in Brooklyn Bridge Park or one of these other wet-and-wild Brooklyn spots. FREE
17. Swim in the ocean at Coney Island and then stick around for fireworks on Friday nights. FREE

Kids will be awed by the view of sea life at the new, immersive Sharks! exhibit at the NY Aquarium. Photo by Louise Trapasso
18. Swing by the awe-inspiring shark exhibit at the New York Aquarium while you're at Coney.

Beautiful Jacob Riis Beach is a quick drive, but feels like a world away. Photo by Sara Marentette
19. If Coney's too crowded for your taste, try one of NYC's less busy beaches like Jacob Riis in Queens. FREE
20. Or catch a wave and take a surfing lesson at Rockaway Beach, the only NYC shore where the sport is allowed. While you're in the neighborhood, check out all our favorite Rockaway activities.
21. You can also spend a unique day on the water by booking a whale-watching tour. A few boats sail straight from city docks!
22. Go roller-skating at Lakeside Rink in Prospect Park, and then hit the next-door splash pad with dozens of sprinklers.
23. Go beyond the sprinklers and let the kids romp in one of the city's many play fountains. FREE

If you need a break from the ocean and sand, head to the new splash pad at Jones Beach. Photo by Rebekah Yahoves
24. Escape the city for a day trip to Jones Beach, which also boasts a spectacular seaside splash pad.
RELATED: Swimming Lakes Near NYC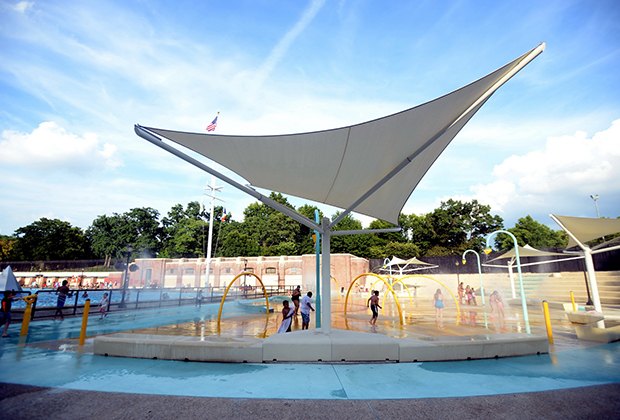 The Crotona Pool debuted a stunning new sprinkler play area last summer. Photo courtesy of NYC Parks and Recreation
25. Head to Crotona Pool in the Bronx with its sprinkler play area for extra splashy fun. FREE
26. Explore the least expensive kids' museum in NYC, the Staten Island Children's Museum, located on the gorgeous grounds of the Snug Harbor Cultural Center.
27. Try funky art projects at the Children's Museum of the Arts.
28. Catch a breeze on the ferry to the Statue of Liberty. Once you're there, visit the brand new Statue of Liberty Museum.
29. Brave the crowds at the popular McCarren Park Pool—it's Olympic-sized so you will (eventually) get in, especially in the mornings. FREE
30. Learn about NYC's past at the interactive DiMenna Children's History Museum at the New-York Historical Society.
31. Perhaps a day trip is in order? We've got great options for kid-friendly stops along the LIRR and Metro North railroads.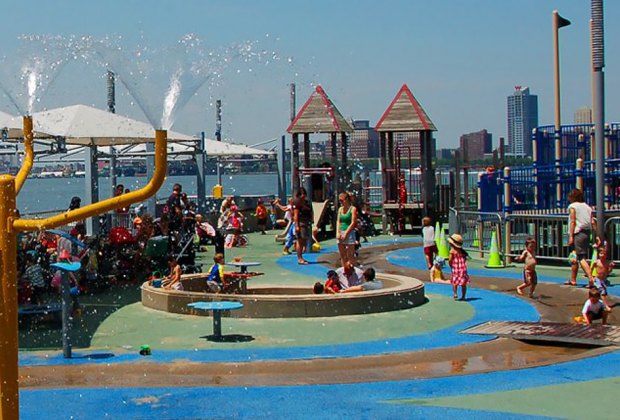 With a large play area and a splash pad, the Pier 51 Play area makes for a great summer outing. Photo courtesy of Hudson River Park
32. Make a splash at the Pier 51 Play Area in Hudson River Park, where kids can activate buckets and sprays. FREE
33. Find more interactive water fun at the playground at Tribeca's Pier 25, which also offers mini-golf and beach volleyball. FREE (save for mini-golf)
34. Pretend like you're floating underwater with a ride on the SeaGlass Carousel in Battery Park.
35. Hop into one of the two pools at the Hamilton Fish Recreation Center on the Lower East Side—there's an Olympic-sized one for big kids and adults, and a wading pool for toddlers. FREE
36. Prefer an uptown vibe? The pool at Highbridge Park includes two Olympic-sized pools; one has a max depth of just 2 feet. When you're waterlogged enough, dry off with a scenic walk over the park's namesake bridge, which connects Washington Heights and the Bronx. FREE
37. Explore the renovated-last-summer Chelsea Waterside Playground.
RELATED: Free Outdoor Movies for NYC Families This Summer

You can't beat the view from the amazing Floating Pool. Photo courtesy of NYC Parks and Recreation
38. Head to the gorgeous Barretto Point Park in the Bronx to visit the Floating Pool, NYC's only pool on a barge. FREE
39. Enjoy stunning views of the George Washington Bridge and a destination playground with a visit to the shade-draped Fort Washington Park Playground. FREE
40. Or play tourist and cruise under the bridge with a ride on the Circle Line.
41. Embark on another of our favorite family-friendly boat rides in New York harbor. For some really wet fun, hop on the Beast speedboat, which zips you around New York Harbor splashing you the whole way.
42. Register for no-cost swimming lessons at public pools throughout the city. FREE

The Nautical Museum is a must on your trip to City Island. Photo by Suzanne Cort
43. Spend the day exploring the Bronx oasis City Island or the nearby "Bronx Riviera" of Orchard Beach; when that ocean breeze hits you, you won't believe you're in NYC. FREE
44. Go for a swim in Harlem's Lasker Pool, and then explore the very shady northern end of Central Park. FREE

The huge Dynamic H2O exhibit will keep kids busy and cool! Photo by Jody Mercier
45. Visit the Children's Museum of Manhattan's Dynamic H2O exhibit; it's impossible to stay dry at this water table!

Central Park's Heckscher Playground is a giant water maze. Photo by Jody Mercier
46. Navigate the water-filled maze of pyramid-like structures in Central Park's Heckscher Playground. FREE
47. Duck inside a Times Square attraction like Gulliver's Gate to tour the world without leaving NYC, or the National Geographic Encounter: Ocean Odyssey, where you'll tour a virtual aquarium and the ocean's depths.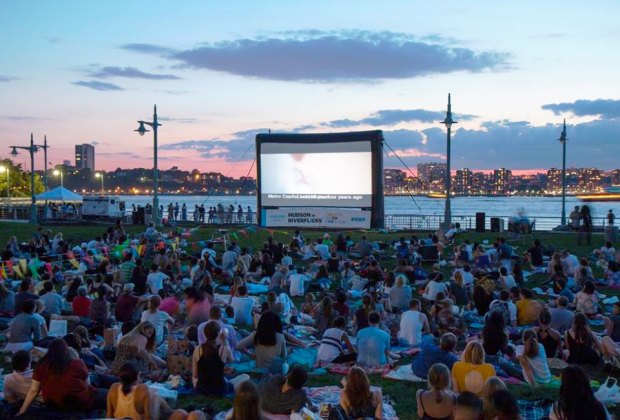 RiverFlicks for Kids in Hudson River Park is the perfect setting for fun nighttime outing. Photo courtesy of NYC Parks and Recreation
48. Venture out for an evening of fun under the stars to take in one of the hundreds of no-cost outdoor movie screenings being staged in city parks this summer.
49. Enjoy industrial-level AC while checking out one of our picks for top family theater this season.
50. Avoid turning on the oven and enjoy an outdoor meal at one of our favorite family-friendly eateries in Queens or Brooklyn.
Find even more ways to cool off in the hot city with our NYC Water Fun Guide to beaches, pools, splash pads, and more.
A version of this article was originally published in July 2012; it is updated every year.