Surf NYC: Surfing Lessons for Kids at Rockaway Beach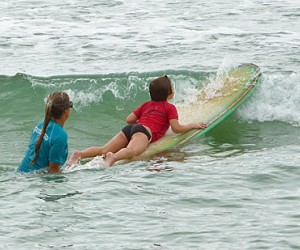 Of all the cool things you can do in NYC, surfing is probably not the first one that comes to mind. But that's what we love about living in New York: It seems like you can do just about everything in some nook or cranny of the five boroughs, including catch a wave.

New York City actually offers 14 miles of beach, more than many more obvious beach destinations, and a population of surfers to rival any of them. While surfing is still illegal at most NYC beaches, thanks to an overturned law in 2005, Rockaway Beach has become the surfing mecca of the city.

Read on to find out where kids can take surfing lessons, rent equipment or sign up for surfing camp, plus learn the ever important Surfer's Code, without having to leave the five boroughs.
Where to Surf:

Surfing is only allowed at Rockaway Beach in NYC. Head to Beach 67 through Beach 69, or Beach 87 through Beach 92 (beaches align to their street number).

Skudin Surf
Beach 67th Street and Beach Front Road
The instructors at this family-run surfing school have three decades of experience under their belts—make that ankle leashes. It offers private lessons for all ages or, if you want to hang 10 with your kids, semi-private and weekend group lessons. Skudin also hosts a summer camp for children ages 5 to 15. Kids learn ocean safety and surf basics with instructors board side at all times, and equipment and snacks are provided. Skudin even offers corporate group lessons and has an additional surfing school in Long Beach.

Locals Surf School
Beach 67th Street and Beach Front Road
Run by Rockaway natives (and self-proclaimed "happiest people on earth") Michael Kololyan and Michael Reinhardt, this surf school hosts a summer camp for children ages 5 and up. Sessions run weekly and include equipment, gear and refreshments. Private, semi-private and group lessons are also available.

New York Surf School
Beach 69th Street Beach Front Road
There are separate surfing camps for kids, teens and adults, plus private and semi-private lessons. The school also has stand up paddle board surf lessons, which can increase your time in the water.

Have a child with special needs? Surfer's Way in Long Beach offers board-riding outings for children ages 5 to 15 with special needs. The sessions are free but registration is required. For more information or to register your child, contact surfersway@gmail.com.

Rentals and Boards
Once your kids can pop-up like a pro, they may be ready to hit the waves on their own. But if you're not ready to shell out a few hundred for a new board, rentals are available at New York Surf School and at Boarders Surf Shop, which also offers lessons. If you do want to buy your own equipment, try the Rockaway Beach Surf Shop (177 Beach 116th Street).

For more seasonal activities at the beach and beyond, check out our Summer Fun Guide.
Image: carla arena
First published in 2015; updated in 2017.