Rockaway with Kids: 25 Things to Do at the Beach and Beyond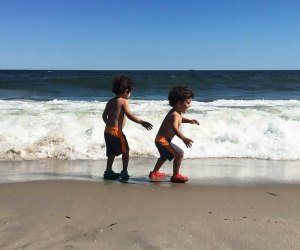 7/11/19
- By
Mariko Zapf
Why schlep to the Hamptons? Thanks to its weekend-getaway vibe, Rockaway, Queens is a popular family staycation destination in summer, and with the Rockaway ferry making daily round-trips, it's easy to get to.
Rockaway's beautiful beaches have soft sand and formidable Atlantic Ocean waves—it's the only shore in NYC where you're allowed to surf. Although this area was ravaged by Hurricane Sandy, the boardwalk and Rockaway Park have been renovated with amazing playgrounds and water play areas. Read on for all you need to know to get to and enjoy this NYC summer favorite.
To reach the Rockaways, you can take the citywide ferry service from either lower Manhattan or Sunset Park, Brooklyn, or hop on the A train and ride a complimentary shuttle nearly to the sand. Of course, Rockaway Beach isn't just for seasonal day-trippers. It's a vibrant and diverse year-round community, with beach bungalows and luxury townhouses standing side by side with large housing developments, and the sound of crashing waves competing with the rumble of the elevated A train.
It's a unique urban-meets-suburban scene, and if you're up for exploring, there's a lot more to experience beyond the beach, including wildlife watching, awesome eats, and NYC history. There's even a Rockaway App to keep you updated!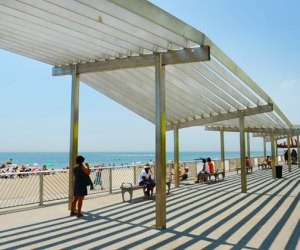 Rockaway Beach—the perfect summer staycation. Photo courtesy of NYC Parks.
1. While away the day at Rockaway Beach; enjoy swimming, sunning, building sand castles, and strolling on the boardwalk. After the eroding shore was replenished with massive amounts of sand as part of a massive $10 million renovation, the beach has fully re-opened this summer. Naturally, the beach deserves our respect, so follow the "carry in, carry out" rule to keep Rockaway's beaches clean and free of garbage.
2. Amp up your beach day by going surfing; lots of local shops rent boards and some even offer surfing lessons for all ages. Note: the official surfing spots are Beach 68th to 71st Streets, Beach 87th to 91st Streets, and Beach 110th to 111th Streets. Please check for beach closures.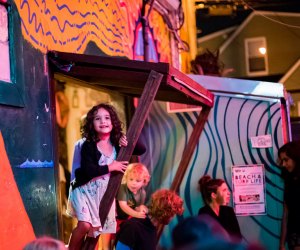 Rockaway Beach Surf Club offers tasty tacos and a fun surfer-hang vibe.
3. If your kids are as into surf culture as mine, check out the Rockaway Beach Surf Club; the tacos are cheap and it hosts terrific and often tween-friendly live music and art events.
4. Keep your eyes peeled for cool ocean creatures on a whale- and dolphin-watching adventure cruise.
5. Explore the massive Jamaica Bay Wildlife Refuge in nearby Broad Channel, which is home to hundreds of bird species and offers frequent FREE family programs, including kayaking and tours led by National Park Rangers.
6. Grab a hot dog or burger and enjoy the 80's soundtrack at Rippers, a classic neon-hued beach boardwalk snack shack.
7. Find out what the Rockaway Artists Alliance has going on: The local nonprofit mounts temporary exhibitions and also offers art classes and summer day camps for kids.
8. See what's playing at the Rockaway Theatre Company, which puts on revivals of classic musicals and the occasional children's show.
RELATED: Kid-Approved Rockaway Beach Restaurants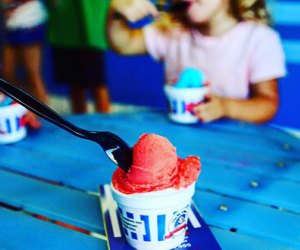 Uncle Louie G. is a classic NYC treat found in every borough, but it tastes especially good at the beach. Photo courtesy of the shop.
9. Grab an old-school Italian ice at the local outpost of Uncle Louie G. Yes, it's a chain, but the locations are independently owned and this one is oozing with charm. Not into ices? The trending Ample Hills Creamery also has a summer location at the Jacob Riis Beach Bazaar.
10. Mingle with the locals in Bayswater Park, a favorite neighborhood playground because it's not on the beach. There's an awesome water feature, and this is where many annual community events take place, like water festivals in summer and the Rockaway Fall Festival in autumn.
11. Storm clouds darkening the sky? Pop in to one of three Queens Library branches in the neighborhood: the Seaside location, the Far Rockaway outpost, and the Peninsula branch offer robust programming for all ages year-round.
12. Also on the other side of the peninsula, Rockaway Community Park is a nature lover's paradise. The birding and fishing are terrific, and it's a relaxing oasis away from the beach hustle.
13. Play your way down the boardwalk at shorefront playgrounds, starting with the traditional Beach 9 Playground at Rockaway's eastern edge.

The Beach 30th Street Playground is a delight for all ages. Photo courtesy of NYC Parks.
14. Continue your playground tour by the beach: While there are lots of options, the play areas in Rockaway Park are the highlight. At Beach 30th Street, my kids had a blast trying out the water features, slides, and climbing structures. We also love the Beach Channel playground in Far Rockaway at 79th Street with its circus theme.
15. Tummy grumbling? No need to go inland, just grab a snack at one of three Rockaway Beach concessions at Beach 86th, Beach 97th, and Beach 106th Streets. Or stop in for some finger-licking eats at the Rockaway Beach BBQ (RBQ) restaurant.
16. Pick up a toy or unique gift at The Blue Bungalow, owned and operated by a pair of native Rockaway residents.
17. For funkier beach browsing, hit the Lola Star Rockaway Beach Shop, which is chock-full of tchotchkes, accessories, and clothes, all handpicked by the Coney Island personality.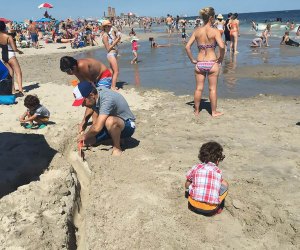 Jacob Riis is very popular with families too. Photo by Sara Marentette
18. Keep going west and you'll hit Jacob Riis Park, a gorgeous beach on the Rockaway peninsula, complete with a historic Art Deco bathhouse. The Bathhouse Beach Pavilion was once a fading memory on the beachfront, but now bustles with pop-ups, food vendors, and events—plus a family-friendly "glamping" experience, Camp Rockaway. Although Riis is nowhere near the subway, you can bus it or, on summer weekends, take the New York Beach Ferry from lower Manhattan.
19. Got a thrill-seeker in your family? Hit Rockaway Jet Ski for kayaking, stand-up paddleboarding, and jet skiing on Jamaica Bay; do it yourself or go with a guide.
20. If you're more of a biking family, Rockaway is a great place to cycle. Although bicycling is not allowed on the boardwalk on weekends, there is a greenway and bike paths. Bring your own wheels or rent locally.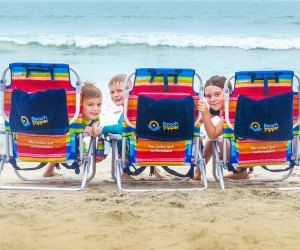 Beach Trippers takes the stress out of a day at the beach by delivering beach supplies to you, right on the beach, then picking up too! Photo courtesy of Beach Trippers
21. Lighten your beach-schlepping load by using family-owned-and-operated Beach Trippers, a service that provides clean and comfortable chairs, umbrellas, towels—you name it! They deliver and pick up right on the beach.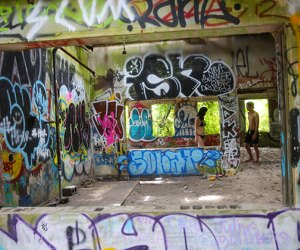 Fort Tilden is filled with decommissioned military buildings, some of which are covered in colorful graffiti. Photo by Shira Kronzon.
22. Get a glimpse of NYC's military past at Fort Tilden. Walk along the sand dunes and through the overgrown grass and you'll spy derelict structures with amazing graffiti; eventually you'll make it to the beach, but be warned, there's no lifeguards and rampant toplessness.
23. Cast a line and wait for a bite. Our go-to neighborhood fishing nook is on Bayfield Avenue just east of the Brant Point Wildlife Sanctuary, but there are lots of other designated fishing spots in the area. Remember, people ages 16 and up need a fishing license!
24. See if you can swing a visit (or just take a peek) at the amazing Edgemere Farm, a half-acre urban farm born from a vacant lot on Beach 45th Street.
25. We admit we're cheating a bit here, but just across the Marine Park Bridge from Jacob Riis Park you'll find Brooklyn's Floyd Bennett Field, one of the only places in NYC where you can go overnight camping (we did it!). It's also home to the Aviator Sports and Events Center, which offers a slew of outdoor and indoor athletic programming for kids.
Read all of our posts about exploring Rockaway, Queens, with kids.
A version of this article first published in 2015; it has been updated for 2019.