14 Great Ice Cream Shops in NYC for a Cool Summer Treat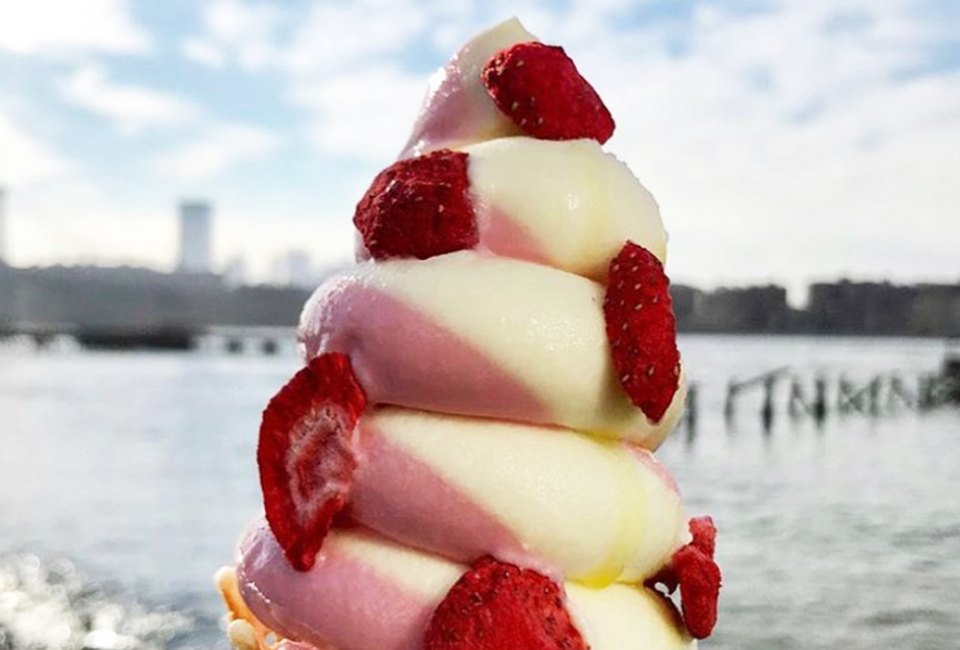 7/24/20
- By
Jody Mercier
Playgrounds, sprinklers, and cold, sweet, over-the-top treats are the things summer dreams are made of—and no, I'm not just thinking about the kids. Luckily, the culinary mecca of NYC is packed with ice cream shops, and many are close to our favorite play spots.
But sometimes, you need an ice cream spot to be the destination, not just a pit stop on a busy summer day. For those times, we present our list of the best scoop shops in the five boroughs, skipping the big-time chains in favor of local purveyors. Many source ingredients locally, craft their treats in small batches, and give back to the community and beyond, so you can feel a little less guilty about suggesting ice cream for lunch...or dinner...again. Read on for 14 summer hot spots serving up the best cold treats in town.
We're longtime fans of this micro chain, which has grown within its home borough (and far beyond!). Expect to find artisanal flavors to please any palate. We especially like the Baked/Unbaked, a mashup of cookies-and-cream and cookie dough. Who says you can't have it all?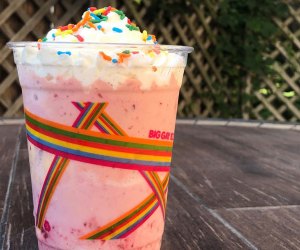 Pretty concoctions are served up at Big Gay Ice Cream.
2020 update: Only the Upper West Side location has reopened.
Founded as the Big Gay Ice Cream Truck in 2009, Big Gay Ice Cream now has a trio of Manhattan locations, plus one in Philly and a collection of pints you can find in stores. You'll find creamy, dreamy soft-serve and hard-packed ice cream here, and its "Dorothy" flavor has become an iconic treat: Dulce de leche-infused vanilla ice cream coated in Nilla Wafer crumbs for a tasty, textural, flavorful explosion.
2020 update: Only Davey's East Village location has reopened.
Since opening his first location on the LES in 2013, David Yoo has expanded his frozen treat empire to include locations in Williamsburg and Greenpoint. On the menu is ice cream crafted with fresh milk from Hudson Valley cows, with bases pasteurized on-site to Yoo's exacting standards. Ingredients are regularly sourced from farmers markets and the menu is ever-changing, inspired by those finds and collaborations with Davey's neighbors. Flavors like Nutella-Chocolate Chunk and Speculoos are mainstays, though.
RELATED: Ice Cream Shops Near Great Playgrounds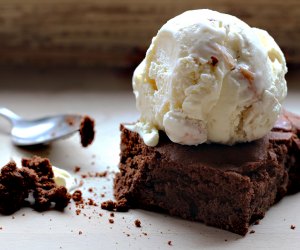 Try a brownie with a rich and creamy scoop at Blue Marble Ice Cream. Photo courtesy of Blue Marble
Premium organic ice cream is at the heart of the Blue Marble brand. You won't find a huge variety of flavors or lots of bells and whistles, but you will be able to pronounce all the ingredients! When melded together, they produce a rich, creamy, delicious scoop that's sure to leave you with a desire for a return trip. A personal favorite: the Sea Salt Caramel, though my kids love the Classic Vanilla.
5. Ice & Vice – Lower East Side
Small-batch ice cream is crafted by this edgy upstart. While many of the seasonal flavors have an adult twist (see current option Blue/Purple, which includes butterfly pea flower, yuzu, and coconut), the "Basics" have plenty of kid-friendly appeal. The Ice Cream Pie is plenty kid-pleasing: Malted Vanilla ice cream, with a Fruity Pebble and marshmallow crust, which can even be served in one of Ice & Vice's colorful cones.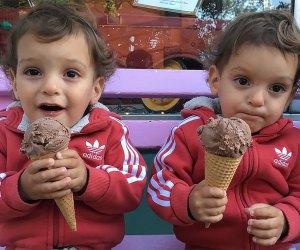 Get a kiddie size scoop of deliciousness or try a more decadent treat at Brooklyn Farmacy and Soda Fountain. Photo by Sara Marentette
2020 update: Sit-down service is on hiatus, but you can grab and go.
This is a decidedly old-school spot, housed in a 1920s-era apothecary on Henry Street with a menu to match its roots. You'll find sit-down service with classics like egg creams and malted milkshakes, plus a rather impressive list of over-the-top sundaes. For the best of both worlds, consider ordering the 99 Problems: a sundae with a warm brownie base, topped with a double scoop of chocolate ice cream, covered in a shower of vanilla shake and a dark chocolate shell. Whipped cream and a cherry on top complete the showstopper.
7. Van Leeuwen – Multiple Locations and Trucks
What began as one well-known yellow ice cream truck in 2008 has now expanded to a bi-coastal ice cream empire. Van Leeuwen was one of the first "artisan" scoops in NYC and continues to thrive with 17 NYC locations and counting. Classic flavors include the must-have Chocolate and Vanilla, but also the more inventive PB Marshmallow Crunch, Earl Gray Tea, and Honeycomb. All the treats are handcrafted in Greenpoint, Brooklyn, using just a few high-quality ingredients. Vegan ice cream is offered with a cashew-milk base. Seasonal flavors ensure there's always something new to try.
RELATED: Best Water Theme Parks Near NYC for Families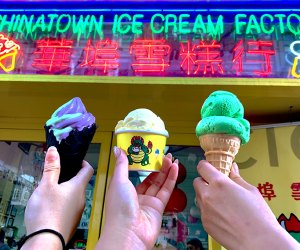 Try some Asian inspired flavors at Chinatown Ice Cream Factory. Photo courtesy of Chinatown Ice Cream Factory
A neighborhood staple, this shop has been churning out the sweet stuff since 1978. The original spot sits on Bayard Street, while outposts have since opened in Flushing and on the LES. Staying true to its heritage, this second-generation, family-run spot offers plenty of Asian-inspired flavors, like Green Tea, Red Bean, and Thai Iced Tea, but there are tons of traditionally kid-friendly options, too, like Vanilla, Chocolate, and Oreo Cookie.
This Mexican-style ice cream shop has one brick-and-mortar location but also operates some seasonal shops, so it's likely you're not far from a location. What is Mexican-style ice cream you ask? More similar in texture to gelato than the American version, it's got less fat and air thanks to the fact that it's churned by hand. La Newyorkina got its start selling paletas, or Mexican-style ice pops, which can be found in 40 flavors in-store, too.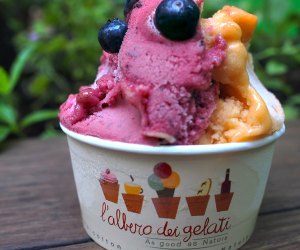 Get fresh and in-season flavors as the menu changes weekly at L'Aberto Dei Gelati. Photo courtesy of L'Aberto Dei Gelati
Italian gelato, pastries, and bakery items can all be had at this authentic Brooklyn scoop shop, located in the front window of a neighborhood-favorite restaurant. L'Albero Dei Gelati sources its ingredients from local purveyors and shies away from dyes, preservatives, and artificial flavors so each scoop is pure goodness. The menu changes weekly depending on what inspires the master gelato maker and the flavors don't all skew sweet, either. Savory options like Saffron and Olive Oil gelato pop up from time to time.
11. OddFellows Ice Cream – Multiple Locations in Manhattan and Brooklyn
2020 update: Currently only the Dumbo and Brooklyn Bridge Park locations are serving treats.
Born from the pregnancy cravings of one of the co-founders, OddFellows Ice Cream marches to the beat of its own drum. Like many of the shops on our list, ice cream is handcrafted in small batches, but OddFellows touts plenty of...well...odd flavors. While kids might not go for the Chorizo Caramel Swirl or Miso Cherry, there are other options to please them, including Santa's Milk and Cookies and Sprinkles. Parents (especially those worn out from hands-on summertime parenting) can get behind the OddFellows Dumbo location, which offers beer, wine, and cider in addition to the cool sweet treats kids crave. Winner, winner, ice cream for dinner.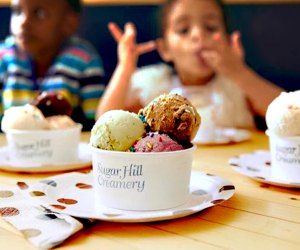 Get a triple scoop at Sugar Hill Creamery. Photo courtesy of Sugar Hill Creamery
This mom-and-pop shop brings the "sweet life" of Harlem's past full circle, peddling not only spectacular scoops but also a healthy helping of community engagement. It's infused itself into the fabric of the neighborhood with inventive programming focused on building camaraderie with everything from new moms' groups to parents'-night-out babysitting, and even BYOB craft nights—all with a scoop of ice cream on the side. Crafted in small batches, the flavors change regularly, though some consistent standouts include the Harlem Sweeties, a salted caramel ice cream with butterscotch and scratch-made brownies and Chairperson of the Board, a blueberry cheesecake mashup masterpiece.
Scooping up ice cream since 1991, and an East Village mainstay for more than 10 years, Sundaes and Cones offers flavors that run the gamut from classics like vanilla and chocolate to far more inventive concoctions. When it makes its appearance on the summer menu, the Lavender flies out the door. Green Tea and Rose also draws rave reviews.
14. Eggloo – Chinatown
2020 update: Eggloo remains closed due to the coronavirus.
Eggloo brings Hong Kong-style treats to the streets of Chinatown. The signature here is the not-quite-a-cone waffle that ice cream treats are served in. It's a marriage between a Belgian waffle and a traditional cone, with a crisp outside and soft, airy inside. Rolled into a cone-shaped paper, it makes the perfect vessel for Eggloo's ice cream, which can be shaped into an Instagram-friendly rose and topped with Pocky Sticks, Fruity Pebbles, sprinkles, and more.
A version of this post was first published in 2010; it has been updated for 2020.