15 Restaurants with Outdoor Dining near Manhattan: Patios, Backyards & More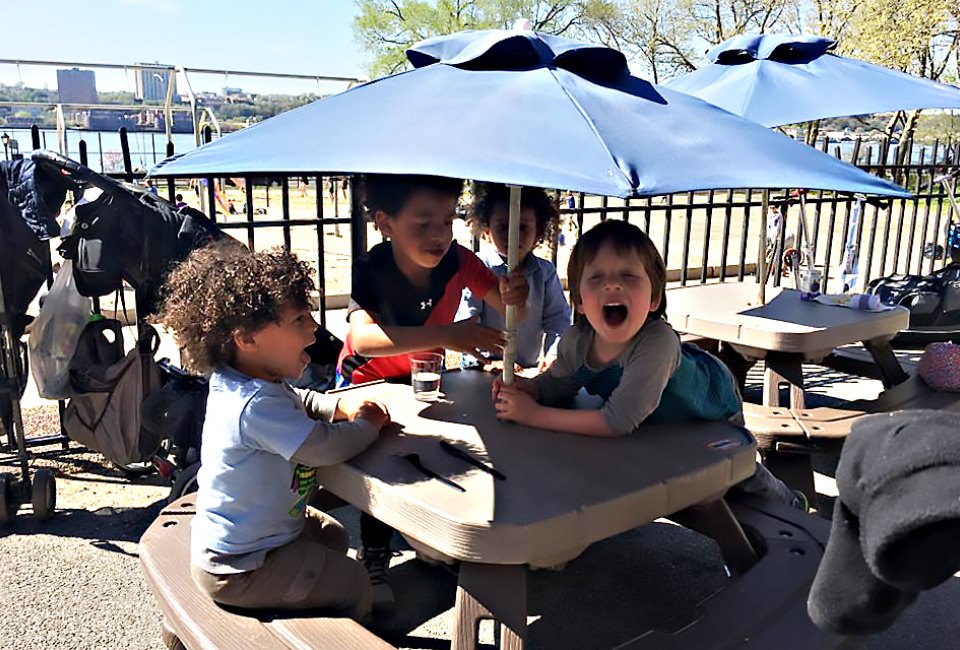 5/2/22
- By
Anna Fader
Great outdoor dining is a lovely way to savor these first sun-filled days of spring, and it makes the dog days of summer in the city tolerable, at least in my book. An hour sitting on a shady patio, sipping a cold drink, steels me for the rest of the week. Even as the pandemic eases, outdoor dining is still the safest way to go when you want to eat out.
Of course, eating out with kids is never as simple as that, so we've selected not just sublime outdoor dining spots but ones with enough room to roam. Hopefully, these family-friendly Manhattan restaurants with patios, backyards, and more outdoor dining setups, ranging from the Battery up to Inwood, make you forget you live in a yard-less New York City apartment.
Find more kid-friendly restaurant suggestions in our Guide to Kid-Friendly Restaurants in NYC.
Subscribe to our newsletters to get stories like this delivered directly to your inbox.
1. Bareburger – Greenwich Village
High chairs: Yes
The spacious outdoor dining patio at the LaGuardia Place location of this organic burger chain is set back from the street and surrounded by trees and gardens, making it feel like a bit of country close to the crossroads of Soho, the West Village, and East Village.
High chairs: Yes
This downtown brunch spot has always attracted families for its super kid-friendly vibe and delicious comfort food. While its new, covered outdoor dining space is more of a front yard, it features easy slide-on benches perfect for kids. There are about a half-dozen pancake options, burgers, fried chicken, and homemade pies to choose from. You can reserve spots during the week for outdoor dining, but weekends are solely for walk-ins.
RELATED: 20+ Restaurants With Creative Outdoor Dining Setups For NYC Families to Enjoy

Gilligan's side yard is decked out in summer finery with a Hamptons-like vibe.
High chairs: Yes
If you can't make it to the Hamptons, you can soak up that beach-chic vibe at Gilligan's. The enclosed side yard of the Soho Grand looks like it's been plucked from the pages of an Elle Decor feature. The slim brunch or main menus at this outdoor dining destination include pizzas, salads, and other light bites. But, beware: They all come at Hamptons prices.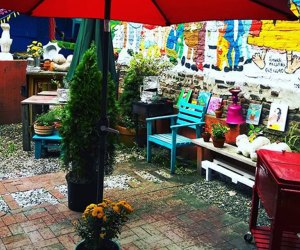 El Kallejon has a festive backyard and amazing Mexican fusion tapas.
High chairs: Yes
Eating at El Kallejon can feel like hanging out in a friend's backyard—if your friend is an awesome chef from Mexico City. The tiny but cute outdoor dining space is a nice hangout spot while your hosts grill tasty Mexican-fusion tapas steps away. There might even be live music.
High chairs: No
Ellington in the Park offers an antidote to the chaos of city living with its picturesque outdoor dining patio nestled in Riverside Park and overlooking the Hudson. The casual menu is packed with child-friendly fare, and the space offers lots of wiggle room for restless kids. There's even a giant sand volleyball court (Read: sand play!) within sight if they can't take sitting one more minute, so set them loose while you finish your food. With all of Riverside Park nearby, it's easy to turn a meal into a mini-retreat. Open April through October.
RELATED: 10 of Our Favorite Places to Picnic in NYC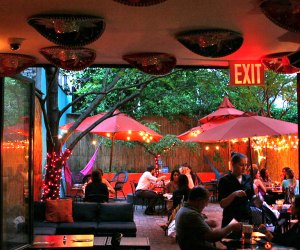 Gina Mexicana has a bright, colorful backyard, big enough for kids to stretch their legs if they can't sit through a whole meal.
High chairs: Yes
You would never know that this little haven existed on East 61st Street, just above Midtown and steps from Central Park's top spots. The menu is full of Mexican staples, including burritos, tacos, and enchiladas. The outdoor dining space could not be more appealing, shaded with trees, and featuring a hammock and couch.

The Greens make for a fun rooftop meal. Photo courtesy of the Howard Hughes Company.
7. The Greens – Lower Manhattan
High chairs: No
The Greens return to the Rooftop at Pier 17 with individual 10-by-10-foot mini-lawns and two patios in its outdoor dining setup. Each mini-lawn can fit up to eight people and has a sun umbrella, lounge chairs, and a love seat. Enjoy sweeping views of Lower Manhattan and the iconic Brooklyn Bridge while noshing on a variety of fresh, summertime staples. Summer programing includes sports broadcasts, live music, and DJ sets. Reservations are highly recommended, and while the reservation fees seem a little steep, they support local community initiatives, and a portion is donated to charity.
RELATED: 20 Things To Do with Kids at South Street Seaport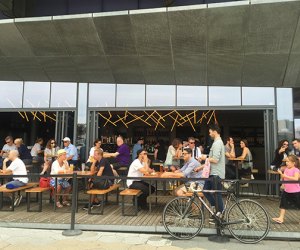 Industry Kitchen offers great views of the Seaport area. Photo by Shira Kronzon.
High chairs: Yes
Part of the East River Waterfront Esplanade near the South Street Seaport, Industry Kitchen lives up to its name with rustic industrial chic decor and a menu centered on the wood-fired oven churning out pizzas and roasted veggies and meats. The outdoor dining at picnic tables offers views of the tall ships at the seaport, the Brooklyn Bridge, and the East River. If the kids get restless, they can play on the esplanade while remaining in view.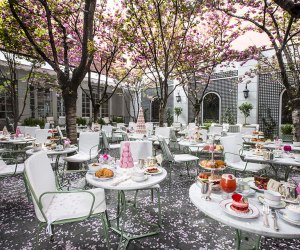 Laudree's chic vibe makes every occasion special.
High chairs: Yes
The Soho location of this Parisian-inspired cafe has a large, lush tree-shaded garden for outdoor dining, which offers brunch and dinner featuring French-inspired dishes. Of course, you couldn't leave without trying a few of its famous macarons and pastries. This is an ideal setting for a special occasion like Mother's Day brunch, a baby shower, or a birthday meal.
RELATED: 18 Family-Friendly Food Halls in NYC for an Easy, Delicious Meal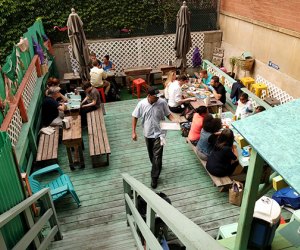 LoLo's Seafood Shack serves Caribbean and New England seafood classics like conch fritters.
High chairs: Yes
My kids talked about the Cape Cod/Caribbean mashup of food at LoLo's Seafood Shack for days after our visit. We especially loved the soft shell crab sandwich, conch fritters, jerk ribs, and shrimp boil. Eating it all in the tiny, but colorful, shack-style backyard makes it all the more fun. If you can't score a seat at this hole in the wall, Harlem Tavern's giant patio is right next door, offering a kids' menu, high chairs, and a lively vibe for outdoor dining.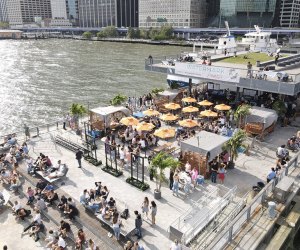 Enjoy amazing views of the Brooklyn skyline at Watermark Restaurant.
11. Watermark – South Street Seaport
High chairs: Yes
Enjoy stunning views of the Brooklyn skyline and the Brooklyn and Williamsburg bridges from this outdoor dining venue perched along the Manhattan waterfront. Enjoy the views while noshing on burgers, tacos, or truffle fries. Kids can certainly enjoy the four-cheese mac and cheese and a Snickers sundae.
RELATED: NYC Restaurants Where Kids Eat Free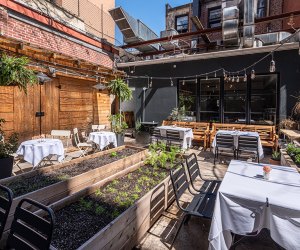 The Musket Room has a top-tier pedigree, but don't let that keep you away even with kids in tow. Photo by Jason Greenspan
High chairs: No (but booster seats)
Don't be scared by the Musket Room's pedigree. This Michelin-starred restaurant welcomes families to enjoy its globally-inspired cuisine. The restaurant has a verdant back garden where you can enjoy outdoor dining alongside custom-built planters housing lemon balm, nasturtium, sorrel, basil, and other herbs, all frequently integrated into dishes. There are booster seats and room for strollers.
13. Wayla – Lower East Side
High chairs: Yes
Families can enjoy home-style Thai food at this Lower East Side favorite. Wayla has a beautiful backyard for outdoor dining with funky furniture and a laid-back vibe that's perfect for families. Try the crab fried rice or whole-fried branzino. Kids can nosh on pad thai, crispy noodle-wrapped meatballs, and purple sticky rice. There are even grilled Impossible meat-wrapped sugarcane skewers for budding vegetarian. Kids love the homemade ice cream or mango mousse sticky rice for dessert. The garden is currently walk-in only.

Pier i Cafe offers lovely Hudson views on a riverfront pier.
High chairs: No
Families love this seasonal, open-air cafe where you can take in scenic river views while dining on casual, delicious food. From lobster rolls to burgers and salads, there's something for everyone. There are inventive cocktails for the grown-ups and freshly-made blueberry lemonade and fries for the kiddos. Instead of table service, there's an easy ordering system to keep things informal. The outdoor dining cafe is closed from November 1 through April 1 and closes early in April, May, and October.
High chairs: Yes
While the current iteration of this historic spot is simply a mediocre restaurant, the outdoor dining space is (still!) spectacular. It's worth a visit for its storied history alone. It's a good option after running wild in Central Park. Kids appreciate the French toast and adults dig the gorgeous greenery and upscale atmosphere. The kids' menu includes all the staples, like pasta and chicken fingers.
Unless noted, photos courtesy of the restaurants
This article was first published in 2016 but has since been updated.