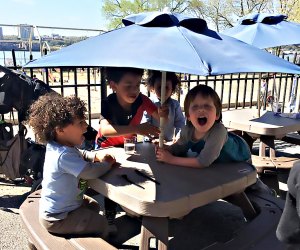 13 NYC Restaurants with Backyards and Patios for Kid-Friendly Dining
Great outdoor dining makes summer in the city tolerable, at least in my book. An hour sitting on a shady patio, sipping a cold drink, steels me for the rest of the week on sweaty NYC subways and dog-pee-scented streets. It's also a great way to savor those first sun-filled days of spring.
Of course, eating out with kids is never as simple as that, so we've selected not just sublime outdoor dining spots but ones with enough room to roam. Hopefully, these family-friendly Manhattan restaurants, from the Battery up to Inwood, will make you forget you are in New York City with that backyard living life, even for those of us whose apartments are too small and too dark with nary a leaf to be seen.
We've also covered the best backyard outdoor dining in Brooklyn and Queens. See all our restaurant recommendations in the Mommy Poppins NYC Kid-Friendly Restaurant Guide.
B Bar + Grill — Lower East Side
High chairs: Yes; Kids' menu: No
Yes, it's a popular watering hole at night, but the enormous garden makes it a kid-friendly outdoor dining spot for families, especially for brunch. Nosh on foodie-flavored pizzas, burgers, plus other brunch faves like huevos rancheros, smoked salmon, and buttermilk pancakes.
Bareburger — Greenwich Village
High chairs: Yes; Kids' menu: Yes
The spacious patio at the LaGuardia Place location of this organic burger chain is set back from the street and surrounded by trees and gardens, making it feel like a bit of country close to the crossroads of Soho, the Village, and East Village.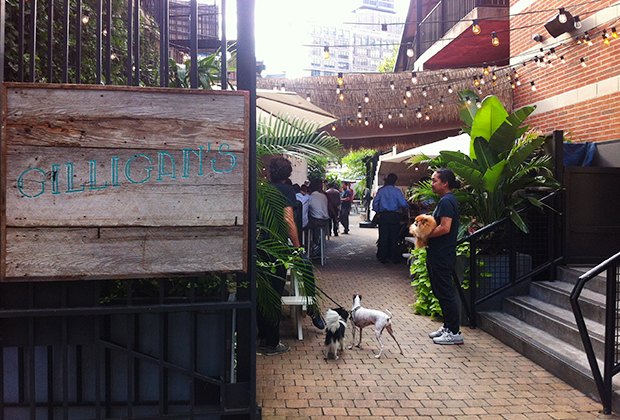 Gilligan's side yard is decked out in summer finery with a Hamptons-like vibe.
Gilligan's — Soho
Highchairs: Yes Kids' menu: No
If you can't make it to the Hamptons, you can soak up that beach-chic vibe at Gilligan's. The enclosed side yard of the Soho Grand looks like it's been plucked from the pages of Elle Decor's feature. The slim brunch or main menus include pizzas, salads, and other light bites, all at Hamptons prices.
RELATED: NYC Restaurants Where Kids Eat Free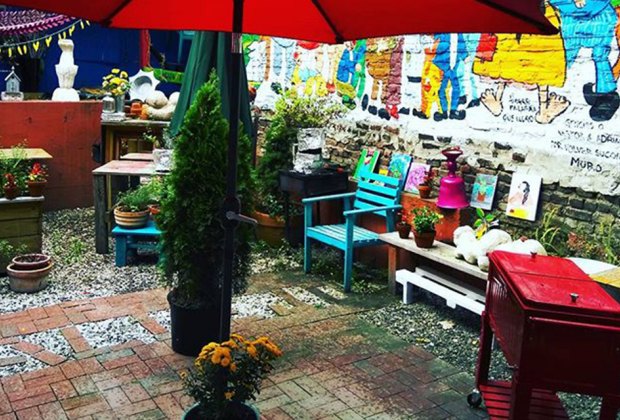 El Kallejon has a festive backyard and amazing Mexican fusion tapas. Photo courtesy of the restaurant
El Kallejon — East Harlem
High chairs: Yes; Kids' menu: No
Eating at El Kallejon can feel like hanging out in a friend's backyard—if your friend is an awesome chef from Mexico City. The tiny but cute outdoor space is a nice hangout spot while your hosts grill up tasty Mexican fusion tapas steps away. There might even be live music.
Ellington in the Park — Upper West Side
High chairs: No; Kids' menu: No
Everybody is perhaps familiar with the West 79th Street Boat Basin Cafe nestled in Riverside Park. The giant vaulted stone patio overlooking Riverside Park and the Hudson River is the perfect antidote to city life. Ellington in the Park offers a similar vibe, just a bit farther uptown at 106th Street. Casual dining with lots of wiggle room for restless kids and all of Riverside Park for your post-meal entertainment turns a meal into a mini-retreat. Open April through November.
RELATED: 10 of Our Favorite Places to Picnic in NYC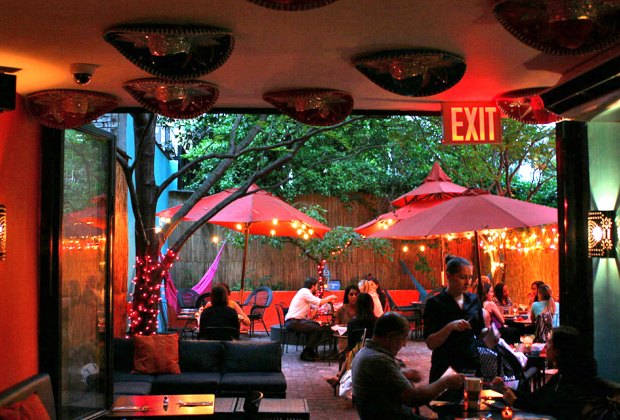 Gina Mexicana has a bright colorful backyard, big enough for kids to stretch their legs if they can't sit through a whole meal. Photo courtesy of the restaurant
Gina Mexicana — Upper East Side
High chairs: Yes; Kids' menu: No
You would never know that this little haven existed on East 61st Street, just above midtown and steps from Central Park. The menu is full of Mexican staples, including burritos, tacos, and enchiladas. The outdoor dining space could not be backyardier, shaded with trees and featuring a hammock and couch.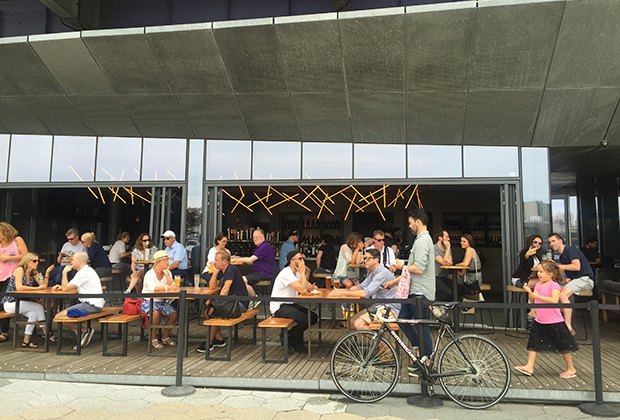 Industry Kitchen offers great views of the Seaport area. Photo by Shira Kronzon.
Industry Kitchen — South Street Seaport
High chairs: Yes; Kids' menu: No
Part of the East River Waterfront Esplanade near the South Street Seaport, Industry Kitchen lives up to its name with rustic industrial chic decor and a menu centered on the wood-fired oven churning out pizzas and roasted veggies and meats. The outdoor picnic tables offer views of the tall ships at the seaport, the Brooklyn Bridge, and East River. If the kids get restless they can play on the esplanade while remaining in view.

LoLo's Seafood Shack serves up Caribbean and New England seafood classics like conch fritters.
LoLo's Seafood Shack — Harlem
High chairs: Yes; Kids' menu: No
My kids talked about the Cape Cod/Caribbean mashup food at LoLo's Seafood Shack for days after our visit. We especially loved the soft shell crab sandwich, conch fritters, jerk ribs, and shrimp boil. Eating it all in the tiny, but colorful shack-style backyard makes it all the more fun. If you can't score a seat at this hole in the wall, the Harlem Tavern's giant patio is right next door, offering a kids' menu and high chairs.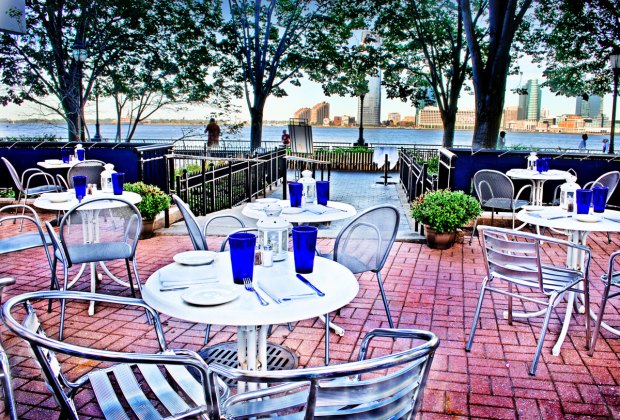 The Merchants River House is a beautiful place to celebrate a special day and take in the lovely views. Photo courtesy of the restaurant
Merchants River House — Battery Park City
High chairs: Yes; Kids' menu: Yes
Perfectly picturesque is how I'd describe the setting of the spacious parkside patio of this Battery Park City spot. Enjoy bistro fare under the dappled sunlight from the surrounding trees and gaze out on the Hudson River. The kids' menu is a pricey $11.50, so thrifty diners can choose to share a plate instead.
New Leaf at Fort Tryon Park — Inwood
High chairs: Yes; Kids' menu: No
The setting of this restaurant, inside Fort Tryon Park, does not feel as if it's in Manhattan. The fieldstone cottage was built by John D. Rockefeller and designed by the Olmsted brothers. It is popular for weddings and other glamorous parties, but anyone can pop in after a visit to the Cloisters or a walk in Fort Tryon Park to enjoy American bistro fare on the pretty patio.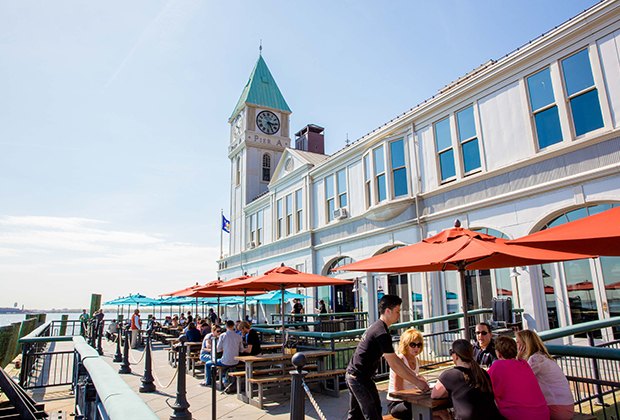 Catch a river breeze while pulling up an outdoor table at the chic Pier A Harbor House. Photo courtesy of the restaurant.
Pier A Harbor House — Financial District
High chairs: Yes; Kids' menu: No
The renovated historic pier is now a chic restaurant and bar inside. But sit on the outdoor deck that juts into the river just north of the Battery and you'll be treated to vast harbor and Statue of Liberty views. Kick back at the casual picnic tables to enjoy the oyster bar or seafood and burger upscale, tavern-style menu. Seating on the right side of the pier allows more room for roamers and strollers if you need it.
Summer Garden & Bar at Rock Center Café — Rockefeller Center
High chairs: Yes; Kids' menu: Yes
Every spring after the Rink closes for the season, the Summer Garden & Bar at Rock Center Café revives the Plaza with its striped canopies, umbrella-topped tables and festive food and drink. The kids' menu features faves like grilled cheese, a burger, and penne pasta. Plus, your little one can have an ice pop or one of the café's special mocktails. Make a day of it exploring all that Rock Center has to offer.
Tavern on the Green — Central Park
High chairs: Yes; Kids' menu: Yes
This historic spot has is a delightful brunch option after running wild in Central Park. Kids will love the French toast and adults will dig the gorgeous greenery and upscale atmosphere. The kids' menu includes all the staples, like pasta and chicken fingers. Bonus, this spot sells various sources of entertainment for kiddos, including activity books and building blocks.
All photos by the author except where noted.
This article was first published in 2016 but has since been updated.